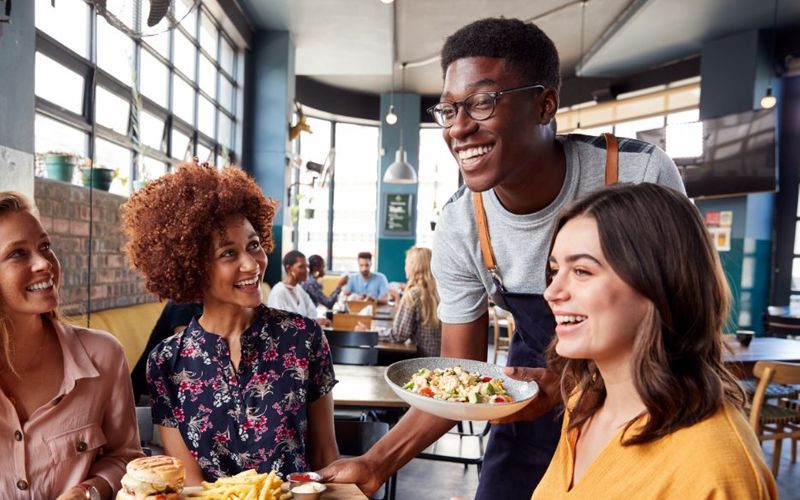 One of the best benefits of studying in Canada as an international student is being able to work during holidays. Earning pocket money during academic breaks helps students to enjoy their holidays all that more by going out with friends, buying tickets to events, and exploring the best and the rest of Canada. Students can make a comfortable living working part-time while studying in Canada with a minimum wage of $14 per hour.
Canada is the third most popular study destination for students due to its high-ranking educational institutions, more affordable study programs, and unique options to stay and work in the country after graduating. So, what are the top 5 part-time holiday jobs for students in Canada? Find out more below!
Amazing Holiday Jobs in Canada for Students
1. Characters and Entertainers
If you love kids and entertaining others then you will be the perfect candidate for this fun holiday job. Many retail organizations such as toy stores, malls, and grocery stores hire characters to help bolster holiday sales. A good Santa or Elsa from Frozen can have a significant impact on store sales. The even better news is that you look at making around $30 per hour as an entertainer.
To successfully play a character, you need to love children, have a good sense of humor, be flexible and have a strong back.
2. Warehouse and Distribution Workers
It may not sound like the coolest job but the demand is there and the pay is pretty generous too. More companies than ever before are hiring for warehouse and distribution center positions. Online sales have skyrocketed since the pandemic and companies need to hire seasonal workers to keep up with orders throughout the holiday season. If you don't like interacting with people then this is the perfect behind-the-scenes sales job. Some of your responsibilities may include; receiving orders, overseeing the delivery, loading, and unloading of products and goods, and ensuring they are safely transported. The average rate for warehouse workers in Canada is $16, 25 per hour. Not bad for a part-time gig.

3. Server
It's the time of the year for Christmas parties and new year bashes. Restaurants and venues are getting booked (with appropriate social distancing measures of course) and server positions are increasing. It is customary to tip approximately 15-20% on the total bill before tax, less for poor service, more for truly exceptional service. So, the golden rule is service with a smile.

As a waiter or a waitress, you can do very well on minimum wage plus tips, certainly topping $20 an hour. The hours are flexible and you can work with your peers, making for a fun working environment.
4. Sales Assistant
A retail sales assistant is one of the more popular holiday jobs in Canada for students, especially during this time when everyone's favorite stores tend to be a little busier than usual. You get to welcome customers, assist with the display of merchandise, and handle cash and card transactions. Pro tip: Start by looking for an available position at your favorite store to make your work hours more enjoyable!
To be a successful sales assistant, you need to enjoy speaking to people, don't mind standing on your feet for long hours, and have the ability to sell products and services. You can earn an average of $18 per hour as a sales assistant with no former experience.
5. Ski/Snowboard Instructor
If you prefer a holiday job with a little more action and excitement then you should consider becoming a ski instructor. This is a job that is unique to Canada where there are winter snowfall and hundreds of tourists making their way to the slopes. You will get the opportunity to meet new people from all over the world and spend your days outside having a blast while you work. You can earn approximately $4,000 a month, and positions often include room and board.

Are you interested in studying in Canada? Apply today for a consultation with our student advisors.
3 Reasons to Study in Canada
1. Work in Canada After Your Studies
Why head back home when you've already become acquainted with the incredible Canadian lifestyle and have the opportunity to kickstart your career right here in one of the strongest economies in the world? Canada offers international graduates the opportunity to apply for Post-Graduate Work Permits (PGWP) that not only makes it incredibly easy to work in the country as a foreigner but it increases their chances of becoming permanent residents! As a permanent resident, you can sponsor your family members to move to Canada.
2. Become a Permanent Resident After Your Studies
Depending on your study program and the level of your qualification you may be eligible for provincial immigration programs as soon as you graduate in Canada. Provinces such as Ontario and British Columbia have International Student Streams through which they accept permanent resident applications from students with job offers and who have graduated from an educational institution in their region.
3. More Affordable Study Programs
Affordability plays a major part when choosing a study destination. Though not cheap or free, Canada's tuition rates compared to other countries such as the US, Australia, and the UK, are more affordable. The main reason for this is the Canadian dollar is weaker than the US dollar, British pound, and the Euro.
What's the Next Step?
Whether you want to study in Canada or apply for your PGWP, we can help make the process easier, quicker, and most importantly, successful. Canadian Visa is a leading visa and immigration agency situated in Vancouver. Our team of certified visa consultants and student advisors provides professional and all-inclusive services to our international clients.
When applying with us we will provide you with the following:
Help you find an eligible Designated Learning Institution that fits your budget and study plans. We have a partnership with Evergreen College for better tuition rates;
Assist you in applying for a PGWP eligible study program;
Help you write a motivational letter for visa purposes;
Give you access to your very own student visa portal that allows you to upload documents and ask questions to your student advisor during the study permit application process;
Optimize your application and apply for your study permit on your behalf; and
Step-by-step guidance during the entire process
Take the first to Canada with a professional who you can trust with your future. Simply, fill in the contact form below for a consultation with one of our friendly agents.