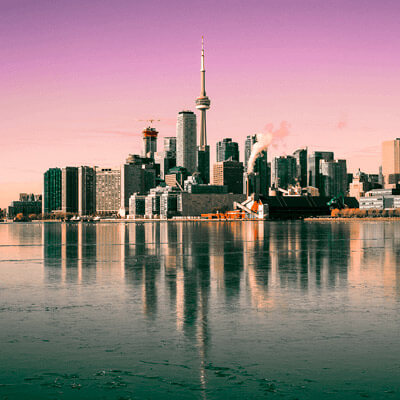 Bonjour! Are you a citizen of France and thinking of immigrating to Canada? As a country full of opportunity and possibility, there are many reasons why your fellow residents are choosing Canada as their new home.
French nationals seeking to move to Canada will appreciate the fact that over 95% of the population in the country speak French either as their first or second language. Between 2008 and 2012, over 34,000 French citizens gained permanent residence in Canada, representing impressive growth of 38% from the previous five-year period. Nearly 80% of Quebec's population are native francophones.
With a low unemployment rate of only 7%, there are many work opportunities for French-speaking citizens who want to enjoy a balance between work and downtime. Canadian citizens also have access to one of the best government-funded healthcare systems in the world, quality education, and a multicultural and safe, diverse society.
What are the short and long-term benefits of immigrating from France to Canada? We look at the top reasons to pack your bags today!
1. Job Opportunities
The number of temporary foreign workers that work in Canada and hail from France has grown significantly over the past few years. Between 2007 and 2013, the number of French foreign workers in Canada nearly doubled to over 75,000.
As Canada's economy emerged unscathed from the financial meltdown experienced across the world in 2008, the economic turbulence felt among many of the world's biggest economies including that of France, further increased Canada's appeal as the destination of choice. Canada's economic strength has served as encouragement for immigration to the North American country and French citizens have grabbed this opportunity with both hands. The stability of the economy in Canada has led to the creation of a huge amount of jobs, many of which cannot be properly filled by the relatively small population of Canada.
Indeed Canada boasts a low 7% unemployment rate compared to France's unemployment rate that stands at just over 11%. To further emphasize this point, the youth unemployment rate in France is at over 21% and this strong economic pull is ever driving them towards Canada's relatively lower youth unemployment rate at just 12%.
2. The Quebec factor
Many French citizens move to Canada and immediately choose to settle in Quebec, where apart from the language, they also benefit from the Quebec – France Agreement on the Mutual Recognition of Professional Qualifications. The agreement signed by the Canadian and French Governments in 2008 helps to quicken the credential assessment of French citizens in Quebec, allowing them to move ahead of the queue and have their credentials processed in a shorter time than fellow newcomers from other countries. Professions recognized by the agreement include doctors, lawyers, engineers, and social workers. This facilitates a hassle-free and relatively smooth entry into the Canadian labor market soon after arriving in Canada.
Similarly, French citizens living in Quebec also benefit from an agreement between the two countries whereby fees of attending one of Quebec's world-class post-secondary school institutions are greatly reduced. Quebec and France signed the bilateral agreement allowing French citizens to benefit from the Quebec tuition rate instead of the international student tuition rate. This in effect saves French students thousands of dollars each year.
In addition to that, Quebec has its own unique immigration program. The Quebec Nominee Program was designed to help meet the provinces' specific labor shortages and features over 75,000 eligible occupations. It is the only immigration program in Canada where skilled worker applicants can predict their chances of admission based on their proven qualifications.
Statistics show that Quebec residents of French origin accounted for over 2 million as of 2014, making up nearly 29% of the overall population of the province. The Quebec Provincial Nominee Program is responsible for the immigration of nearly 670,000 French citizens to the province of Quebec.
3. Language
Canada is a bilingual country with English and French being the most prominent languages spoken. The multiculturalism and bilingual nature of Canadian society is an opportunity to work and communicate in French and not only benefits French citizens but also citizens from other French-speaking countries across the world.
As a matter of fact, the Canadian government goes a step further in making sure that French speakers easily settle in the country with the introduction of the French Significant Benefit Program. The program was created to help French-speakers immigrate to Canada so as to "contribute to the vitality, development, and prosperity of Francophone minority communities in Canada". The program offers numerous benefits including easy access to Temporary Work Permits and possible exemption from the Labour Market Impact Assessment if an employer is ready to hire that particular individual.
4. Education
In Canada, French-speaking communities make up the majority of the population especially in the province of Quebec. This has resulted in cultural diversity in schools, where students learn French as a second language or are taught entirely in French. In fact, over 5 million students are currently in the Canadian education system, of which 1.3 million are taught entirely in French. This has allowed many French-speaking families to easily settle in most parts of Canada.
In Canada, the Francophone education system consists of:
Over 600 schools outside Quebec and more than 2400 in Quebec itself
More than 120 French-speaking community colleges
Around 20 francophone or bilingual universities
Over 100 French-speaking research centers
5. Canada actively promotes immigration
Canada realizes that immigration is a major driver of economic growth and through the support of the government, actively encourages immigrants with various skills to move to the country.
The Canadian government is also seeking to improve its immigration policy to make it easier for highly skilled and younger immigrants to enter the country, hence the introduction of innovative Canadian immigration programs like the start-up visa (or investor visa) to encourage entrepreneurship through small enterprise businesses. This means that it is far easier for young French graduates from France to showcase their technical talents and business acumen in a country that has one of the world's most stable economies and a relatively low cost of living.
France and Canada have developed strong and harmonious relations over the years and France is one of its major partners especially in the areas of culture and immigration. French youths between the ages of 18 and 35 are encouraged to visit Canada to work and travel under the Young Professional or Working Holiday Programs. These programs have a maximum duration of 36 months which can also be extended by pursuing a study period.
The Quebec France labor mobility agreement is also significant in encouraging French citizens to live and work in Canada. This agreement was designed to help individuals from both France and Quebec to seek employment and be fast-tracked into the labor market. Both governments agreed to accept the equivalent of each others' degrees and training certificates for certain occupations.
Quick facts
Each year over 250,000 new immigrants come to Canada, including over 35,000 French speakers who are known to make a huge contribution to the country's economy.
There are over 9.5 million French speakers living in Canada, representing nearly one-third of the county's population. Roughly 25% of Canadians speak French as their mother tongue.
Ontario ranked first among Canada's provinces in terms of population and economy and is home to over 1.4 million French speakers, a vast majority of which moved directly from France.
In Canada, 300,000 children are enrolled in French immersion programs.
Three million adults whose mother tongue is not French speak French as a second language.
Canada is one of the few countries outside of France where Common Law is practiced in French.
How Can We Help You Immigrate to Canada from France?
So now that you've read our top reasons to immigrate from France to Canada and probably decided to take the first step, what's next? At CanadianVisa.org, our authorized Regulated Canadian Immigration Consultants (RCIC) are members in good standing with the Immigration Consultants of Canada Regulatory Council (ICCRC) who will help you through the process of your Canadian visa application. Our consultants will personally assess your needs and qualifications in an honest, transparent, and highly professional manner to give your application the best chance of success.
Do you want to move to Canada? At CanadianVisa.org, we make applying for your visa simple. Fill out the form and one of our account managers will call you to begin your Canadian visa application process.