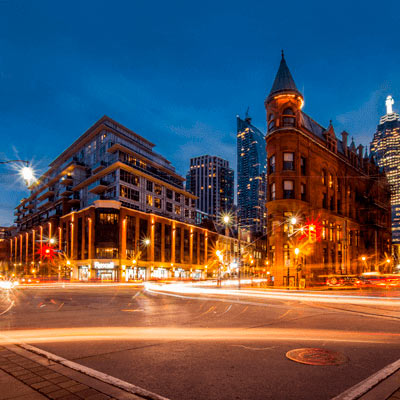 Brazilians have a colourful long history of immigration, though usually as the destination country. In the last 20 years of the 20th century, Brazilians began to leave their country to look for a better life in western countries, with Canada being one the preferred destinations.
From the 1980's Canada begun to experience an increase in the number of Brazilian immigrants to the country. By 1990 the number of Brazilian immigrants to Canada was 5,295 and the number continued to rise to 15,120 by the year 2006.
Many Brazilians are now moving to Canada as they look for an opportunity to find jobs, the ability to choose the life they want to live and to experience another culture abroad.
Brazilian Community in Toronto
Toronto plays host to some of the most vibrant Brazilian immigrants in Canada, so much so that they even have an annual Toronto International Brazil festival. Taking place at the lovely Earls court Park, Brazilians celebrate and pay homage to their culture filled with samba dance parades in the streets, with performances by musicians and bands from Canada and Brazil.
The colourful event runs from noon until 10pm and also features the world famous Capoeira, a Brazilian martial arts performance. The Free event attracts hundreds of people each year, with plenty of food and many other traditional Brazilian customs. When participants need a breather from all the dancing, there's the Churrascaria bar where they can cool down by drinking Caipirinha, a traditional Brazilian cocktail made with cachaca, sugar, and lime.
The festival air is filled with sweet aromas from the many food vendors serving Brazilian-styled barbecue which has grown in popularity each year.
Brazilian Students in Vancouver
Canada is among the first choice destinations for Brazilian students wanting to study abroad and Vancouver tops the list for travelling Brazilian students. This is largely due to the large variety of government-funded schools, warmer weather, and cultural compatibility.
Vancouver has a warmer weather compared to Manitoba for example, and the multiculturalism in the city endears itself to Brazilians who are known for being notoriously home sick, making it easy to adapt and settle in.
Every year, Vancouver receives Brazilian students who come to improve their English. Canadian schools in Vancouver have noticed and embraced the increase in Brazilians in their schools, enjoying the typical Brazilian positive energy in class.
Samba Ottawa
Staying true to their Brazilian roots, the Samba Ottawa is a group of 20 Brazilian musicians that was formed in the year 2000, the group is based in Ottawa.
They are musicians who sing and perform a number of Brazilian and Afro-Latin rhythms including Samba and Samba-reggae, and performance is a major part of what they do. Performing in and around Canada, the group have had more than 2000 concerts, parades, and many TV appearances, and known too many Canadians.
The band also runs as a non-profit making community band and is known to welcome people to join them whether beginners or advanced musicians, offering them an opportunity to participate in gigs and other performance activities, those who just want to have fun or participate in weekly rehearsals are accepted.
Brazilian Gaucho Barbeque in Calgary
A taste of Brazil in Calgary, a place where meat lovers from around the world can visit in Calgary. Situated in the heart of Canmore's Rocky Mountains, steeped in 450 years of Gaucho Brazilian BBQ tradition, you can expect to be taken back to Brazil as they serve assorted steak delicacies from Brazil.
It shows how Brazilians have gone to great lengths to settle in and enjoy their lives in Canada and their capacity to share their culture and heritage with the people of Canada, who have made them feel comfortable and welcome.