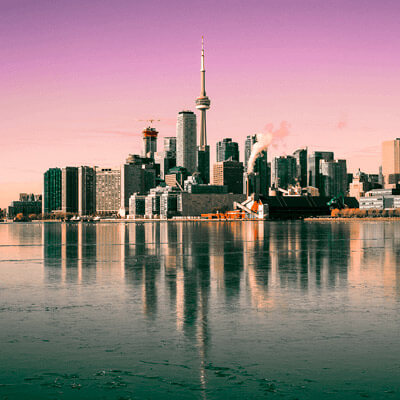 Amir Fatall and his wife Nour Ammana, are a Syrian couple who immigrated to Toronto, Canada in 2016. Amir did not just bring his family to Canada, he also brought along the fantastic food of Aleppo. Their restaurant, the Beroea Box is a small shipping container restaurant, that now caters for the local Toronto population, bringing with it all the great traditional food from their home town.
This tasty business would never have happened if Amir and his family had not been forced to leave their home town of Aleppo after their home was tragically destroyed by a bomb. This was the start of their food journey.
In 2016, Amir and his family were lucky enough to get a sponsor family in Canada. This allowed Amir, his wife, and their daughter a chance to start a new life in Canada. Soon after the family arrived, they began to show their appreciation towards their kind sponsor family, by cooking them old-style Syrian meals like barbeque lamb with sour cherries and vine wrapped leaves.
Soon after, their sponsors came up with an idea. Why don't Amir and his family start up their own food business? If Amir and his family cooked such great tasting food for them, they were sure that everybody else would enjoy it just as much as they did.
Thus, the idea to start Beroea Box began, even though Amir and his wife, were a bit nervous about the idea at first. They had never had any experience running a food business before. But eventually, they decided to sign up for a Market 707 Shipping Container to run their business. They even took food preparation lessons and began to plan for their new little business with excitement.
Beroeo Box hosting a party for refugee sponsors and their sponsored families
Now in 2017, Amir and his wife have their own restaurant, bringing a little taste of Syria to the Toronto streets. Amir says that "I believe a person who is born in Aleppo, has a love of food in their genetics." Which also explains what he did next. Not only do they have their own business, but they also host parties for other Syrian refugee families and their sponsors. Letting their food, bridge the gap between different cultures, one tasty mouthful at a time.
Did you know it is possible to become more accepting of a culture, once you get to taste their food? Food is a way to bond because everyone loves to taste something delicious. When Amir and his wife serve a customer, they can help educate others about where they come from, about their food, and about their history. Never underestimate the ability of great food to help bring people together.
Do you want to come to Canada? At CanadianVisa.org, we make applying for your visa simple. Fill out the form and one of our account managers will call you to begin your Canadian visa application process.