Calgary, located in the Province of Alberta, is one of Canada's most understated cities, one that is often overshadowed by its more dazzling sister Vancouver on the west coast, or it's big brother, Toronto, in the far east. But Calgary is one of those quintessentially Canadian cities that provides its visitors with experiences they won't have anywhere else.
Nestled alongside the Bow River, about 50 miles east of the spectacular Canadian Rockies, Calgary is fifth largest city. Even more interesting is that Calgary's population of 1.2 are among some of the youngest in Canada! That's right, the average age in this city is 35.7, which means one thing; You are guaranteed to have a great night out in this town. But don't be fooled, Calgary isn't merely a party town, there are plenty of family friendly activities. Calgary is as multicultural as Canada's larger cities, with some 120 different languages spoken here!
The city's wide open spaces, and laid back atmosphere give it the nickname "Cow Town", couple that with the juxtaposition of a booming tech industry and a younger, multicultural demographic, there is an endless number of activities to keep you entertained.
Here are the ten fun facts about Calgary.
The Calgary Stampede
Some see the Stampede as a place to party, drink and have a great time, but in reality it is so much more than that. It is a celebration of the unique western culture that was, is and will be Calgary in the years to come.
Put aside the concerts, shows, rides, games and everything else you'll find there and you're left with a rich history going back more than a century.
The Calgary Stampede is an annual rodeo, exhibition and festival held every July in Calgary, Alberta, Canada. The ten-day event, which bills itself as "The Greatest Outdoor Show on Earth",[3] attracts over one million visitors per year and features one of the world's largest rodeos, a parade, midway, stage shows, concerts, agricultural competitions, chuckwagon racing and First Nations exhibitions. In 2008, the Calgary Stampede was inducted into the ProRodeo Hall of Fame.
The event's roots are traced to 1886 when the Calgary and District Agricultural Society held its first fair. In 1912, American promoter Guy Weadick organized his first rodeo and festival, known as the Stampede. He returned to Calgary in 1919 to organize the Victory Stampede in honour of soldiers returning from World War I. Weadick's festival became an annual event in 1923 when it merged with the Calgary Industrial Exhibition to create the Calgary Exhibition and Stampede.
Chinook
The wind in Calgary is often called a Chinook. It's a hot, dry wind that comes from the west over the Rocky Mountains. The wind can raise the temperature in the winter so much that you can be shoveling snow in the morning and soaking up the sun in a t-shirt by the afternoon.
Heritage Park Historical Village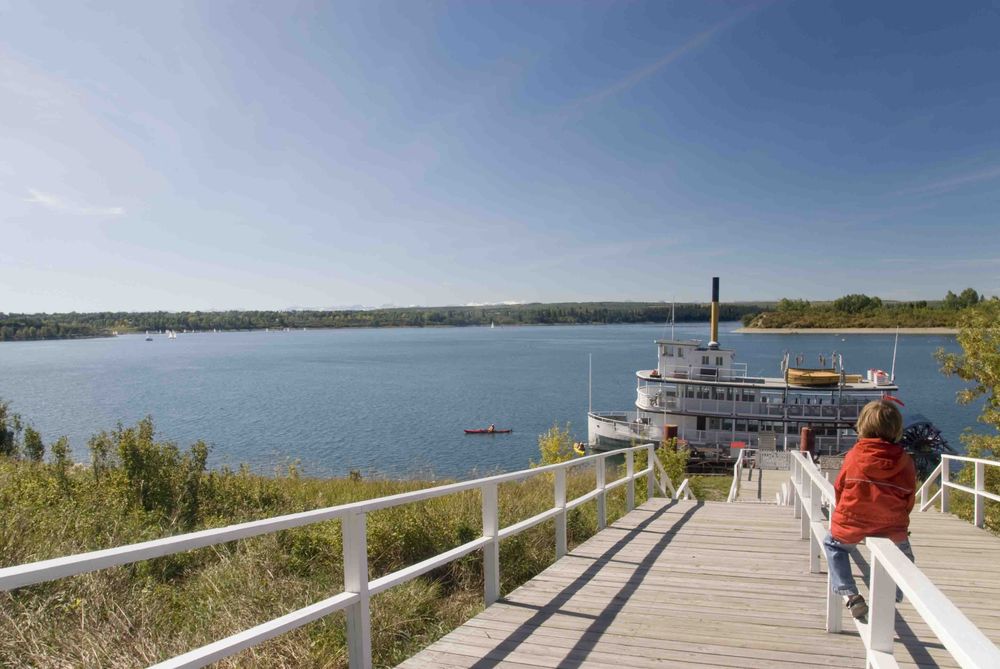 Calgary is home to award winning attraction is one of Western Canada's most beloved and holds the esteemed title of being Canada's largest living museum. Family friendly and a feast for the eyes and ears, the Heritage Park Historical Village boasts more than 200 exhibits, spread out over 127 acres of pristine land. Living museums take history from behind the glass and place it out in the open so visitors can experience it first hand. Exhibits include a First Nations Encampment from the 1880's, and a peek into the lives of pre-railway settlers.
Shop 17th Ave & The Entertainment District
Vancouver, Toronto and Montreal are generally more renown for their calibre of shopping, however, with Calgary's young demographic, just about anything you would find in the larger cities you'll find on Calgary's famed 17th Ave, plus a few quirky shops you won't find elsewhere. From mainstream favorites like Gravity Pope, West Elm and Frank & Oak, to cool record shops, chic knitting boutiques and glitzy jewelry shops fit for any Manhattanite. If it's retail therapy you're after, punctuated with cocktails at the hottest wine bar in town, this are over 400 shops, restaurants and services at your beck and call.
Fish Creek Provincial Park
Fish Creek Provincial Park in Calgary is Canada's second largest urban park behind St. John's Pippy Park. People enjoy walking and biking on the parks 80 km (49.7 miles) of trails.
Public Art Safari
Despite it's rough and tumble cowboy reputation, Calgary was named the cultural capital of Canada in 2012. After receiving this designation, the number of outdoor art installations has exploded, with artists from around the country (and the globe) flocking to Calgary to experiment with their own unique mediums. Grab your camera, hit reset on your imagination, and stroll along somewhere like the Stephen Avenue Walk. Here you'll find 10 metal tree sculptures, white in color, standing between 21-26 meters high, lit up at night. The trees are both an art installation, and a funky way to reduce sudden wind gusts that pick up along 8th Avenue S.W.
The Peace Bridge
The newest pedestrian bridge in Calgary is the Peace Bridge. Designed by Spanish architect Santiago Calatrava, the bridge is unique, red and made of 850-metric-tonne steel.
Canada's Sport Hall of Fame
Like our neighbours to the South, Canadians are huge sports fanatics. From baseball, football and track & field, to our most beloved sport of all, hockey. Any sports buff will appreciate this 40,000 square foot museum, conveniently located in the WinSport's Canada Olympic Park. Try your hand at some shadow boxing against legend Lennox Lewis, and check out the torch used to light the 1988 Olympic Winter Games. More than 600 Canadians have been inducted, many of which you probably know, but had no idea were Canadian!
The Bow
The Bow is Calgary's tallest office tower and 8th tallest building in Canada (number 1 through 7 are all in Toronto).
Home to Big Rock Brewery
Craft brews are the fastest growing sector of the liquor industry in the world and Calgary saw the trend from a mile away. Back in 1985, barley farmer and visionary Ed McNally, represented a small contingent of barley growers who wanted to do more with their crop than feed cattle. Ed opened Big Rock, Alberta's first craft brewery and grew it into the 54 million dollar operation it is today.