Situated in western Canada and one of three beautiful prairie provinces, Alberta is one of the largest areas, at 661,848 km², with an ever-growing population of over 4 million. Most of Alberta's population lives in only two major cities: Calgary and the capital city of Edmonton. Alberta is bound to British Columbia to the west, to the north by the Northwest Territory, and east by Saskatchewan. At its south, Alberta is bound by Montana, USA, and is one of two provinces completely landlocked. Let's take a closer look at life in Alberta, Canada.
About Alberta
Alberta was inhabited by First Nations people for some 10,000 years until the British began settling in Canada in the 17th century. The British province of Rupert's Land annexed the area and became a fur-trading landmark throughout the 17th and 18th centuries. In the late 19th century, the newly-formed Canadian government purchased the land of Northern Alberta. It incorporated into the North-West territories until it became the District of Alberta in 1882 and the province of Alberta in 1905.
Since then, Alberta has grown as both an oil and gas province and a strong agricultural province, making it one of Canada's strongest economies.
Where is Alberta on the Map?
As one of Canada's prairie provinces, Alberta is surrounded by the famous Canadian Rocky Mountains, covered in lush forests, with a southern area giving way to never-ending grasslands. Alberta is a landlocked province with no access to the ocean and very little access to Canada's large lakes.

Economy and Industries
Today, Alberta's economy is the strongest in Canada, with abundant natural resources and many job opportunities in forestry and agriculture. In recent years, the fossil energy industry has led to an economic boom that has developed into a flourishing manufacturing sector. As a result, Alberta's population has grown rapidly in recent years, overtaking every other province and territory in Canada. Over the past decade, over half a million immigrants have chosen to settle in Alberta, with most newcomers being young men looking for better job opportunities.
Alberta is one of the more popular immigrant destinations due to the abundance of well-paying jobs in the oil, finance, and tourism fields. This makes Alberta a wonderful place to start your new life as an immigrant, with promising opportunities and great benefits for its citizens.
Look at this full breakdown to understand which occupations are in high demand and how working in one can affect your application process. Also, this video briefly introduces which occupations are in demand in Alberta and the projected salaries for each profession.
Climate/ Weather in Alberta
The region makes this province a beautiful place to visit, with warm summers and cold, white winters. Alberta's warmer months run from May to September. While temperatures can reach up to 40°C in certain areas, Alberta's summer temperatures generally range between 16°C and 24°C, according to WeatherSpark.com.
Alberta's colder months generally span from November through to March. During these months, it's rare to see the temperature cross 0°C, generally ranging from -8°C to -24°C.
Cost of Living in Alberta
Salary
The Average Salary After Tax Per Month
$4,947.37
20 Years Fixed-Rate/ Mortgage Interest Rate
4.3%
Living Expenses
Rent 1 bedroom apartment in City Centre
$1,297
Rent 3 bedroom apartment in City Centre
$2,322.84
Average cost of buying a home
$540,000
Transportation
Monthly Pass
$106
Single Pass Fare
$3.55
Gasoline per liter
$1.93
Leisure
Eating out at a cheap restaurant
$23.50
Three-course meal for two at a mid-range restaurant
$85
Utilities
1 month's groceries
$250
Basic (electricity, heating, cooling, water, garbage) for 85m apartment
$244.48
Internet (60 mbps+) per month
$82
Schooling & University
Preschool or kindergarten per month
$1,055
International primary school per year
$13,189
University per year
$11,780 - $45,208
There are many reasons to choose Alberta for your new home. There are no provincial sales taxes, the province has the lowest tax on gasoline and has among the lowest property taxes in Canada with an average home costing around $540,000. Local residents can keep costs down with shorter commute times, reduced housing prices, and affordable consumer goods.
Immigration/Dedicated Visas
The Alberta Immigrant Nominee Program (AINP) is a government-run program where candidates who have the skills and qualifications that Alberta is looking for, are nominated for Canadian immigration. Alberta accepts applicants in the following categories:
Learn more about which of Alberta's unique visas you qualify for here.
Demographics
Alberta is home to a variety of ethnicities and religions with immigrants moving from India, China, the Philippines, the United Kingdom, Germany, and France. In fact, as of 2022, Filipino's accounted for almost 2% of the population, a number that has grown dramatically in the past few years.
Spiritually, Christianity is the largest religion in Alberta. However, there are sizeable practicing Muslim, Sikh, Hindu, Buddhist and Jewish communities throughout Alberta.
Education in Alberta
Alberta is a fascinating place for students, and it provides wonderful educational opportunities for its citizens. Home to an impressive 6 universities, 13 colleges and several trade schools, Alberta has something for everyone. The University of Alberta is one of Canada's most prestigious learning institutions. Nestled in the city of Edmonton, this school has over 39,000 students, with many traveling from over 150 countries worldwide to enjoy access to over 400 undergraduate programs.
As Canada's major paleontological treasure-trove, many students from all over the country flock to the province to dig for fossils.
Major Cities
Alberta has two major cities - Calgary and Edmonton. While both are considered centers of culture and industry in their own right, they are also incredibly close together for two large cities. At only 299.8km away from each other, driving between the two only takes a few hours. As a result, there is a lot of crossover in the interests and cultures of both cities, but also a spirited rivalry. However, each has their own individual flavour.
Calgary
As Alberta's largest, most populous city, Calgary is widely regarded as a centre of attraction and influence in Alberta. Home to some of Alberta's most dazzling and famous tourist attractions, over 7 million tourists descend on Calgary each year, according to Calgary City News. Calgary's history of agriculture and its rapidly-expanding tech industry has led to a booming job market and a massively expanding expat community. Learn more about what life in Calgary is like.
Edmonton
Edmonton is Alberta's capital and is home to much of Alberta's history and political prowess. Established in 1894, Edmonton was home to Canada's oil boom in the 1950s and 1960s and was, at one point, the Oil Capital of Canada. Edmonton has been the capital of Alberta since 1904 after only being declared a city a few months prior. Today, Edmonton is a welcoming, friendly city with an infrastructure providing thousands of trade and technical jobs for applicants of all backgrounds. Look at this handy guide for a taste of life in Edmonton.
Things to do in Alberta
Spending time enjoying the great outdoors becomes a necessity in a beautiful area like the Rockies. Many residents take a drive out to the mesmerizing mountains where there are many hikes and mountain bike trails that wind their way along the famous Moraine Lake. This body of glacial water has become a popular spot for canoeing, swimming, and fishing in the summer, and sets the perfect backdrop for photos in the winter as the lake freezes over and the mountains are layered in snow.
Aside from the many nature reserves, mountains, and lakes in the province, Alberta is also an area that celebrates a unique western culture. Hosting the largest rodeo in North America every July known as the Calgary Stampede, visitors can enjoy a step back in time to an era of Wild West chuckwagon races, rodeos, and parades. Thousands of visitors rate this event as one of the best in the province, so join in on the fun.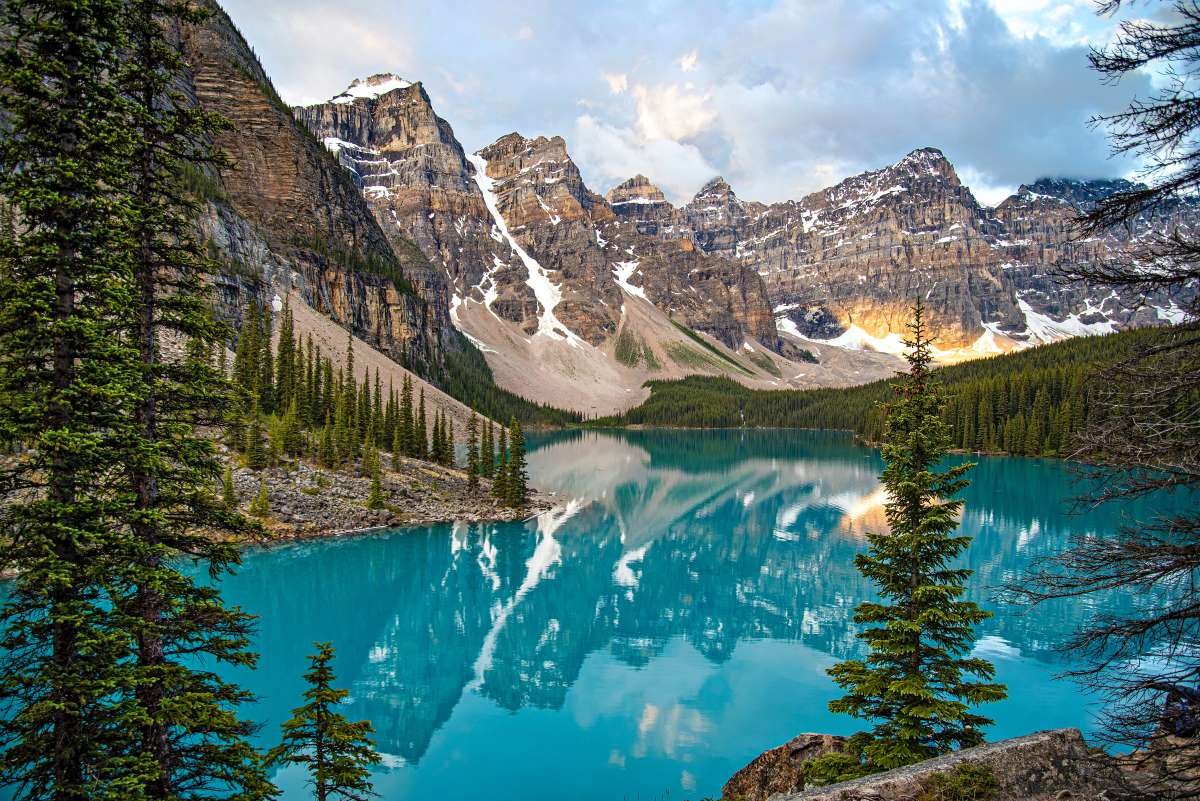 Start Your Journey to Alberta
While we may have answered your questions on Alberta, but to truly know what life in Alberta is like and how to move there, you should speak to a Canadian. One of the best ways to do that is to click the button below to speak to a Regulated Canadian Immigration Consultant who, as a resident of Canada, can give you a good idea of what to expect when you move to Alberta and, as someone who has been through the immigration process themselves, can ensure you can start your life in Alberta quickly and easily.