If you have dreams of studying abroad in Canada, now is the time to apply. The new enrollment term is about to begin and provinces like Ontario are opening their doors to international students who want to study at world-renowned universities.
Many universities in Canada are preparing for new enrollments this fall with early applications starting in October.
Here is how you can stay ahead of the enrollment rush, and learn to apply to Canadian universities with these easy application steps.
How to Apply to Canadian Universities
Step 1: Do some research about universities you wish to apply for, make sure you have at least three options that you want to apply for just in case
Step 2: Check their admission requirements for international students, this will cover:
Admission times;
Language requirements;
Credit scores for the degree or program you want to apply for;
Application letter to the university; and
Personal profiles may also have to be sent, this is part of your student profile and takes around 30 minutes to complete. There are three questions you are given by the university to answer with a short essay and two short videos
Step 3: Submit all the required documents such as
A certified copy of your diploma or certificate;
A complete application form for your course;
An updated CV (if needed);
Letter of Intent (This states your intention to enroll in the college or university and any education course you wish to apply for);
Language results that are no more than one year old for English or French:

English tests that are generally accepted: IELTS, TOEFL, and C1 Advanced
French tests that are mainly accepted in Canada are: TEF, TCF, DALF, and DELF

Proof of funds to show that you can support yourself and anyone who immigrates with you during your studies;
If you are applying for a Ph.D. or Masters program, you will need to have two letters of Academic Reference, along with previous Letters of Employment; and
If you did not study in Canada, you will also need to have your education assessed with an ECA (Educational Credential Assessment)
Please note that all documents must be translated into either English or French by a certified translator and that the original documents must also be included in your application.
Step 4: After your application is processed by the university, you will get your Offer of Admission which is also called an Acceptance letter
Step 5: Apply for your study permit and prove that you:
Have enough funds to support yourself;
Have a medical certificate from an approved doctor from the Canadian panel of physicians (if you plan to study in Canada for longer than six months);
Have the intent to come to Canada for the sole purpose of studying;
Inform the Canadian Immigration Office that you intend to leave after your studies are complete; and
Provide Police Clearance also known as a police certificate to show that you are a law-abiding person with no criminal record (this includes DUIs)
A useful tip to know is that you must have health coverage while you study in Canada because you cannot qualify for public health care unless you are either a permanent resident or a Canadian citizen.
Approved Languages Tests
Being able to speak either fluent English or French is a key part of qualifying as an international student because most courses and lectures will be in these languages. Understanding how to apply to canadian universities is not the end of the journey. You'll have to make sure you can pass the language test with enough points to prove you can understand what is going to be taught to you in Canada.
To prove that you have the language skills needed you will need to take certain exams, such as IELTS (International English Language Testing System) or TEF Canada (Test d'évaluation de français). Just make sure that if you complete IELTS or TEF, that you select the Academic test and not the General test option.
Some universities like the University of British Columbia will accept English scores in IELTS of 6.5 in reading, listening, speaking, and writing, though other universities will have higher language requirements of 7 or more.
Always make sure you know which language tests are accepted by the universities you want to apply to before you waste your money seeing as these can be quite costly.
ECA for International Students in Canada
If you have never studied in Canada you will need to have an ECA or Education Credential Assessment. This is to prove that your educational qualifications are at the same level as Canada.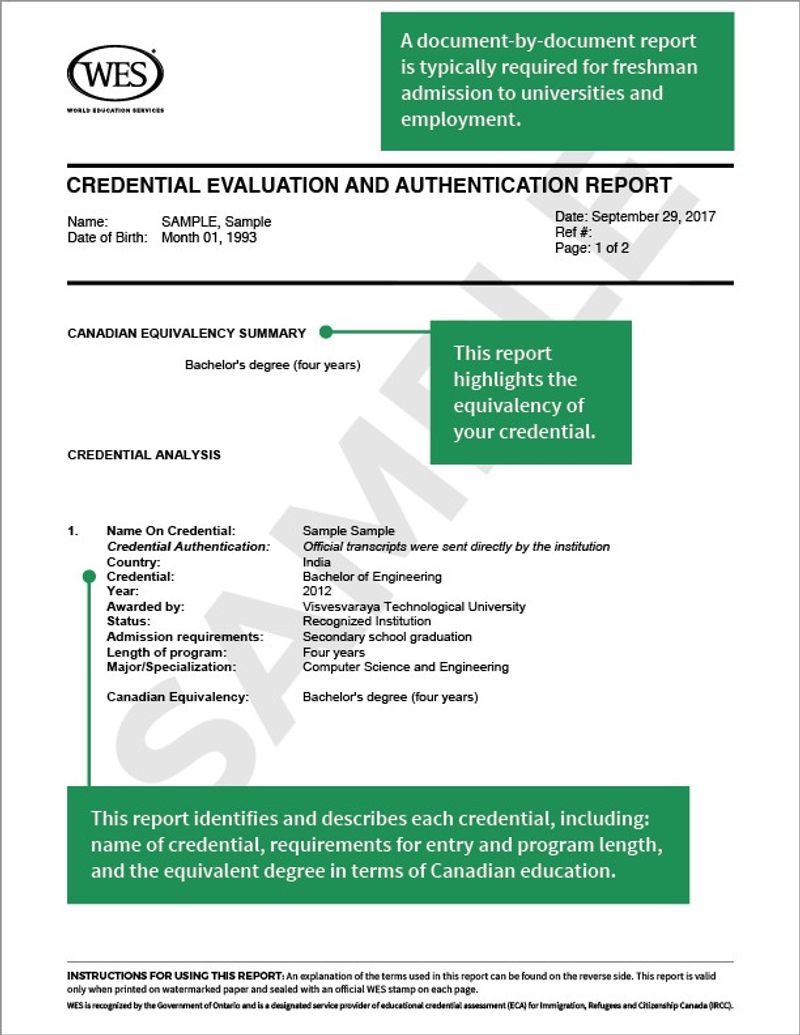 Different Provinces and Territories Accept Different ECAs
Here is a list of what ECA versions you can apply for based on your location.
Alberta: International Qualification Assessment Service
British Columbia: International Credential Evaluation Services
Manitoba: Academic Credentials Assessment Service
Quebec: Centre d'expertise sur les formation acquises hors du Québec
Saskatchewan: International Qualification Assessment Service
Ontario: World Education Services, Comparative Education Service and International Credential Assessment Service of Canada
Northwest Territories: International Qualification Assessment Service
For other provinces and territories we have not mentioned above you can use the following:
International Credential Assessment Service of Canada
World Education Services
International Qualifications Assessment Service
International Credential Evaluation Service
Designated Learning Institutions
Institutions that are permitted to accept international students have their approval from the provinces and territories of Canada. The term "designated learning institutions" is used to describe them (DLIs). Therefore, the acceptance letter needs to come from a DLI if you need a study permission. If you fail to accomplish this, your application will be turned down. The good news is that all of Canada's top universities are Designated Learning establishments that are permitted to admit international students.
Apply to Study in Canada
With four of the top 100 universities in the world, like Toronto University and McGill University, it is no wonder that over 370,900 international students choose to move to Canada for further study.
In case you didn't know, if you study in Canada as an international student, you could qualify for the Post-Graduation Work Permit Program that lets you become a permanent resident of the great white north.
Do you want to study in Canada as an international student? You can start the application process for a study permit in Canada with us.
By using our accredited Regulated Canadian Immigration Consultants (RCICs) you will not only improve your chances of success in the visa application process, but you will get expert advice on which program is best for your specific needs. Our RCICs are highly qualified and are granted permission by the ICCRC to assist you with your eligibility evaluation, review all your documents and application forms, and submit them to the Canadian government for you. Why take the chance of having your application denied because your forms are incorrect or sent in too late.
We handle the application process for a study permit now that you know how to apply to canadian universities, so that you can apply to Canadian universities across the country with ease.
FAQs
What is the Best University for International Students in Canada?
Canada has some of the best universities in the whole world. It's no wonder that so many international students flock to the Great White North. Some of the most sought after secondary learning institutions are The University of Toronto, McGill University and the University of British Columbia. However, there are many more.
What are Universities in Canada Like?
Different universities have their own strengths. Some universities are best known for Law, like McMaster, while others pride themselves, such as the Vancouver Film School, on catering to more artistic students. However, university students in Canada, no matter where they study, have a great standard of education and a good study-life balance.
Can I Afford to Study in Canada?
Even though some Canadian colleges are pricey, foreign tuition in the Canada is less expensive than in many other developed nations. In addition, you can apply for scholarships to help you pay for your education, and you can acquire part-time work that will help you pay for both your living expenses and tuition.