The territory of Yukon is famous for its history of the Klondike Gold Rush of 1896-1899. However, it's often a territory that few people know much about. Yukon is the smallest of Northern Canada's regions. Originally populated by the First Nations people, the area was covered by a blanket of ash in 800 AD, caused by the eruption of Mount Churchill, which is often cited as the first recorded event in the area's oral history.
About Yukon
The territory was a place of extensive trade by the different First Nations tribes until European expeditions started venturing into Yukon in the 19th century. After the initial Klondike Gold Rush, the territory was formed in 1898, having previously been a part of Canada's Northwest Territories. To this day, the vast stretches of wilderness have made the territory a paradise for farming and mining.
Where is Yukon on the Map
The Yukon territory is bordered on the west by the U.S. state of Alaska. On the north is the Beaufort Sea. On the east are the Northwest Territories, and on the south is British Columbia.
Economy and Industries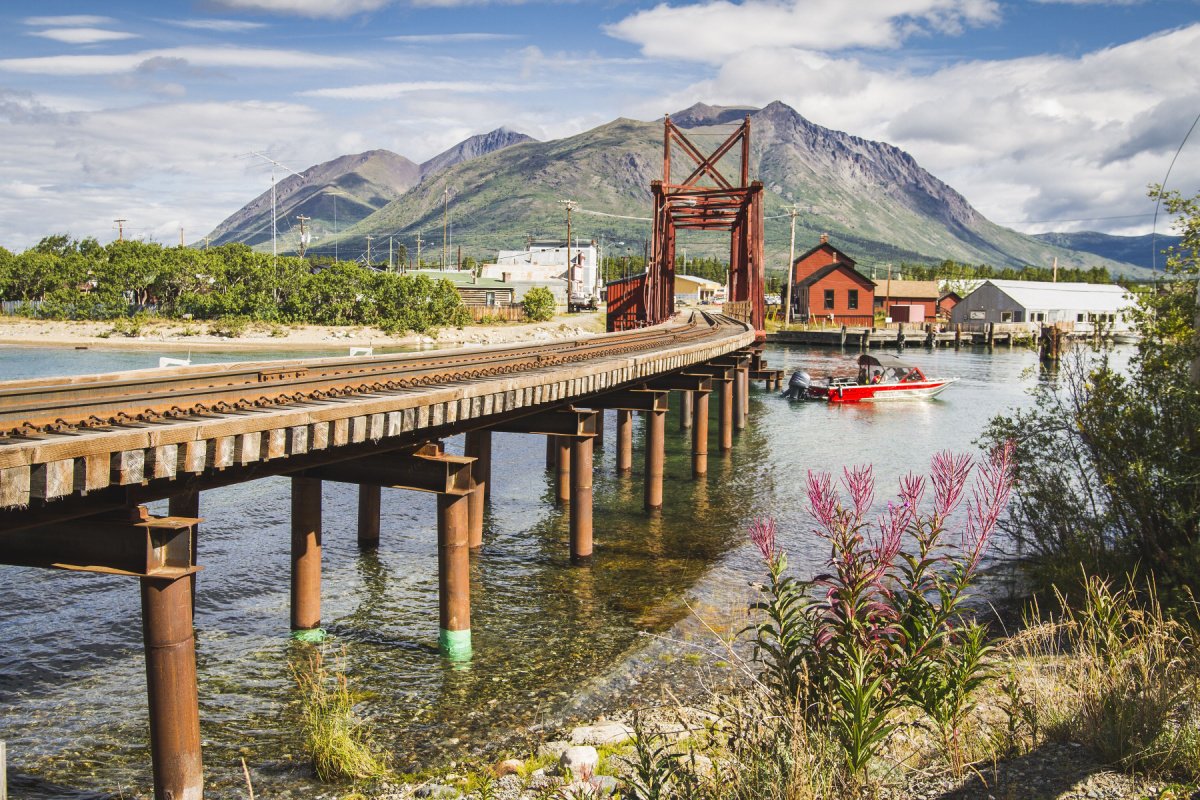 Due to the vast expanse of land, compared to the relatively small population, the major industries in Yukon focus on harnessing the abundant natural resources in the area. As a result, the key industries and significant industries for jobs in Yukon are:
Agriculture, forestry and fishing
Resources and power
Manufacturing
Services, labour and taxation
Transportation and telecommunications
These industries are the backbone of the Yukon economy, and most Yukon residents work in these industries. However, every province and territory in Canada has labour shortages, and Yukon is no different. Currently, the in-demand jobs in Yukon are split into two categories based on which immigration stream foreign nationals in those occupations can immigrate to Yukon through. They are:
The Yukon Express Entry and Skilled Worker Program
The Critical Impact Worker Stream
The In-demand jobs in Yukon for each stream are as follows:
Express Entry and Skilled Worker Program List
NOC Code
Eligible Occupations
1111
Accountants
1311
Bookkeepers
2174
IT Professionals
3012
Registered Nurses
3112
General Practitioners & Family Physicians
3113
Dentists
Critical Impact Workers List
NOC Code
Eligible Occupations
6421
Retail Salespersons
6525
Hotel Desk Clerks
7511
Truck Drivers
8431
Farm Workers
6611
Cashiers
6711
Food Counter Attendants & Kitchen Helpers
6731
Hotel Housekeepers & Room Attendants
6733
Janitors, caretakers, and building superintendents
Learn more about the in-demand jobs in Yukon here.

As you can see, all of these occupations have a National Occupational Classification (NOC) code. This code is designed to classify all professions in Canada to help the government of Canada determine which occupations are in demand in Canada or eligible for specific programs. Find out more about how the NOC works and how to assess your NOC code here.
To work in Canada, you'll likely need a work permit. To get one, you must follow the work permit application process thoroughly and correctly. Here's a full breakdown of the application process and eligibility criteria you and your Yukon employer must fulfill to get a Canadian work permit.
However, knowing how the process works and going through the process are two different things. If you want to ensure your process goes smoothly and you can start your job in Yukon as soon as possible, talking to an expert can certainly help. Our Regulated Canadian Immigration Consultants (RCICs) team has helped hundreds of hopeful applicants get their work permits to begin the next step of their careers in Canada. Find out how an RCIC can help you.
Climate/ Weather in Yukon
The Yukon Weather conditions are some of Canada's most varied and extreme. The highest recorded temperature in Yukon was a boiling 35.0 °C (95°F), with the lowest being a bone-chilling −58.3 °C (-72.94°F). These temperatures were recorded within three years, from 1947 to 1950, in Dawson City, north of Yukon. To this day, Yukon weather conditions remain extremely wide-ranging.
Yukon's summers are generally sweltering and humid but are well-known for their beautiful clear skies and sunny days. Summer in Yukon starts in early June and ends around mid-September. During this time, temperatures can soar to around 34°C (93.2°F) with lows around 22°C (71,6°F).
By contrast, Yukon is also renowned for having some of the coldest winters in the world. Throughout most of the winter, the temperature never usually goes above 0°C (32°F), with highs coming to -1°C (30.2°F) and lows coming around -20°C(-4°F).
While the extremities of Yukon weather can initially be off-putting to some, living in Yukon allows you to experience the full spectrum of the Canadian climate, from the bright, sunshine-filled summers to the winter wonderlands the country is so famous for.
Cost of Living
Due to its small population, ample open space and proximity to farms, Yukon has a relatively low cost of living compared to most other Canadian provinces.
The estimated cost of living in Yukon's capital, Whitehorse, is significantly lower than living costs in Canada's capital and largest city, Toronto. Here's a breakdown of the cost of living in Yukon compared to Toronto, according to Livingcost.org:
| Cost | Whitehorse | Toronto |
| --- | --- | --- |
| Average Cost of Living for a Single Person (excluding rent) | $738.00 | $1,327.71 |
| Average Cost of Living for a Family of Four (excluding rent) | $2342.00 | $4,846.43 |
Due to the low population in Yukon, housing prices are also relatively low, including rent. Here's a breakdown of the rent prices in Whitehorse when compared to a large city like Toronto:
| Cost | Whitehorse | Toronto |
| --- | --- | --- |
| Monthly Rent for a single-bedroom apartment (City Centre) | $1,500.00 | $2243.00 |
| Monthly Rent for a three-bedroom apartment (City Centre) | $2,200.00 | $3,645.71 |
Despite this low cost of living, the high proliferation of lucrative technical jobs in Yukon means that the average salary is higher than that in a large city like Toronto or Montreal. The average salary in Whitehorse, in comparison to the average salary in Toronto and Montreal, is as follows:
Average Monthly Salary (After Tax)
Whitehorse
Toronto
Montreal
$4,422.00
$4,259.77
$3,793.25
From this data, it's clear that those living in Yukon can generally afford a better quality of life than those in the big cities. This handy guide explains how to budget effectively in Canada so you can make the most out of your life in Yukon.
Yukon Immigration Programs
Most of Yukon's exclusive immigration options come through the Yukon Provincial Nominee Program (Yukon PNP). The Yukon PNP is designed to provide in-demand skilled workers with the opportunity to guarantee their permanent residency in Canada, provided they live and work in Yukon. Please find out more about Provincial Nominee Programs and how they work here.
The Yukon PNP is specifically designed to fill the gaps in Yukon's workforce to keep Yukon's economy growing. As a result, they are as follows:
Learn more about the Yukon nominee programs and how to ensure eligibility here.

Demographics
According to the Yukon Bureau of Statistics Population Report, as of June 30, 2022, the population of Yukon was 43,964.
21.7% of that population comprises First Nations people, making Yukon one of Canada's highest concentrations of First Nations people. Around 68% of Yukon is of European descent. However, there are significant communities of people from South Asia, China, the Philippines, the Middle East, Korea, Japan, West Asia, Latin America and Africa.
69% of Yukon residents are English first-language speakers, with only around 3.69% of Yukon residents being French speakers. As a result, the medium of instruction in Yukon is generally English.
If you need clarification whether your English abilities measure up to what's required of you in Yukon, here is a full breakdown of the Canadian Language Benchmark, Canada's system, to determine international immigrants' language abilities.
Education
Despite Yukon's small population, the territory still provides the world-class education Canada is renowned for at all levels. Yukon has two major tertiary institutions - Yukon University and the Yukon School of Visual Arts. These schools offer a wide range of programs to cover all professional career options, allowing you to gain a world-class education without leaving the province.
You'll need a study permit if you want to move to Yukon to study at one of these institutions. To get a study permit, you must fulfill all eligibility criteria and follow the application process correctly. Learn more about how to get your Canadian study permit here.
Yukon also has 28 schools (14 in Whitehorse and 14 in the surrounding rural communities), ensuring your children have plenty of options to continue their education in one of Canada's world-class schools. Find out more about how Canada's education system works here.
Major Cities
As one of Canada's more remote territories, Yukon only has one city that would be traditionally classed as a major city. That city is the major population centre and the provincial capital, Whitehorse. However, it would be remiss to discuss Yukon without discussing one of its most historically significant cities, Dawson City.
Whitehorse
Today, over 75% of Yukon's population lives in Whitehorse's territorial capital. With an approximate population of 24,000, Whitehorse is the largest population centre in Northern Canada.
The settlement grew from being a small trail to a large town during the Klondike gold rush and, today, acts as the major trading center in Northern Canada. While it isn't enormous compared to Canada's major cities, Whitehorse can walk the line between small-town charm and the connectivity and opportunities of a major city. On top of this, Whitehorse has unparalleled access to Canada's picturesque wilderness without leaving the creature comforts of a city.
As a result, Whitehorse is not only an easy choice for immigrants but also a hot spot for travellers on Working Holidays in Canada. So if you want to earn money while you travel in Canada, a Working Holiday program may be for you. Find out more about Canada's Working Holiday programs and how to apply.
Dawson City
Far smaller than the more temperate Whitehorse, Dawson City was the capital of Yukon from 1898 until 1952. With a population of only around 1,300, the city acts as one of the most northern outposts in Canada. A perfect example of small-town living, Dawson is loaded with the charm and friendliness Canada is famous for.
Things to do in Yukon
Due to the extremity of the Yukon weather, the territory is well known for its outdoor activities. In addition, Yukon's large areas of unspoiled wilderness have resulted in the territory having some of the true wonders of nature right outside your front door.
The Northern Lights in Canada
Suppose you've ever wanted to see the greatest wonders of the sky with no light pollution, the Northern lights in Canada or Aurora Borealis. Usually appearing between April and August, there is no greater reward for braving Yukon's arctic winter. Yukon has a multitude of guided tours, lodges, sled dog expeditions and even a B737 flight right through the lights, themselves.
Takhini Hot Springs
If you're looking to escape the cold for a while, the Takhini Hot Springs is the perfect hot spot. Located just outside Whitehorse and has been in operation for over 100 years.
However, the wonders of Yukon are not limited to just the wilderness. Yukon also has numerous historical landmarks that get to the heart of the story of Canada.
Carcross
Known as the smallest desert in the west, Carcross of the significant communities within the Traditional Territory of the Carcross/Tagish First Nation. Boasting beautiful architecture, this vibrant village is a perfect weekend destination for locals and newcomers.
FAQs
What is life in Whitehorse like?
Whitehorse perfectly blends the natural beauty of the Canadian wilderness, the friendly charm of the Canadian people and the greater connections to the world necessary for most people in the modern world.
Is the Yukon an excellent place to move to?
This depends on what your interests, goals and abilities are. For example, if you're looking to move to Canada to get a taste of the vibrant international-flavour Canada is known for, there may be other choices than Yukon. However, Yukon may be perfect for you if you prefer more tranquil, friendly small-town living.
What is the fastest way to move to Yukon?
This generally depends on your purpose for moving to Canada in the first place. If you have landed a job in Yukon and want to come over to work, you can live and work in Yukon with a work permit. However, work permits are often limited to the length of your job or contract so you may want to seek permanent residence. The fastest way to get permanent residency in Yukon is via the Yukon PNP of Canada's Express Entry System.
Explore All that Canada Has to Offer
On top of being one of the great vantage points for seeing the Northern Lights in Canada, Yukon offers the opportunities, creature comforts and close-knit community that so many people move to Canada to experience.
If you want to take the first steps on your Canadian journey, getting expert help will ensure you get what you want in the best way. Our RCICs can give you a complete evaluation to find you the perfect immigration program, guide you through every step of the application process, fill out your forms. They can even represent you with the relevant authorities.