Whether you are coming to Canada to work, learn or explore you should take advantage of the unique outdoor activities on offer. If you live in any of the main Canadian cities (Vancouver, Toronto, Ottawa, Calgary, Montreal) then you are probably only a short distance away from some of Canada's best natural landscapes.
When the weather isn't in the minus degrees you will find hikers, cyclists, yoga buffs, and adventure seekers on every corner. Canada Explore (Explores) is the YouTube Channel of the Canadian Tourism Commission and has a wide range of fun Canadian activities for you to view. We have carefully selected a few of our favorite outdoor activities in Canada to get your taste buds going.
Outdoor Activities in Canada
Canada is a vast country with a very varied landscape. It is the second largest country in the world with regards to geographical landmass. Its population of only 38,25 million people (according to the World Bank) in combination with its sheer size makes Canada one of the most sparsely populated countries in the world.
The country also spans several time zones which cross several lines of latitude and longitude, allowing for an extremely variable topography with all kinds of fauna and flora. Coupled with Canada's extensive and modern transportation system including rail, road and air leaves room for a lot of opportunities to explore all of these vast natural wonders.
List of the Best Outdoor Activities in Canada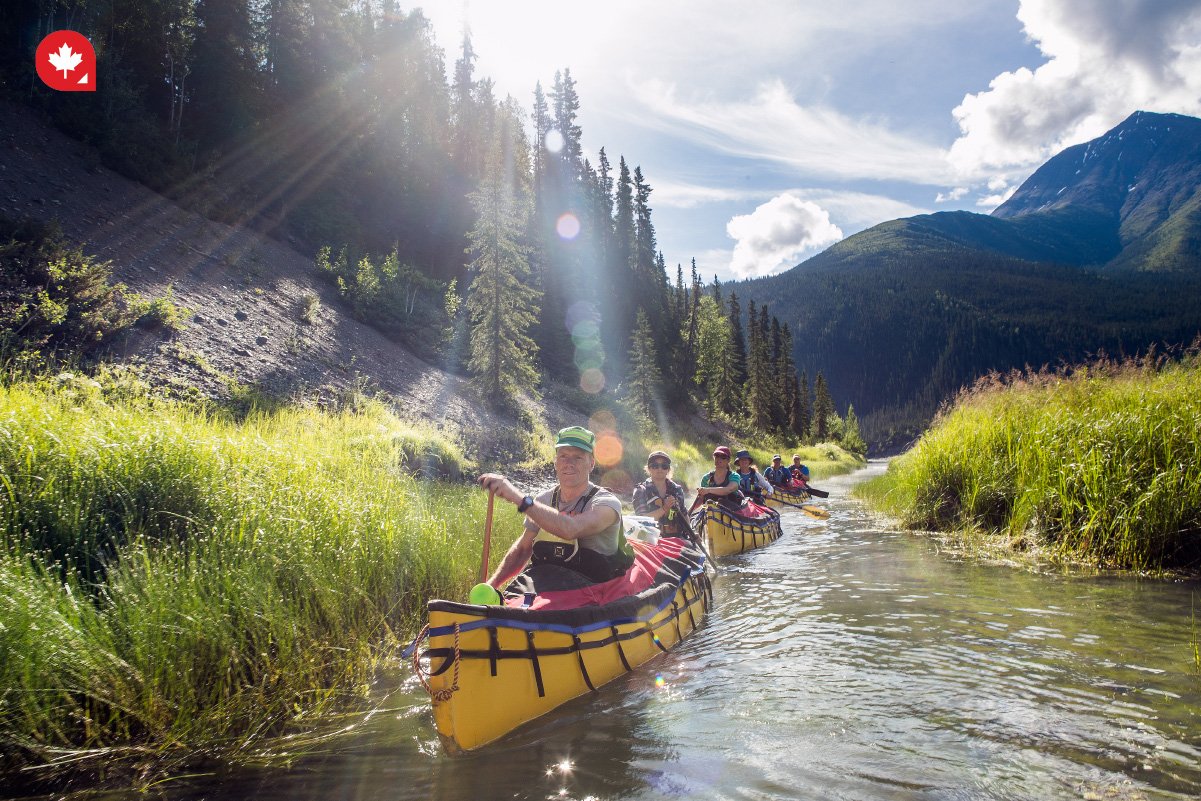 Whale Watching on Vancouver Island
Have you ever played hide and seek as a child? Well if you remember counting to ten and holding your breath every time you thought you had found the other person, whale watching is this thrill multiplied by 1000. This is an eye-opening experience that will leave you with lifelong memories. You can go on a Prince of Wales Tours and have an excellent guide on the trip.
The tour guides on Vancouver Island speak just enough to allow plenty of time to feel lost at sea and provide you with some nice little facts on wildlife in the pacific.
Glacier Skywalk, Alberta
This is one of Canada's newest attractions being developed by Brewster Travel. It promises to provide jaw-dropping scenery and just the right amount of nerves that a walk over a real glacier should provide. Here is a sneak preview of the Glacier Skywalk in Jasper.
Banff National Park
One hour outside of Calgary in Alberta, is the incredible Banff National Park. This 6,641 square kilometer piece of land is nestled in the heart of the Canadian Rockies.
Millions of people come through to the park every year to enjoy the snow-capped mountains, hiking along Lake Louise, white water rafting and mountain climbing. If you want to relax for a few days, there are many resorts, boutique guesthouses and inns around the park.
Edge Walk at the CN Tower in Toronto
The edge walk at the CN Tower will literally take you all the way to the edge of your seat. As you stand on the top of one of Canada's highest buildings you look down and realize what adventure is supposed to be about. You know that you are on a true adrenaline rush experience when you are provided with a list of conditions before you take part.
White Water Rafting in Ottawa, Ontario
Ottawa River is well known as one of the world's most famous rafting sites. This is a great group activity and a great way to spend a day of your weekend. Try to meander through one of the fierce whirlpools like Butcher's Knife or hold your breath waiting to do a 5m drop at Garvin's Chute waterfall. If you want a more chilled out day you can try surfing the smaller rapids of the Main Channel.
Prices range from anywhere between $89.00 – $159 for an adult depending on the raft experience (soft or high adventure) and most rafting experienced providers offer a BBQ lunch with each package.
Fresh Powder on Whistler Blackcomb
You haven't experienced anything outdoors until you try your hand at skiing or snowboarding down Whistler Blackcomb Mountain. Whistler is located 125 km north of Vancouver and has over 200 marked trails. The mountain offers great beginner slopes and all the terrain an experienced rider will need to enjoy an adventure-packed trip. Known for its play all day, party all night attitude Whistler is one of the world's top ski resorts.
Locals know the best off-piste tracks so don't be afraid to ask around when you are out and about sampling the village nightlife. And when winter arrives and there's a bit of a chill in the air, it's the perfect time for some good old Canadian fun – ice skating! There are so many amazing outdoor skating rinks across the country.
The Forks Outdoor Skating Trail
The Forks Outdoor skating path winds along two rivers in Winnipeg – the Assiniboine River and the Red River. All in all, the rink stretches over 9 km. Alongside the rink, skaters will find unique warming huts. Artists and architects from around the world build these huts as part of an art competition. While skaters can admire them as they glide across the ice, the shelters are also useful. They give people a place to rest and warm up during a long day of skating.
Roulston Lake
There's not one, not two, but at least 20 outdoor rinks at this winter hotspot. Every February, the town of Plaster Rock, New Brunswick, hosts the World Pond Hockey Championships. More than 100 teams from around the world come to compete in the games, all of which are played on rinks constructed atop frozen Roulston Lake. But it's not all about hockey. For those who'd rather skate than shoot a puck around, the rinks are open to the public during the rest of the winter.
Rideau Canal Skateway
No list of ice rinks is complete without this famed spot. Besides being a World Heritage Site, the Rideau Canal Skateway is the largest naturally frozen ice rink on the planet. In fact, its skating surface is bigger than 105 NHL skating rinks!
From January to early March, thousands of skaters descend upon the canal to glide over the ice. The Skateway begins in downtown Ottawa and stretches for an incredible 7.8 km. That makes it the perfect spot for people looking to skate the day away!
Summer and Winter in Canada
Summer
Summer in Canada is between June to August. The vast majority of regions that experience the full light and heat of the season are spread out along the United States-Canadian border. This means that the provinces of Ontario, Manitoba, Saskatchewan, Alberta and British Columbia are the prime locations to visit if you want to experience the full bloom of summer in Canada.

With the longest coastline in the world at a whopping 243,000 kms, visiting Canada in summer allows you to experience a myriad of landscapes from lush rainforests, to expansive water plains of turquoise waters. Canada is full of great outdoor activities to keep you occupied for your entire summer.

Here is a cursory list of things to do in summer in Canada.
Hike, Cycle, Paddle or Canoe Through Canada
Drop by and take a journey in Canada's iconic national parks
Soothe your soul with summer music festivals
Wine and dine along Canada's wine route
Winter
Winter in Canada is a wondrous experience for newcomers. A significant amount of Canada's tourism culture is oriented around the winter season. It offers views, scenery and activities that are primed to embed themselves in the memory of visiting tourists.
Snow-capped mountain peaks, frozen tundra, icy lakes, cold rivers and freezing landscapes dot the Canadian countryside, blanketing the landscape in a natural white landscape. Here is a look at some of the activities that you can do in the Canadian winter.
Skate along the Rideau Canal
Winter zip lining
Kayaking
Ice climbing
snowshoeing
ice skating
Canoeing
How to Visit Canada
The most readily accessible means of immigrating to Canada is through the International Experience Canada's (IEC's) Working Holiday program. The program allows recipients to work and travel in Canada over the span of a year or two.
To apply for this program, we recommend getting in touch with a Regulated Canadian Immigration Consultant (RCIC) or affiliated immigration consultancy like CanadianVisa. CanadianVisa will assist you with the facilitation of your eligibility test, application, submission of expression of interest and acceptance of the invitation to apply (ITA).
FAQs
What are the Best Places to Visit in Canada During the Winter?
Whistler, BC; Mount Edith Cavell, AL; Iqaluit, NV; Niagara Falls, ON; Rideau Canal; ON.
What are the Best Places to Visit in Canada During the Summer?
Victoria, BC; Jasper National Park, AL; Winnipeg, Manitoba; Niagara Falls, Saskatoon, Saskatchewan.
What is the Best National Park to Visit in Canada?
Banff National Park is the biggest, most beautiful National Park in Canada.