As a multicultural country, the Great White North has many exciting festivals and cultural attractions that take place throughout the year. If you're a newcomer or hoping to travel to Canada, there are many ways to discover where the latest activities occur. Newcomers, check your local newspaper and monitor local media for updated information on Canada's best galleries, museums, historical sites and festivals. Travelers, do some online research to plan what you'd like to see.
Canada has many thrilling and unique events and festivals to celebrate the changing of seasons, the history of the country, and the many exceptional people that make up this diverse country. So whether you're looking for an event to attend in winter, summer, fall or spring, there's always something great happening.

Festivals and Events

When it comes to events, festivals and other attractions, there's plenty on offer in the Great White North. Here's a taste of what you can expect when you travel to Canada.

Winterlude, Ottawa

The Winterlude Festival begins at the beginning of each year. The Rideau Canal is frozen during this period, and the city is covered in snow. This winter celebration brings visitors of all ages to the canal, where people can ice skate and play ice hockey. The most mesmerizing attraction? The unique ice sculptures draw a crowd of more than over 600 000 visitors each year.
Canadian National Exhibition
Every August for eighteen days, the Canadian National exhibition takes place in Ontario. The event will run from August 18 to September 4, 2023, and promises to be bigger than ever, showcasing amusement rides, carnival games, delicious food stalls, live entertainment, agricultural displays, sporting events, and more.
Grand River Pow Wow
Each year, on the last weekend of July, the Six Nations of Ontario's Grand River Reserve hosts one of the Great White North's most significant First Nations events. Almost every North American First Nations group is represented in the Pow Wow Dance Competition. You can look forward to over 400 costumed dancers and over 100 stands selling handmade crafts and flood.
Just for Laughs Festival
Founded in 1983, Just for Laughs is the largest international comedy festival in the world. It takes place in Montreal, Quebec, every July, where street performers and other acts perform throughout the city. If you love the nightlife, you'll find nightclubs and theaters offering programs supporting the participating comedians. In addition, the event draws audience members, talent scouts, and other entertainment hotshots seeking fresh talent.
The Quebec Winter Carnival Festival
The Quebec Winter Carnival Festival has taken place in Quebec in February since 1955. Events within the festival include a winter amusement park, in which you'll find tons of snow activities. You'll find many shows, parties and balls taking place at the carnival, some of which will be open to the general public and some private. Outdoor dance parties are hosted at the Ice Palace, along with additional events.
North American International Motorcycle Supershow
If you're a motorcycle enthusiast, you'll want to check out the North American International Motorcycle Supershow in Mississauga. You can look forward to the most incredible showcase of new and used motorcycles, spare parts, accessories, motorcycle apparel and more. And if that's not enough for entertainment, you'll also be treated to live performances, custom bike exhibitions and more.
Bard on the Beach in Sen̓ákw/Vanier Park
Bard on the Beach is the largest non-profit Shakespeare Festival in Western Canada. Set in Vancouver in Sen̓ákw/Vanier Park with a magnificent backdrop of mountain, sea and sky, you'll be entrained with the best of Master Shakespeare's work in the form of plays and dramas. There are two events in two modern performance tents from June to September. The performances draw crowds of around 100,000 people.
Calgary Exhibition and Stampede, Calgary
This is one of the most significant events in the country and has been labelled the "Greatest outdoor show on Earth," attracting over 1 million people every July. The 10-day event celebrates the western lifestyle that made its way to Calgary over 100 years ago. Visitors can expect rodeos, a parade, concerts, agricultural competitions, and many other historical events.
Dauphin's Countryfest
Country music lovers, you don't want to miss Canada's longest-running country music festival - Dauphin's Countryfest in Manitoba. The festival takes place at the end of June. The upcoming lineup includes the likes of John Fogerty, the American singer-songwriter and lead vocalist and frontman of Creedence Clearwater Revival, Award-winning singer, songwriter and musician Tenille Townes and Alabama country singer and songwriter Walker Haye, to name but a few.
Pacific Rim Whale Festival
Whether you're an avid whale watcher or not, spotting these beautiful creatures is always cause for excitement. So if you find yourself in Canada in spring from March to April, you'll get the chance to get a glimpse of at least 21,000 gray whales making their annual trek from Mexico's Baja Peninsula to the west coast of Vancouver Island. This is your chance to get a closer look by hopping onto a floatplane, catching a chartered whale-watching tour, or heading to the Pacific Rim National Park's Wickaninnish Centre viewing station.
The Peony Festival
If you're obsessed with peonies, you'll want to book for this entire festival dedicated to this delicate blossom. The City of Oshawa hosts a yearly Peony Festival at the Oshawa Valley Botanical Gardens. This popular festival pays tribute to horticulture, the arts and Canadian heritage. You can look forward to a selection of over 300 Peony varieties in the gardens and cut arrangements, which will be showcased in the Ontario Peony Society's flower show.
Toronto Film Festival
Every September, thousands of local and international actors, journalists, directors, and the general public flock to Toronto for one of the biggest film festivals in the world. For 11 days, the best in cinema is screened for the first time, generating Oscar buzz and attracting some of the biggest names in the film industry. This festival is perfect for those interested in the beauty and craft of international film.
Museums in Canada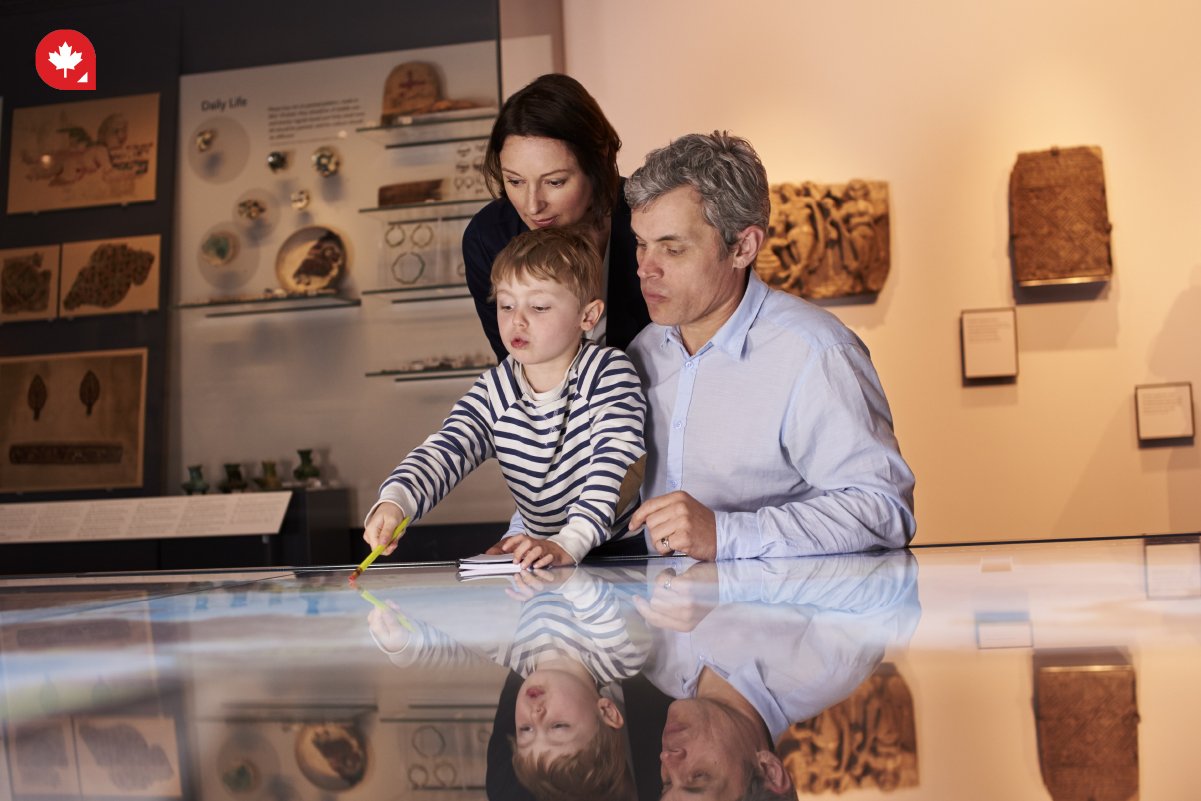 Canada is immersed in a rich cultural history, and there is no better way to appreciate this than with a visit to one of the many internationally-rated museums across the country.
Royal British Columbia Museum
Founded in 1886, this museum offers some of the most extensive and impressive displays of artifacts, documents, and specimens in British Columbia and the rest of Canada. The internationally renowned museum has one of the most significant archaeological collections in the province, with over seven million artifacts in total. The museum always has new collections and exhibitions, and many kids' activities keep the entire family entertained.
Musée des beaux-arts de Montréal
The Musée des beaux-arts de Montréal (MMFA) is one of Canada's most famous museums. It is, in fact, the eighth-most visited museum in Northern America. The museum's original temporary exhibitions showcase a combination of artistic genres, from fine arts to music, film, fashion and design. You can look forward to five pavilions, with international, Quebecois and Canadian art and art that focuses on world cultures, decorative arts and design.
Royal Ontario Museum (ROM)
Established in 1914, the Royal Ontario Museum (ROM) houses a global selection of art, culture, and nature that spans a lifetime. It is considered one of Northern America's most respected cultural hubs and Canada's largest museum. So what's waiting for you? Over six million objects and specimens are spread across 40 gallery and exhibition spaces.
The Canadian War Museum
Best known for its symbolic architecture, the Canadian War Museum is a platform that tells the story of Canada's military history. You'll find personal stories, artwork, photographic exhibitions, and interactive installations when you visit. So if you'd like to learn more about the conflicts that molded Canada we know today, it's well worth visiting.
Galleries in Canada
Many galleries are dotted around the Great White North, showcasing the finest local, national and international works of art. In addition, you'll find an eclectic collection wherever you find yourself, from more contemporary pieces to offerings from First Nations art.
National Gallery of Canada
One of the most prominent galleries in Canada, the National Gallery, is in the capital city of Ottawa, Ontario. The gallery has many spectacular displays of international drawings, photography, sculptures and paintings but specializes in Canadian work and artists. Notable internationally recognized artworks include works from Salvador Dali, Andy Warhol, and Pablo Picasso.
The Art Gallery of Alberta
Edmonton's most extensive public art gallery, the Art Gallery of Alberta, houses over 6,000 Canadian and international artworks. The gallery's 2010 $88 million renovation saw it double in size with a unique space for its permanent collection. So what's currently trending at the exhibition? Dean Drever's Pass the Hat, Riaz Mahmood's tribute to his homeland, Ghazal - Songs for Home and Scents of Movement, Scents of Place, an exhibition of artworks and scents that transport you to different times and places.
The Art Gallery of Nova Scotia
The Art Gallery of Nova Scotia is the largest in Atlantic Canada. The main gallery is in Halifax, but there is also one in Yarmouth. You'll find over 18,000 pieces in the gallery's permanent collection, so expect classic portraits, Inuit stone carvings and some of the province's folk art.
The Contemporary Art Museum of Montreal
The Contemporary Art Museum of Montreal has curated a collection of artworks from local and international artists for over half a century. You'll find almost every form of artistic expression here. From installations to sculptures and paintings, as well as digital and sound offerings. Be sure to catch the Nelson Henricks program of 15 Screen Tests produced by Andy Warhol between 1964 and 1966. The museum is also running an online exhibition that pays tribute to performance artist Leonard Cohen, which is available to audiences in Canada.
The Power Plant
A leading platform for Canadian and international contemporary artists since 1987, the Power Plant is a non-profit institution that works hard to showcase art to a more extensive audience range. In Downtown Toronto's Waterfront, you'll immerse yourself in a cultural hub with theatres, performing companies, the best cafes and other lifestyle offerings nearby. Entry to the gallery's exhibitions, programs and educational outputs is free. The most popular show is Arctic/Amazon: Networks of Global Indigeneity.
Historical Sites
With its rich history, Canada has no shortage of historical sites. So get your sneakers ready and prepare to time travel!
Canadian Parliament Buildings
Canada's Parliament Buildings in Ottawa, Ontario, are recognized as a symbol of longevity for the country. While the structures have been updated to allow for expansion, great conservation efforts have been implemented with each renovation to preserve the important public landmarks. As a result, you can look forward to many statues of the politicians who shaped the nation and captivating gothic architecture. If you're lucky enough to visit during a restoration-free period, do yourself a favor and explore the stunning library.
Halifax Citadel National Historic Site
When you're in Halifax, visit the Halifax Citadel National Historic Site to witness a throwback of a piece of Canada's rich history. From May to October, the Citadel comes alive with two historic regiments of the British Army - the 78th Highlanders and the Royal Artillery, who entertain visitors daily with their live re-enactments. Think bagpipes, weaponry, and the assembly of guards. It's the ultimate military experience. In addition, you'll find plenty of activities for the kids and a Citadel Ghost Walk for a darker experience right out of the early 1800s.
Fairmont Historic Railway Hotels
In the late 19th and early 20th centuries, considered the heyday of railway travel in Canada, many Canadian cities built luxury railway hotels to accommodate train passengers along the Canadian Railway route. These hotels were the epitome of grandeur and are still considered luxury hotels - even by modern, international standards - and often host celebrities, members of royal families and politicians.
Fairmont Hotels & Resorts own many of these establishments and brought their collection back to its original glory. So if a stay at one of these stunning hotels is out of your budget, you can still visit for tea or a tot of something at the bar.
Old Montreal, Quebec
Including Old Montreal in your travel itinerary is a must for a taste of nostalgia. This part of downtown Montreal stands preserved in its original state. The area is full of European character, with cobblestone streets, cafés and 17th- and 18th-century architecture. The oldest structure dates back to the 1600s. You'll find a vibrant community with many hotels, restaurants and shops.
Kejimkujik National Park
Kejimkujik National Park has many historical sites which cover periods from Canada's pre-colonial era to modern times. The park provides an ideal setting to escape and enjoy Nova Scotia's wonders.
Kejimkujik National Park has been home to several indigenous groups over the last 4000 years. However, the native Mi'kmaq have been living there for the previous 2,000 years. The park is named after Kejimkujik Lake, which is a Mi'kmaq word that is said to translate to 'land where fairies abound.' Look out for Mi'kmaq rock carvings on the shoreline, extensive hiking trails and campsites in this oceanfront and seaside hiker's paradise.
Experience the Best Canadian Festivals and Cultural Attractions
With a taste of the best Canadian festivals and cultural attractions, you can now plan your trips around upcoming festivals and exhibitions - whether you're already in Canada or plan to visit soon. Then, take some time to explore additional offerings to ensure your visits are jam-packed with the ultimate Great White North experiences.
FAQS
Which Time of Year is Best to Travel to Canada?
That depends entirely on what your preferences are. Some people love experiencing Canada's winter wonderland, while others may be after the shades of rust that come with the fall. Decide on the weather you prefer and make your trip to Canada happen.
Do I Need a Visa to Travel to Canada?
Yes. To holiday in the Great White North or visit family, you will need a Canadian visitor or tourist visa to enter. There are two types of tourist visas to Canada - Single entry and multiple entry visitor visas. Each of these has its own Canada tourist visa requirements. However, there are some visa-exempt countries, so check whether this applies to your country of citizenship before applying.
How Can I Travel to Canada For an Extended Period?
If you are between 18 and 35 and from one of 35 qualifying countries, you can apply for a Canadian working holiday visa from International Experience Canada (IEC). If successful, you may spend up to 24 months travelling around Canada while working part-time to fund your adventures.