Quebec City is the capital city of the Canadian province of Quebec. The town is famous as a huge part of Canadian history and keeps the history of Canada alive with its cobblestone streets, historic sites, classical architecture and famous European charm.
It was initially the home of the Algonquian people, who named the area Kebec, meaning "where the river narrows." The region saw its first European settlement when the French made it their home in 1608. It was the capital of New France from 1608 to 1763, apart from when British pirates overtook it in 1629. It was a site of multiple historic battles during the creation of Canada and the United States throughout the 18th and 19th centuries. It was eventually named the capital of Quebec in 1867 by Queen Victoria.
According to the World Population Review, Quebec City's population is currently around 535,019. Like the rest of Quebec, most of the city's inhabitants speak French, with only approximately 1.5% of Quebec city locals speaking English.
The city has held on tight to its French heritage, with most locals being French speakers, and the architecture and culture of the city reflect its European roots. The province of Quebec is known for feeling far less American than the rest of Canada, and Quebec city exemplifies this perfectly.
Where is Quebec City on the Map?
Along with its Algonquian name, Quebec city is located on the North Side of a point where the Saint Lawrence River narrows and meets the Saint-Charles River. It sits around 255.2km northeast of Montreal, closer to the heart of the Quebec province. As a result, it experiences a more temperate climate, arable soil and hugely picturesque natural wilderness surrounding the city's metropolitan area.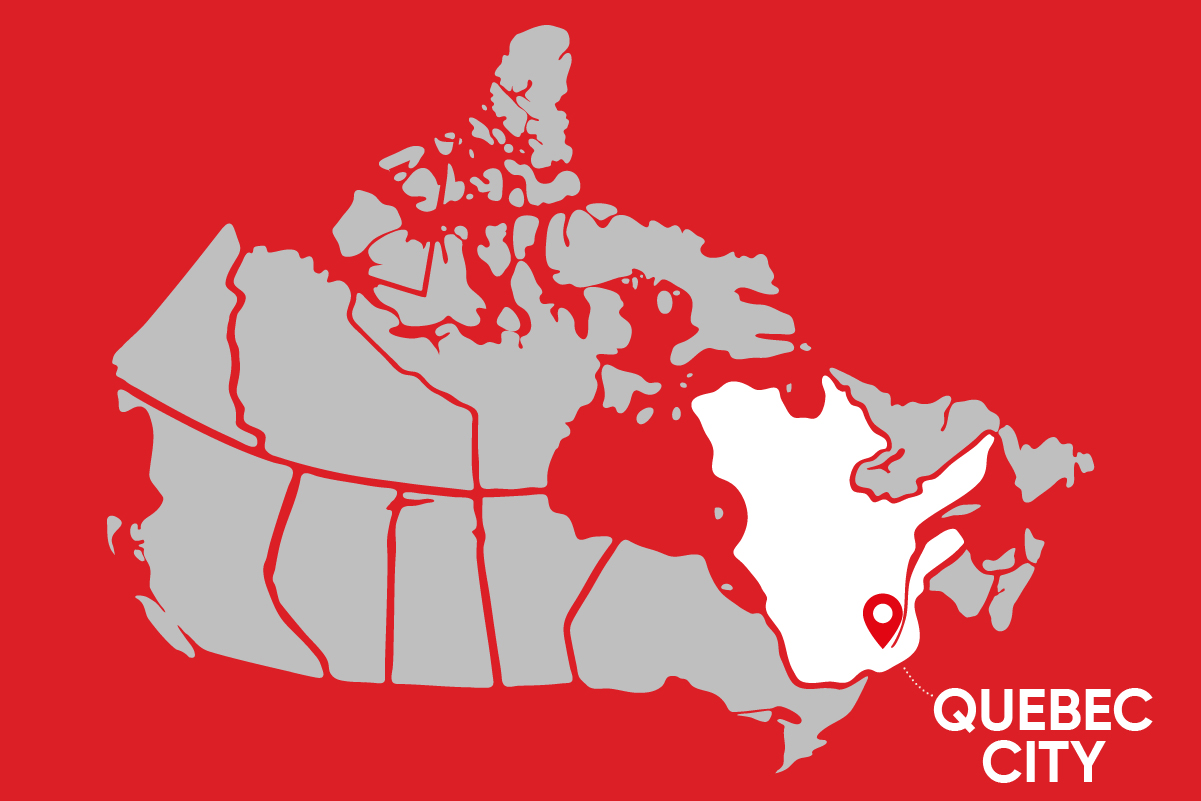 Climate/Weather in Quebec City
Due to its proximity to multiple large bodies of water, Quebec city weather is relatively mild for Canada. Summers are generally rainy and temperate, with winters bringing the snow and chill that brings the historic architecture of places like Old Quebec city to life in ways you can't find in other cities. The Quebec weather is famous for year-round having a very European, partly-cloudy feel. Still, it has plenty of sunny days, allowing its people to enjoy the region's natural beauty even more.
According to Weatherspark.com, Quebec city summers last just under four months, from late May to mid-September. During the summer, the average daily temperature tends to reach a high of around 25°C and a low of around 16°C. In addition, most of the city's yearly rain falls during this time, making the greenery of the city's surrounding nature shine.
The winter in Quebec City is classically Canadian, with most days staying below 0°C (32°F). During this time, the coldest month is January, with the average daily low at around -14°C and the daily high at about -6°C. The freezing temperatures of the Quebec city winters allow the locals to enjoy the ice skating and ice climbing afforded to them by the nearby rivers.
Work and Jobs in Quebec City
Much like its nearby counterpart, Montreal, Quebec, is a hub of industry and economic activity. Due to its size and proximity to larger cities like Montreal, Ottawa and Toronto, Quebec City's Key industries generally focus on the tertiary and quaternary sectors.
The major industries in Quebec city are as follows:
Electronics and optics-photonics
Life sciences and health technologies
TIC and digital arts
Food and nutrition
Insurance, financial services and business
Green and smart building
As a result, Quebec city and the province of Quebec generally have a massive demand for skilled workers, with thousands of jobs in Quebec city being in tech and business. In addition, Quebec has its specified skilled worker program, allowing qualified international applicants to be fast-tracked to life in Quebec faster and more efficiently than in other immigration programs.
Learn more about the most in-demand jobs in Quebec city and the province of Quebec here.

If you're looking to land one of the fantastic jobs in Quebec city but need help with applying for jobs in Canada, here's a handy guide to help you through the job application process in Canada. If you've landed one of the fantastic jobs in Quebec city, you will need a Canadian work permit to be allowed to work in Canada. Find out more about how to get a Canadian work permit here.
However, if you're interested in moving to Quebec full-time but are still determining your eligibility, you may want to speak to an expert. Our Regulated Canadian Immigration Consultants team has years of experience helping hundreds of hopeful applicants realize their Canadian dream.
Cost of Living in Quebec City
As it is significantly smaller than Canada's largest cities like Toronto but is close enough to Canada's major population centres so transporting goods isn't a problem, Quebec city's cost of living is relatively low.
Here's the average cost of living, excluding rent for a single person or a family of four, in Quebec city compared to Montreal.
| Average Cost of Living Excluding Rent | Quebec City | Montreal |
| --- | --- | --- |
| Single Person | $1,097.97 | $1,155.24 |
| Family of Four | $4,056.70 | $4,256.97 |
Due to its somewhat scenic location and small population size, rent in Quebec city is relatively low, too, despite the beautiful French architecture of the town. Here are the average rent costs in Quebec city compared to a larger city like Montreal.
| Monthly Rent in the City Centre | Quebec City | Montreal |
| --- | --- | --- |
| Single-bedroom apartment | $930.77 | $1,406.75 |
| Three-bedroom apartment | $1,545.00 | $2,516.53 |
However, despite the far lower living costs, the average salary in Quebec city is significantly higher than in its surrounding cities. For example, here's a comparison of the average salary in Quebec City and Montreal.
| Average Monthly Salaries After Tax | CAD |
| --- | --- |
| Quebec City | 4,229.85 |
| Montreal | 3,781.38 |
Neighbourhoods in Quebec City
Due to its historical background, the high average standard of living and its place as the provincial capital, Quebec city has a plethora of fantastic neighbourhoods for locals and newcomers alike, catering to all needs and interests. Here are just a few of the fantastic options you will have when looking to build your home in Quebec city.
Limoilou
Home to almost 20% of Quebec city's population, Limoilou is a vibrant centre of life and culture in Quebec city. Boasting some of the best restaurants and nightlife in the province, this area is a hot spot for young professionals.
Cap-Rouge
For those with young families, Cap-rouge offers the perfect suburban lifestyle. Close enough to the city to get the benefits of city life but far enough away to leave the noise and chaotic nature of city life behind at will.
Ile d'Orleans
This neighbourhood is just 20 minutes from downtown but, due to its island location, provides the countryside feel and lifestyle that the city cannot.
Transportation
While most people in Quebec prefer to drive via their transport, the city provides fantastic public services to help you get around. The Quebec city bus service is overseen by the Réseau de transport de la Capitale (RTC) - a division of the Quebec government.
Quebec City is also home to Jean Lesage International Airport, the primary airport of Quebec, which currently offers flights to over 360 destinations across Canada, the USA, Central America and Europe.
Things to Do in Quebec City
With its centuries of history and consistently vibrant culture, there is no shortage of things to do in Quebec city. So if you're into history, culture, sports, or the outdoors, Quebec city has you covered.
Old Quebec City
Ask anyone from Quebec, and they'll tell you that one of the best things to do in Quebec City is visiting Old Quebec. This historic district is home to phenomenal world heritage sites and some of the top attractions of Quebec, like Château Frontenac, Dufferin Terrace, la Citadelle de Quebec, and the walls and ramparts of the city. In addition, old Quebec City is the only fortified area in America that's North of Mexico.
Montgomery Falls
Standing 30 metres higher than the world-famous Niagara falls, Montgomery falls offers many great activities, from hiking and Ziplining in the summer to ice-climbing and cable car riding in the winter. If you're an outdoors type, this is one of the top things to do in Quebec city.
Sports in Quebec City
However, despite its deep cultural roots, Quebec City's people love sports. If you're a sporty type, you'll undoubtedly get a kick out of local sporting events like the Snowboard Jamboree and Red Bull Crashed Ice, or you can support the Quebec Nordiques Ice Hockey team at the Videotron Centre.
Education in Quebec City
If you're looking to get your Canadian qualifications in French, Quebec city is the home to three of the region's top tertiary institutions.
Laval University
This university is one of the top universities in Canada, sitting at #251 on the Times Higher Education top universities list. This university offers a wide variety of top-level courses, mainly in French but also a few in English.
The National Institute of Scientific Research
Ranked as one of the top research centers in Canada, this Institute is the perfect place to build your research background and take your scientific aspirations to the next level.
National School of Public Administration
As Quebec city is an administrative center in Canada with various departments of government within the city, it's clear that there is plenty of need for administrative training. So if you're interested in participating in Quebec's massive administration sector, look no further.
If you're looking to move to Quebec to study, you must have a Canadian study permit. Here's a full breakdown of how you can get your Canadian study permit to further your education in Quebec city.
Schools in Quebec City
Quebec has over 64 school districts, with hundreds of schools. While most are taught in French, there is also a significant population of English Canadian and international schools to ensure your child's needs are covered.
Unique Immigration Visas to Quebec City
Those who want to move to Quebec City via the three Quebec Immigration Programs. Unlike Canada's other provinces, Quebec doesn't have specific nominee programs. The Quebec Immigration programs are as follows:
Find out more about Quebec's unique immigration options here.

FAQs
What is the fastest way to move to Quebec City?
This generally depends on your credentials and purpose for moving to Quebec city. Here, you can find a handy guide on the fastest ways to move to Canada.
Are there any Pilot programs for Quebec city?
Currently, no. The primary way to be fast-tracked to Quebec city is Via the Quebec Immigration Program.
Do you have to be a French speaker to live in Quebec?
No. However, as most of the population are French speakers, the medium of instruction in Quebec city is French. Therefore, learning workable French before you move to Quebec city would be beneficial to help you assimilate more easily.
Find Your Future in Canada
Now that you know about Quebec city Weather, jobs in Quebec city and all of the other significant aspects of life in Quebec city, it's time to start your journey to the great white north.
With over 100 immigration and visa programs, finding the right way to move to Canada can be daunting. This is why we recommend utilizing the skills and experience of a certified expert. Our RCICs are such experts. They can help evaluate you to find the right program, help and guide you through the application process, fill out your forms, curate your CV and represent you with certain authorities. With an RCIC, your journey to Canada can be as