Do you feel as if your life has stalled? Does your country no longer present you with the opportunities you need? If so, then we suggest Canada as a prime destination for you to begin a new life.
The country has revealed that due to gaps in certain sectors of the economy, the government plans to introduce over a million immigrants into the workforce to fill these missing occupations. Find out how to immigrate to Canada from Nigeria and get started on creating a new life against a picturesque backdrop.
Why Immigrate to Canada?
Canada has gained prominence as an immigration destination over the years, helped by the countries' booming economy and high standard of living. This prominence has come into focus in conjunction with upwardly mobile Nigerians' desire to find a better life elsewhere. Here at CanadianVisa we recommend Canada as the place where Nigerians' can find this "better life elsewhere".
A valid question that many Nigerians' may have is whether or not they're eligible to immigrate or if there is space available to immigrate to Nigeria. Fortunately for Nigerians, 2023 is the year that Immigration, Refugees and Citizenship Canada (IRCC) department decided to increase its immigration quotas to accommodate even more newcomers than years past. It has expanded these quotas through three primary programs: Express Entry System, Provincial Nominee Programs (PNP's) and the International Experience Class (IEC).
Popular Canadian Immigration Routes for Nigerians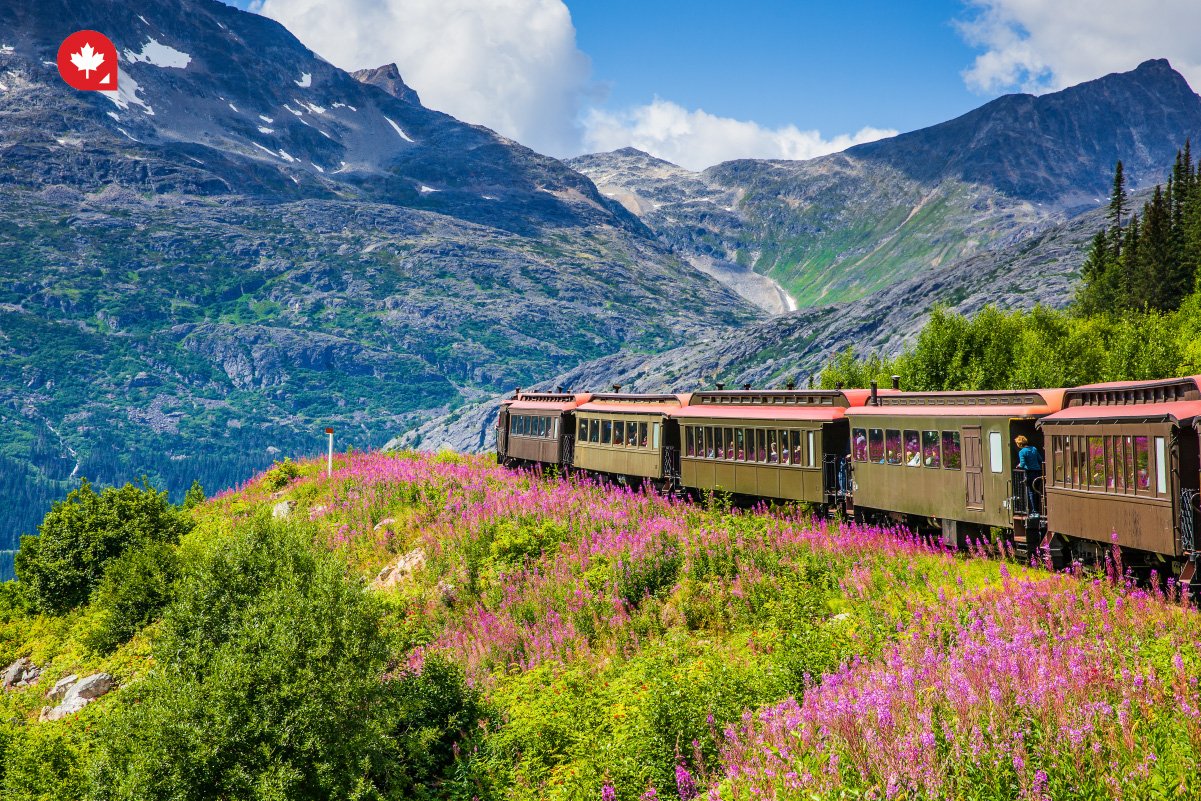 Starting your Canadian Visa journey can be a Canadian visa application after you've decided to immigrate to Canada from Nigeria. The main avenues are Express Entry, Provincial Nominee Programs, and Sponsorship.
You'll need to meet specific requirements for each and choose the right program for your background. You can start applying while still residing in Nigeria or while working on a temporary work visa in Canada.
Express Entry System
The Canadian Express Entry system was created in 2015 to fast-track the federal government's three main programs, the Federal Skilled Worker Program, the Federal Skilled Trades Program, and the Canadian Experience Class with a processing period of as little as six months.
Applicants need to create an online profile stating which program they are applying for through the Express Entry system. If they meet the criteria, candidates are given points according to the Comprehensive Ranking System (CRS) which measures profiles according to the categories below.
The highest-scoring candidates are drawn from the Express Entry pool every two weeks and issued with Invitations to Apply (ITAs) for permanent residence.
CRS Criteria Awards Points For:
Age
CLB Language proficiency (English and French)
Level of Education (In and outside Canada)
Work Experience (In and outside Canada)
Arranged employment
Provincial Nomination achieved
Siblings living in Canada as permanent residents/citizens
Your spouse's profile (if married)
Provincial Nominee Program (PNP)
Nigerian Individuals of working age are presented with a lot of work opportunities should they choose to immigrate to Canada. Skills seen as valuable but are either in short supply in the Canadian population or are undervalued has led to increased opportunities for immigrants via PNP's.
The following programs are offered by certain provinces and territories in Canada to address sectors of the local economies that are lacking specific skills. These streams target skilled workers, graduates, and unskilled/trades workers.
PNP Streams
Province
Programs
Alberta

Alberta Opportunity Stream
Alberta Express Entry Stream
Self-Employed Farmer Stream

British Columbia

Skills Immigration
Express Entry British Columbia
Entrepreneur Immigration

Saskatchewan

International Skilled Worker Category
Saskatchewan Experience Category
Entrepreneur and Farm Category

Manitoba

Skilled Worker Stream
Skilled Worker Overseas Stream
Business Investor Stream (formerly MPNP-B)
Morden Community Driven Immigration Initiative
International Education Stream

Ontario

Human Capital Category
Employer Job Offer Category
Business Category

Nova Scotia

Nova Scotia Demand: Express Entry
Nova Scotia Experience: Express Entry
Nova Scotia Labour Market Priorities
Skilled Worker Stream
Entrepreneur Stream
International Graduate Entrepreneur Stream
Physician Stream
Atlantic Immigration Pilot Program

Prince Edward Island

PEI PNP Express Entry
Labour Impact Category
Business Impact Category

New Brunswick

Express Entry Labour Market Stream
Skilled Workers with Employer Support
Post-Graduate Entrepreneurial Stream
Entrepreneurial Stream
Skilled Workers with Family Support
Atlantic Immigration Pilot Program

Newfoundland & Labrador

Newfoundland and Labrador Express Entry Skilled Worker
Skilled Worker Category
International Graduate Category
International Entrepreneur Category
International Graduate Entrepreneur Category
Atlantic Immigration Pilot Program

Northwest Territories

Employer Driven Program
Skilled Worker
Business Immigration Program

Yukon

Yukon Express Entry (YEE)
Skilled Worker
Critical Impact Worker
Business Nominee
International Experience Class
The International Experience Class (IEC) is a program created by the IRCC for the purpose of offering a chance to work and travel in Canada. This program is normally aimed at youth who either want to gain a foothold in the Canadian workforce or study at a Canadian tertiary institution.
With the understanding of how Nigerians put a high premium on education as a cornerstone of success, this program is a very valuable course of immigration for many Nigerians' who would like to immigrate to Canada to start a new life.
The programs offered by the IEC include the Working Holiday Visa (though currently Nigerians are ineligible for this program), Young Professionals or International Co-operative program.
We recommend Nigerian youth apply to the International Co-Operative and Young Professionals as both of these cater to their needs to gain both work and educational experience in Canada.
The IEC pools for 2023 have opened to great anticipation by the IRCC, which has increased the target for newcomers by 20%, which equals to a real figure of 90,000 additional expected newcomers to Canada in 2023.
Helping you Immigrate And Settle in Canada?
Where to Live in Canada
Canada is made up of 10 provinces and three territories which all have something different to offer in terms of culture, lifestyle, and climate. You can read more about Canada's different regions to get a better idea about each one as well as the programs they offer individually.
Buying a house is very possible in Canada with a lot of land and property available to immigrants. For the average family home in a village or more populated city outside of the major centers such as Toronto, the going price is between $170-400, 000. If you consider the fact that a skilled professional such as engineering can earn you $300, 000 per year (for example, at a senior level in the province of Alberta), this figure is very reasonable.
The Nigerian community in Canada by and large is settled in urban areas. Cities like Toronto, Ottawa, Calgary, Edmonton and Winnipeg have sizable communities of Nigerians. Each of these communities has carved up a distinct, vibrant immigrant community which all Nigerians are welcomed to.
However, as distinctly Nigerian as these communities are, they are still very well integrated into the culture, lifestyle and norms of Canadian society.
Finding a Job in Canada
Your main priority when immigrating to Canada is finding a job. A job offer makes the process much easier, for example, adding 200 points to your profile if applying through Express Entry. There are certain occupations, as mentioned above, that are in-demand in Canada which can speed up the process towards permanent residence.
In-Demand Occupations
Long-Haul Truck Driver
Construction Workers
Web Developers/IT Specialists
Physicians
Firefighters
Chefs
This is only a fraction of the occupations represented on the National Occupation Classification (NOC) in-demand list that have been chosen because they show the variety of sectors that need to be filled by immigrants. You can browse through the different occupations needed by province and program to see which you're best suited for.
Try these helpful job platforms:
Canadian Job Bank
LinkedIn
Indeed.ca
Monster.ca
eJobbo
When You Land in Canada
Once you arrive in Canada there will be a lot to get sorted in terms of basic admin and living arrangements. We've compiled a basic list of things to think about before you arrive so that you can easily adapt to local life and start getting to know your community without encountering these hassles.
Consider the following:
Set up a bank account
Take local language courses if you aren't first-language French or English
Find temporary accommodation (AirBnB or MakeYourselfatHome.com)
Get a local sim card
Apply for insurance
How We Can Help You Immigrate to Canada from Nigeria
We use Regulated Canadian Immigration Consultants (RCICs) to guide you on your way to permanent residence in Canada. Get help with selecting the program best suited to you, collecting all the correct documents, and submitting them on time.
Our consultants are all immigrants currently living in Canada and are experts when it comes to the different immigration policies as well as any changes that happen during your application. Give yourself the best chance of success by getting assistance from a professional who can help you with everything from boosting your profile to settling into Canadian life.
Sign up with our service today in order to receive the best advice about how to immigrate to Canada from Nigeria and start a new life for you and your family.
FAQs
What is Canada's lifestyle like generally?
The culture of Canada is heavily influenced by western culture in general. However, over the years the increasingly diverse demographics of the country has resulted in a broad number of cultural festivals and a melting pot of lifestyles that brought their own flavour to Canadian life.
Are there any educational benefits to getting Canadian citizenship or permanent residency?
Permanent residents (PR) Canadian citizens receive tax-subsidized free education. As a Nigerian, you can be the next newcomer to experience this benefit by using our immigration consultancy services.
What other benefits are available to you besides educational and work opportunities?
Other benefits that permanent residents and Canadian citizens possess includes healthcare/medical benefits and subsidized/free, quality housing.