Pharmacy in Canada is regulated, and individuals who wish to work as pharmacists must meet specific criteria and be licensed by the appropriate regulatory authority.
Pharmacists play an essential role in the healthcare system in Canada, as they are responsible for dispensing medications, providing medication counseling, and collaborating with other healthcare professionals.
We will also cover the available immigration programs, such as the Federal Skilled Worker Program (FSWP), Express Entry, and the Provincial Nominee Program (PNP).
International students or graduates interested in finding out how to become a pharmacist in Canada can add immense value to the Canadian labor market by applying to the relevant immigration visa programs.
The following presents a step-by-step process on how to apply for permanent residence in Canada as a pharmacist, pharmacist salaries in Canada, current job prospects, and in-demand jobs in Canada as a pharmacist.
Job Prospects and Pharmacist Salary in Canada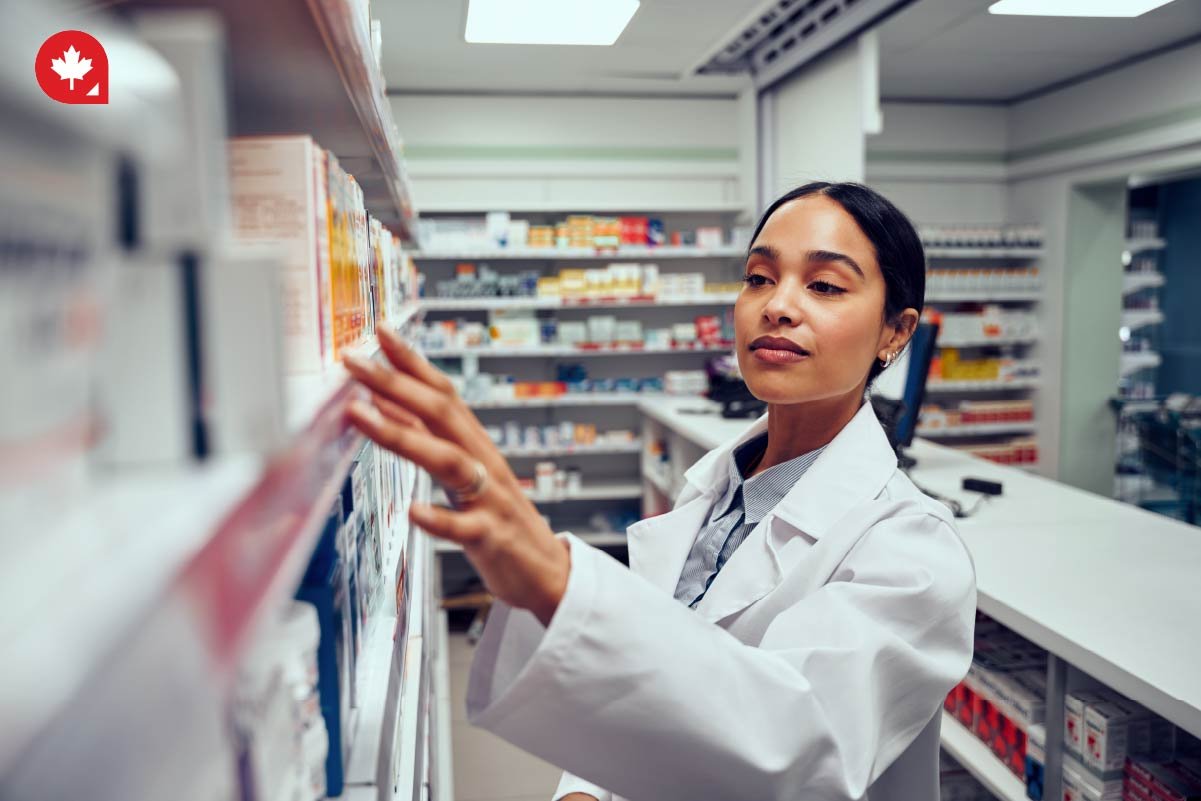 Pharmacists in Canada have many job opportunities, with positions available in community pharmacies, hospital pharmacies, long-term care facilities, and other healthcare settings.
According to the Canadian Pharmacists Association, the demand for pharmacists in Canada is expected to increase due to an aging population and expanding healthcare services.
Pharmacists in Canada also have the opportunity to advance their careers through specialization and management positions. They can specialize in areas such as oncology, pediatrics, and geriatrics and can also pursue management roles in pharmacy operations.
Job Prospects in Canada
The pharmacy industry calls for high-in-demand jobs in Canada for pharmacists (NOC 31120) from 2019 to 2028. According to the Government of Canada Job Bank, this period will call for a whopping 12,500 new job openings for pharmacists.
In contrast, 16,600 new job seekers are expected to compete for these job openings. Therefore there is an excess in demand for pharmacist jobs in Canada, and if you want to possibly secure a job opportunity, searching for a job as early in your application process will ultimately be beneficial.
Pharmacist Salary in Canada
While Pharmacist salaries in Canada may vary from province to province, pharmacists can earn an average base salary of 146,567 CAD per year, according to Indeed Canada. A pharmacist in the United States of America (USA), Canada's closest competitor in the international immigration market, can earn an average base salary of 174,839 CAD.
Although this represents a higher average base salary than in Canada, the lack of preferential work benefits (like subsidized housing), longer working workers, and intense working conditions in the United States offset the higher salary offering and retain Canada's attractiveness as a destination for immigrant pharmacists.
Salary can vary based on factors such as location, practice setting, and level of experience. As per Indeed Canada's data, the average base salary expectations for the provinces where pharmacists are most in-demand can be enumerated as follows.
The above provinces have in-demand jobs in Canada for pharmacists, so if you're searching for jobs, you may want to consider the above provinces. Pharmacists who work in urban areas generally earn a higher salary than those who work in rural areas. Additionally, pharmacists who specialize in areas such as oncology or pediatrics may earn a higher salary than those who work in community pharmacies.
How to Immigrate to Canada as a Pharmacist
Now that you have a good understanding of the targeting provinces, you can make plans to immigrate to Canada as a pharmacist. But first, you must understand the steps involved in how to become a pharmacist in Canada.
Step 1: Check if You Are Eligible for the Program and Occupation
We urge applicants to conduct the necessary research when applying to an immigration program or occupation. You must ensure you meet the necessary criteria and have the right credentials to validate the information you've provided.
Alternatively, you can request the help of our Regulated Canadian Immigration Consultants (RCICs) to find out if you are eligible to immigrate as a pharmacist.
Step 2: Have Your Accredited Qualifications on Hand
You want to ensure that you can meet the criteria with the right qualifications and that they align with the Canadian standard.
What is an ECA?
Like many other occupations that can do their Educational Credential Assessment (ECA) through companies like World Education Services (WES), pharmacists must have their degrees verified through the Pharmacy Examining Board of Canada (PEBC).
The ECA is used to prove that your qualification is equal to Canadian standards. It takes about eight weeks to get your ECA, so please consider this when you fit it into your immigration plan.
Once you apply for an ECA, you do not need to worry about the Evaluation Examination, which you will only need to take once you arrive in Canada.
Step 3: Find the Suitable Immigration Program
If you want to become a permanent resident, you must earn how to apply for permanent residence in Canada as a pharmacist and determine which immigration programs and categories you can apply under. Out of Canadas over 80 PNP streams, pilots and programs, the following represents some of the most applicable provincial nominee immigration pathways that pharmacists can use to immigrate to Canada
The Manitoba Provincial Nomination Program for In-demand Occupations
The Manitoba Provincial Nomination Program has an in-demand list of occupations that includes pharmacists. Because it operates under the Express Entry system, you are more likely to receive an invitation to one of the many Express Entry draws. Express Entry is just one of the ways to apply to a PNP. You have the option to apply directly to the Manitoba PNP for In-demand Occupations without using the the Express Entry System at any point.
You must ensure that you have an excellent French language ability as more emphasis is placed on approved French test results than on English tests.
If you score a seven on the Canadian Language Benchmark test for reading, writing, listening, and speaking, you could apply. Feel free to learn more about the International English Language Testing System (IELTS) test here.
Express Entry Federal Skilled Worker Class
The Federal Skilled Worker Class (FSWP) will allow you to immigrate to Canada as a pharmacist. However, you must pass the selection criteria set out in the program - this criterion will take into account your education, language skills, work experience, age, arranged employment, and adaptability.
What Documents Do You Need?
The documents you need will vary and depend on the country you were born in or currently live in, your family members, and the individual's circumstances. Below are some of the documents you may need:
Biometrics
Medical examination by a Canadian Panel of Physician approved doctor;
Language tests for IELTS(International English Language Testing System) or TEF (Test d'evaluation);
Police Clearance Certificates;
ID;
Birth records; and
Educational Credential Assessment (ECA)
What's Next?
If you pass the basic requirements for the program, your application will be entered into the Express Entry pool. When you enter the pool, your application is scored using the CRS (Comprehensive Ranking System), which is based on factors:
Language ability;
Education;
Occupation;
Provincial Nomination;
Age;
Valid job offer; and
Adaptability factors
Find out what your CRS score could be with our CRS calculator.
British Columbia Provincial Nominee Program (BC PNP) Skills Immigration for Healthcare Professionals
If you are a clinical pharmacist, then you can consider applying through British Columbia's Provincial Nomination Program for Healthcare Professionals.
To get started, you need to complete an online application with the help of your immigration expert through the BC Provincial Nominee Program (BC PNP), which is the Government of British Columbia, and apply as a Healthcare Professional. Under this program, you must:
Have a valid job offer from a British Columbian employer;
Qualify for one of the three federal programs through Express Entry;
Qualify to work in your current occupations;
Have at least two years of valid work experience as a clinical pharmacist; and
Once you complete your online application on the BCPNP site, you will be given a score based on your occupation and experience. If you score high enough, you could get an Invitation To Apply (ITA) to apply to the province for permanent residence.
Step 4: Search for a Job and Use Legitimate Job Sites
Below are some of the finest, highly reputable job sites you can utilize when searching for in-demand jobs in Canada:
We urge applicants to double-check the job requirements and ensure they can meet them before applying.
Finally, ensure that you remain truthful in the information you provide and that all supporting documents are in place. Failure to do so will delay processing times, and your application will be returned to you. Find out more about the IRCC processing times and what to expect after submitting your application here.
Pharmacists in Canada: Benefits and Advantages
Working as a pharmacist in Canada offers many benefits, including:
A Competitive Salary
Pharmacists in Canada have some of the most competitive salaries within that occupation in the world. At an annual average base salary of 146,567 CAD, depending on your experience and the province you immigrate to, pharmacists in Canada can earn anywhere from 143,848 CAD to 160,324 CAD
Excellent Healthcare Benefits
As permanent residents of Canada, pharmacists are privy to the healthcare benefits of Canada's subsidized healthcare system. This includes free medical screenings, check-ups, MRI scans etc. This makes it much
A High Standard of Living
According to the United Nations (UN) Human Development Report, the Human Development Index (HDI) 0.936, which put it in the top 15 nations with the highest standard of living. This ranking is based on the nations stellar credentials in healthcare provision, affordable housing and low unemployment rate. As a pharmacist in Canada, you will be entitled to these benefits and accompanying standard of living.
Opportunities for Occupational Skills Development
Pharmacists in Canada also have the opportunity to work in a variety of practice settings and specialize in areas of interest. Additionally, pharmacists in Canada are highly respected and regarded as important members of the healthcare team. They play a critical role in ensuring that patients receive safe and effective medication treatment.
To ensure that your path to a successful immigration process to Canada is as well secured as possible and you have access to the aforementioned permanent residency status benefits, we recommend using the services of a Regulated Canadian Immigration Consultant (RCIC).
FAQs
Which Province in Canada Needs Pharmacists the Most?
The most commonly cited provinces that need pharmacists the most, according to JobBank, include:
Alberta
Manitoba
British Columbia
New Brunswick
Saskatchewan
Which Canadian City or Town Affords the Best Opportunities for Pharmacists?
There is no definitive list due to opportunities being based on highly subjective determinants such as your:
Work expertise,
Experience,
Education,
Familial and individual needs
However, the most cited place as having the best opportunities for pharmacists in Canada is Ottawa, Ontario.