Canada is known for being one of the most educated nations in the world. So it's no surprise that the FF. This makes it an ideal study-abroad destination, with thousands of international students flocking to maple leaf-filled campuses - especially since even the best universities in Canada tend to be more affordable than similar offerings in other first-world nations. Add to that the fact that you'll have access to incentives issued by Canadian universities and Immigration, Refugees and Citizenship Canada (IRCC), and you'll find that the Great White North really is ideal for reaching your academic goals. So if you'd like to study here, take a look at our breakdown of the top universities in Canada.
Higher Education in Canada
According to Times Higher Education University Rankings, Canada is among the most educated countries in the world. The approximate number of the Canadian population with a post-secondary education equates to 56% of adult citizens of the country. The Canadian education system has a prestigious reputation, with multiple highly-rated schools, colleges, and universities nationwide.
The University of Toronto (UofT) is currently the best in Canada, with the University of British Columbia and McGill University in second and third place. Interestingly, the QS World University Rankings 2023 for Top global universities puts McGill University in the top position, above UofT.
Immigration Refugees & Citizenship Canada (IRCC) also offers more postgraduate work and immigration options through the Postgraduate Work Permit (PGWP) for students who want to stay on and settle in the country permanently. Want to study in Canada? Here's all you need to know about the Canadian education system.
Universities in Canada vs Colleges
Universities in Canada place higher education to a high degree of significance. Thus, obtaining academic degrees such as bachelor's, master's, and PhDs in Canada carry more weight and importance than most universities worldwide.
A Canadian university qualification is priceless to the degree you may wonder how much it will cost. Canadian university tuition fees vary depending on the province, city, and programs you choose and which colleges or universities in Canada you decide to enroll in.
Colleges in Canada are typically smaller community colleges or specialized trade schools that grant certificates and diplomas. Some students in Canada will attend college to further prepare for university by obtaining credits that can be transferred over.
Tuition Costs
According to EduCanada, Canada's fees for higher education are much lower than institutions in most other first-world countries. The tuition fees you pay will depend on where you study in Canada. According to Statistics Canada data, you will pay:
About $36,100 per year for an international undergraduate program
Around $21,100 per year for international graduate programs
Thing to Remember When Applying to Study at a University in Canada
Always check the application dates of your chosen university or college. We recommend that you start applying 12 months before the end of the application.
You need enough time to conduct your study permit application processes according to due process. Qualification for the Student Direct Stream makes you eligible for a study permit in as little as 20 days.
To qualify for a Canadian Study Permit, you must be registered at a Designated Learning Institution (DLI). Luckily all of Canada's top universities are DLIs.
Be sure to choose a university that best aligns with your academic and future career goals.
Top 10 Universities in Canada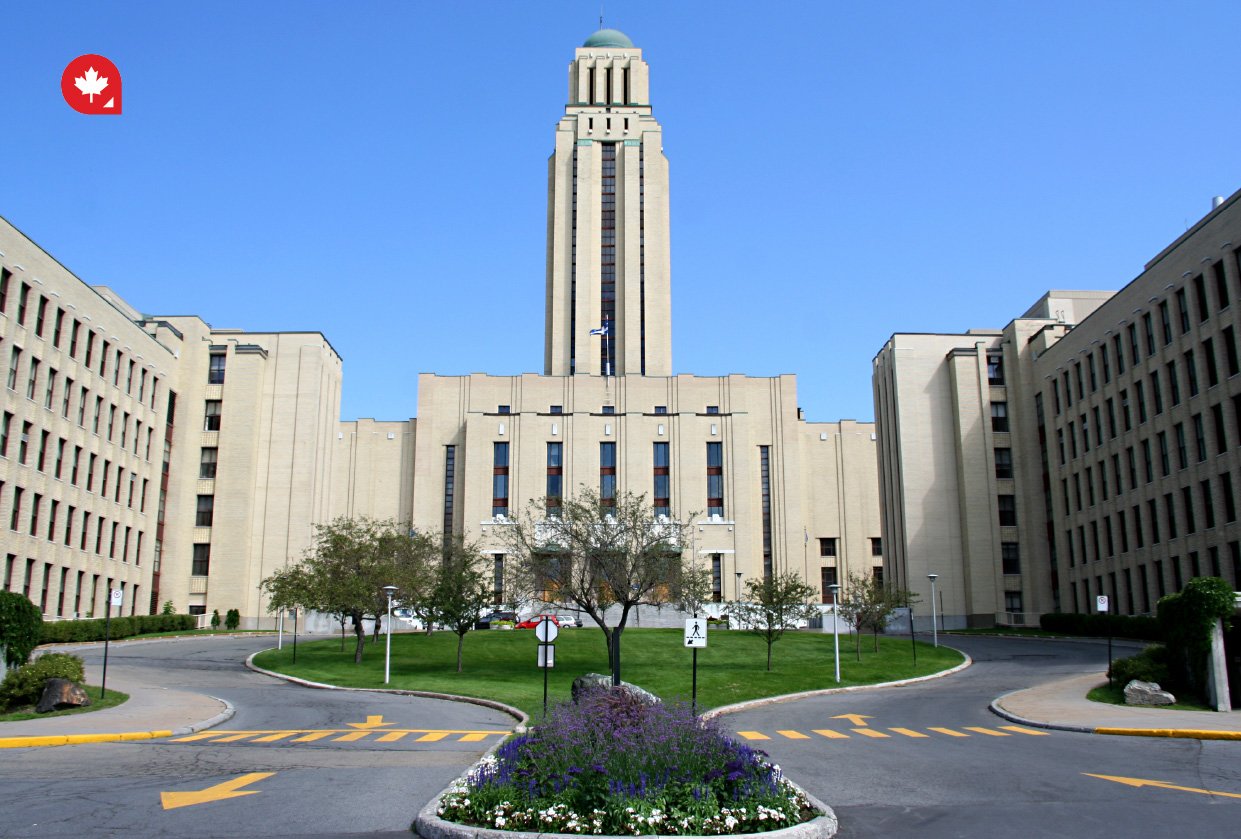 Canada is home to many prestigious universities. According to Times Higher Education's World University Rankings data for 2023, these are the top universities in Canada:
University of Toronto
The University of Toronto (UToronto or U of T) is a renowned public research university situated in Toronto, Ontario, Canada. Established in 1827 by royal charter, it has become Canada's premier education, research, and knowledge advancement institution. With over 560,000 graduates, the university's ideas, innovations, and achievements have made a significant global impact. It is currently ranked 34th in the QS World University Rankings and hosts a diverse community with 27,130 international students.
University of British Columbia
The University of British Columbia (UBC) is a leading global institution known for its teaching, research, and innovation excellence. Consistently ranked among the top 20 public universities worldwide, UBC has provided opportunities for individuals since 1915 to shape a better world through curiosity and vision. With campuses in Vancouver and Kelowna, British Columbia, UBC is the province's oldest university and one of the top three in Canada. It currently hosts 17,225 international students and is ranked 47th in the QS World University Rankings 2023.
McGill University
McGill University, situated in Montreal, Quebec, Canada, is a prestigious English-language public research institution. Established in 1821 through a royal charter, the university is named after James McGill, a Scottish merchant whose generous donation in 1813 led to the establishment of McGill College. With a global presence, McGill ranks 31st in the QS World University Rankings 2023 and boasts a diverse community of over 12,000 international students, accounting for more than 30 percent of the student body. International Student Services diligently caters to the non-academic needs and resources of international undergraduate, graduate, visiting, and exchange students.
McMaster University
McMaster University, located in Hamilton, Ontario, Canada, is a prominent public research institution. Ranked 152nd in the QS World University Rankings 2023, McMaster accommodates a student population of 37,370, comprising 32,119 undergraduates and 5,251 graduate students. In the 2021/2022 academic year, international students from 120 countries accounted for 17.20% of the total McMaster student body. The university provides a wide array of courses across various fields, including Business, Engineering, Health Sciences, Humanities, Science, and Social Sciences, with over 3,000 options.
University of Montreal
The University of Montreal is a prestigious public research institution in Montreal, Quebec, Canada. With thirteen faculties, over sixty departments, and two affiliated schools, namely Polytechnique Montreal (engineering) and HEC Montreal (business), the university forms one of the largest university complexes in North America. Boasting a strong international presence, the University of Montreal attracts approximately 10,000 international students from various countries. Offering 600 undergraduate and graduate programs, popular fields of study include MBA, M. Engineering, and MS in Management. In the QS World University Rankings 2023, the University of Montreal is ranked 116th.
University of Alberta
The University of Alberta, situated in Edmonton, Alberta, Canada, is a renowned public research university. Established in 1908 by Alexander Cameron Rutherford and Henry Marshall Tory, it is widely recognized for its excellence in teaching and research across various disciplines, including humanities, sciences, creative arts, business, engineering, and health sciences. With a friendly and inclusive community, the university hosts over 8,000 international and 43,000 Canadian students, fostering a diverse and welcoming environment. In the QS World University Rankings 2023, the University of Alberta is ranked 110th.
University of Ottawa
The University of Ottawa, located in Canada's capital city of Ottawa, is the largest bilingual (English-French) university globally and was the first to introduce a French immersion undergraduate program. Recognized as one of Canada's top 10 research universities, our commitment to excellence, relevance, and impact underpins our research endeavors focusing on equity, diversity, and inclusion. Ranked 237th in the QS World University Rankings 2023, the University of Ottawa attracts students from over 145 countries who are drawn to its high-quality education, affordable tuition, and prime location.
University of Calgary
The University of Calgary, situated in Calgary, Alberta, Canada, was established in 1944 as a branch of the University of Alberta and later became independent in 1966. Known as one of Canada's leading comprehensive research institutions, the University of Calgary combines academic excellence with the dynamic and diverse atmosphere of the city. With 26,000 undergraduate students and over 6,000 graduate students, including approximately 3,000 international students, UCalgary offers a wide range of programs. In the QS World University Rankings 2023, the University of Calgary holds the 242nd position.
University of Waterloo
The University of Waterloo, located in Waterloo, Ontario, Canada, is a prestigious public research institution. The university boasts a diverse community with a current student population 38,166, including 5,800 international students from 120 countries. Approximately 21% of undergraduate and 40% of graduate students at the University of Waterloo hail from international backgrounds. Ranked 154th in the QS World University Rankings 2023, the University of Waterloo is renowned for its robust academic programs, research prowess, and pioneering cooperative education system.
Western University
Western University, located in London, Canada, is one of the country's leading research institutions. With a commitment to advancing knowledge in various fields, Western research positively impacts the economy, society, and health sectors. When you join the Western community, you'll become part of a vibrant and diverse student body, including over 5,000 international students representing more than 129 countries. As one of the top public universities, Western University is ranked 172nd in the QS World University Rankings 2023.
Learn more about the top universities in Canada
Other Top Universities in Canada
Should you'd like to extend your research to a wider list of options, Here is a more extensive list of universities in Canada:
Western University, London
Dalhousie University, Halifax
Université de Montréal, Montréal
Université Laval, Quebec City
Queen's University, Kingston
University of Manitoba, Winnipeg
University of Victoria, British Columbia
York University, Toronto
University of Guelph, Guelph City
University of Saskatchewan, Saskatoon
Carleton University, Ottawa
Concordia University, Montréal
Memorial University of Newfoundland, St. John's
University of New Brunswick, Fredericton
Ontario Tech University, Oshawa
Université du Québec, Québec City
University of Regina, Regina
University of Windsor, Windsor
Lakehead University, Thunder Bay
University of Northern British Columbia, Prince George
Ryerson University, Toronto
St. Francis Xavier University, Antigonish
University of Lethbridge, Lethbridge
List of Universities by Province
Alberta
Athabasca University
Athabasca
Concordia University
Edmonton
MacEwan University
Edmonton
Mount Royal University
Calgary
---
British Columbia
Capilano University
North Vancouver
Emily Carr University of Art + Design
Vancouver
Kwantlen Polytechnic University
Langley Surrey Richmond Cloverdale Surrey
Royal Roads University
Victoria
Thompson Rivers University
Kamloops
Trinity Western University
Langley
University of the Fraser Valley
Abbotsford
Vancouver Island University
Nanaimo
---
Manitoba
Brandon University
Brandon
Canadian Mennonite University
Winnipeg
St. Paul's College
Winnipeg
The University of Winnipeg
Winnipeg
Université de Saint-Boniface
Winnipeg
---
New Brunswick
Mount Allison University
Sackville
St. Thomas University
Fredericton
Université de Moncton
Moncton Edmundston Shippagan
---
Nova Scotia
Acadia University
Wolfville
Cape Breton University
Sydney
Mount Saint Vincent University
Halifax
NSCAD University
Halifax
Saint Mary's University
Halifax
Université Sainte-Anne
Pointe-de-l'Église
University of King's College
Halifax
---
Ontario
Algoma University
Sault Ste. Marie Brampton South Porcupine
Brescia University College
London
Brock University
St. Catharines
Huron University College
London
King's University College
London
Laurentian University
Sudbury
Nipissing University
North Bay
OCAD University
Toronto
Redeemer University
Ancaster
Royal Military College of Canada
Kingston
St. Jerome's University
Waterloo
Toronto Metropolitan University
Toronto
Trent University
Peterborough Oshawa
University of St. Michael's College
Toronto
University of Sudbury
Sudbury
University of Trinity College
Toronto
Victoria University
Toronto
Wilfrid Laurier University
Waterloo Brantford
---
Prince Edward Island
University of Prince Edward Island
Charlottetown
---
Québec
Bishop's University
Sherbrooke
École de technologie supérieure
Montreal
École nationale d'administration publique
Québec
HEC Montréal
Montréal
Institut national de la recherche scientifique
Québec
Polytechnique Montréal
Montreal
Université de Sherbrooke
Sherbrooke Longueuil
Université du Québec à Chicoutimi (UQAC)
Chicoutimi
Université du Québec à Montréal (UQAM)
Montréal
Université du Québec à Rimouski (UQAR)
Rimouski
Université du Québec à Trois-Rivières (UQTR)
Trois-Rivières
Université du Québec en Abitibi-Témiscamingue (UQAT)
Rouyn-Noranda
Université du Québec en Outaouais
Gatineau
Université TÉLUQ
Québec
---
Saskatchewan
Campion College
Regina
First Nations University of Canada
Regina Saskatoon Prince Albert
Luther College
Regina
St. Thomas More College
Saskatoon
Interesting Facts About Universities in Canada
Here are some facts you may not know about universities in Canada:
Influential people like the wealthiest man in the world, Elon Musk, actor Ryan Reynolds and writer Malcolm Gladwell chose to study in Canada;
Ontario is the Canadian province with the most public universities - 22 to be exact;
Canadian universities offer scholarships to international students to make it easier to study in Canada;
If you study in Canada and have children, they can go to a Canadian primary and secondary public school for free;
You can get up to 25 points for your education in the Comprehensive Ranking System if you obtain a degree and want to continue to live in Canada after your studies.
You must fulfill specific criteria and follow a particular application process to get a Canada study permit.
How to Apply For A Canadian Student Permit
Canada offers quality education from prestigious universities, so you can look forward to great access to internationally recognized qualifications. So get going before the new academic year and learn more about the process of enrolling at one of the best universities in Canada and the suitable immigration programs you can explore for your Canada study permit .
A Canadian study permit is a document issued for international students who want to pursue their studies at Designated Learning Institutions (DLIs) in Canada.
You must ensure you have all the documents you need before applying. Should your course be less than six months, you can enter Canada's Visitor Visa (Tourist Visa).
Step 1: Check Your Eligibility
Before you can apply for a Canadian study permit you must make sure that you:
Are enrolled at a Designated Learning Institution
Prove you have enough money to pay for your tuition and other expenses.
Obey the law, have no criminal record, and get a police certificate if required.
Show that you are in good health and get a medical exam if required
Prove to an officer that you will leave Canada when your study permit expires
If you want to study, live and work in Canada, you must have your student visa approved first, so that you can get a port of entry letter of introduction. This must be shown to the border official once they arrive in Canada.
After that, you will receive your study permit and an Electronic Travel Authorization (eTA) or temporary resident visa to enter Canada. Make an effort to have a hard copy of all documents, just in case an official asks for it at your port of entry.
Step 2: Secure an Acceptance Letter
Secure an acceptance letter from a Designated Learning Institution (DLI).
Step 3: Gather Your Documents
Gather your important documents like your passport, proof of finances, proof of acceptance, and any other required documents:
Step 4: Pay the Application Fees
According to the official Canadian government site, a study permit fee is $150. After that, submit your application.
Kindly note: We urge International students to be thorough in the information they provide on their application, as the data must later be validated with the necessary supporting documents.
Chase Your Academic Goals in Canada
International students in Canada have access to the best universities in Canada. These institutions often offer scholarships and mentorships to kick-start your student journey. If you have decided to pursue your studies here, make sure you do enough research on suitable universities in Canada. Also, make sure you tick all the eligibility boxes and follow all the steps required to get a Canadian student visa.
Taking the first steps on your Canadian journey can often be daunting if this is your first time. To ensure your trip starts on the best foot, click the button below to talk to a Regulated Canadian Immigration Consultant (RCIC) who can give you the breakdown of your eligibility and how to ensure you can study in Canada.
FAQs
What is the Most Important Thing to do to Ensure That You Can Study in Canada?
Making sure that you secure an offer to study at a Canadian Designated Learning Institution is the most important thing you can do to make sure that you secure a spot at a Canadian university.
What is the Best University in Canada to Study at as an International Student?
The best university for international students in Canada is the University of Toronto. It has approximately 27,536 international students, representing roughly 25% of the overall student population.