Even though Prince Edward Island is Canada's smallest, least populated province, it more than makes up for its small size with a fantastic culture, beautiful natural scenery and an abundance of opportunities for locals and newcomers alike.
About Prince Edward Island
Prince Edward Island, formerly the traditional land of Mi'kmaq, was colonized by the French in 1604. It was annexed into Nova Scotia by the British at the end of the French and Indian in 1763 but then became its colony in 1769. It is currently the smallest and least populated province in Canada, with a total population of 159,387, according to the provincial government. Despite its small size, the province is front-loaded with its peaceful seaside culture, making it a very welcoming and diverse place.
Where is Prince Edward Island on the Map?
Undoubtedly one of the most spectacularly beautiful provinces in Canada, Prince Edward Island is one of Canada's three Maritime Provinces and consists of the main island and 231 smaller, mostly uninhabited islands. It has a landmass of 5,660 km² and a population of a little more than 150,000, making it the smallest, and least populated province.
The main island is located in the Gulf of St. Lawrence, 200 kilometres north of Halifax, Nova Scotia, and 600 kilometres east of Québec City. The island only has two significant urban areas; the capital city of Charlottetown and its suburbs, and the harbour of the Summer side. The rest of the island is rolling hills, sandy beaches, and woods.
Economy and Industries
Aside from some tourism, Prince Edward Island's economy is almost entirely based on agriculture, supplying most of the country's potato crops. The island has remained a sparsely populated, mostly agricultural province, with a small fishery. The island provides many interesting job opportunities for immigrants, from fishery to agriculture, to tourism and leisure. However, despite this specific focus on agriculture, Prince Edward Island has a vast array of key industries that build on the diverse interests of its people. The key industries in Prince Edward Island are:
Aerospace
Agriculture
Bioscience
Fisheries
Health Care
Information Technology
Renewable Resources
Tourism
Due to the wide range of industries and the relatively small population, Prince Edward Island is desperate to fill the gaps in the labour market to help their economy grow and evolve with the times. As a result, Prince Edward Island has a long list of in-demand occupations for foreign nationals. Find a full breakdown of these occupations here.
Climate and Weather in Prince Edward Island
The climate in Prince Edward Island is sub-arctic maritime, with moderately cold winters, and warm, wet summers. Winter storms and blizzards are common, and rainfall is abundant throughout spring, summer, and fall, making Prince Edward Island ideal for agriculture.

The warm season in Prince Edward Island lasts just over three months, Starting in early June and ending in mid-September. During this time, temperatures reach highs of up to 23°C and lows generally stay around 15°C. The province sees most of its rain and precipitation during this time with sporadic sunshine. Generally speaking, this is the best time to visit Prince Edward Island as it's the best time for warm-weather activities.
The cold season is around the same length as the warm season, starting in early December and ending in mid-to-late March. The coldest month of Prince Edward Island's winter is January when the average temperature does not go higher than -3°C and reaches lows as low as -10°C. These months are typically dry with light snow cover.
Cost of Living in Prince Edward Island
Residents of Prince Edward Island enjoy a comfortable life, with relatively low costs of living, housing, and heating costs. Due to the location of the province and its major cities, the cost of living prices is relatively high in Canada. Below, you can see the cost of living in Prince Edward Island's capital, Charlottetown, compared to the cost of living in Canada's largest and most international city, Toronto which is widely regarded as one of Canada's most expensive cities to live in.
| Cost | Charlottetown | Toronto |
| --- | --- | --- |
| Average Cost of Living for a Single Person (excluding rent) | $1,298.75 | $1,327.71 |
| Average Cost of Living for a Family of Four (excluding rent) | $4,659.02 | $4,846.43 |
While the average cost of living isn't much lower than those in Canada's more expensive, more populous provinces like Ontario, housing and rent prices are exceptionally low in comparison to other Canadian cities.
| Cost | Charlottetown | Toronto |
| --- | --- | --- |
| Monthly Rent for a single-bedroom apartment (City Centre) | $1,248.75 | $2.243.00 |
| Monthly Rent for a three-bedroom apartment (City Centre) | $1,825.00 | $3,645.71 |
However, due to the low housing and general living prices, combined with the greater emphasis on manual or primary sector work in Prince Edward Island, the average salary in the province is significantly lower than in other major Canadian provinces. However, your salary in Prince Edward Island will depend massively on your skill level and occupation type. Here's a handy guide on how the Canadian government determines skill level and skill type. The average salary in Prince Edward Island, compared to Toronto, is as follows:
Average Monthly Salary (After Tax)
Charlottetown
Toronto
$2,300.00
$4,259.77
Getting used to how your salary fits into the Canadian way of life can be confusing in the beginning. If you want to know more about how to budget for Canada effectively, here's a handy guide.
Immigration/ Dedicated Visa
The vast majority of immigration and visa programs in Prince Edward Island take place through the Prince Edward Island Provincial Nominee Program (PEI PNP). Under the PEI PNP there are 7 streams. Each of these streams is specifically designed to help foreign nationals with certain skill sets to easily move to Prince Edward Island, hence filling gaps in the province's labour market. The streams are as follows:
Learn more about each one of these streams, their eligibility criteria and how to apply here.
Demographics
The majority of the population is descended from the British Isles (Scottish, Irish, and English), with a small number of French Acadian descendants, though the official language is predictably English. Scottish descendants account for 38% of the population, while English and Irish follow closely behind at just below 30%. The island plays host to multiple First Nations communities such as the Inuit, Metis and North American Indians as well as many small immigrant communities from nations such as Poland, Lebanon, China, Italy and Hungary.
The island has a strong following of the Protestant and Catholic faith, accounting for over 50% of the local population.
Education
Despite its small size and population density, Prince Edward Island maintains Canada's esteemed standard of education. For those looking to study in Prince Edward Island, there are three fantastic institutions to ensure you have everything you need when looking to start your career in Canada. They are:
University of Prince Edward Island (UPEI)
The University Prince Edward Island's academic centre. Established in the early 19th century, UPEI has maintained a tradition of academic excellence across a wide range of subjects for centuries. With a faculty of over 4,500 students, you will certainly be able to find your place and get to know the Canadian people at UPEI.
Collége De L'Île
A far more recent addition to Prince Edward Island's academic landscape, Collége De L'Île has been the province's premier French-speaking college since 2008. With a large and constantly-growing faculty, Collége De L'Île is fast becoming one of Atlantic Canada's premier French-speaking college.
Maritime Christian College
As Prince Edward Island's major Christian college, Maritime keeps the Christian faith alive, educated and inspired throughout Charlottetown, Prince Edward Island. For those looking to build their career prospects while maintaining or even improving their Christian faith, this is the perfect college.
For school pupils, Prince Edward Island has over 45 schools including 5 private schools to ensure that your child has plenty of choice when it comes to completing their education at Canada's extremely high level.
Major Cities In Prince Edward Island
The largest city in Prince Edward Island is Charlottetown, which holds most of the population. However, there are also several smaller towns around the island that are loaded with that famous Canadian small-town charm.
Charlottetown
Prince Edward Island's capital and largest city, Charlottetown is home to more than 40,000 people, with a bustling harbour providing many of the jobs in the area. More than half of Prince Edward Island's population lives in the city and its surrounding areas and it remains the home of much of the attractions, industry and infrastructure of the province. Learn more about Charlottetown here.
Summerside
For those looking to enjoy the small-town coastal living that Prince Edward Island delivers in spades, Summerside is the perfect option. With a total population of under 20,000, Summerside is loaded with small-town charm, without completely leaving the comforts of modern life behind. A town rich in history, Summerside has plenty of fascinating landmarks and attractions to help you truly get to the heart of Canadian culture.
Stratford
Located to the southeast of Charlottetown, this peaceful town is home to a small population of a little over 10,000. Connected to Charlottetown by the Hillsborough River Bridge, this town gives you access to all of the wonders of the capital without sacrificing the small-town environment.
Things to do in Prince Edward Island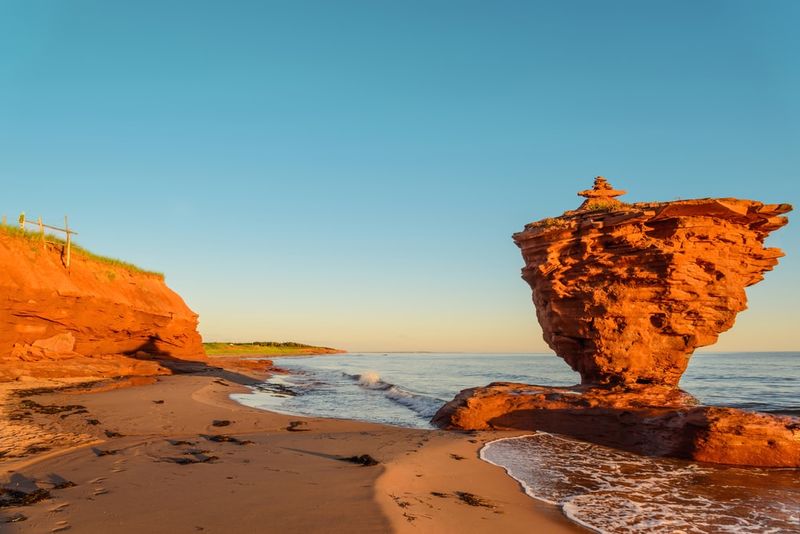 There are few attractions on Prince Edward Island. Most activities and facilities are for local appeal, rather than tourism.
However, one of the major attractions of Prince Edward Island that there is no shortage of is the seafood. As being a fishing destination in Canada, the abundant mix of some of the best fresh fish in the world cannot be understated. Both locals and newcomers alike can delight in some of the best fish Canada has to offer in Prince Edward Island.
For those looking for a more cosmopolitan feel, Charlotteville's Victoria Row, also known as The Row, is chock full with a mix of bars, cafes, restaurants, art galleries and boutiques to ensure that all of your entertainment needs are covered.
For the more outdoorsy, Prince Edward Island boasts over 800km of beaches surrounding the island, with many campsites to give you the opportunity to sleep under the stars and watch the sun set behind the ocean. Since it is an island, water sports are very popular, with a small sport-fishing fleet specializing in deep-sea fishing.
On top of this, there is an annual Arts Festival in Charlottetown, and an annual Jazz festival featuring local musicians.
FAQs
What is the fastest way to move to Prince Edward Island?
While there is no single fastest way to move there, most of the fastest ways to start your life in Prince Edward Island are through the PEI PNP. However, it is not the only fast way to move to Canada. Here's a handy guide on how you can move to Canada fast.
How can I study in Prince Edward Island?
To study in Canada,, you have to be accepted by a Canadian college. To be accepted, you have to fulfill your chosen tertiary institution's eligibility criteria. This differs depending on your institution and course. However, once you are accepted, you will likely need a study permit to study in Canada. to do this, you have to fulfill a set list of eligibility criteria and complete the application process. Find out more about these criteria and the application process here.
How can I work in Prince Edward Island?
Landing a job in Prince Edward Island is likely up to your chosen employer. However, if you do land a job in Prince Edward Island, you'll likely need a work permit to be allowed to work in Canada. There are multiple types of work permits for different types of applicants and jobs. Find out more about the Canadian work permit application process here.
Start a New Life in Prince Edward Island
Starting a new life begins with the first step. However, it's important to know what that first step is. When it comes to immigrating to Canada, knowing which of the over 100 visa and immigration programs to choose from can be the first and hardest step of your long, fruitful journey. This is why we recommend speaking to a professional immigration consultant who can help determine your eligibility, help you choose the right program, guide you through your application process, fill out your forms, represent you for certain processes and even curate your CV to improve your chances of landing a job in Canada.