A province in east-central Canada, Ontario has boundaries with both the United States and the Great Lakes. Ottawa, the nation's capital, is situated there. The National Gallery houses works of art by Canadian and indigenous artists, and Parliament Hill is famous for its Victorian architecture. The CN Tower, which is 553 meters tall and offers wide views from its rotating restaurant, is located in Toronto, the provincial capital of Ontario. High Park is also home to a unique oak savannah environment.
About Ontario
Ontario is a wonderful destination to live and visit due to its lively culture and diverse scenery. The enormous, rocky, and mineral-rich Canadian Shield, which divides the productive farmland in the south from the grassy lowlands in the north, is one feature of the diversified terrain. In Ontario, events like the Canadian Aboriginal Festival, Oktoberfest, and the Caribbean Carnival honour the diverse cultures that live there.
More than 12,000 years of human habitation may be found in what is now Ontario. Aboriginals who spoke the Algonquian and Iroquoian languages had inhabited the area before European invaders arrived. The precise translation of "Ontario" is uncertain, according to experts. They are aware that the name "Ontario" is an Iroquois word for a large body of lovely water, a beautiful lake, or both.
With an area greater than France and Spain put together, Ontario is the second-largest province in Canada, spanning more than 1 million square kilometres (415,000 square miles). The province of Ontario is bordered to the east by Quebec, to the west by Manitoba, to the north by Hudson Bay and James Bay, and to the south by the St. Lawrence River and the Great Lakes.
Where is Ontario on the Map?
Ontario is located in east-central Canada, and is the most populous of all the provinces, with around 14 million people calling this area their home. It is also the 2nd largest province in Canada, covering 1.076 million km². The province of Ontario houses the national capital city (Ottawa), and the nation's most populous city (Toronto).
Here's all you need to know about life in Ontario, Canada. Ontario shares a 2700-kilometre border with the United States to the south (Michigan, Ohio, New York, Minnesota, and Pennsylvania), Manitoba to the west, James Bay and Hudson Bay to the north, and Quebec to the east.
Economy and Industries
In many ways, Ontario is the center of most activity in Canada and has created a hub of economic, social, and political opportunities. In fact, the Federal government is the single largest employer of Ontarians.
Ontario has a diverse economy, with the main exports being automobiles, machinery, and electrical parts. Most big car brand names are manufactured here, including Chrysler, Ford, and Honda.
Mining has been an economic factor for over 130 years, supplying the world with more than 30 kinds of metal and minerals. The many rivers in the province have created numerous opportunities in the hydroelectric energy field, with much of the country's electricity originating here.
Southern Ontario provides fertile ground for the effective production of small grains and fruit farming, especially close to the beautiful Niagara Peninsula. Industries in Ontario include growing crops, extracting minerals, making cars, creating software, and developing cutting-edge technology.

Find out which In-Demand Occupations & Jobs are available in Ontario at the moment, and how working in one might influence your application process, Additionally, this video provides an excellent overview of the professions that are in demand in Ontario as well as the expected earnings for each one.
Climate/Weather in Ontario
With a continental climate, Ontario has hot, humid summers and very cold winters with significant snowfall. Milder seasons are often spring and fall. The province has far less seasonal temperature variance and more precipitation than would be expected for such a central area because of the Great Lakes.
In the southern part of the province, cities farther from the lakes have substantially higher temperatures, with potential heat waves reaching over 80°F (27°C). Winters are often significantly colder and more severe in regions north of the Great Lakes due to arctic air currents. There is a temperature range of 36°F (0°C) to 14°F (-10°C).

Cost of living in Ontario
Ontario has a reputation for having high costs of living, but salaries and the minimum wage of $14 are some of the highest in the country. Known for cleanliness, safety, and an abundance of quality public services, it is no wonder that more than half of the immigrants in Canada choose Ontario.
Though Ontario has high taxes and living costs, their high salaries ensure that residents enjoy one of the highest quality of life rankings in the world.
For a single renter in Ottawa, the average monthly cost of living is $3,195. The price of housing, transportation, groceries, and entertainment are just a few of the numerous variables that go into calculating this average.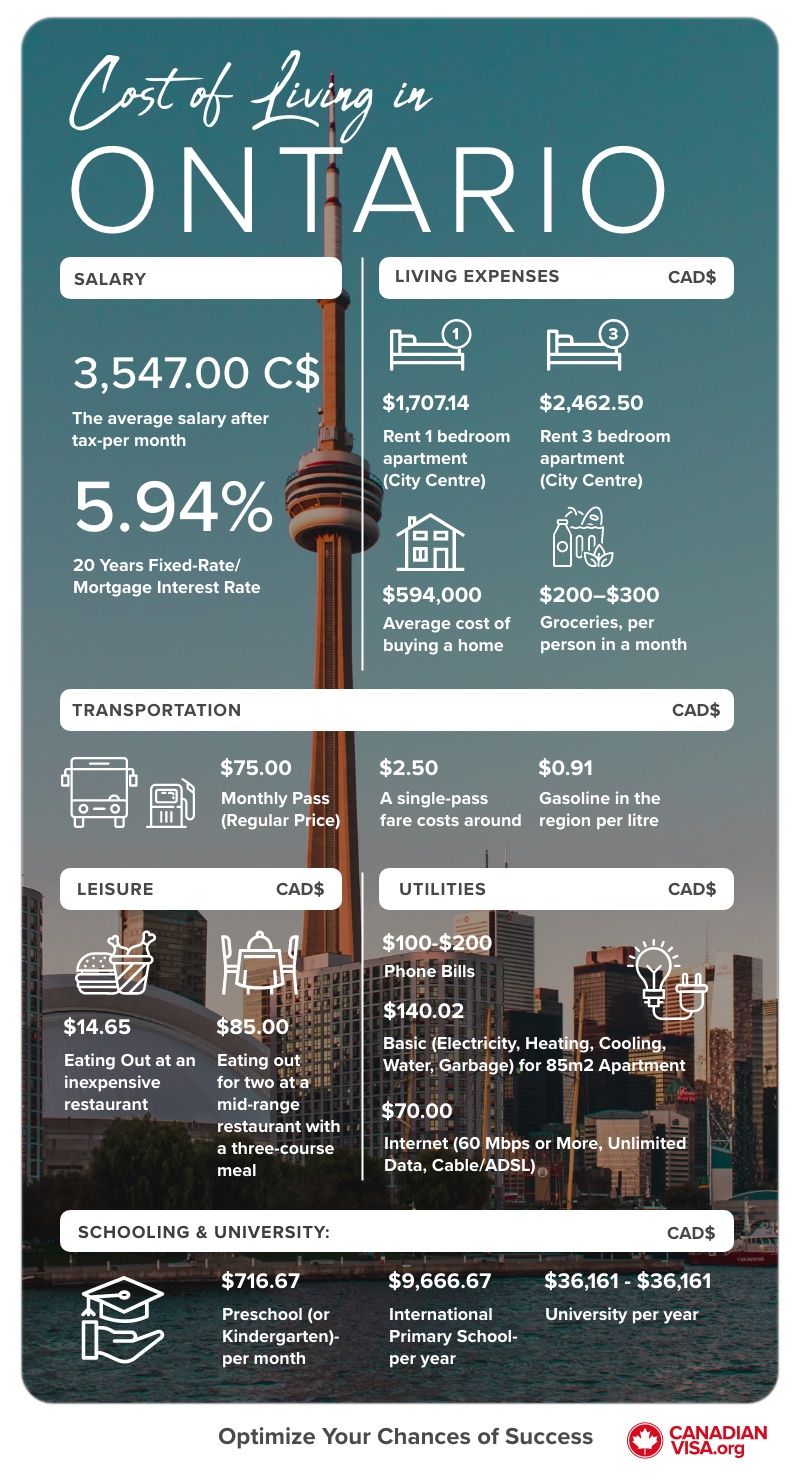 Immigration/Dedicated Visa
Ontario Immigrant Nominee Program (OINP)
Ontario is widely regarded as Canada's main economic powerhouse and the wealthiest province. The province possesses the most mature and diverse industrial sector in the country, as well as a large share of the country's natural resources.
The Ontario Immigrant Nominee Program (OINP) accepts applications under a number of immigration categories:
Human Capital Priorities Stream (aligned with Express Entry)
French-Speaking Skilled Worker Stream (aligned with Express Entry)
Employer Job Offer: In-Demand Skills Stream
International Students category
Express Entry Skilled Trades & French Worker Stream
Demographics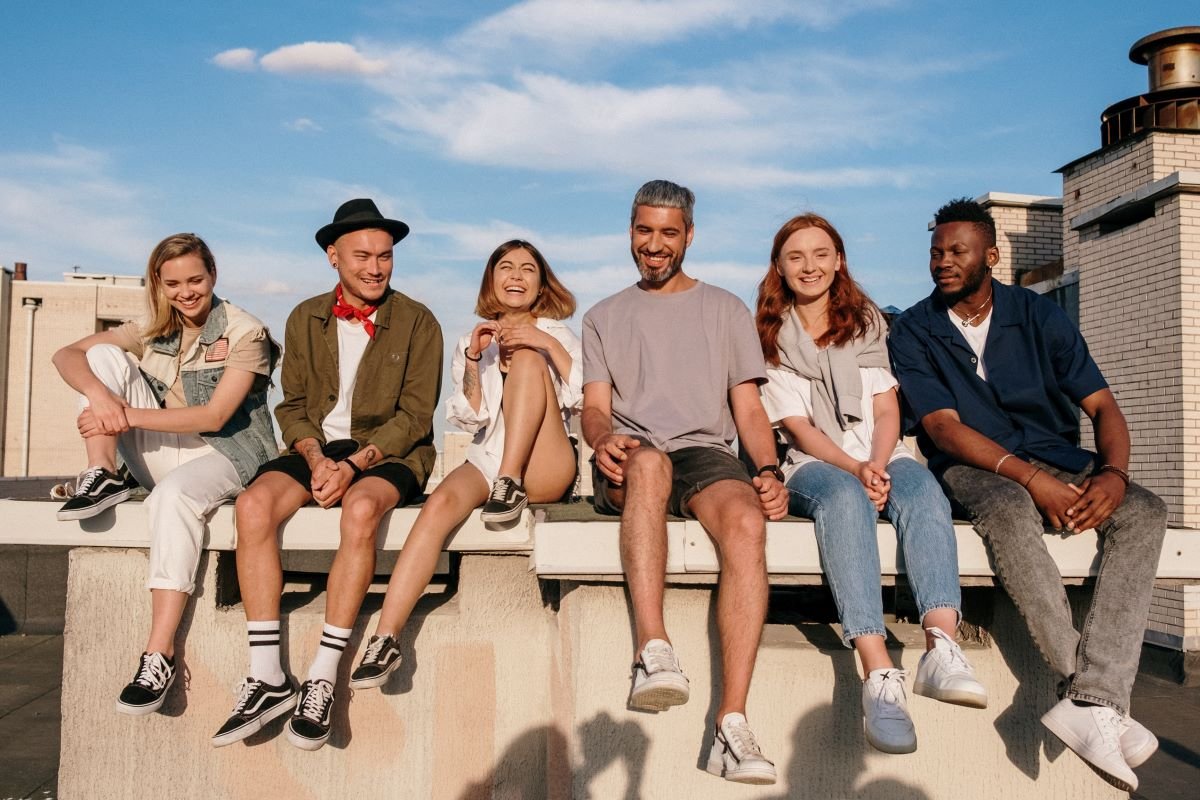 Ontario has the most diverse culture in Canada, with most of the population in the province being of English and European descent. Irish, Italian and Scottish people account for a large group of immigrants, which has also resulted in an astounding number of foreign-born people in the province at over 28%, compared to the country average of less than 20%.
Population
On April 1, 2022, the population of Ontario was 15,007,816 people, up 55,991 over the previous quarter.
The current metro area population of Toronto in 2022 is 6,313,000, a 0.93% increase from 2021.
The current metro area population of Ottawa-Gatineau in 2022 is 1,423,000, a 1.07% increase from 2021.
Today, over 100 languages spoken in homes throughout the province, though 70% of the population speaks English.
Over 50% of Ontario's population follow a Protestant or Catholic faith, with close to 23% declaring no religious affiliation at all. As a diverse province, there are many places of worship for all faiths.
Education
Ontario offers quality, government-funded education to its residents from Kindergarten until the end of their secondary school career. Much like other places in Canada, early childhood education is provided to children from birth to age six; elementary school is provided to children from kindergarten through grade eight, and secondary school is provided to children from grades nine through twelve.
The province has top-rated universities including the University of Toronto which is ranked 18th in the world. Other Notable universities are the University of Ontario, the University of Ottawa, and Queen's University.
Major Cities
Ontario has 55 cities, and even more smaller municipal clusters. The province's two biggest cities are Toronto and Ottawa. Toronto is well-known for its cosmopolitan lifestyle and Ottawa is the capital. As more immigrants choose Ontario as their place of residence to begin their new lives in Canada, the province's main cities continue to expand.
Toronto
The largest city in Canada and the fifth-most populated metropolis in North America is Toronto. With 49% of its citizens born outside of Canada, the city is one of the most multicultural in the whole globe. Canada's largest city, Toronto, is located on Lake Ontario's western shore. The famous, free-standing CN Tower dwarfs the city's core of tall buildings, which are part of a vibrant metropolis. In addition, Toronto offers a lot of green places, from the tidy circle of Queen's Park to the 400-acre High Park with its trails, sports venues, and zoo.
Ottawa
The capital and fourth-largest city in Canada is Ottawa. The 14th highest in the world, Ottawa has the second-best quality of life of any major city in the Americas. On the banks of the Ottawa River, it is dominated by Parliament Hill, which features impressive Victorian architecture, and institutions like the National Gallery of Canada, which is known for its holdings of Canadian art, including indigenous art. In the summer, boats line the park-lined Rideau Canal, and in the winter, ice skaters use it.
Things to do in Ontario
The most popular attraction in Ontario is the well-known Niagara Falls, the Lakeside Park Carousel in Catharine's, the Canadian War Museum in Ottawa, and Parliament Hill and Buildings in Ottawa. The province offers outstanding outdoor recreational opportunities such as fishing, hiking, hunting, skiing, and more.

Art Galleries & Experiences
Ontario is a very artistic province. from outdoor murals, urban graffiti, and the surroundings' natural beauty to the walls and halls of galleries and institutions.
Discover renowned art museums that feature carefully maintained permanent collections and changing shows..
Nature & Natural Wonders
Experience the breathtaking landscapes and natural wonders that define Ontario, from the mighty Niagara Falls to the flowing Kakabeka Falls, the geological wonders along the Niagara Escarpment to the enormous Canadian Shield. Explore diverse woods, glistening lakes, and wildlife-filled wilderness..
Foodie Destinations
Savour the great culinary experiences in Ontario's gourmet attractions, from locally produced, field to fork and farm to table foods to globally inspired fusion dishes.
Theatre & Film
Fans of theater and movies will be enthralled by what's on display. Enjoy fresh and interesting playbills with world-famous film festivals, Broadway blockbusters, renowned theatrical festivals, and cutting-edge regional theatre every year in Ontario. As fascinating as the arts they house, many of the old theaters are steeped in legend and history.
Ready to find out more about living in Ontaio?
FAQs
What is Life in Ontario Like?
Life in Ontario is diverse and exciting, and there is truly something for everyone. You'll need to adjust to the vast distances. Ontario isn't small, and most residents believe a five-hour drive is relatively short. You'll need a car to get around unless you live in one of the major cities like Toronto or Ottawa.
What is the OINP Processing Time?
The Ontario Immigrant Nominee Program (OINP) can make decisions within 60 days. Following that, the next phase normally takes between seven and eight months. This may seem like a long time to you, but when compared to the typical processing period of 17 to 32 months, we can see that it is truly significantly faster.
What is the Human Capital Priorities Stream of Ontario?
Because of its effectiveness in attracting thousands of qualified immigrant workers to Ontario, the Human Capital Priorities Stream is recognized as the OINP's nerve center. To be considered for this stream, you must have a current Express Entry profile. If you are successful, you will receive 600

CRS

points in addition to an Invitation to Apply (

ITA

) for Canadian permanent residency.
Is Ontario a Good Place to Immigrate To?
There are numerous reasons why you would wish to relocate to Ontario. For example, Toronto, the province's capital, is one of the world's most diverse cities. Indeed, more than half of the population was born outside of Canada.
Furthermore, there are several work options in Toronto and other towns. Many multinational firms have their Canadian headquarters in Toronto. Finance, technology, film and media, and tourism are all important industries.
Academically, Ontario is home to many world-class universities. The University of Toronto, University of York, McMaster University, University of Waterloo, University of Ottawa, Ryerson University, Carelton University, University of Guelph, and others are among them.
Start Your journey to Ontario
We may have provided answers to your concerns about Ontario, but you should see a specialist if you want to fully understand what it's like to live in Ontario and how to migrate there. One of the best ways to accomplish that is to use the button below to contact a Regulated Canadian Immigration Consultant, who can provide you with useful information on moving to Ontario as a resident of Canada.

Ready to start a new life in Ontario, Canada? Let our professional immigration consultants help you.