The majority of Canada's international student cohort hail from three countries, including India, China, and Korea. The great news is that applying to study in Canada is even quicker for international students from eligible Asian, African, and Central and South American countries. Through the Student Direct Stream (SDS), you can obtain a Canadian study permit in 20 calendar days without waiting a few months. To qualify for the expedited application processing, you must meet the criteria for a study permit plus additional requirements discussed in more detail below.
What is the Student Direct Stream (SDS)?
Launched in 2018, the SDS replaces the previous program known as the Student Partners Program (SPP). The SDS aims to enhance the economic, cultural, and social benefits that international students bring to Canada by making it faster to apply for Canadian study permits. While regular study permit applicants can submit incomplete applications due to COVID-19, the Student Direct Stream still requires complete applications.
The SDS is offered to specific nations. Most Canadian colleges have a Designated Learning Number (DLN) that identifies the school as a participant in the SDS program. You can still apply for a study permit if your desired institution is not in this program. However, you'll have to apply for a standard Study Visa, which can take longer. Non-SDS is a standard visa application procedure for temporary residency in Canada for employment, study, or immigration. It is open to all foreign passengers, regardless of their native country.
Who Can Apply for the Student Direct Stream?
There are currently 14 SDS participating countries, and you can apply for a Canada study permit if you're a legal resident of one of the countries in the list below. However, remember that you must currently reside in the country to be eligible for expedited visa processing through the SDS. Otherwise, you need to follow the regular study permit application process.
Countries Eligible for the SDS
China
Antigua and Barbuda
India
Brazil
Morocco
Colombia
Pakistan
Costa Rica
The Philippines
Saint Vincent and the Grenadines
Senegal
Peru
Vietnam
Trinidad and Tobago
Student Direct Stream: Study Permit Requirements
You must meet additional requirements to qualify for the Student Direct Stream in Canada. These include having higher English or French language proficiency for academic purposes and a CAD 10,000 investment that you can access once you start your studies in Canada. Below is a list of documents you must collect to apply for a Canadian study permit through the SDS.
What Do You Need?
An acceptance letter from a post-secondary designated learning institution;
Proof that you paid your tuition for your first year of study;
A Guaranteed Investment Certificate (GIC) of CAD 10,000;
A Certificat d'acceptation du Québec (CAQ) from the Ministère de l'Immigration, de la Francisation et de l'Intégration (only if you're planning to study in Quebec);
A medical exam (if needed);
A police certificate (if required);
Your most recent secondary or post-secondary school transcript;
IELTS, CELPIP or CAEL English language test results academic or general training score of six or higher in each skill (reading, writing, speaking, or listening) OR;
French language test results (TEF) score that's equal to a Canadian Language Benchmark (CLB) score of seven or higher in each skill (reading, writing, speaking, or listening).
However, as of August 10, 2023, the Student Direct Stream will also accept Canadian Academic English Language (CAEL) Test results for your language requirement.
The CAEL test is a standardized test to measure English language proficiency for college and university admissions and professional association memberships. CAEL measures the English language proficiency of students planning to study in Canadian post-secondary institutions, while other English language proficiency tests may be designed for different purposes.CAEL provides an authentic representation of language use in a Canadian academic context.
At the same time, other tests may not focus on Canadian English and accents as used in Canadian academic contexts and post-secondary institutions. CAEL is a fully integrated and topic-based performance test that evaluates test takers' academic English speaking, reading, listening, and writing skills. In contrast, other tests may focus on specific language skills or abilities. Canadians develop CAEL in Canada, while other organizations or institutions may develop other tests.
Learn more about the CAEL test.
What is a Guaranteed Investment Certificate (GIC)?
A GIC is proof that you have a Canadian investment account with a balance of CAD 10,000. When you start your studies in Canada, you will get access to your money as an initial lump sum. Usually, students receive CAD 2,000 when they first arrive in Canada. After that, the remainder of the funds will be paid out in monthly or bi-monthly payments over 10 or 12 months.
Financial Institutions that Offer GICs
So, which bank should you use to open an investment account? First and foremost, choosing a bank that meets the criteria for a GIC, including a guaranteed rate of return for a fixed period, is essential. Many banks offer GICs, and you should hold your money in an investment account or student account and confirm your identity before they release any funds. Below is a list of financial institutions that offer GICs.
Financial Institutions That Offer GICs
Bank of Beijing
HSBC Bank of Canada
Bank of China
ICICI Bank
Bank of Montreal (BMO)
Industrial and Commercial Bank of China
Bank of Xian Co. Ltd
Royal Bank of Canada (RBC)
Canadian Imperial Bank of Commerce (CIBC)
SBI Canada Bank
Desjardin
Scotiabank
Habib Canadian Bank
Simplii Financial
Note: Not all of the banks serve each of the SDS-eligible countries. See the infographic below for more in-depth information about the best Canadian banks for GICs.
Another thing to consider is that when selecting a financial institution for your GIC, you must sign up for a cheque account for day-to-day expenses and access your investment. Therefore, you'll want to choose a bank that offers the best benefits for international students. Look below at the top banks for international students in Canada and some of the perks you can expect.
If you're unsure if you're eligible for the SDS and want to ensure this is your pathway before you begin the arduous and daunting application process, you would hugely benefit from a complete evaluation by a Regulated Canadian Immigration Consultant (RCIC). RCICs are legally authorized representatives and members in good standing with the College of Immigration and Citizenship Consultants (CICC), who are trained, qualified, and familiar with Canadian immigration policies. As a result, an RCIC can help you ensure your eligibility for the Student Direct Stream (SDS) by guiding the application process and ensuring all required documents are submitted correctly.
An RCIC can help you understand your requirements and ensure your application is complete and accurate, increasing your chances of being approved for the SDS.
How to Get a Canada Study Permit Within 20 Calendar Days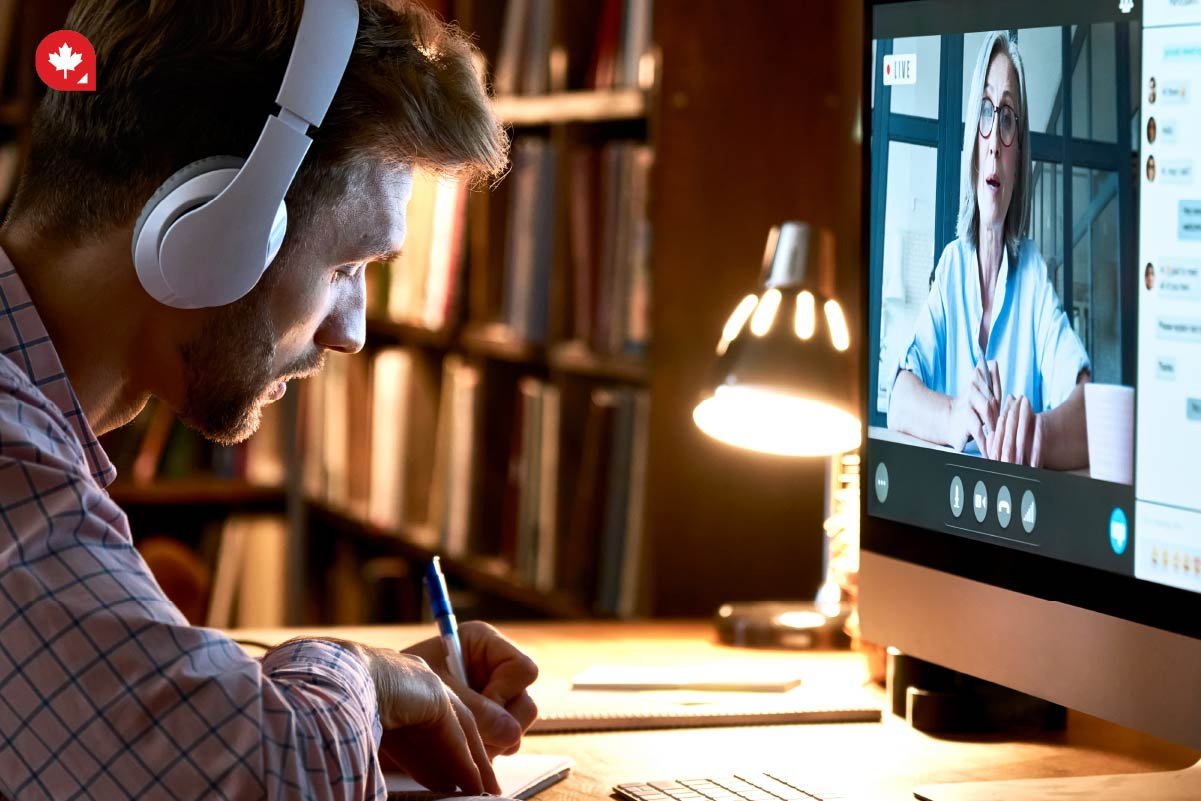 Step 1: Qualify for the Student Direct Stream
If you meet the requirements of the SDS and collect all of the required documents, you can submit your application to get a Canada study permit in a fraction of the time.
Step 2: Apply Online
The Student Direct Stream is strictly online based. You must create an online account and submit your complete application and documents. Begin the online application process by completing the "Application for a Study Permit Made Outside of Canada (IMM 1294)" PDF form. This form is included in the "Document Checklist" you receive after completing an online questionnaire to check your eligibility. Review the document checklist carefully to ensure you have all the required documents.
It costs CAD 150 to process your study permit application; in most cases, you may be asked to submit your biometrics, which costs an additional CAD 85.
Step 3: Bring Your Family Members Along
Your spouse, common-law partner, and dependent children can accompany you to Canada by applying for open work and study permits, allowing them to work in Canada and enroll at primary and secondary schools while you complete your Canadian qualification. Therefore, submitting their applications simultaneously with yours is essential to qualify for faster application processing times.
What Happens After You Apply?
After submitting your application, you can track its status online using the "Check application status" tool provided by the Canadian government. If your application is approved, you will receive a letter of introduction, which you will need to present to a border services officer when you arrive in Canada, along with your passport and other travel documents.
How Studying in Canada Leads to a Bright Future
Why should you study in Canada? The answer is simple. Canada can open doors for you that few other countries can. Here are just a few amazing benefits to student life in Canada:
Quality Education
Canada is known for its high-quality education system, with world-class universities and colleges that offer globally recognized diplomas and degrees. This ensures that students receive a strong foundation for their future careers. This education is also relatively affordable, as shown in our breakdown of Canada's cheapest universities for international students.
Bilingual Environment
Studying in Canada exposes students to a bilingual environment, as English and French are official languages. This language exposure can be advantageous in an increasingly globalized job market, making graduates more competitive and marketable.
Work Experience Opportunities
After graduation, students can benefit from work programs that allow them to gain professional skills and experience in Canada. This hands-on experience helps build their resume and can contribute to a successful career.
Strong Tech Industries
Canada is home to thriving tech industries, such as telecommunications, digital media, video games, biotech, and aeronautical engineering. Graduates in these fields have the potential to secure lucrative jobs and contribute to the country's booming technology sector, further enhancing their career prospects. Here's a breakdown of some of Canada's top tech universities.
The Chance to Become a Permanent Resident
When you graduate, there is no doubt that you'll be leaving Canada with a world-class education behind your name and a promising career to look forward to. But what if you don't have to leave at all? Studying in Canada is a surefire way to stay on and live in this incredible country permanently.
With exclusive programs for international graduates like the Post-Graduation Work Permit (PGWP), you can put your new Canadian qualification to good use by landing a job in Canada and working there for the same duration it took to complete your qualification. So, if you obtained a three-year Bachelor's degree, you can work in Canada for up to three years, giving you ample time to gain significant Canadian work experience. Not only does this look excellent on your resume, but it's precisely what you need to qualify for immigration programs such as the Canadian Experience Class (CEC).
The pathway to permanent residency for international graduates is relatively clear and straightforward and mostly leads to successful immigration applications. Studying in Canada opens many opportunities in the Great North and a bright future.
Evidence of a legitimate language test result must be provided. The test must have been completed within two years of the SDS application's receipt, demonstrating one of the following: a 6.0 or above in each language competency: listening, reading, writing, and speaking, on the International English Language Testing System (IELTS); or The French Test d'Evaluation de Français (TEF) score comparable to a Canadian Language Benchmark (CLB) score of at least seven is required: 310 points for speaking, 249 points for listening, 207 points for reading, and 310 points for writing.
FAQ
How Does Canada's SDS Impact the Diversity and Cultural Exchange Within Canadian Educational Institutions?
The SDS program expedites visa processing for students from specific countries, namely China, India, the Philippines, Vietnam, Pakistan, and Morocco. This streamlined process benefits students from these countries and increases the diversity of culture and personality on Canada's campuses. Learn more about Canada's multicultural society.
What Role Does the Student Direct Stream (SDS) Play in the Canadian Economy and Job Market?
The SDS program not only benefits international students but also has a positive impact on the Canadian economy and job market. As more students are drawn to Canada through the facilitated visa process, they contribute to the economy through tuition fees, living expenses, and local consumption. Additionally, these highly skilled and educated individuals often become valuable assets to the Canadian workforce after graduation, filling skills gaps and meeting labor market demand in various sectors. This influx of talent can have a significant long-term impact on Canada's economic growth and global competitiveness. Learn more about how Canada's economy works here.

Fast-track Your Journey to a Bright Future in Canada
Now that you know how the SDS works and how to apply, it's time to start your application process. One of the best ways to maximize your chances of getting into the SDS successfully is by applying with the help of a certified immigration professional like an RCIC. Working with an RCIC can simplify the application process and increase your chances of being approved for the SDS. They can ensure that your application meets the requirements of the Canadian Immigration Authorities, which can dramatically increase your chances of success. Additionally, RCICs can offer you a different perspective on your immigration options and provide honest and reliable feedback on your application.