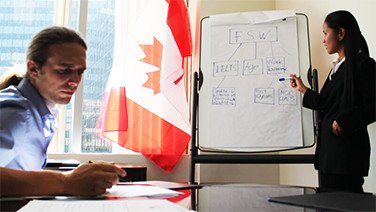 With all the different immigration policies, laws and visa opportunities, knowing what to apply for and how to apply can be confusing. Fortunately, our Regulated Canadian Immigration Consultants (RCICs) are here to guide you through your immigration process.
Regulated Canadian Immigration Consultants, or RCICs are legally authorized representatives and members in good standing with the Immigration Consultants of Canada Regulatory Council. Our consultants are specially trained, qualified and intimately familiar with Canadian immigration policies.
Having a RCIC assist you in applying for your Canadian visa can greatly simplify your application process. Think of the RCIC as your personal assistant throughout your Canadian endeavors.
Top 6 Reasons Why You Should Hire a RCIC
1. Regulated Canadian Immigration Consultants know Canada's visa system thoroughly.
It is the RCIC's job to keep up to date with the latest policy changes and on-going professional licensing requirements. Thanks to their intimate working knowledge of Canada's immigration system and available visas, they are able to advise you on which visas you qualify for and for which you should apply.
2. Licensed with a regulatory body.
Gaining the RCIC license means that agents have completed a rigorous process in order to enter the industry. They are also required to stay up to date on regulations, seeing as on-going proffesional development is required to renew this license every year.
Our RCICs work according to a strict code of conduct, which is duly enforced. This code ensures that your interests are protected and that you are working with a knowledgeable and fully competent professional. Our RCICs remain in good standing with the authorities, they are always working with your best interests in mind.
3. The RCIC can liaise with the Canadian Immigration Authorities and your employer on your behalf.
If you have ever tried to contact a governmental department such as an embassy or consulate, you will know that it can be a discouraging, time-consuming and exhausting.
Fortunately, working with a Regulated Canadian Immigration Consultant means that you do not have to make any lengthy phone calls in order to battle your way into Canada. They ensure that your apllication meets the requirements of the Canadian Immigration Authorities, dramatically increasing your chances of a favorable outcome.
4. They can create a personalized immigration strategy for you.
Not only do Regulated Canadian Immigration Consultants know the Canadian immigration system well, but they are professional strategists qualified to guide you successfully through the labyrinth of Canada's visa system.
Our RCICs "hold you by the hand" and advise you about what your best options are in applying for a visa. They will guide you so that you have a full understanding of your objectives and timeline expectations.
They can then put a plan in place to help you achieve these goals.
5. They can offer you a different perspective on your immigration options.
RCICs are professionals in their field. They are obliged to provide you with honest, reliable, feedback on your options, while also advising you on the entire immigration process.
You might even receive information that you had not considered which could broaden your immigration opportunities to Canada. The RCICs' job is to educate their clients. With the RCICs expertise in Canadian immigration, they can provide immigration options to their clients that are specfically taloired to each clients' needs.
6. All your paperwork is taken care of.
Are you concerned about submitting all of your documents and completing application paperwork correctly? Immigration requires hours upon hours of paperwork, filing, form submissions, and documents – all of which must be correctly compiled and correctly completed and submitted within tight deadlines. Our RCICs take care of this burden on your behalf.