If you want to explore and savour all that Canada can offer as one of the biggest tourist destinations in the world, why not visit the beautiful city of Montréal in Quebec. Discover why Canada is a great place to live.
1. Notre Dame Basilica, Montréal
The city of Montréal has its very own replica of the Notre Dame found in France. The Notre Dame Basilica is a beautiful and dazzling show of architecture. The church was once one of the largest places of worship for pilgrims in North America, but is nonetheless still a very iconic place to visit with its glowing golden giltwork and beautifully crafted vaulted ceiling.
Online tours are also offered if you want to step into the past and immerse yourself in this incandescent marvel of architecture. If you want more information you can check out Notre Dame Basilica website.
2. Jardin Botanique, Montréal
One of the top tourist spots in Montréal is the Montreal Botanical gardens also known as the Jardin Botanique takes natural landscaping to a whole new level. From ornaments to statues carved out of nature itself.
Over 22,000 plants species, 75 hectares, and over 10 exhibits to explore from tropical rainforests to Chinese inspired gardens that will take your breath away. Jardin Botanique also hosts a variety of events and festivals during the year. Want to find out more? Then check out the Jardin Botanique website.
3. Rue Sherbrooke, Montréal
One of the longest streets in Montreal, all 31.2km of it, means that the Rue Sherbrooke is a major throughway of Montreal. So if you want to admire this beautiful city and take in the sights, you can.
Sherbrooke has a number of fascinating places you can visit along the way, like the McCord Museum of Canadian History. With truly impressive exhibits based on the native history of the Inuits and Pacific Coast First Nations.
If you are an avid art lover you can also visit the Musée des Beaux Arts, which has over 44,000 pieces of art to browse and admire. If you want to study in Canada in the future, you can also check out the McGill University campus, which is just a stone's throw away from the art museum.
4. Lachine Canal, Montréal
The Lachine Canal, a 14.5km long waterway was originally constructed in 1825 to help traders avoid the Lachine rapids. Today, although the canal is no longer a trading hub, Lachine Canal offers tourists the chance to enjoy a truly scenic stroll along the boulevard. Or if you would prefer, you can traverse across the waterway by boat or have an idyllic picnic in one of the parks alongside the Lachine Canal.
5. Plateau Mont Royal, Montréal
The neighbourhood of Plateau Mont Royal is known for its picturesque architecture and happy community vibe. If you are looking for a casual day out you can browse through a variety of galleries like Station 16 or Galerie D'Avignon.
This peaceful area also have many quaint cafes, bakeries, bars and even theatres that you can visit, as well as the Mount Royal Park where you can go for a relaxed stroll surrounded by fantastic lakeside and mountain views.
6. Mont Royal, Montréal
Don't miss out on this memorable bird's eye of the city of Montreal at the top of Mont Royal! This spectacular viewpoint rises 233 meters above the city. So take a stroll in Mont Royal Park, admire the statues of Jacques Cartier and King George VI and drink in the beauty that is Mont Royal.
7. St Joseph's Oratory, Montréal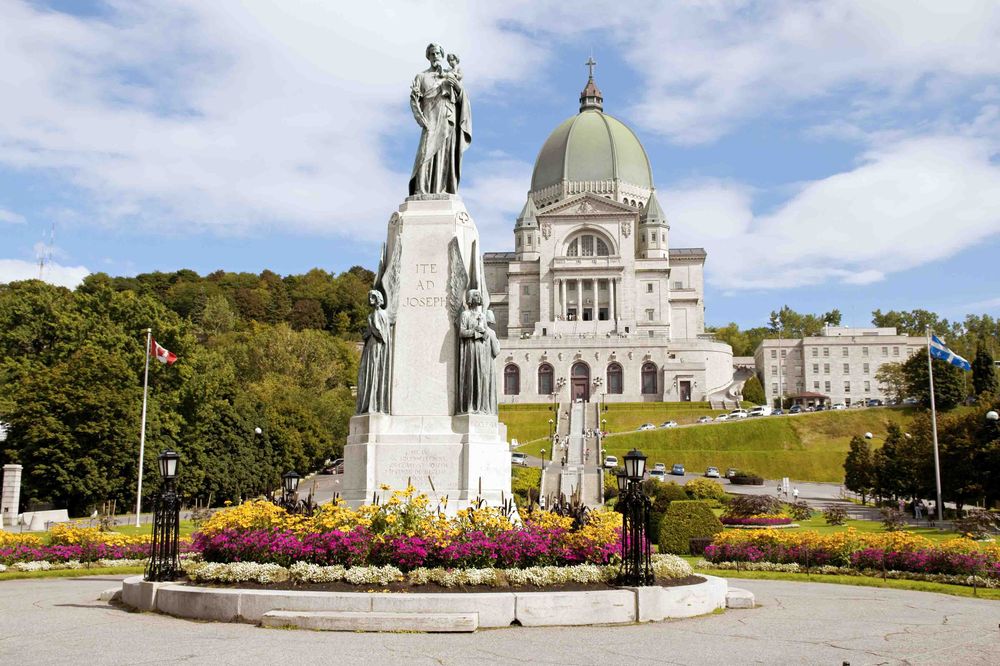 This Renaissance styled basilica built in 1924 was once an icon for Catholic pilgrims in the early 19th century. The oratory was originally built for the patron saint of Canada, St Joseph for his contribution to the catholic faith. Today, Saint Joseph's Oratory still hosts stunning religious celebrations during the year.
So if you wish to discover a different religious aspects of Canada or take a tour about the history of the Oratory and its origins, you can experience it all at Saint Joseph's Oratory, from music concerts to nativity scenes.
8. Old Montréal
Want to experience the parisian streets without going to France, you can if you visit Old Montreal. With architecture dating back as early as the 17th century, this waterfront and busy business centre is a great way to explore the streets of Montreal.
Take a stroll in history, admire the twin towers of Notre Dame Basilica, take in the sights of Jacques Cartier, or take an evening walk along the Old Port promenade.
9. Parc Jean Drapeau, Montréal
The Parc Jean Drapeau and its iconic spherical look are a reminder of its tenure as a part of the old 1967 world fair. Today the park has a assortment of activities and places to visit that make it perfect for families.
If you are an eco warrior at heart, then you should know that the Parc Jean Drapeau has the Biosphere, a museum solely dedicated to educating visitors about the environment.
If history is not your thing, you can also amuse yourself and your family at the La Ronde Amusement, for a fun filled day of rides and cotton candy and popcorn.
With so much to do and see in Montréal, why should you not come to Canada?
10. Montréal Olympic Park
Home of the 1976 Summer Olympics, the Montréal Olympic Park is now a major recreation destinations for anyone visiting the bustling city of Montréal.
For those plant lovers, the park gives you the chance to explore the beautiful botanical gardens. Or if you have a love for 6 legged critters why not take a day to discover the Insectarium, and how their micro world survives and thrives.