Did you know that three-quarters of Canadians visit the dentist at least once a year, which happens to be nearly 30 million people? In a country with only about 23,000 practicing dentists, that means there is a lot of work to go around. Add to that a population with increasing average age, year on year, also means a lot more visits to the dentist chair for Canada's increasing senior citizen population.
People like to retire in Canada, as it's an incredibly beautiful country with warm summers and snowy winters, snow-capped mountains and azure lakes, dark green forests, and roaring rivers that cut through the landscape. They can retire in Canada because of the government's world-renowned free public healthcare system, and while the system does not cover dental work, two-thirds of the population does have insurance for dentistry. For the other third, there are government-funded programs to cover their costs.
Immigrating to Canada as a dentist in 2020-21 is quite possible (yes, despite the pandemic), and there is ample opportunity for dental jobs in Canada, given that the Immigration and Refugee Council of Canada (IRCC) is still inviting skilled foreign workers to immigrate to Canada every month. But what is required to start practicing? Let's take a closer look at the requirements.
STEP 1: Have your credentials assessed (you will need this for your visa application anyway) by a recognized agency
STEP 2: Apply to the Dental Regulatory Authority (DRA) of the province or territory where you wish to live and work
STEP 3: Next, you will have the choice between taking a series of exams or completing a shortened qualifying degree program at a recognized Canadian university. If you are already a practicing dentist, you will likely opt for the first option;
STEP 4: Be sure to prepare. For example, take refresher courses, especially if it has been a number of years since you have engaged with the theory. Once you have successfully passed the admittance exams, you will be certified by the National Dental Examining Board of Canada (NDEB).
STEP 5: Fix teeth, earn top dollar, and give yourself and your family the life you deserve.
Jobs in Canada for Dentists
So you're probably wondering by now how much dentists make in Canada. This varies quite a lot depending on the province, experience, and whether you work in a rural or urban area. The national average salary is around $140,000 a year. Obviously, the cost of living will be higher in cities and competition will be tougher for positions, so compensation will be higher. If you are looking for more of a relaxed lifestyle, you cannot go wrong with the rural areas, where small towns are surrounded by mountains and things move a little slower. Here are some average annual salaries based on provinces and cities/towns:
Dentists Annual Income
Halifax, Nova Scotia
$166,403
Vancouver, British Columbia
$167,257
Yellowknife, NWT
$91,850
Immigration Options for Dentists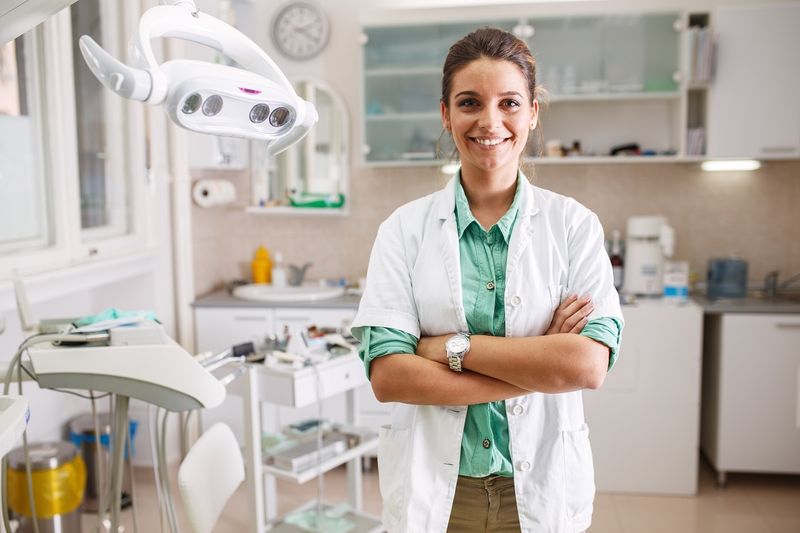 There are a number of ways to immigrate to Canada as a dentist, the Express Entry system could have you ready to go in as little as six months. Others take more time but at the end of the day, if you have the qualifications, language ability, and pass your qualifying examinations, you shouldn't have any problems obtaining permanent residency status in Canada.
Express Entry System
Dentists are classified as skill type A under the NOC. This means that they are eligible to apply as a skilled professional in the Federal Skilled Worker program. Your eligibility for this program is determined by:
Skilled work experience - one year of continuous work or 1,560 hours in total
language ability - your job will depend heavily on your ability to communicate effectively with patients, for this reason, you will need to pass a Canadian Language Benchmark test and earn a minimum score of 7 in all four sections; reading, writing, listening, and speaking.
Qualifications - as we mentioned above, you will need to have your credentials assessed to show they are equivalent to a Canadian qualification.
Eligible - you must be eligible to immigrate to Canada, this means you cannot have a criminal record, you must be in good health and you must have legal status in the country you are living in now.
These and a few more factors such as familial bonds in Canada and work experience are used to calculate your Comprehensive Ranking Score on your Express Entry program profile. You will then enter a pool of applicants, and twice a month a draw will take place wherein those with the highest CRS scores are issued ITA's. The way to ensure you are sent an ITA in the very next draw after your application is submitted is to earn a provincial nomination.
Provincial Nomination Program (PNP)
The Provincial Nomination Program (PNP) works closely with the Express Entry system to supplement each province's particular labour requirements, but also have their own immigration streams dedicated to more critical shortages within provinces. You can apply for a provincial nomination in one of two ways. The first is to create an expression of interest in a particular province that you wish to live and work in on your Express Entry profile. If the province deems your skills to line up with their demands, they will issue you with a provincial nomination, which will contribute 600 points out of the overall 1,200 points available on your CRS, sending you to the top of the pool of candidates and guaranteeing you that ITA. The second is to create a profile on the provincial government website of the province you wish to live and work in and submit an expression of interest directly. If they are in need of your skills, they will invite you to apply directly to the province and will motivate your application for permanent residency to the Canadian government. The requirements of the PNP's are very similar to the Express Entry eligibility requirements, at times just not as stringent.
Atlantic Immigration Pilot
Perhaps you are not fully qualified just yet and are thinking of finishing your studies or even beginning them in Canada. It can also take a while to complete your qualifying examinations once you arrive in Canada, and you may seek temporary employment to tide you over until you do. For this, we present the option of the Atlantic Immigration Pilot. If your CRS score is too low for the Express Entry program, or you don't feel like waiting until you are selected from the pool of applicants, the Atlantic Immigration Pilot (AIP) offers permanent residency to applicants with a valid full-time job offer under NOC 0, A, B, and C. Pretty much any valid full-time job offer could see you eligible for permanent residency under this immigration pilot.
The AIP was designed to address the labour shortages in the four Atlantic provinces; Nova Scotia, Newfoundland & Labrador, New Brunswick, and Prince Edward Island. All occupations in the healthcare fields are in high demand in Atlantic Canada. So if you have a full-time valid job offer in one of the four provinces listed above, you can apply for permanent residency at the same time as you apply for your Canadian work permit, and as long as you meet the eligibility requirements, there is no reason you should not be eligible for PR status, as a dental assistant or aspiring dentist with a valid job offer.
How We Can Help You Immigrate to Canada as a Dentist
With all of these immigration and visa options to choose from, the process can become quite overwhelming and confusing. But it doesn't have to be. By using our accredited Regulated Canadian Immigration Consultants (RCICs) you will not only improve your chances of success in the Canadian visa application process, but you will also get expert advice on which immigration program is best for your specific needs. Our RCICs are highly qualified and are granted permission by the ICCRC to assist you with your eligibility evaluation, review all your documents and application forms, and submit them to the Canadian government for you. Why take the chance of having your application denied because your forms are incorrect or sent in too late.
We take care of the fine print while you choose your dream destination in Canada for you and your loved ones. All you have to do is complete our application form to receive your eligibility assessment today. It's just that simple.
Follow us on Facebook, Instagram, and LinkedIn for up to date information and interesting blog posts on Canadian Immigration.