Living in Canada means many things. To highlight just what it could mean to a Singaporean: It could mean a high minimum wage, the benefits of having workers rights within any workplace and it could mean equality, no matter your race, religion or gender.
Canada is welcoming over 1.23 million foreigners within the next three years, this alone shows that there are plenty of job opportunities awaiting you.
Learn how to immigrate to Canada from Singapore in 2021.
Express Entry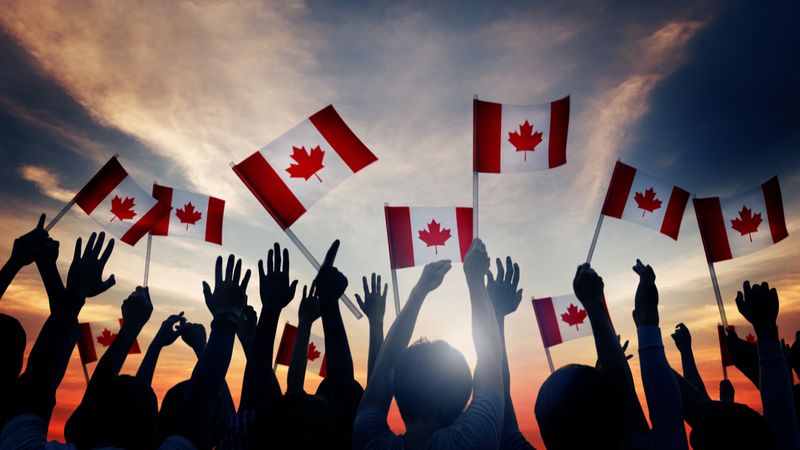 The Express Entry is an online immigration system that enables you, as a foreign skilled worker, to become a Canadian permanent resident through three federal immigration programs. They are:
Federal Skilled Worker Program.
Federal Skilled Trades Program.
Canadian Experience Class.
The Express Entry system is contributing 332,750 Invitations to Apply (ITA) towards the over 1.23 million government goal with 108,500 ITAs issued this year alone. Express Entry system one of the largest immigration entry points in Canada. As a potential skilled worker, you would benefit from the fast processing time of six months. This means you could be well on your way to living and working in Canada sooner than you think.
How can I immigrate to Canada with the Express Entry system?
If you meet the Express Entry requirements, only then will you create an online profile. You'll need the following to complete the profile:
Your passport or travel document;
Education credential assessment report;
Language test results;
Certificate of qualification in a trade occupation issued by a Canadian province or territory (if you have one);
Proof of work experience (if you have one); and
Provincial Nomination (if you have one).
You'll have 60 days to complete the online profile, it's best to try and complete it before, as it could work in your favour according to the tie-breaking rule which states if more than one candidate has the lowest score, the cut-off is based on the date and time they submitted their Express Entry profiles.
All eligible candidates will be placed in the Express Entry pool where you will receive a Comprehensive Ranking System (CRS) score which will determine your ranking. You will receive an Invitation to Apply (ITA) if you meet or score higher than the qualifying CRS score. Receiving an ITA would mean that you have the opportunity to apply for Canadian permanent residency.
Benefits of the Express Entry system:
You can stay in the pool if you aren't successful the first time around. You can improve your CRS score during this time to increase your success rate for the next draw.
Everything is online, making it easily accessible to you.
There are several ways to improve your CRS score, including applying with your common-law partner or spouse.
A large number of Canadians retire every year which means the need for skilled workers is growing. This makes it easier for skilled workers and professionals to become permanent residents. Applying through the Federal Skilled Trades Program via the Express Entry system is a great way to immigrate to Canada from Singapore in 2021.
Federal Skilled Trades Program
The Federal Skilled Trades Program (FSTP) allows you as a foreigner with work experience in eligible trade occupations to immigrate to Canada.
What are the requirements of the Federal Skilled Trades Program?
Meet the required language levels for each language ability;
Have at least two years of full-time work experience or equivalent part-time work;
Meet job requirements for skilled trade set out in the

NOC

; and
Have a valid job offer for a period of at least one year or a certificate of qualification in the specific skilled trade issued by a Canadian provincial, territorial or federal authority.
The Federal Skilled Trades Program are organized under these groups of the National Occupation Classification (NOC):
National Occupation Classification Categories
Major Group 72
Industrial, Electrical and Construction Trades
Major Group 73
Maintenance and Equipment Operation Trades
Major Group 82
Supervisors and Technical jobs in natural resources, agriculture and related production
Major Group 92
Processing, Manufacturing and Utility Supervisors and Central Control Operators
Minor Group 632
Chefs and Cooks
Minor Group 633
Butchers and Bakers
Business Immigration Streams
To immigrate to Canada from Singapore in 2021 through the Business Immigration Program is a really good idea. This is because of the pandemic that has hit all economies around the world, including Canada. To open a business in Canada means that you'll be contributing to the growth of the economy, which is a factor that will be beneficial to your success rate in moving to Canada.
The programs that fall under the Business Immigration Streams are:
PNP Entrepreneur Visa Streams;
Start-up Visa; and
Start-up Visa Program
The Start-up Visa Program will allow you to immigrate to Canada as a permanent resident. The program is aimed at entrepreneurs with the skills and potential to build a business in Canada. Your business needs to:
Be innovative;
Create jobs for Canadians; and
Be able to compete on a global scale.
To be eligible for the Start-up program you must meet the following requirements:
Have a qualifying business;
Have a letter of support from a designated organization;
Meet the language requirements, and
Have enough money to settle and live in Canada before you make money from your business.
If you have family living in Canada, then the Family Sponsorship could be your pathway to living and working in Canada.
Family Sponsorship
The Family Sponsorship allows Canadian citizens, persons registered under the Canadian Indian Act and permanent residents of Canada to sponsor their family members. In this article, we take a closer look at spouse and child sponsorship.
Who is eligible to sponsor their spouse, partner or child?
You're eligible if:
You're 18 years and older;
You're a Canadian citizen, person registered under the Canadian Indian Act or permanent resident of Canada
You can prove that you aren't receiving social assistance unless it's for a disability; and
You can provide for the basic needs of whoever you're sponsoring.
Who can eligible persons sponsor?
Those eligible to sponsor may sponsor the following family members:
Their spouse;
Common-law partner;
Their conjugal partner; and
Their dependent children.
A major benefit of receiving a sponsorship is that you are able to move to Canada as a permanent resident.
Below are the allocated sponsorship fees:
Family Sponsorship Fees
Fees
$CAN
Sponsor your spouse or partner
$1,050
Sponsor your spouse or partner without the right of permanent residence fee
$550
Sponsor a dependent child
$150 per child
Include any dependent child
$150 per child
Living Simple in Canada
Many Singaporeans choose to move to Canada to live a relaxed and more simple life. Of course, there are many buzzing cities in Canada such as Toronto, for those days you're missing the rush. One of the struggles Singaporeans face is high rental prices. The good news is that in Canada the rent is an estimated 48 percent cheaper than in Singapore.
Beyond the affordability of Canada, the country is also home to some of the best universities in the world, world-class healthcare and known for practicing a healthy work-life balance. Ensuring you have more time for your family and the things that matter most to you.
If you would like to immigrate to Canada from Singapore in 2021, click on the link below to see if you're eligible. As a recognized immigration agent, we can make your immigration journey simpler and increase the chances of your success. This is thanks to the knowledgeable and experienced consultants we work with.