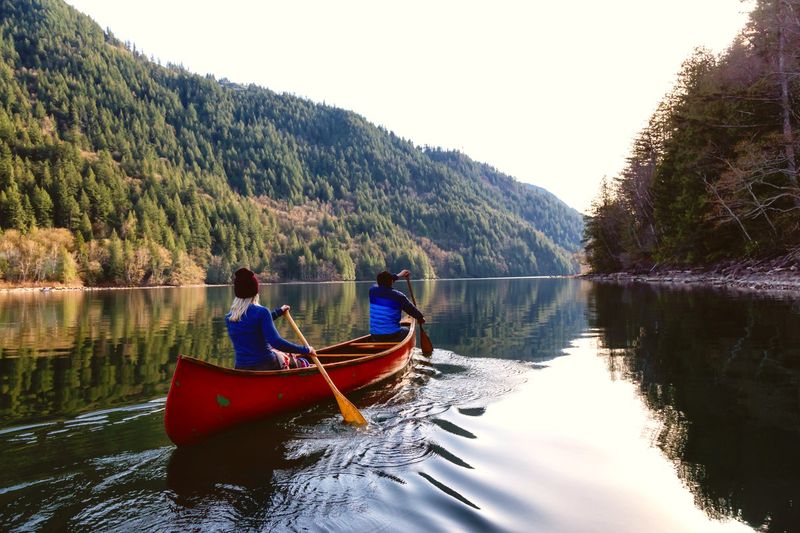 A Working Holiday Visa belongs under the IEC (International Experience Canada) program.
Some of the most popular places to go on your working holiday are Toronto and the city of Vancouver. If you want to get started on your way to Vancouver, find out how you can start your working holiday in Canada.
What Are the Working Holiday Visa Canada Requirements
Step 1 - Which Countries Can Apply
Make sure you are one of the 34 countries that are part of the working holiday program.
Below is a list of countries that are allowed to apply for the Working Holiday Visa. Requirements also apply for certain age limits. Check out if you can apply!
| Country Name | Application Age (Years) | Country Name | Application Age (Years) |
| --- | --- | --- | --- |
| Australia | 18-30 | Belgium | 18-30 |
| Chile | 18-30 | Czech Republic | 18-35 |
| Costa Rica | 18-35 | Croatia | 18-35 |
| Denmark | 18-35 | Estonia | 18-35 |
| France | 18-35 | Germany | 18-35 |
| Greece | 18-35 | Hong Kong | 18-30 |
| Ireland | 18-35 | Italy | 18-35 |
| Japan | 18 to 30 | Korea | 18 to 30 |
| Latvia | 18 to 35 | Lithuania | 18 to 35 |
| Mexico | 18 to 29 | Netherlands | 18 to 30 |
| New Zealand | 18 to 35 | Norway | 18 to 35 |
| Poland | 18 to 35 | Slovakia | 18 to 35 |
| Slovenia | 18-35 | Spain | 18 to 35 |
| Sweden | 18 to 30 | Taiwan | 18 to 35 |
| Ukraine | 18 to 35 | United Kingdom | 18-30 |
Step 2 - Your Passport
You must have a valid passport from your country of origin before you can apply for your Working Holiday Visa in Canada.
Make sure that your passport will not expire during your stay in Canada. This can affect how long you can stay in the country and may cut your vacation short!
If you do apply for a new passport during your holiday, make sure that you update your passport number on your permit.
Step 3 - Do You Have Enough Funds?
You must have at least CAD$2,500 to help support you before you find work in Canada. This is an important requirement that you need otherwise you will not be able to apply.
Step 4 - Health Insurance
Have health insurance, if you plan to work in Canada temporarily, you cannot qualify for public healthcare, so make sure you take out health insurance.
The Canadian government will need to see proof that you have health insurance for your entire stay, this must cover:
Medical repatrician;
Hospitalisation; and
Medical care
Some companies you can use for insurance are True Traveller and World Nomads.
Step 4 - Police Certificates
Make sure you have no previous criminal record. This is normally proven through a Police Clearance Certificate that you can apply for at your local police station. This certificate must then be handed into the Immigration Office
There are a few countries that do have different requirements for police certificates.
You can find out more about the application process for a police certificate based on where you live. Check out this link to find out more information about the process. https://www.canada.ca/en/immigration-refugees-citizenship/services/application/medical-police/police-certificates/how.html
Step 5 - Your Return Ticket
Have must have proof that you have bought a return ticket after your Working Holiday Visa has expired.
This is to prove that you have the intention to move back to your country of residence.
Step 6 - Hand in Your Resume
Make sure that before you start the application process, you have updated and checked over your CV. You may need to show it during the application process and who knows if you may find a prospective employer somewhere along the way.
Make sure that your CV includes:
Your education level; and
Your job description and the duties involved;
Step 7 Apply for a Medical Exam
If you have lived in these countries, you must apply for a medical exam
Hong Kong;
Korea;
Latvia;
Lithuania;
Taiwan; and
Ukraine
Please note that this medical exam cannot be done at just any doctor.
You must have a medical exam that is completed by a doctor who is part of the Canadian Panel of Physicians.
You can find the closest approved doctor by following this link http://www.cic.gc.ca/pp-md/pp-list.aspx. Enter in your country of residence and a list of medical professionals will pop up.
If you plan to work in any medical field during your stay, you must apply for a medical examination, even if you do not live in any of the above countries.
Step 8 - Apply for Biometrics
Another thing you must be aware of for your Working holiday Visa Canada requirements are Biometrics. Biometric are a new security feature that Canada has brought into the immigration system.
You can learn more about the biometric system in this handy video
So now you know a little bit more about what biometrics are and how they are used by the Canadian government. Check if you are one of the people who must apply for them.
Apply for biometrics after the 31 of December, 2018:
Australia;
Chile;
Costa Rica;
Japan;
Korea;
Mexico; and
Taiwan
You need to apply for biometrics:
Czech Republic;
Croatia;
Denmark;
Estonia;
France;
Germany;
Greece;
Ireland;
Italy;
Latvia;
Lithuania;
Netherlands;
Poland;
Slovakia;
Slovenia;
Spain;
Sweden;
Ukraine; and
Great Britain
Things to Know
Can You Bring Your Children or Partner?
You cannot bring your dependants with you. This applies to anyone who is under your care or under the age of 22 and is not married.
You cannot apply with your partner! If you do want to apply for a Working Holiday Visa, you must apply separately from your partner.
How Much Does it Cost?
The costs for a working visa will involve approximately CAD$155. Biometrics can cost around CAD$85 per person.
Your medical exam costs can vary depending on your medical professionals, so please be aware.
How Much Can You Pack?
If you arrive in Canada by air, there is a 23kg limit on your baggage, so unless you want to pay extra for your baggage make sure you only pack what you need!
Be aware of the time of year you are travelling to Canada. Early autumn and late winter can be quite chilly so don't forget to pack some warm clothes. Don't have any? No need to worry. Canada has a number of second hand stores you can drop in that fit your budget.
Plug Points
Canada has its own voltage plug point. So if you are from Europe most of your plug points will not work in Canada.
You can pick up some adapters at the airport when you arrive so you don't have to worry about packing them in your luggage.
Working Holiday Visa Canada Requirements
Are you ready to go on a vacation of a lifetime? Now you can. All you have you do is is make sure that you can meet all the Working Holiday Visa Canada requirements.
Once you have done this, sign up here. We will assist your application to help make your vacation one you can trulyremember.