Many newcomers to Canada choose to settle in the largest and most populous centres of the country such as Vancouver or Toronto. However, just north of Vancouver lies the city of Whistler, a smaller and perhaps even warmer alternative. The province of British Columbia is known for its magnificent gardens and green spaces while Whistler itself has a vibrant arts scene. With a population of around 13, 000 residents, the city offers the same national benefits as other cities while highlighting the most positive aspects of smaller city life.
The government plans to welcome over a million immigrants into the country within the next three years but there are still crucial shortages that are not being addressed. This has a lot to do with smaller communities that are in need of very targeted skills or occupations that cannot be filled by the local population. Find out why you might be suited to make the move to Whistler by reading more about the different perks that the city offers below.
Why Whistler?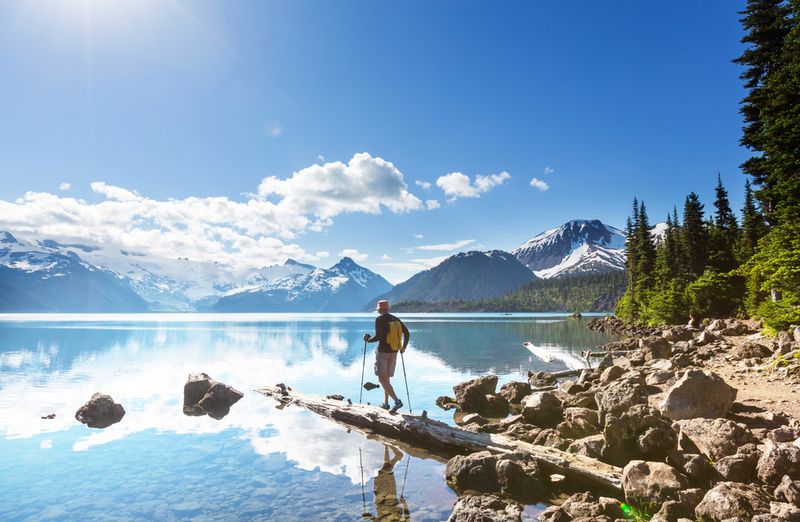 The town of Whistler is a great destination for newcomers to Canada as it encapsulates the best of what the country offers. This community needs a lot of workers to fill specific vacancies (such as teachers, technology experts, truck drivers and healthcare workers) but at the same time, the unemployment rate is really low, at 4.3%, indicating great job retention in the area.
The rent amount in the city may seem steep at first with a family home coming in at $1, 450 CAD per month but when you consider that the average household income is $116, 362 CAD per year, this is quite affordable compared to the national average. The national median household income sits at $71, 011 giving an indication of how strong the local economy really is compared to some of the other provinces and territories.
You will find the same national benefits as everywhere else in Canada which includes free basic education, immigration support classes as well as public healthcare. However, something else to consider is the 83 days of sun, the low 7% crime rate and the skiing adventures to be had on Whistler Mountain. Over 7% of locals walk to work but you can get just about anywhere with the public transport system which costs only $50 CAD for a monthly pass.
Ways to Immigrate
There are plenty of ways to immigrate to Canada in an unskilled, semi-skilled and skilled capacity but there are only a few that directly take you to the province or region that you are choosing to settle in. These are the Provincial Nominee Program (PNP) and the federal programs under the Express Entry system.
Provincial Nominee Program
The Provincial Nominee Program (PNP) was designed to address specific labour market shortages according to the needs of the 11 provinces and territories that participate. British Columbia has also worked on different ways to encourage immigration to its smaller communities with initiatives such as the new regional pilot. Read below to see which of these specific streams you might qualify for in order to be able to move to Whistler.
British Columbia PNP Streams
Province
Programs
Skills Immigration

Skilled Worker Category
Healthcare Professional Category
International Graduate Category
International Post-Graduate Category
Entry Level and Semi-Skilled Worker Category

Express Entry British Columbia

Skilled Worker Category
Health Care Professional Category
International Graduate Category
International Post-Graduate Category

Entrepreneur Immigration

Entrepreneur Immigration Category
Entrepreneur Immigration — Regional Pilot
Strategic Projects Category
Express Entry System
The Express Entry system was created in 2015 to umbrella the three popular federal programs which are the Federal Skilled Worker Program, the Federal Skilled Trades Program and the Canadian Experience Class. Applications entered into this system are processed in as little as six months for skilled or experienced workers.
Applicants who want to apply through the Express Entry system need to create an online profile that details their background. If found eligible for the selected program, the profile is scored according to the Comprehensive Ranking System (CRS) and entered into the Express Entry pool. The highest-scoring candidates are issued with an Invitation to Apply (ITA) for permanent residence during draws that typically happen during two-week intervals.
CRS Criteria Awards Points For:
Age
CLB Language proficiency (English and French)
Level of Education (In and outside Canada)
Work Experience (In and outside Canada)
Arranged employment
Provincial Nomination achieved
Siblings living in Canada as permanent residents/citizens
Your spouse's profile (if married)
What We Do
We have three Regulated Canadian Immigration Consultants (RCICs) who are one of the only authorized bodies when it comes to giving paid advice about Canadian immigration. These experts have all been through the application period themselves and can help to ease your fears when it comes to strict deadlines and documentation. Why not use a professional who can help you to develop a personalized immigration strategy and ensure that you have the best possible chance of success.
Sign up for our service and get to know which of the over 60 different programs you are eligible for. If you are looking to move to Whistler in British Columbia, our RCICs can help you to strengthen your chances of qualifying for a more direct pathway to permanent residence in this region.