Express Entry Draw on 9th August, 2017, lowers CRS needed for an ITA
August Express Entry Draws 2017
The latest Express Entry draw on the 9th of August has seen a noticeable drop in the minimum Comprehensive Ranking Score (CRS) needed to apply. In the two most recent draws on the 2nd and 9th of August, 2016, 2,991 people received Invitations to Apply (ITAs) in the Express Entry program. These lucky applicants now have the chance to apply for permanent residency in Canada.The graph below shows the changes in the minimum Comprehensive Ranking Score (CRS) needed to receive an Invitations to Apply (ITA) from the beginning of this year, to the latest draw.
Comprehensive Ranking Score (CRS) for Express Entry Draws, January to August 2017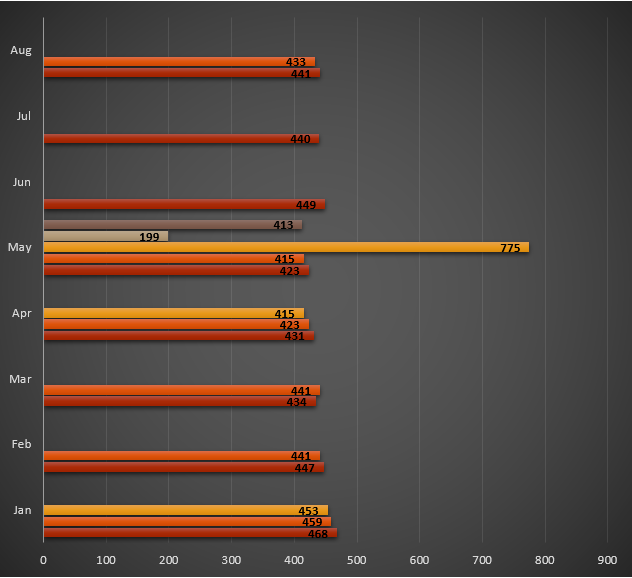 x
What is Express Entry?
Express Entry was started up in January 2015, as a way to help Canada find, and process foreign workers to help the country's economy flourish. One of the new ways it did this, was adapting the processing time to an average of six months, rather than the 12-14 months with the old system. The newer system also bases candidates on their ability to succeed with the application, instead of the old first come first serve basis.Categories that can apply for this program are the following:
Federal Skilled Trades Program (FSTP);

Federal Skilled Worker Program (FSWP); and

Canadian Experience Class (CEC)
This system is also a way for Provincial Nominee Programs (PNP) to find potential candidates for their provinces, based on their criteria. It also offers the chance to help applicants find potential Canadian employers through the Canadian job bank, and therefore increase applicants' chances to receive an ITA.Each of these programs have different requirements based on:
Skills;

Language ability (French and English);

Education level/Qualifications (certificates, degrees, diplomas, Honors etc); and

Work experience (in the relevant field to apply in. It must generally be paid work, voluntary work does not contribute in most cases)
There are also other factors to consider for each program, so it is best to research before applying.
How Has the Comprehensive Ranking Score (CRS) Changed Since June?
Since June, 2017, there has been a higher potential to earn a better Comprehensive Ranking Score (CRS). This can be done if candidates:
Have good proficiency in the French Language.

Have a sibling in Canada already when they apply. Note: Candidates cannot get more points if they have more than one siblings in Canada. All candidates get the same number of points if they have a sibling in Canada.
Another change has been the drop in the minimum CRS needed to receive an ITA. From the draw on the 2nd of August a score of 441 was needed. But on the 9th of August, the CRS dropped by 12 points.
How Many ITA Have Been Issued
As Express Entry has become more efficient, and well know, the number of ITA it has given has increased as well. Since Express Entry was created in 2015, it has given out around 125,586 ITAs. Interestingly 60,741 of those ITAs were given out in 2017, due to the growing popularity of Express Entry, while only 34,000 were issued in 2016.Do you want to come to Canada? At CanadianVisa.org, we make applying for your visa simple. Fill out the form and one of our account managers will call you to begin your Canadian visa application process