Have you applied for your Working Holiday Visa? If yes, you're probably planning your working holiday itinerary. This includes working out a budget, booking your flights, and most importantly, choosing a Working Holiday Destination. Of course, you're not limited to one destination in Canada. Some prefer to backpack through Canada, and others prefer to spend half their time in one city and the other half someplace else.
However you choose to embark on your adventure in Canada, we have listed 5 of the Top Working Holiday Destinations in Canada for every type of traveler - the traveler who prefers to journey off the beaten path, the traveler who likes big-city energy and everything else in-between. Which are you?
Top 5 Working Holiday Visa Destinations in Canada


1. Whistler, British Columbia
Whistler is a small town in British Columbia that quite literally turns into a winter wonderland from October - April. What makes this quaint town extra special is that it's home to Whistler Blackcomb, one of the largest ski resorts in North America. It goes without saying that the town is a major tourist attraction.
People come from all over the world to enjoy activities such as skiing, snowboarding, ice climbing, hiking, and exploring the ice caves. It's a perfect place for Working Holiday Visitors to find part-time jobs in tourism or hospitality and enjoy the many fantastic activities. Whistler's philosophy really is 'work hard, play hard'!
Top part-time jobs in Whistler:
Ski concierges
Front desk attendees
Hotel and spa work
Barista
Kitchen help
Server
Child care provider
Snowsport instructor
Photographer
Handyman
Dog walker
Fun fact:
Whistler has been the backdrop to many popular movies, such as 'Why Did I Get Married?" and 'Fifty Shades Freed.'
2. Montreal, Quebec

Enchanting, with a European flair, Montreal is the most popular francophone city after Paris. The city is famous for its gothic architecture, museums, and cobblestone streets lined with hundreds of cafes that tease passersby with the aroma of espresso and buttery croissants.

The great thing about choosing Montreal as your Working Holiday Destination is that the city is buzzing with life, jobs, and tourists but remains surprisingly affordable! A part-time working holiday job will pretty much cover all of your expenses. If you can speak the language of love, you'll double your chances of securing a great job and easily fit in with the locals.
Top part-time jobs in Montreal:
Nanny/Au Pair
Receptionist
Cashier
Barista
Server
Creative assistant
Social media assistant
Youth worker
Sales representative
English teacher
Pizza delivery driver
Interesting fact:
Montreal is the capital of ice hockey in Canada. The first official hockey game was played in Montréal on March 3, 1875. For this reason, watching the Montreal Canadiens in action at Bell Centre is simply a must-do!
3. Halifax, Nova Scotia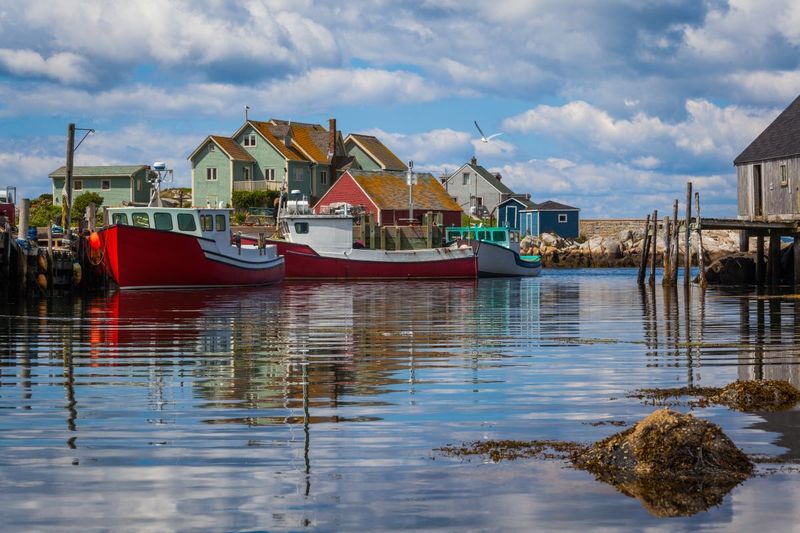 If breaking away from the hustle and bustle of big city life, waking to the fresh ocean air and eating a delicious fish and chips meal for lunch is more in line with your ideal type of Working Holiday, then you'll enjoy life in Halifax - a small coastal town with friendly locals and a laid-back atmosphere. Popular sights to visit include the Canadian Museum of Immigration at Pier 21, Peggy's Cove Lighthouse, and Halifax waterfront.

Choosing Halifax as your working holiday visa destination means you'll enjoy a low cost of living during your stay and be able to splurge on fun activities like boat trips, hiking, kayaking, and drinking local craft beer at Canadians' favorite spots such as Stillwell, Spring Garden, and Lululemon.
Top part-time jobs in Halifax:
Content editor
IT worker
Store staff
Barista
Bartender
Stocker
Sales associate
Pet groomer
Fisherman/woman
Boat help
Cook
Retail store associate
Bakery assistant
Interesting fact:
The most popular shipwreck in the world happened about 400 miles from Halifax - the Titanic. The Fairview Lawn Cemetery has the world's largest collective group of graves from the Titanic tragedy.
4. Toronto, Ontario

If you ask someone to name a city in Canada, chances are they'll most likely say Toronto. The unmissable CN tower in the middle of the city famously symbolizes the Great North. If you want to get a taste for life as a Torontonian on your working holiday, you'll need a good amount of savings or find a well-paying job because the big city is not cheap. However, with a good budget plan, you'll be able to leave Canada with amazing memories!

Toronto is famous for its festivals, multicultural people, and its great bar and nightclub scene. The city also offers 50 kilometers of waterfront with beaches, parks, marinas, and waterfront trail, making it easy to enjoy both city and outdoor life.
Top part-time jobs in Toronto:
Bookkeeper
Tour guide
Sales associate
IT worker
Freelance marketer
Part-time teacher
Server
Barista
Cook/Baker
Child caregiver
Bartender
Data entry clerks
Personal Assistants
Interesting fact:
Toronto is home to household names like Drake, Jim Carrey, Mike Myers, Shawn Mendes, The Weeknd, and Keanu Reeves.
5. Dawson, Yukon
The Yukon territory is not for everyone. It's wild, mountainous with only a few locals that live in the area. However, it's the ultimate once-in-a-lifetime adventure for nature lovers who would like to experience the closest thing to a world untouched. Don't expect any creature comforts, choosing the Yukon as your working holiday destination means you'll be living a very basic life surrounded by the Great Outdoors with only a few essential stores.

The capital city of Yukon is Whitehorse but further north, you'll find Dawson City an eclectic and vibrant northern community that has a high demand for non-seasonal workers!
Top Jobs in Dawson:
Hotel manager
Front desk clerk
Assistant produce manager
Assistant store manager
Cook
Mining workers
Tradespeople
Nanny
Cook/Baker
Teacher
Bartender
Weird fact:
If you have a strong stomach you might want to partake in a popular tradition created by a former bartender of the Downtown Hotel in Dawson City. The tradition includes a shot whiskey and a pickled human toe in a single glass. Those who complete the shot are added to the "Sourtoe Cocktail Club," which is expected to reach more than 100,000 members in 2021. Now, who doesn't like bragging rights, eh?
Participate In a Working Holiday in Canada
A Working Holiday Visa allows you to explore Canada and fund your travels with temporary work for up to 2-years! It's the most sought after visa in Canada with only a limited number of spots available every year. We can help you secure yours before it's too late.
By using our accredited Regulated Canadian Immigration Consultants (RCICs) you will not only improve your chances of success in the visa application process, but you will get expert advice on the process and how to prepare for the exciting journey ahead. Our RCICs are highly qualified and are granted permission by the ICCRC to assist you with your eligibility evaluation, review all your documents and application forms, and submit them to the Canadian government for you.
We take care of the fine print while you choose your dream Working Holiday Destination in Canada. All you have to do is complete our application form to receive your eligibility assessment today. It's just that simple.