In 2019, 341,000 people from across the world got permanent residency in Canada, and it is aiming to welcome an additional 351,000 in 2021, and another 361,000 in 2022. Canada continues its approach to gradually increase immigration levels due to the incredible benefits seen including job creation and the fulfillment of skills and labour shortages across the vast country.
If you want to be next in line to become a Canuck then follow our top 10 tips to prepare for your Canadian permanent residency application and ace it the first time around!
10 Tips to Submit a Succesful Canada PR Application
1. Discover the best of over 100 visa programs for you and your family
The fantastic news is that Canada has over 100 visa programs which mean that your chances to qualify for a visa are far higher than in most other top immigration destinations with fewer options available. Some programs are points-based, others are first-come, first-served, some have limited intake targets, and others are designed to fulfill temporary skills shortages.
Canada is also one of the few first-world countries with plenty of permanent residency programs designed for intermediate skilled foreign workers like farmworkers, caregivers, and truck drivers among others.
But with so many programs available it can make the task of finding the right one for you and your family a lot more difficult. Where do you start? How can you shortlist your best options? What are the eligibility requirements? Luckily, our online comprehensive evaluation makes finding the program you qualify for a lot easier than navigating the complex government website.
2. Enlist the professional help of RCICs
Regulated Canadian Immigration Consultants (RCICs) are legally authorized representatives and members in good standing with the Immigration Consultants of Canada Regulatory Council (ICCRC). Just as RCIC David Allon explains in the video above, they specialize only in Canadian immigration and assist international clients to fulfill their dreams of working and living in Canada. They do this by handling the entire Canadian permanent residency application process on a client's behalf to ensure optimal results from start to finish.
Even better, we work with a team of RCICs that are Canadian immigrants themselves which means they've successfully completed the life-changing journey you're about to embark on!
3. Gather your documents in advance
During your permanent residency application process, you will be provided with a document checklist. Don't wait until you are asked to submit your application before you start collecting them or you could risk missing your application deadline.
For some immigration programs like the Express Entry system, you'll only have 60 days to submit your permanent residency application to the IRCC. This might sound like more than enough time to gather your documents but consider the fact that certain required documents like a police background check, for example, can take months for some applicants to obtain simply because of the slower procedure in their country of residence.
4. Double-check document expiration dates
Avoid delaying your PR application by accidentally submitting an expired document. Even though it's always a good idea to gather your documents in advance, there are some documents with shorter expiry dates that you should keep in mind. See below for a handy tip from RCIC David Allon on how to prepare your permanent residency application documents.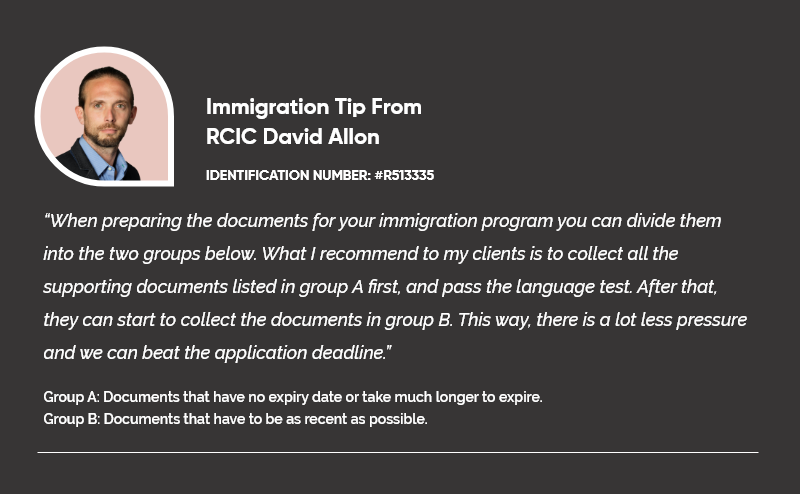 Document Checklist
Group A: expires in 1-5 years
Group B: expires in less than 1 year
The Medical Examination Confirmation
Police Certificates (PCs)
The Proof of Studies (ECA Report)
The Copy of Passport / Travel Document Bio Data Page (only if it expires within 6 months)
The Proof of Work Experience
Valid Job Offer Letter Supported by an LMIA
The Language Test Results
The Proof of Funds
5. Read the instructions carefully
Filling out the government forms for Canadian immigration purposes is not a task you should take lightly. Things like spelling mistakes, illegible handwriting, and not addressing a question or concern correctly could see your application sent back or in the worst-case scenario, rejected. This can be easily avoided by carefully reading the instructions. For example, if a question does not apply to your case it's required to write N/A instead of leaving it open to interpretation. We recommend letting a professional review your forms to ensure they're error-free.
6. Never lie on your PR application
Tempted to add a few more hours of work experience behind your name? By no means should you ever lie during this process because it could cost you your chance of pursuing a new life in Canada. The IRCC considers lying on an immigration application "misrepresentation" and you could be criminally prosecuted or banned from entering Canada for at least 5 years. Bear in mind that PR applications take on average 12 months to process because they undergo an in-depth reviewing process by an immigration officer.
7. Justify any missing document/s in your Canada PR application
If for whatever reason you are unable to submit a requested document to the IRCC you may be able to write a formal letter explaining why this is the case. It's important to provide detailed and accurate reasoning to justify why certain documents may not be submitted. For example, If you're unable to get a police certificate from a country, you're responsible to show why you can't get one. You need to submit proof that you requested a police certificate and write a letter explaining all the efforts you have taken to get one.

8. Fill in the gaps in your life history
Don't leave any gaps in time on your Canada PR application. The IRCC requires a detailed report of your personal history and will notice if there are any gaps in your timeline which could delay your application. It's crucial to paint a complete picture of your employment, study and travel history and account for every second of your life for the past 10 years, including periods of unemployment.
Your travel history information must include details about the countries you've visited, why you went there, and for how long. The exact dates should be available in your passport or travel documents if you need help remembering.
Tip: Always provide more information than may be required to cover all your bases.
9. Prepare for your Canada immigration interview
Don't panic, not everyone is required to attend an immigration interview. Personal interviews depend on the category of immigration that you applied for. Skilled immigration categories like Express Entry candidates won't need to attend an interview. The immigration interview is an important part of the PR application process that will lead to an ultimate decision on whether you are granted PR status or not. The IRCC will send you instructions about what documents to bring with you, and the time and place of the interview.
Common questions asked during an immigration interview include:
Why do you want to move to Canada?
What do you see as the biggest challenge in moving to Canada?
Why do you want to leave your home country?
How many Canadian provinces do you know? Can you name them?
What do you think is the average cost of living in Canada?
Do you have family or friends in Canada?
What would you do if your application is not approved?
10. Know what PR fees to expect
How much does it cost to apply for permanent residence in Canada? For a single applicant without any family members, it costs $1,325, which includes your right of permanent residence fee, which you must pay if your application is approved. There are additional fees involved when collecting your documents and you may need a sufficient amount of settlement funds too. For a complete list of immigration fees, click here.
Start Preparing Your Canadian PR Application Today
If you want to ensure your best chances of getting an approval on your Canadian permanent residency application, then we recommend you consult with an RCIC before submitting. With so many things that could go wrong, why risk your one chance at a better future when you can work with immigration specialists to handle the finer details on your behalf?
We have helped thousands of people successfully enter Canada, and we can help you too!