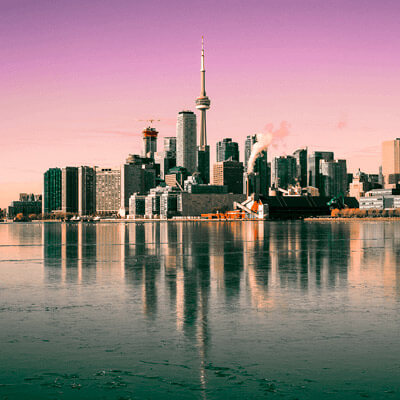 Known as the crown jewel of French Canada, Quebec City is one of North America's oldest and most outstanding cities. The historic town is a UNESCO World Heritage site, and is a living museum of narrow cobblestone streets, picturesque 17th and 18th century houses with the splendid Chateau Frontenac towering above it all. Strolling the streets of Old Quebec offers a unique feeling of being transported back in time. With a unique European feel, the city has been well preserved for more than 400 years. Embrace the charm of Quebec City's historic neighbourhoods that tells the stories of hundreds of years ago.
During the seasons, Quebec City offers a variety of different activities for each time of the year. Summer lasts from June to September with a vast selection of festivals to attend. Winter is also a great time to visit the city where you can enjoy a white Christmas. Quebec City's alluring setting atop Cape Diamond (Cap Diamant) evokes a past of high adventure, military history and exploration and interestingly is the only walled city north of Mexico.
Quebec Demographics
In 2015, it was recorded that Quebec City itself had a population of 540 994, with 806 400n people in the metropolitan area. The former total revealed that 48.2% were male and 51.8% were female. Children under the age of 5 accounted for approximately 4.7% of the resident population of Quebec City.
Healthcare
Medical care is available across the province of Quebec. It is covered by the plan administration insurance by Quebec health insurance board. All residents of Quebec are eligible for the plan. The provincial medical plan covers all essential medical care, not including certain specific treatments (e.g. plastic surgery) and parallel treatments.
Quebec City area has an active community with community centres available across the city. The YMCA's (abbrebiation) has had a presence in Quebec City since 1854. The Saint-Roch YMCA Community offers a variety of services that are adapted to the need of its community. At the centre, you will find a day camp, compensatory work and park outreach workers. In addition, the YMCA and the city of Quebec are currently developing a project for a YMCA community sports centre in Saint-Roch. With its excellent safety record and very low crime rate, Quebec City provides a diverse community environment you can appreciate.
Getting Around Quebec
Public transportation is quite common in the city of Quebec. You can use the ferry which links Quebec City and Levis which runs 7 days a week, 365 days a year. Departure is every hour during the day and every half an hour at night. Taxis can be identified by the signs on the roof. Most taxi companies have a calling service where you can call and they will send you a taxi. If you prefer walking in the historic city, Quebec City's Upper Town and Lower Town distracts are easy to explore.
Quebec City is like an open-air museum, and the best way to explore this vibrant city is by foot. A variety of excursions are also available to take you easily beyond the historic district to other local attractions such as whale watching and more.