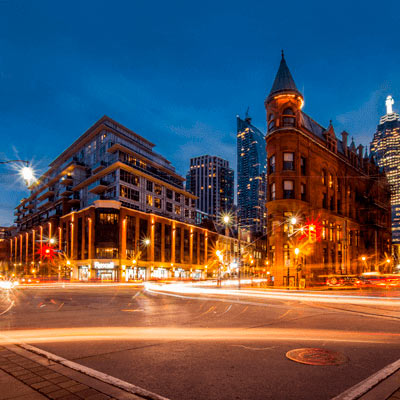 Adopting the unofficial nickname of "the city of neighbourhoods", Toronto has a total of 140 official neighbourhoods within the Greater Toronto area. As one of the most populous areas of Canada, Toronto is a popular spot for families, young people and newcomers.
Downtown Yonge
Pronounced "young", this downtown stretch of the city is where all of the activity happens. This area has become famous for its theatres, nightlife and shopping, bringing in thousands of keen visitors every year. The large Yonge-Dundas square is where most of the tourists land as they enjoy the energy of the neighbourhood and watch the dozens of street performers who are set to impress passers-by. One of the largest malls, The Eaton Centre is located here and attracts people from all over Toronto. If you are looking for accommodation in the area, you will expect to pay quite a bit for a small apartment.
West Queen West
If you are a young couple or individual, West Queen West is the place for you. Young and trendy, the area is filled with vibrant coffee shops, live music, art and many artisan restaurants. The area is known for its multicultural demographics and bohemian lifestyle. Most people rent in the area with a hefty price attached at over $1500 for a 1-bedroom apartment.
The Beaches
Along Lake Ontario lies The Beaches, a picturesque and family-friendly area of Toronto that offers a youthful and trendy lifestyle. When thinking of purchasing a home in the area, you will need to budget for at least $1 million in some of the most sought after areas. The Beaches has become a popular spot for ex-Britons and people of European descent, as well as minority groups that include Chinese and South East Asians.
Markham
Very little was happening in the area of Markham until very recently. The area has now become Toronto's new hotspot and is known as the technology capital of Toronto with the presence of Apple, IBM, Lucent, Motorola, Toshiba and Sun Microsystems. Take a 30-minute train trip outside of Toronto and you will find this thriving neighbourhood that is home to a large population of South East Asian and Chinese immigrants. Expect to pay between $500 00 and $750 000 for a typical home in the area.
Richmond Hill
Travel 30 minutes outside of Toronto and you will find the picturesque neighborhood of Richmond Hill. Growing rapidly in size by the year, the family-friendly area boasts 166 parks and large open spaces with most residents spending their downtime enjoying nature walks, picnics and sport in the parks. Over half of the population in Richmond Hill are immigrants from South East Asia and China. You can expect to pay between $450 000 and $1 million for a small home though the hefty price tag does come with the added luxury of space and a high quality of life.