When the world shut its doors during a global pandemic, it was Canada that remained open and welcoming of foreign nationals. Ever since, this spectacular country has been thriving at an exponential rate, given the unprecedented times of a global pandemic and other challenges.
But most importantly, what makes the Great White North even more appealing, is the fact that it places immense value on the reunification of families. How do we know this? Well, the introduction of the Canada Family Sponsorship speaks for itself.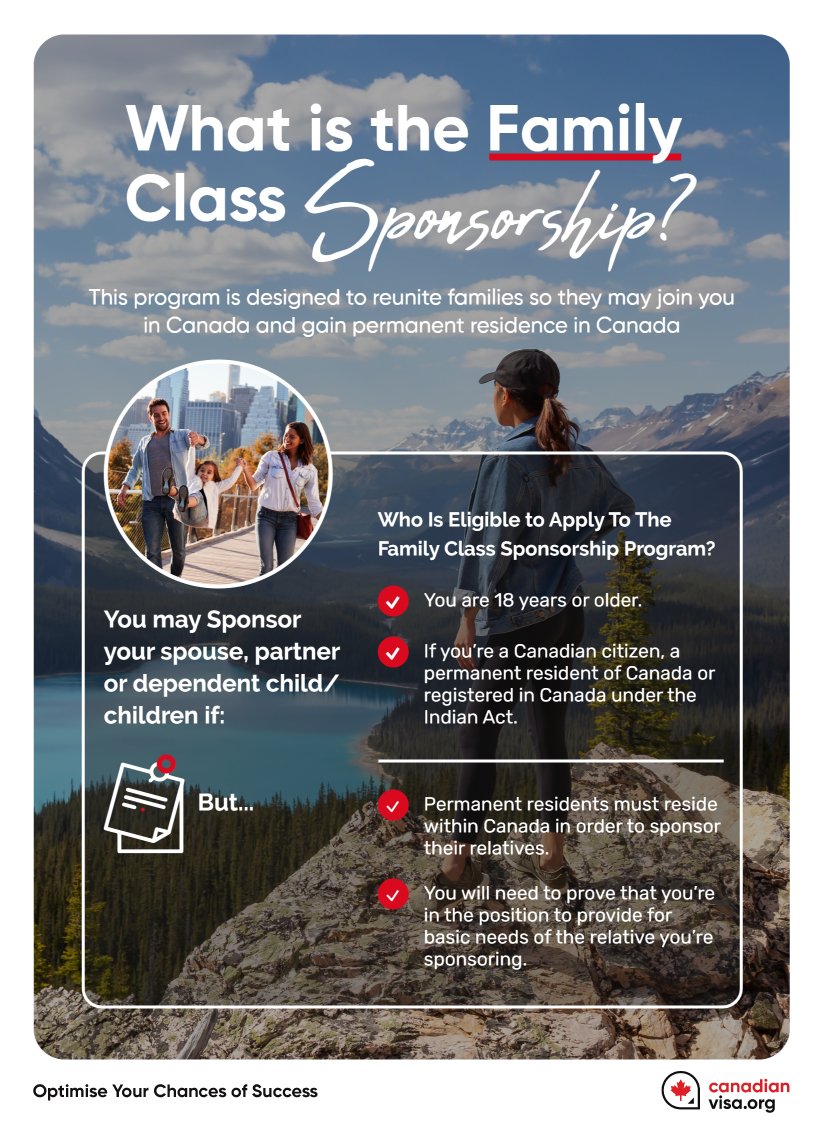 Have you been living and working up in the north, wishing you had a relative close by? This is possible with the Family Class sponsorship program. In this article, we breakdown how the program works and go through the steps involved in the Canada sponsorship application process.

What is the Family Class Sponsorship Program?
The Canada Family Sponsorship aims to bring families together, enabling relatives to study and work in the country -provided they become permanent residents of Canada. In turn, you and your relatives get to make valuable memories while immersing yourselves into the rich Canadian culture.
Who Can I Sponsor?
You can sponsor your sibling, spouse, partner or dependent child. However, both you, as the sponsor, and the relative being sponsored, will be subject to certain criteria. For now, let's take a closer look at the eligibility of both parties applying for the Canada Family Sponsorship.
Steps to the Canada Sponsorship Application Process
Below we break down a step-step process on how to go about applying for the Family Class Sponsorship Program, as well as the program requirements:
Step 1: Check Your Eligibility
Step 2: Know Who You Can Sponsor
Step 3: Know How to Apply
Step 4: What to Expect After You Apply
Step 5: Prepare for the Day You Arrive
Step 1: Check Your Eligibility
Before you can apply, you need to know if you qualify for the program. If you live and work in Canada as a permanent resident but would like to sponsor your relative, you stand a great chance. However, you need to be 18 years or older, be registered as a Canadian citizen or be a permanent resident.
If you're living outside of Canada, you:
Have to be a Canadian citizen and must plan to return so you can be present once your relative arrives in Canada;




Understand that you can't sponsor a relative if you're a permanent resident residing out of Canada. You need to be inside the country when applying to sponsor and when the person arrives




Must be able to prove that you won't require any social assistance or government benefits, unless you're disabled



Note, there are no income requirements to sponsor your relatives. However, income requirements will be applicable when you're sponsoring a dependent child who has one more dependent child/children of their own.
Alternatively, if you're sponsoring your spouse or partner who also has a dependent child of their own, then income requirements will apply. You can find the instructions for a Financial Evaluation form here.

You Can't Sponsor a Relative if:

you've been convicted of a violent or sexual crime and you're in prison;

you haven't paid child support or are in arrears with child support;
you have been declared bankrupt;
you've received social assistance when you're not disable;
you're in arrears with immigration payments or loans and
When compiling your Canada sponsorship application, bear in mind that different provinces will be subject to different conditions. For example, Quebec may require you to sign a contract in the form of an undertaking, which binds your sponsorship.
if you fail to meet the sponsorship conditions or any other offense that was not listed.
Step 2: Know Who You Can Sponsor

You can sponsor the following persons:
Your spouse who needs to be legally married to you and at least 18 years of age or older when applying for your Canada spousal sponsorship.
Your common-law partner who shouldn't be legally married to you, should be 18 years of age or older and should've been living with you for 12 months in a conjugal relationship without any separations. Any potential separation periods should've been temporary and short. Additionally, you will need to provide proof of a conjugal relationship - this can anything such as ownership of residential property being shared or joint leases or agreements.
Your conjugal partner who shouldn't be legally married to you or shouldn't be in a common-law relationship with you. They should be 18 years of age or older, live outside of Canada and both parties should be in the relationship for at least one year. Additionally, they should be unable to live with you in their country of residence, nor should they be able to marry you due to legal and immigration circumstances or reasons. All of these factors that make up a conjugal relationship, would need to be proven when applying for sponsorship.
Dependent children

who should be under 22 years of age to classify as a "dependent child" and they shouldn't have a spouse or common-law partner. They will also be classified as dependents if they're not financially independent and if they have a physical or mental condition. Applicants must, therefore ensure that they meet both sets of criteria.
1. Make sure you have the Application Package
The package will contain a document checklist for both you, as the sponsor, and the person being sponsored. Additionally, it will contain the necessary forms required to fill out and an instruction guide.

You must ensure that you're eligible to sponsor your relatives and take care of them once they join you, accurately list all relatives and ensure that your application is thoroughly completed. Lastly, we urge applicants to remain truthful in the information they provide, as failure in doing so will result in the application being rejected.
2. Pay the Application Fees
The fee for your Canada Family Sponsorship can't be refunded. However, you will need to pay the fee for biometrics, right of permanent residence fee and processing fee, police clearance and other relevant fees, depending on the type of application or circumstance.

3. Submit your Application

You have to mail your application to the mailing address contained within the instruction guide. Alternatively, you could consider a courier service, which will enable you to track your application or you can use regular mail.
Note that incomplete applications will delay processing times, resulting in your application being returned to you.
Did you know that by making use of a Regulated Canadian Immigration Consultant (RCIC), you won't have to file applications by yourself? Our RCICs are registered and authorized to not only represent you, but guide you throughout the process.
4. Send the Necessary Additional Information while your Application is being Processed
While your application is being processed, the person being sponsored will be asked to provide their medical exams, police clearance certificates and biometrics. These documents should be provided by you and are required for the person you're sponsoring. Additionally, these documents will be required for each family member who is 18 years or older, provided they're not a permanent resident of Canada.
Furthermore, you can expect to receive instructions on the way forward and keep your family members posted on the relevant information during the process.
What Happens After I Apply?
All applications will be evaluated to double-check whether all forms have been completed accurately and whether or not all fees have been paid. Once the government starts to process your application, you will receive a letter of acknowledgement to keep you informed about the next step.
Don't despair in the event of your application being refused - there are other immigration pathways to explore. If your application is rejected, the immigration officer will let you know about why your application was rejected and how you can appeal the decision.
Finally, the Day You Arrive in Canada
Foreign nationals will have to show their Confirmation of Permanent Residence (COPR). Additionally, you should have your permanent resident visa at hand, which needs to be shown to an Immigration, Refugees and Citizenship Canada (IRCC) officer at the Port of Entry (POE).
The officer will evaluate all information to ensure that everything is in order. You may have to answer some relevant questions that you've already answered on your application - this is to ensure that you're the same person who applied for the sponsorship.
If all is well and everything runs smoothly, you'll be well on your way to enter Canada as a permanent resident. Your permanent resident card will be mailed to the Canadian address you've provided on your COPR: this serves as proof of your status in Canada as a permanent resident in the country.
Sponsor your Relative or Spouse to Join you in Canada Today
We've given you the options and methods on how to go about your Canada sponsorship application so you can build new experiences with your loved ones close to you. Family is an important aspect to life and so we've compiled a guide on how to go about sibling sponsorships in Canada and much more resourceful information much needed.
If you're still feeling uncertain, feel free to get in touch with a Regulated Canadian Immigration Consultant (RCIC) to advise and guide you through the process.
1. Can I bring my siblings to Canada permanently?
With over 100 immigration pathways and visas to choose from, you can easily bring your siblings to Canada. The Express Entry system allows them to apply for an open-work permit with versatile immigration options that cater for various needs and circumstances. Alternatively, you can apply to the Family Class Sponsorship Program, which enables you to sponsor your siblings or relatives.
2. How can I sponsor my brother to Canada?
You have to be a permanent resident of Canada or a Canadian citizen; or be registered under the Canadian Indian Act - then you can apply for sibling sponsorship under the Family Class program. Note that both the sponsor and the relative being sponsored must meet the criteria. Once you're eligible to apply for the Family Class Sponsorship, your application and supporting documents will be reviewed and a decision of eligibility will be made.
3. Can I sponsor my niece to immigrate to Canada?
You can sponsor your brother, sister, nephew, niece, or orphaned grandchild, provided they're unmarried or under 18 years of age. Note that you may qualify to sponsor a relative outside of the mentioned age group, depending on your needs and circumstances.