Canada is one of the most family-friendly countries to move to. This is largely because the Government of Canada values Family reunification. In fact, it is a core pillar in the Great White North's immigration strategy. For this reason, Immigration Refugees and Citizenship Canada (IRCC) wants to unite more families. So, if you have immigrated here and are eligible, you can sponsor your spouse, partner, or dependent children to get Canadian permanent residency. Learn more about Canada family sponsorship and prepare to have your loved ones move to Canada.
What is the Family Class Sponsorship Program?
The Canada Family Sponsorship aims to bring families together, enabling relatives to study and work in the country - provided they become permanent residents of Canada. In turn, you and your relatives make valuable memories while immersing yourselves in the rich Canadian culture. If you agree to sponsor a loved one, you will have to commit to covering their basic needs so that they won't need assistance from the Canadian government.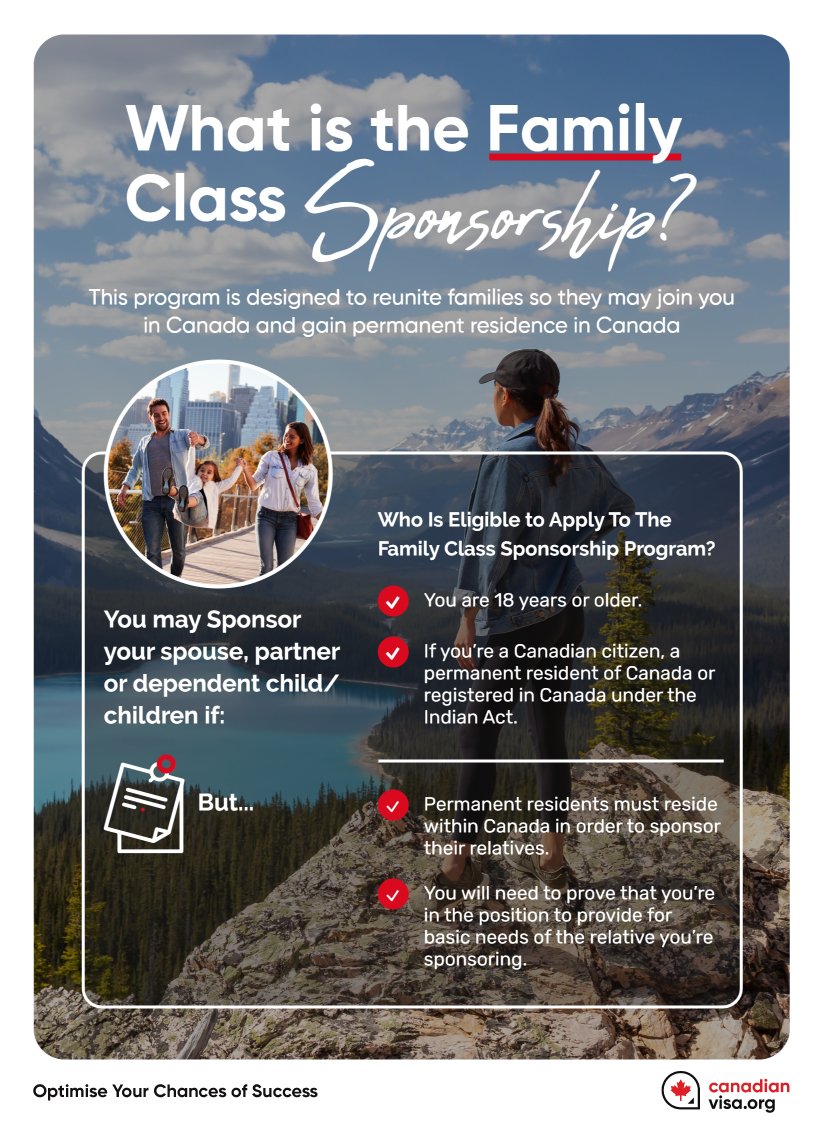 Who Can I Sponsor?
You can sponsor your sibling, spouse, partner, or dependent child to move to Canada. However, both you, as the sponsor and the relative being sponsored, will be subject to certain criteria. For now, let's take a closer look at the eligibility of both parties applying for the Canada Family Sponsorship.
The Canada Sponsorship Application Process
Below, we break down a step-by-step process on how to go about applying for the Family Class Sponsorship Program, as well as the program requirements:
Step 1: Check Your Eligibility
Before you can apply, you need to know if you qualify for the program. If you live and work in Canada as a permanent resident but want to sponsor your relative, you stand a great chance. However, you need to be 18 years or older, be registered as a Canadian citizen or be a permanent resident.
If you're living outside of Canada, you:
Must be a Canadian citizen and must plan to return so you can be present once your relative arrives in Canada
Understand that you can't sponsor a relative if you're a permanent resident residing out of Canada. You need to be inside the country when applying to sponsor and when the person arrives
Must prove that you won't require any social assistance or government benefits unless you're disabled
Note, there are no income requirements to sponsor your relatives. However, income requirements will be applicable if:
You're sponsoring a dependent child who has one more dependent child/children of their own
You're sponsoring your spouse or partner who also has their own dependent child
You Can't Sponsor someone if:
You're under 18 years old
You will not be living in Canada the person you plan to sponsor becomes a permanent resident
You are not a Canadian citizen, a Canadian permanent resident, or registered as an Indian under the Canadian Indian Act
You are a temporary resident in Canada
You are still in the process of getting Canadian Permanent residency
You don't have sufficient funds to support those you wish to sponsor
There's a chance that you won't be able to sponsor someone if:
You received sponsorship from a spouse or partner and got Canadian permanent residency less than five years ago
You are still sponsoring are former spouse or partner
You are awaiting a decision on a sponsorship application
You are currently in jail, prison, or a penitentiary
Haven't paid back an immigration loan, alimony, or child support
Are reliant on social assistance from the Canadian government
Have been convicted of a violent criminal offense or a sexual offense inside or outside Canada
Have received a removal order
Step 2: Know Who You Can Sponsor
Before applying for Canada family sponsorship, look at who you can sponsor.
Your spouse, who needs to be legally married to you and at least 18 years of age or older when applying for your Canada spousal sponsorship.
Your common-law partner who must not be legally married to you must be 18 years of age or older, and must have been living with you for 12 months in a conjugal relationship without any separations. Any potential separation periods must have been temporary and short. Additionally, you will need to provide proof of a conjugal relationship - this can be anything such as ownership of residential property being shared or joint leases or agreements.
Your conjugal partner must not be legally married to you or be in a common-law relationship with you. They must be 18 or older, live outside of Canada, and both parties should be in the relationship for at least one year. Additionally, they cannot cohabit with you in their country of residence or marry you due to legal and immigration circumstances or reasons. You must prove all of these factors that make up a conjugal relationship when applying for sponsorship.
Dependent children must be under 22 years of age to classify as a "dependent child," and they shouldn't have a spouse or common-law partner. They will also be classified as dependents if they're not financially independent and have a physical or mental condition. Applicants must, therefore, ensure that they meet both sets of criteria.
Note: When compiling your Canada sponsorship application, bear in mind that different provinces will be subject to different conditions. For example, Quebec may require you to sign a contract as an undertaking which binds your sponsorship. if you fail to meet the sponsorship conditions or any other offense that was not listed.
Step 3: Know How to Apply
There are two applications for applying to sponsor a spouse, partner, or child:
Your application to become a sponsor
Your spouse, partner, or child's application for Canadian permanent residency
Each application package will contain a document checklist for both you, as the sponsor, and the person being sponsored. It will also contain the necessary forms to fill out and an instruction guide.
Remember: You must ensure that you're eligible to sponsor your relatives and take care of them once they join you, accurately list all relatives, and ensure that your application is thoroughly completed. Lastly, remain truthful in the information they provide, as failure to do so will result in the application being rejected.
You must pay application fees when applying for Canada family sponsorship. This fee is non-refundable. You must also pay for biometrics, a right of permanent residence fee and processing fee, police clearance, and other relevant fees, depending on the type of application or circumstance.
Once you are confident that your Canada family sponsorship application is complete, submit it online. In the event that anything on your application is found to be incomplete, expect a rejection. Your application will then be sent back to you to complete and re-submit To avoid disappointment and delays, remember to:
Fill in all required sections
Answer truthfully
Provide a electronic signature where needed
Add receipts of all fees paid
Add all required documents
Step 4: What to do After Applying
Once your Canada family sponsorship application is received, the IRCC will review your sponsorship application. As mentioned above, it will be returned if it is incomplete or fees have not been paid.
As soon as the IRCC starts to process your application, they will:
Send your application number
Acknowledge the receipt of your application
Conduct all necessary assessments
If you are not accepted as a sponsor, you can decide whether you want the IRCC to continue the processing of the application for permanent residency of your family members.
If you withdraw your application, you cannot get a refund for the sponsorship fee back. You will, however, get a refund for other fees.
Tracking or Updating Your Application
While your application is being processed, you can track your application and make sure it's up to date by:
Monitoring your application status
Updating information where needed
Step 5: Preparing for the Day You Arrive
You should prepare your family members for arrival in Canada. When they enter the country, they will have to show their Confirmation of Permanent Residence (COPR), permanent resident visa, valid passport, and any other documents they were advised to carry with them. An immigration officer will evaluate all information to ensure everything is in order. They may have to answer questions you've already answered on your application to ensure that they're the same person who applied for the sponsorship.
FAQs
What Are the Processing Fees For Sponsoring a Family Member in Canada?
According to the IRCC, Canada family sponsorship fees are as follows:
| Sponsored applicant | Fee Breakdown | Fee in CAD |
| --- | --- | --- |
| Your spouse or partner | A Sponsorship fee of 75 CAD, a principal applicant processing fee of 490 CAD and a right of permanent residence fee of 515 CAD | 1,080 CAD |
| Spouse or partner without right of permanent residence fee | A sponsorship fee of 75 CAD and principal applicant processing fee of 490 CAD | 565 CAD |
| A dependent child with your spouse or partner | A sponsorship fee of 75 CAD and processing fee of 75 CAD per child | 155 CAD |
| Independently sponsoring a dependent minor | A sponsorship fee of 75 CAD and processing fee of 75 CAD per child | 150 CAD |
When Will I Get Application Status Updates?
You will only start getting sponsorship application status updates once you get an Acknowledgment of Receipt (AOR) letter or email. This will happen after your application is received and reviewed.