Once you have made the decision to immigrate to Canada, the next question on your mind is probably where should I live? Most immigrants tend to gravitate towards cities. There are a number of reasons why; the common notion that there are more employment opportunities, that there will already be communities of expats from their own countries, making the adjustment easier, and of course cities offer more in terms of entertainment, dining, housing options and so on. Small cities or towns are overlooked, for the opposing reasons people choose cities. There is the idea that employment opportunities will be limited, already established and tight-knit communities won't be as accepting and there will be nothing to do and only a few places to choose from when picking a new home.
So, let's take a look at the differences in quality of life you may experience living in Canada by comparing some popular big cities to somewhat smaller counterparts, and what they have to offer so we can determine whether the myths hold up.
Job Opportunities
The most important factor in your decision of where to live in Canada will most likely be the place or province that offers the best job opportunities related to your occupation. While it's certainly true that because there are larger amounts of businesses in cities which means more positions which need to be filled, competition for those positions will be a lot harder. Many open positions in smaller cities or towns are open because they desperately need to fill that position, which gives you a much better chance of success.
Retiring Canadians
Canadian citizens nearing retirement tend to want to see out their golden years in a more peaceful setting, which means they will move away from bustling cities to smaller towns. This creates the situation of a population that spends money but doesn't work. This creates opportunities because restaurants need managers and servers, construction companies need engineers, carpenters, plumbers, electricians, and the list goes on and on.
It is estimated that by 2036 only 62% of the Canadian population will be participating in the workforce. This will place a massive burden on government spending, which is also why the Canadian government has set such high immigration targets. They want skilled young immigrants to help build the economy as well as start families that will become a part of the Canadian economic boom going forward.
Quality of Life
A view of mountain peaks from wherever you are, rivers and forests surrounding your town, children playing in the streets. A lot of people believe these luxuries are a thing of the past. More and more people are finding this kind of life still exists in small-town Canada. In a survey of the best communities in Canada, two-thirds were towns or small cities with a population of less than 40,000 people. These communities are safe, have high incomes, and are experiencing strong population growth.
Small towns also offer all the same amenities as suburbs of big cities with the added benefit of natural beauty and job opportunities. If you enjoy going to the cinema, watching live music in the park or a pub, ice-skating or just being able to walk around downtown at night, that is all available to you in beautiful small towns such as:
Salmon Arm (British Columbia) - Alongside the pristine Shuswap Lake, the average three-bedroom home costs $402,450. In-demand jobs include but are not limited to butchers, nurses, food counter attendants, doctors, carpenters, cooks, and food service supervisors.
Burlington (Ontario) - a quick search yielded over 5,000 employment opportunities in this small city. Only a few minutes' drive from the world-famous Niagara falls and the US border, the average three-bedroom house goes for $659,900 due to its close proximity to Buffalo and Toronto. OUR PICK OF THE WEEK!
Canmore (Alberta) - The ultimate picturesque small town nestled in the snow-capped Rocky Mountains, Canmore has positions for Cooks, Carpenters, Bakers, Hotel Managers, Restaurant Managers, and much more. Apartments start as low as $88,000 and family homes go for an average of $676,000, not too bad when you consider the average income per household is $113,230.
Weyburn (Saskatchewan) - openness, blue skies and calm plains that run for hundreds of kilometres surround Weyburn. Opportunities are aplenty for nurses, doctors, cooks, food, and beverage serves, and most of all, truck drivers. The average home costs a mere $279,000 and the average household income is $79,502, we will leave the rest up to you.
Canadian Immigration Options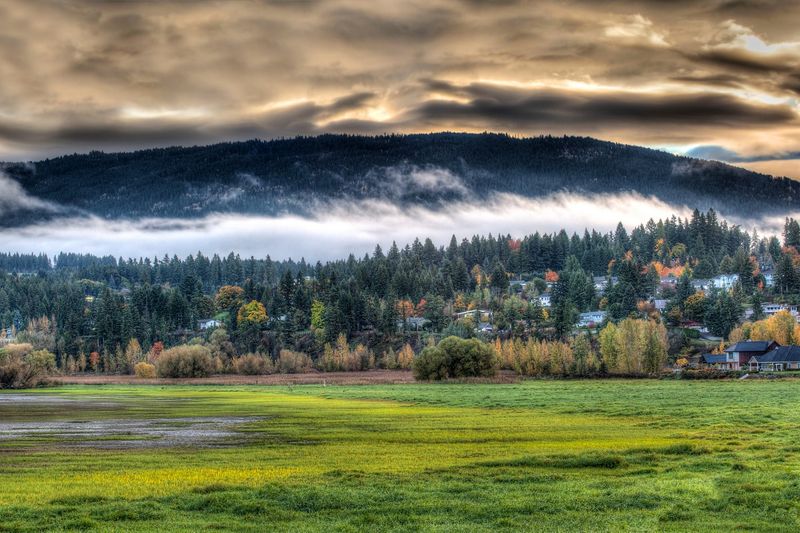 The truth is trying to decide where to live in Canada will always create a paradox. Cities have higher-paying jobs in highly skilled professions such as lawyers, accountants, and medical professionals. However, the cost of living is getting out of control in cities, for example owning a house has spiralled out of reach for most people in major cities, forcing medium level earners into smaller and smaller apartments or to the outskirts of cities, creating longer and longer commute times. Consider the cost of buying a home in these major cities as opposed to the small towns we looked at above:
Toronto - $1million
Vancouver - $1.3million
Because so many immigrants are attracted to the bright lights and opportunities of the big city, the IRCC has implemented several immigration programs to incentivize skilled foreigners to choose smaller towns as their immigration destination.
Rural and Northern Immigration Pilot
This community-driven Pilot was created to spread the benefits of Canadian immigration to participating smaller towns and cities by creating a path to permanent residence for skilled workers who want to settle and live in a small city rather than a big city.
Requirements
Obtain a valid job offer from a designated employer in a participating community
You must have qualifying work experience for the position.
You must meet the educational requirements of the position.
You must meet the minimum language requirements.
Show you have enough money to support your transition into the community
Show you intend to settle and live in the community
Meet the community-specific requirements.
International students who have completed a program of two years or more in Canada are also eligible to apply for permanent residency through the pilot without the required work experience.
The Provincial Nomination Program also has immigration streams dedicated to bringing critical in-demand immigrants into smaller communities who have specific labour requirements and shortages.
The Atlantic Immigration Pilot was designed to address labour shortages in the four Atlantic Provinces of Newfoundland & Labrador, Nova Scotia, New Brunswick, and Prince Edward Island. For this program you also only require a valid job offer in one of the participating provinces, mostly made up of farms and small towns. Halifax is the largest city in the Atlantic provinces with a population of a little over 300,000.
How We Can Help
With nearly 80
immigration and visa options to choose from, the process can become quite overwhelming and confusing. But it doesn't have to be. By using our accredited Regulated Canadian Immigration Consultants (RCICs) you will not only improve your chances of success in the visa application process, but you will get expert advice on which program is best for your specific needs. Our RCICs are highly qualified and are granted permission by the
ICCRC
to assist you with your eligibility evaluation, review all your documents and application forms, and submit them to the Canadian government for you. Why take the chance of having your application denied because your forms are incorrect or sent in too late.
We take care of the fineprint while you choose your dream destination in Canada for you and your loved ones. All you have to do is complete our application form to receive your eligibility assessment today. It's just that simple.
Follow us on Facebook, Instagram, Twitter, and LinkedIn for up-to-date information and interesting blog posts on Canadian Immigration.