If you're an optometrist who would like to immigrate to Canada, you'll be entering the right market. The 2012 Canadian Survey on Disability showed that 2.8% of Canadians aged 15 years and older were identified as having a visual disability that limited their daily activities. What's more, Canada has an aging population. In 2015, the number of people aged 65 years and older exceeded those aged 0 to 14 years. Nearly one in six Canadians were at least 65 years old.
Optometrists in Canada earn on average $51, 000 annually or more depending on work experience. Medical professions are high in demand in Canada and professionals in healthcare are readily welcomed to work in and immigrate to Canada. Find out how you can immigrate to Canada as an optometrist below!
What Are My Visa Options?
There are a few ways to immigrate to Canada. Some paths lead to earning permanent residency quicker while other paths ease you into Canadian life through temporary work in Canada or gaining a Canadian qualification through a study permit. Let's look at a few of your options below:
Immigrate to Canada as an Optometrist
When we say that you can immigrate to Canada in a blink of an eye, we are referring to the Express Entry immigration system.
Skilled workers like optometrists can have their immigration application processed and earn permanent residency in as little as 6-months! The Express Entry manages three federal immigration programs. Optometrists qualify under the Federal Skilled Worker Program (FSWP) and those who meet the eligibility requirements can receive an Invitation to Apply during one of the bi-weekly draw rounds. Do you meet the minimum requirements? Find out below.
Federal Skilled Worker Program (FSWP) Eligibility Requirements:
Federal Skilled Worker Program (FSWP)
Requirement


Work Experience
One year continuous within the last 10 years
Language Skills
Excellent English or French language proficiency
Job Offer
Not required but you can get more points for having a job offer
Education
Minimum of secondary education
Study Optometry in Canada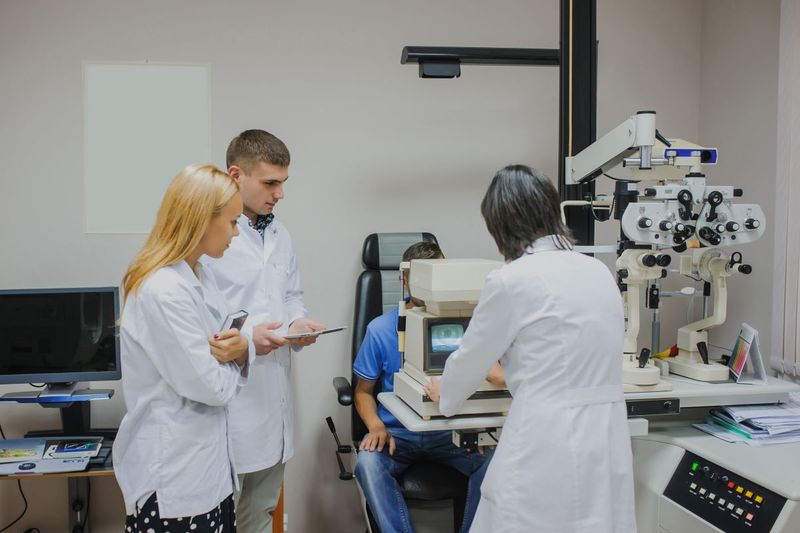 Canada is one of the most popular destinations for international students. Boasting top universities with breathtaking campuses and the highest education rate in the world, if it's an international degree you're after, look no further than Canada. You can complete a 4-year Doctors of Optometry (D.O) undergraduate degree at a Canadian post-secondary institution followed by four years of eye-specific training. You can then apply for a Post-Graduate Work Permit to partake in an internship and easily immigrate to Canada as a qualified optometrist with Canadian education and work experience behind your name!
There are two renowned schools for optometry in Canada. The University of Waterloo situated in Ontario and the University of Montreal in Quebec and they are both open to accepting international students.
Work in Canada as an Optometrist
Thousands of foreign nationals work in Canada every year with work permits. Working in the country is a great way to get a taste for life in the Great North, make friends, build a network, and find the ideal city for you to live in. The majority of people who start to work in Canada temporarily decide to stay permanently and it's not hard to understand why.

Canada has been rated number one in the world in many important categories such as quality of life, safety, freedom, economic prosperity, and free access to quality healthcare and education.
What's more, Canada offers something for every type of person. We have 48 national parks, popular urban centers like Toronto and Vancouver, European architecture in Quebec, untouched wilderness, warm summers and snowy winters for ski lovers. Families, couples, and friends enjoy a peaceful, high quality of life in Canada with plenty of amazing activities that people travel far to experience.
Open an Eye-Care Facility in Canada
Opening a business in Canada is another great way to earn permanent residency and be your own boss! There are a few exciting Business and Entrepreneur Visa categories available for business savvy people with a good plan, investment capital, and business management skills. According to Forbes, Canada is one of the best places for start-up businesses.

With low corporate tax rates at 15%, a culture that accommodates and supports immigrants and gaps in the labor market that creates opportunities for new businesses to flourish, it's the right choice to make as a business owner from outside of Canada.
Immigrate to Canada as an Optometrist Easier, Faster
Whatever path you choose to take to immigrate to Canada, we can help. Canadianvisa is a renowned and trusted immigration and visa agency situated in Vancouver, Canada.
By using our accredited Regulated Canadian Immigration Consultants (RCICs) you will not only improve your chances of success in the visa application process, but you will get expert advice on which program is best for your specific needs. Our RCICs are highly qualified and are granted permission by the ICCRC to assist you with your eligibility evaluation, review all your documents and application forms, and submit them to the Canadian government for you. Why take the chance of having your application denied because your forms are incorrect or sent in too late.

We take care of the fineprint while you choose your dream destination in Canada for you and your loved ones. All you have to do is complete our application form to receive your eligibility assessment today. It's just that simple.