Whether you are from Riyad, Medina or anywhere else and you are looking for a future for your career, studies or your family, there is some important information you need. If you want to immigrate to Canada from Saudi Arabia, you probably want to know where the best places to live in are. Here is our list of the best neighbourhoods for Saudi newcomers in Canada.
Looking to make Canada your new home? Why not check out our list of some of the great family neighbourhoods in Toronto for Saudi families?
Allenby
Davisville Village
Allenby
Allenby is known to be a great neighbourhood to raise your kids for a number of reasons, like great schools, parks and even hospitals.
Public Schooling
All public schools are free for residents. One of the schools, Allenby, is the perfect place for children from kindergarten to grade six. The school is co-ed and has around 750 students on their campus.
The school also focuses on artistic afternoon activities, like dancing, singing, band practice, visual arts and more. If your children are more into sports, then this school could be perfect to help keep them fit and healthy. The school offers over 15 different sporting activities from baseball, ice hockey to traditional soccer and volleyball.
Other nearby schools that you may be interested in are:
North Preparatory Jr School; and
North Toronto Early Years Learning Centre
If you are a working parent you can drop the kids off at Aps Daycare and Nursing or Allenby Daycare, who accepts children from 18 months to 12 years of age.
Try your hand at language and get the chance to improve your English the EC Toronto English School, which is open to adults who want to learn more.
Rental Prices
In this neighbourhood you can expect to pay around the following for your home:
| Bedroom Number | Bathroom Number | Monthly Cost (CAD) |
| --- | --- | --- |
| 2 | 1 | 2,230-2,500 |
| 3 | 2 | 3,300-3,500 |
| 4 | 2 | 4,500-4,700 |
Nearest Hospitals
One of the closest hospitals to Allenby is the Sunnybrook Health Science Centre, which is only around 3.9km away and around a nine minutes drive with light traffic. The Toronto General Hospital is slightly further away at 7km. This translates into just 12 minutes drive with light traffic.
If you need to go to the hospital, do not forget to bring your ID with your current residence address and your OINP health card.
Just remember that if you are a new resident it takes around three months to get your OINP health card.
Davisville Village
Rental Prices
Need to know how much this neighbourhood will cost you in monthly expenses? Check out the average rental costs in Davisville in 2018.
| Bedroom Number | Bathroom Number | Monthly Cost (CAD) |
| --- | --- | --- |
| 2 | 1 | 950-2,900 |
| 3 | 3 | 2,900-3,500 |
| 4 | 2 | 4,300-4,700 |
Schooling
The area of Davisville has a lot going for it in terms of nearby schools and education centres. Here is a list you can check out to find the right school for your kids:
Maurice Cody Jr Public School;
Sunnybrook School;
Hodgson Senior Public School;
The Study Academy Lower School; and
Davisville Junior Public School
Plus, if you need to drop off the kids for the day, Davisville also has a local childcare centre called Maurice Cody Childcare.
The area has a lovely park you can take the kids to after school called the Rowlands Park, which covers several streets in the centre of the neighbourhood. Perfect for those summer days to take the kids out for a picnic and the perfect place to have snowball fights with the family on those nippy winter days.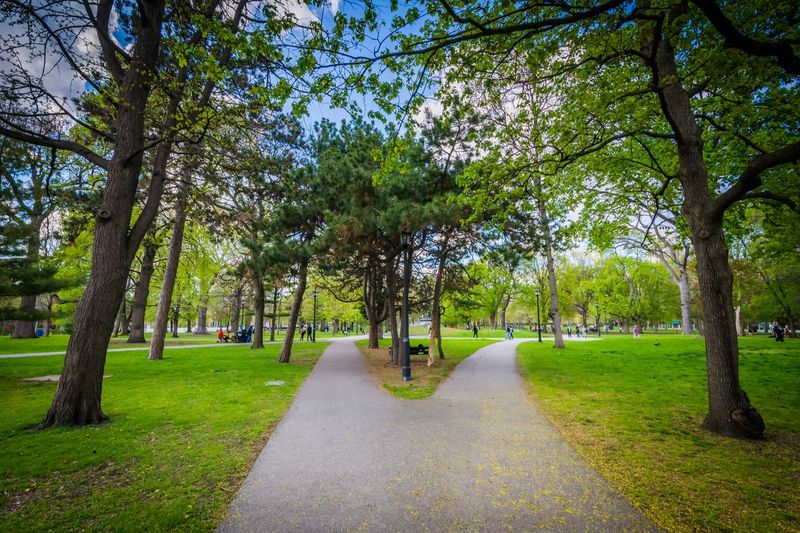 Nearby Hospitals and Clinics
If you have a family, you know how important it is to have quick access to medical services in case you get into an accident or your children fall ill. Davisville is one of the great family neighbourhoods in Toronto for Saudi families, because it actually has many medical services in the area
The area has everything from an optometrist at the Davisville Eye Care to a GP doctor, Dr Adele Gratton. It even has the Davisville Medical Clinic.
If you are a pet lover, the neighbourhood also has two vets in the area, so whether you go to Davisville Park Animal Hospital or Leaside Animal Clinic, your furry friend will be well taken care of.
How to immigrate to Canada from Saudi Arabia
If you think you have found the perfect neighbourhood in Canada for your family and want to know more about how you can make it a reality, learn all you need to know about it and how to immigrate to Canada from Saudi Arabia here.
If you want to jump ahead on your Canadian visa application and avoid all that reading, just sign up and our staff will call you about the application process and tell you how it works.