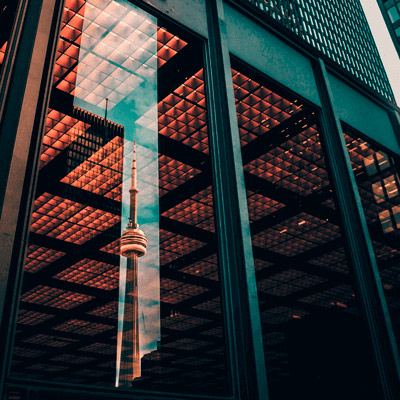 Toronto has a population of 2.6 million inhabitants and is one of the most multicultural diverse cities in Canada if not the world. It is estimated that over half of the population were born outside Canada and almost 140 languages are spoken in the city.
As you would expect, Toronto has an international buzz about it and is the hub of economic activity. Toronto's economy contributed an astonishing $157 billion to the Canadian economy in the year 2013, almost 10% of the country's GDP.
Some of the world's biggest companies have their headquarters in and around Toronto's vast commercial infrastructure, a situation that has created a large amount of job opportunities in the city. Toronto has seen the availability of jobs in IT, computer and information systems grow in the last 5 years and there has been an increase in people employed in wholesale and technical sales, medical practitioners, engineers, auditors and accountants, and a number of positions in financial and business services.
There's a lot of variations in the education and experience requirements that means more opportunities for everyone seeking employment and not only those in the highly skilled field.
So which jobs does Toronto have to offer? We take a look at some of the top jobs available in the city.
Marketing Manager
They have a diverse range of responsibilities, which include managing the company's customer communication, brand audits, advertising, and social media campaigns. With the fierce competition among commercial companies at an all-time high both locally and internationally, being a marketing manager in Toronto nets you a handsome median wage of over $120,000.
Translator
Toronto has a well-known reputation as a multicultural city, and companies make an effort to provide their services in both English and French. This has created a huge demand for professional translators among these international conglomerates. A professional translator in Toronto, Canada earns a median salary of $52,000 a salary that can sometimes rise to $90,000.
Corporate Trainer
This is an employment opportunity for educators and teachers alike who are responsible for teaching skills and knowledge to employees around the office. Corporate trainers have the task of teaching new employees new skills or keeping existing employees updated on new systems often during the period of company mergers. The median pay for this role is $55,000 but other specialists can earn up to $100,000.
Realtor
Realtors working in Toronto earn an average of $ 55,000 a year, needing a high school diploma, real estate training and a provincial or territorial licence to conduct business in Toronto. Realtors can either be full-time or temporary but with real estate business on the up in the city, full-time realtors are earning an estimated $125,000 a year.
Construction Managers
A job that requires one to have a lot of on- the- job experience, construction managers have the responsibility of making sure projects are completed on time and within budget, managing crew schedules, and their safety. They are generally there to manage the day-to-day activities of the construction site and ensure efficiency. Construction managers in Toronto earn a median salary of over $105,000a year.
Trades (Welders, plumbers, electricians etc.)
Trained personnel in trades related occupations are in short supply all over Canada and Toronto is no exception. Salaries range from $80,000 to $100,000 a year and for those who work remotely, salaries can go significantly higher.