More than 335,000 immigrants work in health-related occupations in Canada, according to the 2016 Government Census. This proves that if you're a healthcare worker who wants to improve your lifestyle and quality of life in a world-class country like Canada, your chances of being accepted with open arms are looking pretty good.
Canada's healthcare sector is undergoing a technological transformation as well as the retirement of skilled surgeons, registered nurses, and other important healthcare workers due to its aging population.
It's in extraordinary circumstances like the COVID-19 pandemic that we realize just how essential it is to have the right resources and enough healthcare workers to attend to thousands of critical patients. Now more than ever, medical skills will be in-demand everywhere around the world, and Canada is no exception.
The good news is that there are plenty of in-demand healthcare jobs up for grabs in Canada. In this blog, we discuss why you want to work in a healthcare position in the Great White North as opposed to anywhere else.
Benefits of Working in Canada as a Healthcare Professional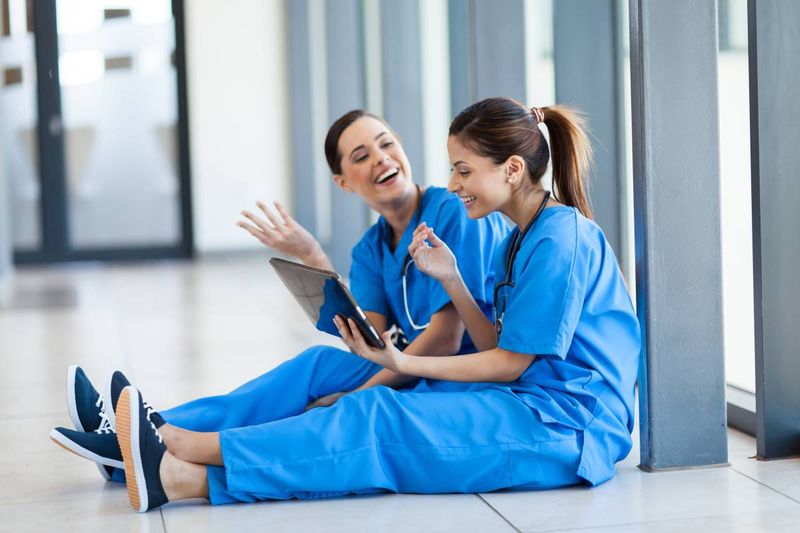 Your Health Is Also Taken Care Of
If you secure a job in Canada's public healthcare sector you can look forward to insurance benefits such as; dental and healthcare plans with coverage for prescription drugs, vision care, and hospitalization for you and your family. (All the extra medical coverage that is usually not included in Medicare - Canada's publicly funded healthcare system.)
Never Stop Learning
If you work in Canada's public healthcare sector you'll have access to many enticing and career-advancing benefits. Healthcare workers are encouraged to further develop their skills or explore other career choices within the department through training courses, and even completing a degree that is often funded by the Government.
Trade Your Student Visa for a Permanent Residency
If you're a healthcare graduate in Canada with a student permit, you can easily apply to live in Canada permanently and become a resident through a few special immigration categories designed by the Provincial Governments, such as the; Ontario Ph.D. Graduate Stream, Manitoba's International Education Stream, British Columbia's International Postgraduate in Health Sciences and the Atlantic Graduate Pilot, and many more. A few of these immigration categories require graduates to have obtained a valid job offer in Canada before applying.
Top Healthcare Jobs in Canada in 2020
Most healthcare jobs in Canada pay very well and will remain in-demand this year, and beyond.
Top In-Demand Healthcare Jobs With Impressive Salaries
Healthcare Job in Canada
Average Salary in CAD
Registered Nurses
$76, 362
Pharmacist
$94, 799
Licensed Practical Nurse
$59, 333
Occupational or Physiotherapy Assistant
$51, 266
Psychologist
$94, 451
Veterinarians or Assistants
$49, 452 and $41, 664
Dispensing Optician
$39, 975
Dental Laboratory Bench Workers
$45, 000
Managers in Health Care
$87, 500
Dietitians and Nutritionists
$72, 145
Medical Laboratory Technologists
$65, 072
Respiratory Therapists, Clinical
$76, 650
Respiratory Therapists, Clinical Perfusionists and Cardiopulmonary Technologists
$76, 650
Medical Radiation Technologists
$85, 800
Dental Hygienists and Dental Therapists
$70, 800
Nurse aides, orderlies and patient service associates
$44, 168
Tech Jobs in Canada on the Rise
Technology is becoming more and more prevalent in many industries, and tech jobs in Canada are moving to the healthcare industry to lead the way for innovation and medical breakthroughs. International workers with science, technology, engineering, and math (STEM) skills are readily welcomed to work in a healthcare-related job in Canada and make up half of all STEM degree holders in the country!
Here are some of the top tech occupations needed in Canada's healthcare sector over the next 5 years.
Tech Jobs in Healthcare
Occupation
Average Salary in CAD
Data Scientist
$107,500
Telehealth Nurse
$65, 871
Bioengineer -3D Printing
$80, 502
Robotics Engineers
$53, 063
Software Development Engineer
$122, 000
Graphic Designers
$45, 845
Computer Programmers
$52, 650
Computer Technicians
$42, 709
How Can I Get a Healthcare Job in Canada?
Step 1: Choose a Province or Territory
If you're not sure where to begin your job search, we can recommend the provinces of Newfoundland and Labrador, British Columbia, Ontario, and Alberta, as they currently have the most available healthcare jobs in Canada.
Another great perk of being a healthcare worker in Canada is mobility and having the option to work in different provinces, especially if you're employed by a government-funded healthcare facility. This gives you the opportunity to find where you belong, which won't take you very long since most of Canada's provinces are characterized by liveable, family-friendly cities.
Step 2: Choose Your Route to Canada
As a healthcare professional, you can apply for permanent residency through one of Canada's skilled worker immigration programs. But if immigration sounds like too much commitment, you can always test the waters first with a work permit, which will allow you to legally work in the country after you've secured a job in Canada. Let's look at both options below:
Since healthcare jobs in Canada can be classified as highly skilled, you can apply for a permanent resident card through the popular Canadian immigration system known as Express Entry, which manages three skilled worker economic programs, namely The Federal Skilled Worker Program, The Federal Skilled Trades Program, and the Canada Experience Class.
If you meet the requirements, you may be eligible to apply through the Federal Skilled Worker Program, and because it is managed by the Express Entry system you could expect processing times of as little as 6 months!
There are many other immigration categories for skilled immigration to Canada, such as Provincial Nomination Programs. Each immigration category has different eligibility criteria, so it's important to discover the program for which you qualify, and which suits your end-goals best.
The other option is to apply for a Canadian work visa that is employer-driven. So that means you'll have to secure a job in Canada before applying for your work permit, and travel authorization. If you enjoy Canada as much as we're certain you will, you can apply for permanent residency while working in the country.
Quick Tip
If you work in Canada as a healthcare professional with a work permit for at least one year, you'll double your chances of becoming a permanent resident because Canadian work experience carries a lot of weight in the Comprehensive Ranking System (CRS) - Canada's immigration points grid.
Step 3: Submit Your Application
If you've made your decision on which route you'd like to take to work in Canada, it's time for the not so fun part: collecting your supporting documentation. It includes your; accredited qualifications, Medical Council of Canada certificate, employment reference letters, language tests, medical and police certificates, etc. It's important to ensure that you dot all the I's and cross all the T's during the application process or your application could be denied.
Work in Canada the Easy Way
If you've decided that you want to embark on an exciting, life-changing journey to Canada, we at CanadianVisa.Org can help make it easier, and stress-free. We specialize in helping people like you find your perfect route to Canada which ensures that you and any dependents achieve your life goals easier, faster, and without any complications.
Our team of Regulated Canadian Immigration Consultants (RCICs)is authorized by the Canadian Government to assist foreign nationals with their visa and immigration process which is done in two steps 1) evaluation and 2) application.
So what are you waiting for? Sign up for our services today to get access to expert assistance for your Canadian immigration application. Make your immigration to Canada easier, safer, and faster with CanadianVisa.Org.