Forestry is one of the largest sectors in Canada, which is not strange when you consider that 40% of our country is made up of forest. In fact we account for 9% the world total forests are right here in Canada! This means that there are thousands of jobs in Canada in the forestry industry, and prospects are very good across the board from unskilled to professional positions. If you want to immigrate to Canada and have experience in the forestry industry, there are a number of immigration streams that may be available to you. Where you may want to live is also very much up to you as operations take place in all regions of Canada with the only exception being the far north. The two provinces with the most opportunity would be British Columbia and New Brunswick, in fact forestry accounts for nearly 5% of New Brunswick's provincial GDP. But let's start by considering which occupations have the most vacancies and how much they pay.
Top Forestry Jobs in Canada
There are thousands of opportunities in the industry from maintaining seedlings, determining forest plans, harvesting trees and processing them into various products. It is also very much an industry where experience is king. Working hard will always lead to opportunity for enhancement. Due to the everyday risks associated with handling of heavy machinery and a resource that weighs tons, companies are fair and promote hard workers with potential as it serves them well in the long run.
Top Forestry Jobs in Canada
Job
Average Annual Salary
Level of Education
Professional Forester
$70,000-$90,000
Qualification in natural sciences or technical forestry
Forestry Technician
$50,370
Forestry degree or combination of experience and supplementary education
Forestry Labourer
$29,250
no formal education required
Saw Operator
$35,100
no formal education required
mechanical harvester operator
$44,850
no formal education required
Forestry Supervisor
$67,452
no formal education required
Landingman
$68,536
logging fundamentals training program
Possible Immigration Options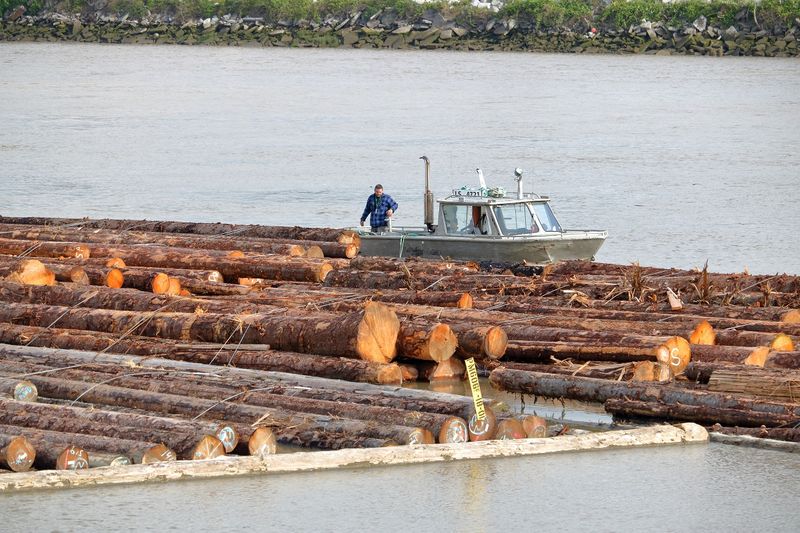 Your eligibility to obtain permanent residency status in Canada depends on a number of factors, one which is not always necessary but certainly makes it a lot more possible, is having a valid job offer in Canada. If you want to work in Canada you will need that and a temporary work permit. If you want to become a permanent resident of Canada and enjoy all the benefits such as free healthcare, education and being part of the happiest nation in the world, you must submit an application for permanent residency. If you are eligible, this can be done through one of over 80 immigration streams, depending on your qualifications, skills and experience. These are some of the most popular immigration streams, most of which have sub streams which you will likely be eligible for.
Express Entry Program
The Express Entry Program was created with the purpose of fast tracking skilled and/or experienced foreigners immigration applications to get them onto Canadian soil, working and contributing to the economy as quickly and efficiently as possible. There are three programs:
Federal Skilled Worker Program - for individuals in managerial or professional roles, typically for those with a three year degree;
Federal Skilled Trades Program - for skilled trades workers such as carpenters, mechanics and machinists; and
Canadian Experience Class - if you work in Canada for at least one year before applying for permanent residency.
You can apply for permanent residency in Canada through this program without a job offer. You are required to create an online profile, into which you enter your details. A Comprehensive Ranking System (CRS) score is calculated based on the information you provide and you are entered into a pool of applicants. Draws are then held periodically wherein applicants are selected from the pool based on their CRS.
Provincial Nomination Program
The Provincial Nomination Program has a similar system to Express Entry, but it is province specific. If for example you have a job offer in British Columbia, you can apply via one of the PNP streams to the BC provincial government for a provincial nomination. If you are successful your application for permanent residency will be sealed up. You can also apply for a provincial nomination without a job offer through either the Express Entry system, by creating an expression of interest in a particular province you wish to live in, or by applying directly to the province. If your provincial nomination is successful on your Express Entry profile, you will be awarded 600 points towards your CRS score, which given you are eligible to immigrate to Canada, pretty much guarantees your permanent residency invitation.
Atlantic Immigration Pilot
The east coast of Canada remains relatively undiscovered by immigrants at large. Together the provinces of New Brunswick, Newfoundland & Labrador, Prince Edward Island and Nova Scotia have formed together the Atlantic Immigration Pilot, an immigration pathway dedicated to addressing shortages in each provinces labour market. There are three categories:
Atlantic International Graduate Program - study a course in forestry or do your masters at an institution in Atlantic Canada to be eligible for this program
Atlantic High Skilled Program - if you are already qualified and have a job offer in one of the provinces listed above, you are eligible for this program. The job offer must be for at least one year and be full time
Atlantic Intermediate-Skilled Program - for people with a job offer that requires a high school diploma and on the job training.
Rural and Northern Immigration Pilot
While the major cities such as Toronto and Vancouver have no shortage of labour, the towns and smaller cities in central and western Canada are experiencing difficulties filling positions in their market, which has a negative impact on their economies. The Rural & Northern Immigration Pilot is an immigration program that offers permanent residency to applicants who accept job offers in one of the participating communities. Communities currently participating in the pilot are
The Current Participating Communities
Community
Accepting Applications
Sudbury, Ontario
Accepting Applications
Timmins, Ontario
Accepting Applications
Sault Ste. Marie, Ontario
Accepting Applications
Thunder Bay, Ontario
Accepting Applications
Brandon, Manitoba
Accepting Applications
Altona/Rhineland, Manitoba
Accepting Applications
Claresholm, Alberta
Accepting Applications
Vernon, British Columbia
Accepting Applications
West Kootenay(trail, Castlegar, Rossland, Nelson), British Columbia
Accepting Applications
Job offers can be found on the participating communities above's provincial websites or you will be redirected to the appropriate platform from the provincial website.
How We Can Help You
With all of these immigration and visa options to choose from, the process can become quite overwhelming and confusing. But it doesn't have to be. By using our accredited Regulated Canadian Immigration Consultants (RCICs) you will not only improve your chances of success in the visa application process, but you will get expert advice on which program is best for your specific needs. Our RCICs are highly qualified and are granted permission by the ICCRC to assist you with your eligibility evaluation, review all your documents and application forms and submit them to the Canadian government for you. Why take the chance of having your application denied because your forms are incorrect or sent in too late.
We take care of the fineprint while you choose your dream destination in Canada for you and your loved ones. All you have to do is complete our application form to receive your eligibility assessment today. It's just that simple.
Follow us on Facebook, Instagram, Twitter and LinkedIn for up to date information and interesting blog posts on Canadian Immigration.