Canada is one of the top destinations for those looking to gain a world-class education abroad. As an international student in Canada, you can look for some of the most incredible internship opportunities at companies that are both innovative and world-leaders in their fields. Doing your internship in Canada will not only look great on your resume but could set you up for a future in Canada.
The International Experience Canada program or Working Holiday Visa, as it's more commonly known, gives international students from over 30 different countries travel to Canada to either fund their vacation, gain professional working experience or complete an international co-op (internship).
So before you apply to take part in this amazing opportunity, let's take a look at some of the best internship jobs in Canada for international students.


Internship Opportunities for International Students in Canada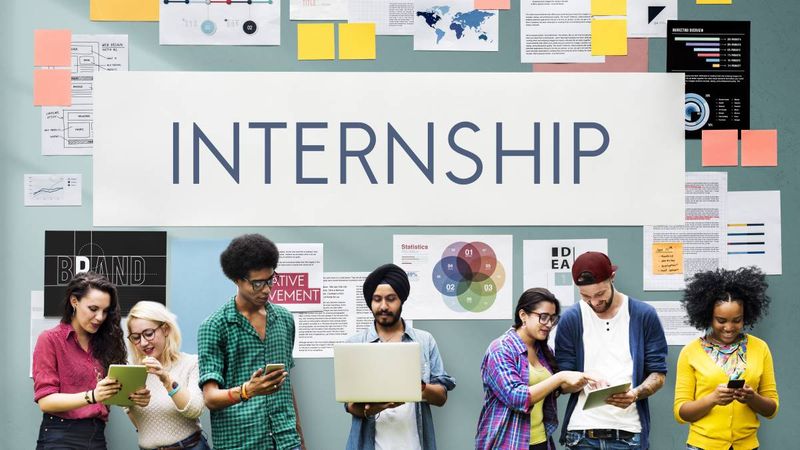 Media Internships
Aboriginal Peoples Television Network Inc. / APTN is a television broadcasting company that offers a range of great benefits such as generous contributions to employee pension plans, attractive parental leave and helps to promote work-life balance by making alternative work arrangement if needed such as their recent introduction of bi-weekly onsite visits from reflexologists, massage therapists and cranial sacral therapists! APTN has also partnered with the Canadian Association of Journalists to provide a paid 12-week placement for a journalism internship. They also offer a range of paid and unpaid internships positions for four candidates that are passionate about reporting indigenous content.
Technology Internships
Accenture Inc. is a great opportunity for tech students. The company invests in its employees by spending about $3,100 every year on a variety of training opportunities. They also offer attractive opportunities for new parents through paid leave and reducing the amount of travel required in the first year of returning to work. The company has a variety of internship programs for analysts as well as consulting and leadership programs in the summer.
Marketing & Communications Internships
Proctor & Gamble is a multinational consumer goods company that prides itself in cultivating a work environment full of appreciation. They have a Power of You award program that allows peer-to-peer awards of monetary value through the app. P&G also supports employee development through tuition subsidies for learning programs, both related and unrelated, to the value of $5,000 every year. Its Vibrant Living Program promotes wellness through annual health risk assessments and awareness events as well as providing each employee with spending budgets which can be transferred into extra earnings, savings or time off! P&G runs internship programs for onboarding and training programs as well as an innovation challenge where they are asked to try to come up with how they would think of new ways that people would shower in the future. P&G is also known to be one of the most diverse companies of 2020 and offers various resources such as the Asian Professional Network and also offers wellness support though its mental health action plan. P&G offers various paid internships, summer jobs and co-op opportunities and if you get hired you can look forward to a starting salary of around $70k - $75k!
Healthcare Internships
Health Canada is Canada's universal healthcare organization. It offers young professionals opportunities through programs such as the Health Canada Science Management initiative as well as partnering with Young Professional Network of Ottawa, allowing student to network with senior executives, Federal Internship for Newcomers program and Federal Student Work Experience Program (FSWEP) and Research Affiliate Program which provide part-time opportunities for students to conduct innovative research. If you find a placement at Health Canada you will be able to enjoy in-house training and career development programs, three weeks paid leave every year and up to 100% tuition coverage for additional training courses. Health Canada also celebrates diversity and offers, for the fourth year running, mental health and wellness strategies for all employees. Employees are encouraged to use a quiet room for meditation and religious observances
Bell Canada is one of the largest communications companies in the country and is a great place for an internship. They offer a 12-week summer internship and have also partnered with Career Edge, offering over 1,800 internships and hiring about 300 of those interns for full-time positions. Bell Canada also works with Lime Connect to find graduates with disabilities for potential recruitment. They offer various career development programs and training and also committed to promoting a diverse and green work environment through various e-waste collection and repair and reuse programs and campaigns. If you're looking to potentially join a company that promotes leadership and innovation then this might be the right placement for you.
Culinary Internships
Cactus Restaurants is a restaurant group with 30 establishments in four of Canada's 13 provinces and territories, namely Alberta, British Columbia, Ontario and Saskatchewan. Almost 164 apprentices are invited to take part in one of the largest in-house Red Seal Chef internship programs. They have also created a three-year Cactus University Leadership Development Program as well as partnering with George Brown College to offer three culinary students and three restaurant management students annually.
Engineering & Technical Internships
For those looking to use their engineering qualifications in the mining sector, you may want to consider Hatch Ltd. It is renowned for being one of Canada's top green employers through its implementation of automated sensor tech and water-efficient appliances as well as incentivising using alternative ways to commute to work such as offering carpoolers $2.50 to each passenger for each trip and $2 per day to cyclists! This company is constantly on the lookout for engineers, scientists and technologists and has various co-op and paid internship opportunities on offer. Hatch is partnered with various Canadian universities to provide students with access to industry mentors and development programs.
BC Hydro is a great option for an internship if you are interested in advancing in your technical career. Located in British Columbia, BC Hydro has a strong focus on apprenticeship and internship programs and is also known to be highly diverse and environmentally conscious. The BC Youth Hire program has summer internship opportunities for students as well as a Pre-Apprentice Power Line Technician Program, which is a temporary one-year work opportunity for those who want to find out more about the trade.
Non-Profit Internships
YMCA Toronto is a charity organization that has been around for over 169 years. It is recognized as one of Greater Toronto's top employees and promotes a healthy work-life balance by providing three weeks paid annual leave as well as up to five paid personal days off to its employees. The company also offers 100% paid training and career development programs. There are various internship and summer job opportunities as well as graduate programs, such as the Career Boost program (in partnership with Ryerson University) to help give recent graduates the opportunity to find employment in their chosen field of study.
Egg Farmers of Canada is a non-profit organisation based in Ottawa that helps local farmers produce fresh quality eggs, supplying the national egg production to all ten provinces and three territories as well as representing over 1,000 regulated egg farmers nationwide. The company promotes health benefits, flexible work hours, 2 extra paid leave days to volunteer on top of three weeks paid leave annually. They offer a young farmer program as well as various summer co-op jobs in Canada.
For more top employers to consider for your internship in Canada visit Canadstop's Top 100 Employers for Young People awards here.


How to Apply for an Internship Working Holiday Visa
The first step is to make sure that you qualify for the program and the correct visa category. Since you are looking to do an internship the best option is the Co-op International category.
Step 1: Check if You Qualify
The first step is to make sure that you qualify for the program and the correct visa category. Since you are looking to do an internship the best option is the Co-op International category. Below are the general requirements to qualify for the International Experience Canada (IEC) Program. You will need:
Biometrics;
A valid passport;
To be between the ages of 18 and 35 (may vary depending on the country of citizenship);
A minimum of CAN$2,500 to help cover your expenses in Canada;
A copy of your curriculum vitae or résumé;
Health insurance for the duration of your stay (you may need to present evidence at the Canadian border);
To be admissible to Canada; and
Have, before departure, a round-trip ticket or demonstrate that you'll have the financial resources to purchase a departure ticket at the end of your authorized stay in Canada.
Unfortunately, the IEC does not allow dependents to accompany you.
Below are the countries that qualify for a working holiday in Canada.
Eligible Countries in the International Experience Canada Program
Australia
Austria
Belgium
Chile
Costa Rica
Croatia
Czech Republic
Denmark
Estonia
France
Germany
Greece
Hong Kong
Ireland
Italy
Japan
Korea, Rep.
Latvia
Lithuania
Luxembourg
Mexico
Netherlands
New Zealand
Norway
Poland
Portugal
San Marino
Slovakia
Slovenia
Spain
Sweden
Switzerland
Taiwan
Ukraine
United Kingdom
To qualify for the International Co-op (Internship Program) you will need to meet the following criteria:
Be a registered student at a post-secondary institution;
Have a Canadian job offer for a work placement or internship;
Require this work placement or internship to finish your studies; and
Work for the same employer in the same location for the duration of your stay in Canada.
If you are still unsure, you can use the IEC online tool to find out if you qualify for a Canadian Working Holiday work permit here.
You will be asked to answer a few questions, such as:
where you are a citizen;
where you live permanently;
where you live now;
if you are currently a student or plan to study in Canada (if applicable); and
if you have a Canadian job offer.
Step 2: Create an IEC Profile
The next step is to create an online profile so that you can complete and submit all your forms and be entered into the draw pool. Please note that you will need your passport to complete the profile.
Step 3: Submit Your Application
The next step is to submit your IEC work permit application and pay your fees. You can check your status via your online profile and if you are successful you'll get an invitation to apply for your work permit through this account.
Step 4: Accept Your Application
Once you get your invitation you'll have to accept it within 10 days and apply for your IEC work permit within 20 days of accepting your invitation so be sure to make a note of these deadlines because if you miss them you'll have to start the process from the beginning.
Step 5: Apply For Your Work Permit
As an international co-op or internship applicant you will need to apply for an employer-specific work permit. This means that you will only be able to work for a specific employer for the allocated time period at a specified location.
For more information on the previous working holiday season, you can visit our blog here (2021 Working Holiday Visa Season Now Open).


Invest in Your Career with Canadian Internship
Applying for a visa on your own can be time-consuming and difficult to understand. With strict deadlines, procedures, and requirements, it can be easy to make a mistake that could cost you your chance to travel to Canada for a working holiday. But with the guidance and assistance of one of our knowledgeable Regulated Canadian Immigration Consultants (RCIC's), who are accredited by the ICCRC the process will be stress-free.
When you choose to use our expert and government trusted service you will get:
An in-depth eligibility assessment
Guidance on which of 100+ immigration programs and visas to choose from;
An immigration plan tailored to your individual needs;
A review and submission of all application forms and documentation; as well as
Support through every step of the application process.
All you have to do is fill out our application form to receive your eligibility assessment and let us take care of the rest. It's just that simple! Your Canadian journey starts here.
Be sure to follow us on Facebook, Twitter, LinkedIn, and Instagram to stay up to date on Canadian immigration and visa news.