Canada is a vast and diverse country, offering a wide range of experiences for travelers worldwide. If you're a Canada visa holder, the possibilities for exploration and adventure are endless.
From the vast grassy plains of the Canadian prairie provinces to the frozen, mountainous tundra of Canada's northern territories, the fascinating destinations in Canada will leave you breathless.
Whether you are seeking thrilling outdoor adventures, family-friendly attractions, cultural experiences, or simply want to visit the most popular destinations in Canada, the country beckons and welcomes all adventurous visitors.
Are you Ready to make unforgettable memories at Canada's top destinations? Let's explore the best destinations in Canada for Canada Visa Holders!
Trips in Canada for Canada Visa Holders
When planning a trip to Canada, consider the type of experience you desire. Canada offers numerous trips for all kinds of travelers. Adventure destinations provide thrilling activities like.
Hiking
Skiing
Cycling
Wildlife encounters
Family destinations offer fun-filled attractions suitable for all ages. Entertainment destinations have vibrant nightlife scenes and exciting festivals. Cultural destinations showcase the rich heritage and traditions of Canada. Let's explore each category of destinations in more detail.
Adventure Destinations in Canada
Canada is a paradise for adventure enthusiasts. The country's diverse landscapes, including mountains, forests, grasslands, and coastlines, provide endless opportunities for outdoor activities. The Canadian Rockies in Alberta and British Columbia are a must-visit for nature lovers.
Embark on breathtaking hikes in Canada's renowned National Parks, some of which include:
Jasper National Parl
Banff National Park
Yoho National Park
Bruce Peninsula National Park
Fundy National Park
For alternative experiences in Canada's marine and tundra ecosystems, you can explore the stunning Lake Louise, or experience the thrill of skiing in Whistler, Mont Tremblant, Blue and RED Mountain, and Mount Norquay ski resorts. Wildlife enthusiasts can go on a trip to Churchill in Manitoba to see polar bears in their natural habitat!
Find out more about adventure and outdoor activities in Canada.
Family Destinations in Canada
If you're traveling with family, Canada has plenty of attractions that are perfect for a fun-filled family vacation. Canada's major cities like Toronto, Montreal, and Vancouver are some of the most family-friendly cities in the world, with park systems, zoos, cinemas, and entertainment centers that cater to every family member. Popular destinations for the whole family in Canada include:
Popular Family Destinations in Canada
Family Destinations
City
Toronto Zoo-Toronto
Toronto
Squamish Lilwat Cultural Centre
Whistler
Ice Slide at Terrasse Dufferin
Quebec City
Ice Skating (Rideau Canal)
Ottawa
Victoria Butterfly Gardens
Victoria
Fat Cat Children's Festival
Kelowna
Discovery Centre
Halifax
Montreal Biome
Montreal
Reversing Falls and Irving Nature Park
Saint John
Nutrien Playland at Kinsmen Park
Saskatoon
Entertainment Destinations in Canada
For those looking for vibrant nightlife and entertainment, Canada has much to offer. Montreal, known for its lively music scene and festivals, is a top choice. You can dance the night away in the city's numerous nightclubs or experience the vibrant atmosphere of the city's jazz clubs. The Montreal International Jazz Festival is one of the most celebrated Jazz festivals in the world.
Vancouver offers another entertainment hotspot on the West Coast. Enjoy live performances at the city's theaters, catch a concert at Rogers Arena, or visit Granville Island for its bustling markets and street performers.
Other popular entertainment destinations in Canada include:
Popular Entertainment Destinations in Canada
Entertainment Destinations
City
The Commodore Ballroom
Vancouver
The Alibi Room
Vancouver
Reservoir Lounge
Toronto
Garfinkels
Whistler
The Pedaler
Victoria
The Improv Centre
Vancouver
Steamworks Brewing Company
Burnaby
The Comedy Department
Vancouver
Cabaret Mado
Montreal
Rex Jazz and Blues Bar
Toronto
Cultural Destinations in Canada
Canada's cultural destinations are a treasure trove of history, art, culture and traditions. Cities like Toronto, Vancouver and Quebec City, founded before Canada's second Industrial Revolution, are filled with culturally significant landmarks you can visit to soak up the culture.
In Quebec City, you can explore the cobblestone streets, visit the iconic Chateau Frontenac, and indulge in French cuisine in many restaurants. The Museum of Anthropology in Vancouver showcases the rich Indigenous cultures of Canada's First Nations peoples.
Popular Cultural attractions in Canada you should make note of on your itinerant calendar:
Popular Cultural Destinations in Canada
Cultural Destinations
City
Moonlight Bazaar
Saint John
Haunted Hollows Scream Park
York
Magic of Lights
Brandon
German Christmas Market
Quebec City
The Royal Agricultural Winter Fair
Toronto
Toronto Caribbean Carnival
Toronto
Toronto Christmas Market
Toronto
Onhwa Lumina
Quebec City
Royal Nova Scotia International Tattoo
Halifax
Taste of Asia Festival
Markham
Top 10 Most Popular Attractions in Canada
Let's dive into some of the top attractions that should be on every Canadian visitor's list. They are:
Canadian Rockies
The Canadian Rockies offer some of the most breathtaking scenery in the world. Visit Banff National Park, where you can hike through picturesque landscapes, spot wildlife, and soak in natural hot springs. Fundy National Park is another gem, which offers outdoor enthusiasts the opportunity to go canoeing or kayaking down the local river.
You can also go fishing at the local village of Alma, go on tours up the Bay of Fundy, and paddle across Hopewell Rocks, nicknamed "Flower Pots" with their towering, red, sandstone rock formations.
Niagara Falls
Niagara Falls is one of the world's most renowned natural wonders, attracting millions of visitors each year to the Canadian town of Niagara. On the Canadian side of the falls, you can witness the powerful rush of water as it cascades over the falls and feel the mist on your face during a boat tour. You can explore the surrounding area, including Niagara-on-the-Lake, known for its wineries and charming Victorian architecture.
CN Tower
Standing tall in the heart of Toronto, Ontario, the CN Tower is an iconic symbol of the city known worldwide. For panoramic views of Toronto's skyline and Lake Ontario, ride up to the observation deck, the perfect vantage point. If you're brave, you can walk on the glass floor or experience the EdgeWalk, a thrilling hands-free walk around the tower's circumference.
Klondike National Historic Site
Go back in time and relive the days of the Klondike Gold Rush that took place during the 1890s at the Klondike National Historic Site in Dawson City, Yukon. At the site, you can explore the preserved buildings and learn about the hardships faced by gold prospectors in the late 19th century. You'll also be allowed to try your luck at gold panning and immerse yourself in the area's rich history through reenactments.
Pacific Rim National Park
Situated on Vancouver Island, Pacific Rim National Park is a haven for outdoor enthusiasts and nature lovers. Explore the park's rugged coastline, pristine beaches, and lush rainforests. If you're a surfer, you can go surfing in Tofino, explore the tidal pools at Long Beach, or for people who prefer land exploration, you can hike through the ancient forests of the West Coast Trail.
Cabot Trail
The Cabot Trail in Nova Scotia is one of the most unforgettable scenic rides you can embark on. The 300-kilometer loop provides breathtaking views of the Atlantic Ocean, rugged cliffs, and charming coastal villages. If you get hungry, indulge yourself in fresh seafood at local restaurants. You can also stop to hike in Cape Breton Highlands National Park.
Old Quebec City
Old Quebec City offers visitors a vicarious experiential taste of Europe in North America. This historic district is filled with cobblestone streets, charming cafes, and centuries-old architecture that offer an immersive old-European experience for visitors. Expand your knowledge of historical French architecture by visiting the iconic Chateau Frontenac. If you're looking for an outdoor experience, the Plains of Abraham are perfect for you.
Aurora Borealis
Witnessing the mesmerizing dance of the Aurora Borealis, or Northern Lights, is a bucket-list experience for many travelers.
To experience this natural phenomenon, you must head to Canada's northern regions, like Yukon, Northwest Territories, or Nunavut. The best time to see the Aurora Borealis is in the winter, so ensure you plan your trip accordingly.
Green Gables
Green Gables on Prince Edward Island is a prime destination for literature enthusiasts. The iconic farmhouse was inspired by Lucy Maud Montgomery's beloved novel, "Anne of Green Gables."
At the farmhouse, you can explore the beautiful grounds, take a guided tour of the house, and immerse yourself in the world of Anne Shirley, the beloved protagonist of the novel.
Baffin Island
Looking for an off-the-beaten-path adventure? Nunavut's Baffin Island is a remote wilderness paradise with majestic sights that will leave you in awe. On Baffin Island, you can:
Explore the fjords
Hike through the tundra
Spot majestic polar bears
Sail along whales, and seabirds
How Can You Make a Trip to Canada's Top Attractions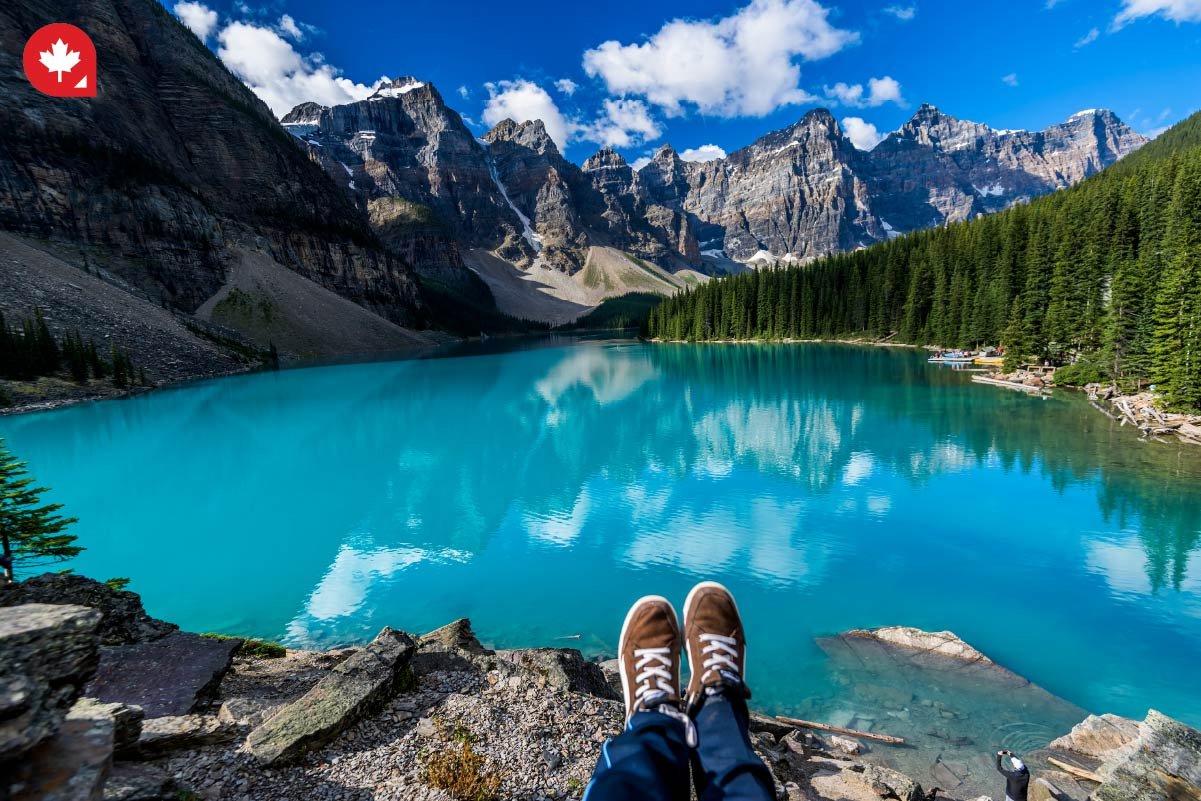 Once you have decided on the destinations and attractions you want to visit in Canada, it's time to plan your trip. As a Canada visa holder, you have a few options for traveling to Canada's top attractions.
Visitor (Tourist) Visa
If you are visiting Canada briefly as a tourist, you will need a visitor visa. A visitor visa (also called a tourist/temporary resident visa) is an official document attached to your passport. Possessing a visitor visa shows you meet the requirements to enter Canada. Most visitor visa holders can stay for up to 6 months in Canada.
Learn more about Canada's Visitor Visa.
IEC Working Holiday Visa
If you're between 18 and 35, you may be eligible to apply for the Working Holiday visa program. This visa allows you to work and travel in Canada for up to two years, provided you're a citizen or resident of one of the 35 participating countries.
Administered by International Experience Canada, the Working Holiday Visa program is a fantastic opportunity to explore Canada's top attractions while gaining valuable work experience in Canada.
If you are successful in your Working Holiday Visa application, you must apply for and receive a work permit. A work permit will allow you to work for any Canadian employer anywhere in Canada.
The work experience gained during your working holiday can be beneficial in putting you on a path to permanent residency in Canada through immigration programs like the Canadian Experience Class (CEC).
Find out more about Canada's Working Holiday Visa.
FAQs
How Long Can I Stay in Canada on a Visitor Visa?
The duration of stay on a visitor visa in Canada depends on the immigration officer's decision at the port of entry. Typically, visitors are allowed to stay for up to six months. However, it is important to note that the final decision rests with the immigration officer, who may grant a shorter or longer stay based on the purpose of the visit and the individual circumstances.
How Can I Check The Status of my Visa Application?
Use the online tool provided by Immigration, Refugees and Citizenship Canada (IRCC) to check the status of your visa application. The online tool allows you to check the status of your application by entering identifying information like your unique application number. We recommend regularly checking the status of your application to stay updated on any changes made.