If you thought skilled trades only meant carpentry, welding, plumbing, and auto mechanics, think again. Trade is much more diverse than we give recognition to, and includes occupations such as network cabling technicians, special events coordinators, bakers, computer hardware technicians, educational assistants, and so many others. To pursue your trade you will need some form of qualification, and what better place to obtain one than in Canada? Here are some trade schools in Canada and how to get there.
Top Schools For Trade In Canada
According to Canada's government, the top five in-demand trades in Canada are carpenters, cooks, hair stylists, auto service technicians and welders. Here are some of the best colleges for each of these trades.
1. Carpenters
Carpenters have a very broad field that they work in. They can do anything from installing kitchen cabinets, to building bridges and highways. Most carpentry courses will cover subjects such as blueprint reading; machine woodworking; geometry; physics; hand tool selection, care, and use; architectural drawing; identification and measurement of materials; project management and estimating. Here are some institutions that offer this course in Canada;
Fanshwe College
Georgian College
Fleming College
Northern Lights College
University of the Fraser Valley
George Brown College
Conestoga College
Saskatchewan Polytechnic
Northern Alberta Institute of Technology
St. Clair College
Confederation College
Aviron Quebec College Technique
College of New Caledonia
Algonquin College
Selkirk College
New Brunswick Community College
College of the Rockies
Coast Mountain College
Loyalist College
Cambrian College
Thompson Rivers University
Yukon University
Niagara College
Carpenters in Canada can make up to $48,946 per year or $25.10 per hour on average. Beginners in the industry usually start with a salary of $39,139 per year, while more experienced workers can make up to $60,450 per year.
2. Cooks
Preparing food is an art form on its own. The plate is a blank canvas that gives way to many different cuisines where cultures fuse to make your tastebuds dance. This job's duties include: following food health and safety protocols, preparing ingredients, and abiding to the restaurant menu. It also includes teamwork and assisting other staff in the kitchen. Here are some trade schools in Canada that offer this course:
Le Cordon Bleu Ottawa Culinary Arts Institute
George Brown Chef School
Northwest Culinary Academy of Vancouver
The Culinary Institute of Canada
The Culinary Arts School of Ontario
Vancouver Community College
Pacific Institute of Culinary Arts (PICA)
Liaison College Culinary Arts
Southern Alberta Institute of Technology
Manitoba Institute of Trades and Technology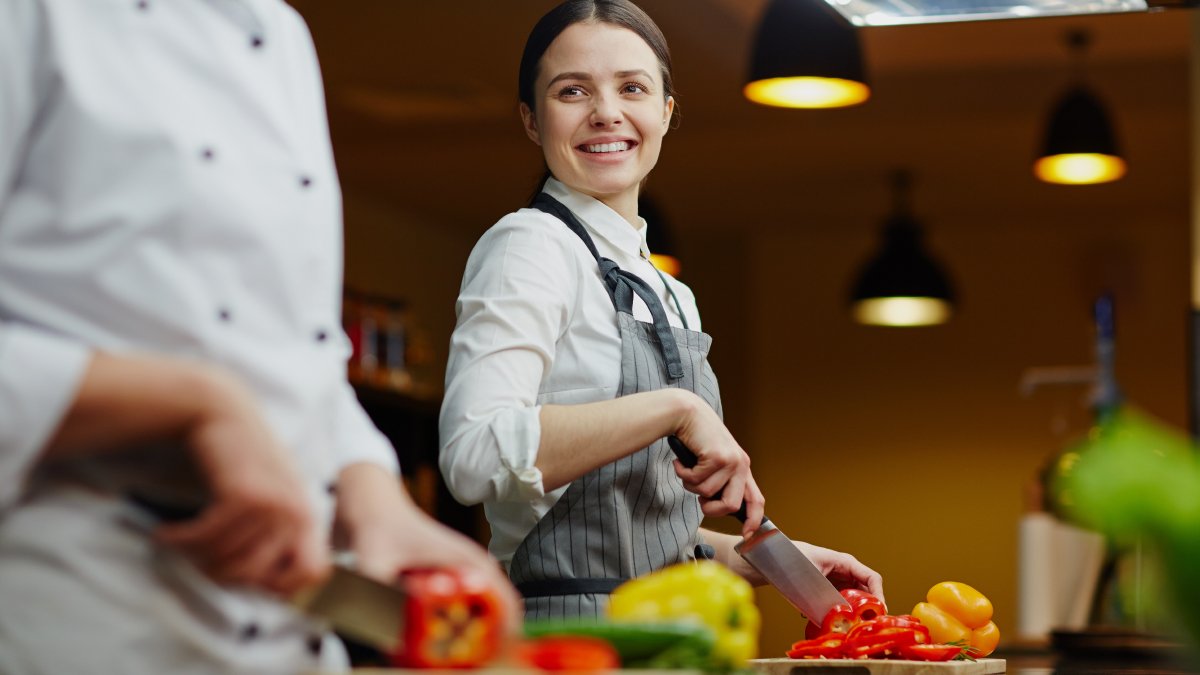 After you complete your course and want to start working, you will need a certification form a regulatory authority such as Skilled Trades Ontario.
3. Hair Stylist
If you look good, you feel good. For hairstylists, these are words to live by. Other than being magicians with a scissor and changing appearances, they take on many other roles such as therapists and confidants because they are always ready to lend an ear when it comes to listening to others talk about what is happening in their life. This is ideal work for a socialite as they will always be meeting and engaging with new people daily. Here are some institutions offering hairdressing courses In Canada:
Fanshawe College
Georgian College
Northern Lights
Sault College
Manitoba Institute of Trades and Technology
St. Clair College
St. Lawrence College
Algonquin College
Selkirk College
Vancouver Community College
College of the Rockies
Coast Mountain College
Niagara College
One of the best things about studying towards becoming a hairstylist is that you can do it full time or part time, which means you will have time to work while chasing your dreams. The average salary in Canada for a hairdresser is about $32,175 per year. Entry-level positions start out at $27,300 per year, while workers with more experience make up to $44,850 annually.
4. Auto Service Technicians
Not all heroes wear capes. Auto service technicians have the ability to take something that is broken, and make it work. They are very innovative and can take something that is broken and turn it into something useful.
Northern Alberta Institute of Technology (NAIT)
Southern Alberta Institute of Technology (SAIT)
Conestoga College
Mohawk College
Canadore College
Centennial College
Fanshawe College
Camosun College
Nova Scotia Community College
Vancouver Community College
Durham College
Algonquin College
St. Clair College
Auto Service Technicians earn up to $50,700 annually. Starting out, positions are estimated to be $39,000 per year, while more experienced workers make up to $70,000 per year.
5. Welders
Becoming a welder is definitely one way to make sparks fly. It's a high risk job and not for the faint hearted. This job has become very popular recently as many companies require them. Here are some courses in Canada for welders:
Northern Ontario Welding School
Canadian Working Divers Institute
Advanced Welding Techniques
WeldTech Training
School of Welders
Can-Weld Can-Fab Training and Testing Centre
A.P.R. Welding Academy
Niagara Welding Academy
Granton Institute of Technology
Information Systems Institute
Industrain College
Windsor Welding Institute
Welders can earn up to $42,900 a year, but with more experience in their skilled trades, their salary can grow to $55,489 annually.
Federal Skilled Trades Program (FSTP)
This program is one of many that is managed by the Express Entry system. It is designed to assist foreign workers with work experience in their desired fields. If you qualify as a skilled trade worker according to the federal government, you could apply to this program through Express Entry.
There requirements of the FSTP are:
A valid job offer from a Canadian employer (the offer has to be full time);
Language proficiency score in French or English determined by the Canadian Language Benchmark (CLB) or the Niveaux de compétence linguistique canadiens (NCLC);
More than 2 years worth of work experience;
Demonstrate that you are able to meet the job requirements and;
Proof of settlement funds for you and your family.
If you're planning on immigrating to Canada as a skilled worker, then this would be the perfect option for you.
FAQS
What is the main difference between Universities and Colleges in Canada?
Universities in Canada grant degrees, oftentimes they do have courses that offer certificates or diplomas. They deal with academic and professional programs, while colleges usually focus on training and trades.
Which occupations are accepted under the Federal Skilled Trades Program?
To mention a few, here are some skilled trades with their NOC codes that are accepted under the FSTP:
6331 Butchers, meat cutters and fishmongers – wholesale and retail
7201 Contractors and supervisors, machining, metal forming, shaping and erecting trades and related occupations
7202 Contractors, supervisors, electrical trades and telecommunications occupations
7203 Contractors and supervisors, pipefitting trades
7204 Contractors and supervisors, carpentry trades
7205 Contractors and supervisors, other construction trades, installers, repairers and servicers
7231 Machinists and machining and tooling inspectors
7233 Sheet metal workers
7234 Boilermakers
7235 Structural metal and plate work fabricators and fitters
7236 Ironworkers
7237 Welders and related machine operators
7241 Electricians (except industrial and power system)
7243 Power system electricians
7244 Electrical power line and cable workers
7245 Telecommunications line and cable workers
7246 Telecommunications installation and repair workers
There are many more occupations that are accepted under this program.
What are Federal Skilled Trades Program processing times?
Most applications for this program can be completed in up to six months.
If you're looking to get permanent residency, then this is a good option to do just that. Studying at one of the many trade schools in Canada could open up a world of opportunities for your future self.