The Canadian government places a high value on family, so Canada offers immigration programs that enable sibling sponsorship in Canada.
Canada is a country that offers a wealth of opportunities with free universal health care, quality education, and an abundance of job opportunities. These factors underpin its appeal to foreign nationals and their families.
To ensure that their siblings, i.e., brothers and sisters, can become eligible to immigrate to Canada and become permanent residents, many Canadian immigrants use the Family Class Sponsorship Program to answer the questions: Can I bring my siblings to Canada with me?
The following provides a helpful guide to permanent residents in Canada interested in sponsoring their siblings to move to Canada about all the information they need about Sibling Sponsorship.
Family Sponsorship Program
The Family Class Sponsorship is for permanent residents or citizens of Canada who are 18 years or older and who wish to bring their family members to live and work in Canada. This is one of the most widely used streams under Canadian immigration since the program makes bringing your spouse or sibling to Canada easy.
Step-by-Step Guide to Sibling Sponsorship in Canada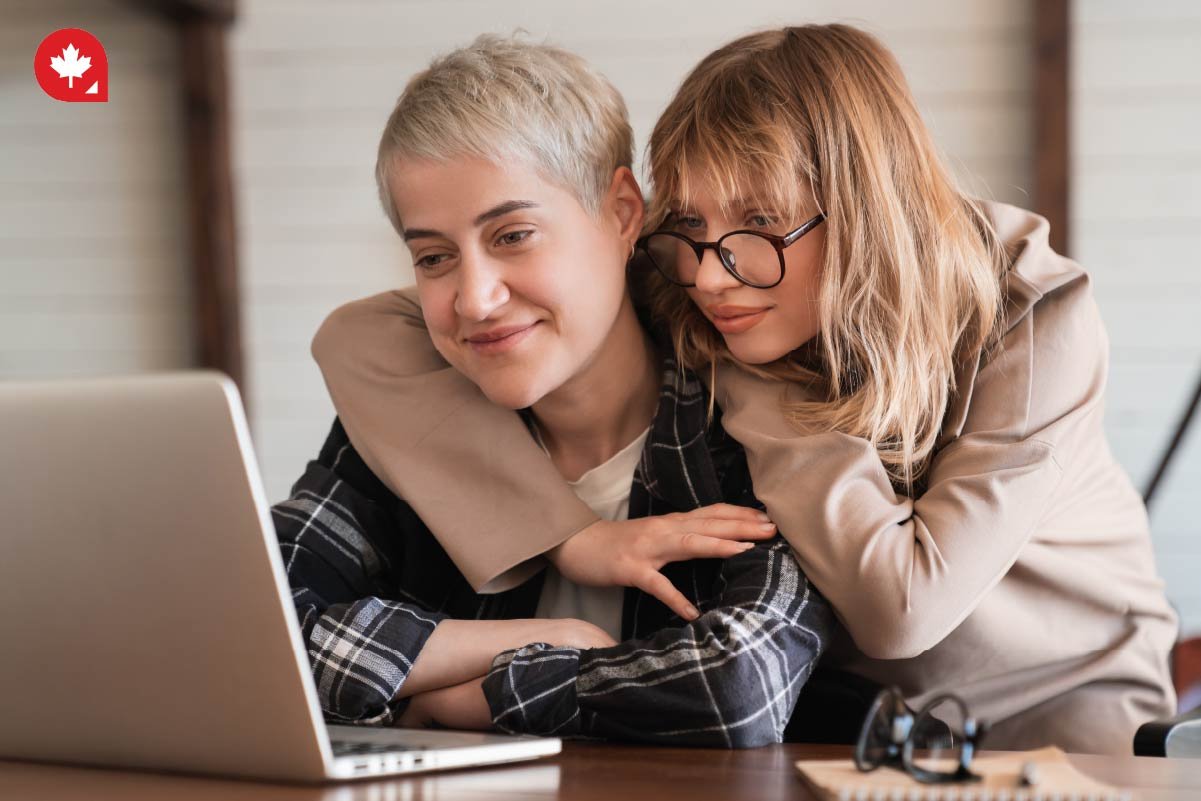 Please note the following steps about navigating the Family Sponsorship Program for gaining permanent residency status in Canada.
Step 1: Know How The Family Class Sponsorship Works
To sponsor a relative, you need the following:
To be 18 years or older
To be registered as a Canadian citizen or permanent resident.
To live in Canada
To have an income equal to or higher than the Minimum Necessary Income (MNI) for three consecutive taxation years before the application date.
To give a valid undertaking with Immigration, Refugees and Citizenship Canada (IRCC)
To be able to support your relatives when settling in Canada financially.
The minimum income required for sponsors differs according to how many people they sponsor. The MNI for Family sponsorship is currently as follows.
Spousal and Family Sponsorship Annual Income Requirement
Number of relatives/siblings
Annual income requirement (minimum) (CAD)
1
26,426
2
32,898
3
40,444
4
49,106
5
55,694
6
62,814
7
69,934
8
7,120
Fees and Processing Time
How accurately you provide the information on your application and how well you comply with instructions are major contributing factors that will largely influence the processing time of your application. Note that processing times will start when your completed application is received. The most important application processing fees for sibling sponsorship include the following:
Sponsorship fee (per person): 75 CAD
Right of permanent residence fee: 515 CAD
Principal applicant processing fee: 490 CAD
Inclusion of sponsored spouse or partner processing fee: 570 CAD
Checking Processing times
Processing time will vary from country to country. To track your processing time, you must answer questions about application type, who you're sponsoring, and where the relative lives. You can track your processing time and follow the instructions from there onward.
Step 2: Check If You're Eligible To Sponsor a Relative
There are certain requirements for the person sponsoring their relative, and there's a set of requirements for the relative settling in Canada.
Sponsoring a family member while you're out of Canada is possible. If you're a Canadian citizen who is living abroad temporarily, you should be:
Living in Canada or planning to return so you can be there when your relative immigrate to Canada and
Sponsoring your spouse or common-law partner, or dependent child who should have no other dependent children
You cannot sponsor a relative/sibling if:
You're convicted of a violent or sexual crime, and you're in prison;
You have not paid child support or in arrears with child support;
You have been declared bankrupt;
You received social assistance when you're not disabled;
You're in arrears with immigration payments or loans;
You fail to meet the sponsorship conditions or any other offense not listed.
Please note that different provinces may have different sponsorship conditions. Quebec, for instance, may require you to sign a contract as an undertaking, binding your sponsorship.
Step 3: Check If Your Relative Is Eligible
Relative/Sibling Sponsorship allows your brother, sister, aunt, or uncle to immigrate to Canada under specific circumstances. The following presents the two most common scenarios that allow you to sponsor a relative.
Family sponsorship of an orphaned brother, sister, nephew, niece, or grandchild: The family member should be related to you by blood or adoption, while both parents must be passed on. The relative should be under 18 years of age, single or unmarried. This is the most applicable sponsorship stream to sponsor a sibling.
Other family members: You can sponsor a blood relative or an adopted family member of any age. This is only applicable if you, the sponsor, don't have any other relative that's still alive who you could sponsor; or if you don't have a relative that's a Canadian citizen or permanent resident who you could sponsor instead.
The following summarizes the eligibility criteria for sibling sponsorship in Canada.
Eligibility for Sibling Sponsorship in Canada
The sponsor has a sibling related by blood or adoption while both parents are passed on.
The relative should be under 18 years of age, single or unmarried.
You can't sponsor your brother, sister, nephew, niece, or grandchild if the parents are still alive, have abandoned them, or can't be found or are in jail.
If your family sponsorship application is unsuccessful, don't despair. With the right guidance, you can be informed about other programs that accommodate various circumstances and needs. You can learn more about how you can go from temporary to permanent residence in Canada.
Step 4: The Application Process
Your siblings can become permanent residents in two ways:
You can apply to sponsor your siblings, or
Your siblings can apply for permanent residency to live and work in Canada.
Remember that you're required to send both your sibling sponsorship application and your permanent resident application at the same time. After that, your application will be processed, and you'll be informed whether or not your application has been approved.
Let's look at applying for Sibling Sponsorship in three steps.
1. Get the Application Package for the Family Class Sponsorship
The application package is important as it will contain information such as your instruction guide, relevant forms, and a document checklist. Note that the sponsor must ensure that they meet the requirements and comply with the conditions of the sponsorship before applying.
2. Required Documents
When submitting your application, make sure to:
Attach of proof of income;
Prove that your sibling can provide for themselves;
State in writing that you're able to support your siblings for a certain amount of time;
Provide all supporting documents according to the checklist;
State the number of siblings you wish to sponsor and any other potential information that could influence the status of your application.
All information provided must be truthful, as things will be verified later. Your application will be rejected should you be dishonest or provide inaccurate information. In turn, the relative being sponsored must be truthful about the information they provide and should be open to criminality checks.
Fees for sibling sponsorship are generally broken down as follows:
Processing fees and the relatives you're sponsoring;
Right of Permanent Residence Fee (RPRF), which is currently 515 CAD;
Biometrics fees (fingerprints and photo)
The following provides a breakdown of general application fees for Family/Sibling Sponsorship.
| Family Sponsorship Fees | CAD |
| --- | --- |
| Sponsorship fee (per person) | 75 |
| Right of permanent residence fee | 515 |
| Principal applicant processing fee | 490 |
| Principal applicant processing fee (if the applicant is under 22) | 75 |
| Inclusion of sponsored spouse or partner processing fee | 570 |
| Inclusion of a dependent child (per child) | 155 |
Note that all applicants must pay their fees online. The Canadian government will accept credit and prepaid cards from Visa, MasterCard, American Express, JCB, and UnionPay. Alternatively, you can pay with your Debit MasterCard or Visa Debit card.
3. Submit Your Application
Applicants would have to mail their application with supporting documents. The instructions for this process will be contained within the instruction guide of your application package. Even though processing times of permanent residence applications have been updated with better turnaround times, the process is still subject to variable results in different countries.
After Submitting Your Application
All applications will be evaluated to check if everything is complete and all fees have been paid. As soon as your application is processed, you will receive an acknowledgment letter informing you of the process going forward.
The eligibility on the part of you, the sponsor, and the relative you're sponsoring will also be assessed.
Should your application be refused, know that there are other alternatives around this. Furthermore, you'll know why your application was rejected and how to appeal the decision.
How Will Your Siblings Be Informed?
Once your sibling's application is processed, they'll receive a letter with their application number. After that, their application will be linked to their online account, enabling effective communication and updates.
Application status
Both the sponsor and the sibling being sponsored can check their application status. Sponsors are welcome to check their application status using an online tool designed to help applicants track the progress of their applications.
The sponsor can also check their sibling's application status by requesting access. Alternatively, you can act as a "representative" if you wish to manage your sibling's application by filling out forms and communicating important information. Even so, siblings would need to grant you access to do so.
Getting to Canada
Once you arrive in Canada, you must show your Confirmation of Permanent Residence (COPR). In addition to this, you will also need to show your permanent resident visa to an Immigration, Refugees, and Citizenship Canada (IRCC) officer at the Port of Entry (POE).
The officer will double-check all information and ensure that everything is in place. Be prepared to answer similar questions you've already answered on your application - this is done to ensure you're the same person who applied for the sponsorship.
Knowing how ArriveCAN works is a huge preparation factor for your arrival. ArriveCAN is a platform for immigrants to provide travel information before and after entering Canada. Applicants must ensure that they're using the latest version of ArriveCAN and that all information has previously been uploaded successfully.
You'll be well on your way to entering Canada as a permanent resident if there are no problems. You can expect to have your permanent resident card mailed to your Canadian address, which you've provided on your COPR.
Sponsor Your Siblings to Move to Canada Today!
Now that you have the complete guide on applying for family sponsorship, you can confidently start your journey. Understandably, family is important, which is why the Canadian government has put in place programs such as the Family Class Sponsorship designed to accommodate you and your needs.
A good start would be to get in touch with a Regulated Canadian Immigration Consultant (RCIC) to advise and guide you through the process.
FAQs
Can I Bring My Siblings to Canada Permanently?
Many immigration pathways allow you to bring your siblings with you to Canada. They can apply for an open work permit or under the Express Entry system as well, which has programs that accommodate various needs.
Alternatively, you can apply as the sponsor to the Family Class Sponsorship program that allows you to sponsor your siblings or other relatives.
How Can I Sponsor My Brother to Canada?
If you're a permanent resident of Canada or a Canadian citizen, or if you're registered under the Canadian Indian Act, you can apply for sibling sponsorship under the Family Class program. The sponsor and the relative being sponsored must meet a set of requirements.
Once you're eligible to apply for the Family Class Sponsorship, your application, and supporting documents will be reviewed, and a decision to issue a visa will be made.
Can I Sponsor My Niece to Immigrate to Canada?
You can sponsor your brother, sister, nephew, niece, or orphaned grandchild. However, these relatives must be unmarried or under 18 years of age. However, you may be eligible to sponsor a relative outside of the mentioned age group depending on your needs and sponsorship requirements.