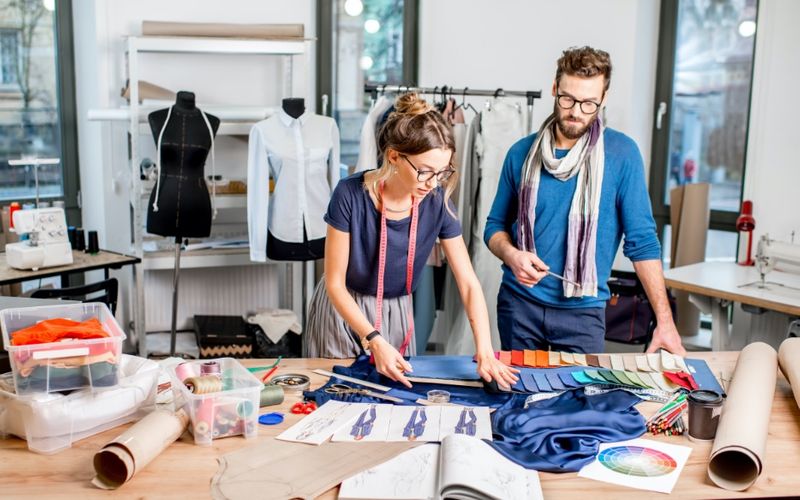 ---
Fashion is one of those glamorous occupations that perhaps every young creative girl or boy has dreamt of becoming, but most don't realize that there's a lot of hard work behind the scenes. As a result, not all talented design graduates will end up working at the stellar fashion houses of Chanel or Lanvin, have their Fall range debut on runways of New York Fashion Week or pass the discerning scrutiny of Anna Wintour and make it onto the pages of Vogue.
The apparel industry is a beautiful playground for those with a flair for fashion, and there are so many opportunities just waiting to be snatched up. For example, did you know that Jason Wu was born in Taiwan and immigrated to Canada when he was nine? Other great fashion designers of immigrant descent include Alfred Sung (China), Dan Liu (Hong Kong), Joe Mimran (Morocco), and the list goes on. So the opportunity is boundless if you decide to move to Canada to study design or relocate as a qualified, experienced designer.
A Canadian fashion designer cam earn an average annual salary of $52,706 per year but up to $85,000 with the right experience and qualifications. That means more extra cash to spend on travel, a down payment on a trendy loft in downtown Vancouver or that pair of Jimmy Choo's you've been eyeing.
But where do you start moving to Canada in the fashion sector? If you've ever tried to find that magic thread to pull that allows you to unpick a seam and unravel a garment, think of this blog as that thread. We can help you unravel the Canadian immigration system in these simple steps.
Start Your Journey
Immigrating to Canada as a Fashion Designer
Finding the perfect place to position yourself is vital. This is not only to ensure that the city you immigrate to in Canada is the right fit but will also give you the best opportunity to find a job in Canada and give you the best chances of success in your visa application. Here are our top 3 choices for you to consider.
Top Canadian Cities to Immigrate to as a Fashion Designer in Canada
Vancouver, British Columbia Vancouver is one of Canada's most fashionable cities as it is home to a diverse range of people from all over the world. So if you fancy having a chance to work for brands like Lululemon or Aritzia, then this is where you need to be as this is where their head offices are based. Life in Vancouver can be pretty pricey depending on your lifestyle, but the salary will make up for the cost of living. According to Payscale.com, you can expect to earn between $49, 000 and $91, 000 per year!
1. Montreal, Québec
Montreal is Canada's "Parisian" fashion capital, synonymous with design, fashion and the arts. If you want a taste of French culture, from high-end fashion boutiques to stopping for a flaky, buttery croissant, you'll fall in love with this European-style city. However, it is not as simple to apply to immigrate to Quebec, Canada, as in other provinces because the Quebec immigration system is separate from the general federal programs. Depending on where you are situated, you can expect to earn anywhere from approximately $37, 000 to $71, 000 per year, according to Payscale.com .
2. Toronto, Ontario
Toronto is Canada's most prominent fashion base and is similar to New York in aesthetics and feel. Yorkville and Queen West are two of the most fashion-forward areas to settle down in Toronto, but the city is constantly developing. As a result, you find brands like Laura Siegel and Project Runway Canada winner Sonny Fong's brand VAWK located in the heart of bustling Toronto. According to Payscale.com, you could earn around $39, 000 to $75,000 per annum.
What Are My Canadian Immigration Options?
As a Canadian fashion designer, you are classified as a highly-skilled worker, which means you have your pick of the top Canadian immigration programs. All professions are classified according to the National Occupational Classification (NOC) system. Each profession is given it's own Canada NOC code. As a fashion designer in Canada, your Canada NOC code is 5243. This includes other sectors of the fashion industry, such as fashion styling. Visual merchandising, footwear designers, fabric designers and costume designers, to name a few. You'll need your Canada NOC code when you complete your application.
Express Entry
The Express Entry system is one of the most popular ways to immigrate to Canada. It takes as little as six months to process your application, and you only have to create one profile, after which you will be entered into draws every two weeks for up to a year. It also allows you to improve your chances by improving your CRS score and increasing your chances of success, even after creating your profile. Most foreign workers often opt for Express Entry as you don't need a job offer to qualify.
Provincial Nominee Program
The Provincial Nominee Program (PNP) is another excellent option, as most PNPs allow skilled workers to immigrate to Canada if they have a valid job offer. Although PNP applications generally take much longer to process, most have Express Entry-linked programs, which means that a province can select your profile if you meet labour demands and give your provincial nomination (PN). This is probably one of the most coveted things to have when applying to move to Canada because a PN is worth 600 CRS points, which means that you're pretty much a "shoo-in" to receive an Invitation to Apply (ITA) for permanent residence.
Fashion Schools In Canada
Of course, most fashionistas dream of moving to a fashion capital like Paris, New York or Milan to study fashion, but did you know that you can find some of the top fashion schools in Canada, one of which has made the top 30 list globally? Let's take a look at some of the best fashion schools in Canada that could set you up to start your career as a Canadian fashion designer.
1. Toronto, Ontario
The best place to study fashion in Canada is undoubtedly Ontario. Well, because the #1 fashion school is there, of course! The Ryerson University of Fashion is ranked the best fashion school in Canada and #26 globally! It's even made the Business of Fashion (BOF's) list for top undergraduate programmes in fashion design and fashion communication. Quite a trendy set of accolades to have, eh? Another great option is George Brown College, ranked #2 in Canada, which offers excellent courses in fashion and jewelry design as well as fashion business and management.
Immigration Inspiration:
Catherine Addai is a phenomenal immigrant success story who turned her dreams into reality, launching her label Kaela Kay, inspired by her Ghanaian heritage. She has won several Canadian and international awards since her flagship launch in April 2019.
2. Montreal, Québec
La Salle College is Canada's most significant fashion school and one of the top places to study fashion in Canada. It is ranked #3 on Canada's list of top fashion colleges, and over 40% of its students are from countries worldwide. It's an international school of fashion, arts, and design. They have plenty of programs to choose from, including fashion design, footwear and accessory, costume for cinema, fashion styling, fashion marketing, and technical clothing design. They also offer student trips to fashion capitals like New York, Paris, and London.
3. Vancouver, British Columbia

Like the sound of La Salle College, but are you more interested in New York rather than Parisian flair of style? Well, why not try the Vancouver campus? It has the same fantastic programs as the Montreal campus, except for the technical clothing design, cinema, footwear, and accessory programs. In addition, you can enjoy small classes held by experienced faculty who pride themselves in taking a hands-on approach to educating and inspiring their students.
Ready to take the next step in making your Candia dream a reality? We'll help you draft a tailored immigration strategy that will fit you to the T!

Our Immigration Strategies are 100% Tailor-made to Your Needs.
As an official immigration service, we offer guidance and assistance through the entire Canadian immigration process. Our certified RCICs (Regulated Canadian Immigration Consultants) are incredibly knowledgeable in all Canadian immigration policies and are permitted by the Canadian government to liaise with them on the applicant's behalf. Our RCICs will first evaluate all candidates to see whether or not they can apply for one of 100 immigration programs, visas and streams. Once we know which options you can use, you can confidently select your preferred immigration program. Your designated consultant will ensure that all your documents are completed accurately and submitted on time.
When you apply for Canadian permanent residency with our services, you essentially remove all the stress and complications from the immigration process. With our high success rate, you can rest assured that your application is in good hands as you gain express entry into Canada. Click the button below to start your journey to Canada
Follow us on Facebook, Twitter, LinkedIn and Instagram for more information and updates on Canadian immigration and the visa application process.