There are hundreds of reasons why you should consider making the move to Canada. In 2019, our country will welcome even more newcomers into its borders than ever before and that number will continue to rise well into 2021. By this time, Canada plans to have invited over 1,3 million people to come live and work here.
Canada is a particularly great place to move to from Singapore because, like Singapore, Canada has graciously opened its borders to let in skilled workers from around the world. However, the difference between the countries is vast! These are our 6 reasons why you should immigrate to Canada from Singapore in 2019.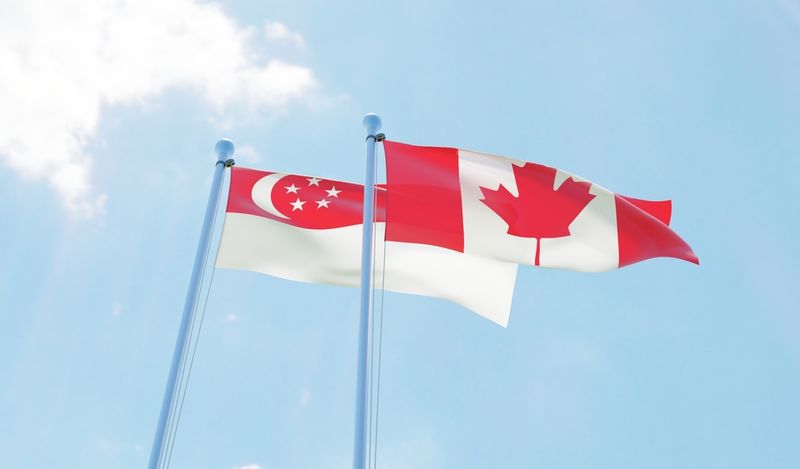 1 - Canada Has Tons of Space
Canada is big, really big. In fact, it is the second largest country in the world, covering about 9,98 million square kilometers. It is also one of the least densely populated countries. In comparison, Singapore is only 722,5 square kilometres large and is currently the third most densely populated country.
Though Canada is sparsely populated, it still has some gigantic cities, like Toronto, which offer all the excitement of big city life while retaining a uniquely Canadian charm. Where else can you find a sprawling urban landscape surrounded by lush green forests, crystal clear lakes and snow-capped mountains?
If city life is not for you, Canada's prairie and maritime provinces, like Saskatchewan, New Brunswick and Prince Edward Island are your best bet. Warm, welcoming and tight-knit communities make the smaller cities and towns of Canada truly remarkable. Carve out your own slice of Paradise when you decide to immigrate to Canada from Singapore.
2 - Sunny Summers and Wondrous Winters
People like to complain about Singapore's weather. Being so close to the equator, Singapore is hot all year round and the seasons are simply split between the dry and wet months. Anyone who has travelled to Asia will tell you about the humid summers that leave you in a constant state of sweat. In Canada, the four seasons can be felt in their entirety.
Summers in Canada are perfect for going to the beach, hiking, canoeing and sunbathing whereas the winters offer just as much entertainment. In Winter, Canada turns into a magical wonderland covered in white snow. Popular activities include skiing, sledding and visiting hot springs. We all dream of a white Christmas and in Canada, you can finally experience the festive season snuggled up in your home surrounded by your family.
3 - Affordable Living in Canada
While Singapore claims the position as the 7th most expensive country in the world, Canada doesn't even crack the top 20. One of the reasons many people are leaving Singapore is because the country is simply too expensive to live in. A materialistic culture coupled with a high cost of living make Singapore a difficult country to live in.
In Canada, living is significantly more affordable than other developed countries. Of course, the major cities like Toronto and Vancouver have rather high living costs but provinces like New Brunswick have some of the lowest real estate prices in the developed world. In fact, an average 2-bedroom free-standing house in New Brunswick will only cost you about $155,000!
Life in Manitoba can be even more inexpensive. In Canada, you won't have to pay up to $5 million for a simple family home so say goodbye HDB and hello Canada.
4 - It's My Country and I Can Do What I Want To
Another great reason to immigrate to Canada is for their civil liberties. Canada is currently ranked 5th in human freedom. Here your freedom of speech is legally enshrined in our liberal and respected constitution and judiciary system. If you are upset with your local government, you are free to voice your opinion and criticize them.
Canadians have the freedom to marry their loved ones regardless of their sex or gender. And racial discrimination is dealt with by a zero tolerance policy. We even have a Civil Liberties Association, which is a non-profit organization that is devoted to the defence of our civil liberties and constitutional rights.
5 - Competitive Politics
Canada is a shining example of a true democracy. We have a multi-party system with two dominant political parties, the liberal party of Canada and the Conservative Party of Canada. Their positions on social issues are echoed in their names. The great thing about our political system is that power is shared among our most popular parties, meaning your voice can truly be heard and its effect can be seen in society.
6 - Whoever You Are We Want You
If you are looking for diversity and acceptance, Canada is the place for you. Perhaps the most characteristic feature of Canadian society is its multiculturalism. Canada encourages diversity and welcomes diversity with open arms. You can see this attitude in the liberal approach our country has towards immigration.
It doesn't matter where you are from. If you have the right work experience and skill set that Canada needs, the country wants you. Cities, like Toronto, truly reflect the multicultural spirit of Canada. In Toronto, there are over 100 languages spoken and several communities in Toronto serve as microcosms of other countries like Italy, Japan and India. Such a coming together of different people and cultures create a melting pot of different cuisines, traditions and celebrations.
Whether or not you are living in Singapore, there is a place in Canada for you. If you would like to immigrate to Canada from Singapore or anywhere else, we can make it happen for you. However, before we can make this a reality, we have to determine your eligibility for a Canadian visa. Simply sign up for our quick and easy online evaluation and we'll give a detailed report outlining which of the routes to Canada is perfect for you.