The UK and Canada share a good international relationship, making it easier to immigrate there than other countries, so the possibility of moving to Canada from the UK crosses the mind of many residents. Brits love to travel to Canada for a vacation to explore the unspoiled wilderness and urban splendor of the vast country, and also because they are exempt from needing a travel visa. But how do you make your stay in the country permanent?
Canada is rated as the second-best country in the world for qualities like transparency and high quality of life. These are just a few reasons why thousands of Brits have made the move to the Great North and never looked back. Canada also boasts a 90% naturalization! This means that the majority of newcomers are happy and satisfied with their choice of a new home.
In this guide, we share the best Canadian immigration and visa options for UK residents, like the popular Express Entry immigration system and fantastic ways to work or study in Canada. From the bustling streets of London to the cobbled walkways of Montreal, find out more about what it's like living in Canada compared to UK countries below!
Fast navigation:
Canadian Immigration Options for UK Residents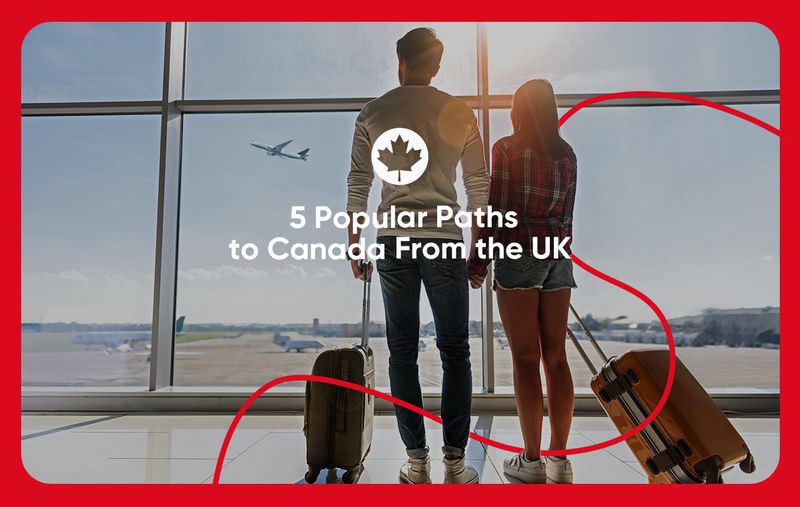 There are over 100 immigration and visa programs available in Canada. Naturally, most Brits who work or study in Canada automatically qualify for even more of these immigration programs because of their Canadian education and work experience. Discover the top 5 most popular paths to live and work in Canada from the UK below.
1. Professionals and Skilled Workers
If you have skilled work experience in a managerial position or have been working as a professional or tradesperson then you may be able to take the Express Entry route to Canada. Express Entry is Canada's main system for processing permanent resident applications in as little as 6-months. This year, the Express Entry target is set at admitting 108, 500 new residents!
How do you get chosen for Express Entry? The first step is to create an Express Entry profile which will give you a total score for eligibility criteria like your age, years of work experience, level of education, etc. The highest-scoring candidates are sent Invitations to Apply (ITA) for permanent residency during bi-weekly draw rounds.
The Express Entry system also allows the main applicant to include their spouse/common-law partner and dependent children in their application. What's more, individual provinces and territories use the system in order to recruit suitable candidates as part of the Provincial Nominee Programs to fulfill labor market demands in their respective regions. Receiving a Provincial Nomination (PN) almost guarantees your chances of success!
The ideal Express Entry candidate would meet the following requirements:
Be under 30 years old
Hold at least a Bachelor's degree, a Master's degree, or a Trade Certificate
Be able to demonstrate moderate to high English and/or French language proficiency
Have at least three years of skilled work experience
Other factors that can really boost your chances of receiving an ITA include:
Higher language proficiency in English and/or French
Bilingualism in French and English
A Master's degree or Ph.D. education
Canadian work or educational experience
A Canadian brother or sister currently residing in Canada
An arranged employment offer from a Canadian company
A nomination from a provincial nominee program
2. Intermediate Skilled Workers
If you are an intermediate skilled worker like a truck driver, server, butcher, nurse aide, or laborer, among others, then you may be able to move to Canada from the UK through one of several exciting immigration options. It's important to mention that the majority of these programs require applicants to already have Canadian work experience and a full-time job offer from a Canadian employer as part of the eligibility requirements. You can work in Canada by applying for a work permit.
Intermediate skilled workers usually have a minimum of high school education and job-specific training or on-the-job training. Canada has a high-demand for intermediate skilled workers so it won't be too difficult to find and secure a job.
Here are four popular paths to Canadian permanent residency for intermediate skilled UK workers:
Programs for Intermediate Skilled Workers
Immigration Program
Description
Provincial Nomination Programs (PNPs)
The PNPs are based on the labour market needs of the individual provinces and territories. For example, Saskatchewan and Ontario have a high demand for truck drivers and have special immigration streams to accommodate eligible UK truck drivers who want to immigrate to Canada.
Atlantic Immigration Pilot (AIP)
The AIP provides eligible intermediate skilled workers the opportunity to immigrate to Canada's maritime region.
Agri-Food Immigration Pilot
This pilot is designed for eligible farm, meat processing and livestock workers like butchers and harvesting labourers to earn permanent residency in Canada.
Home Care Provider Pilots
This pilot is designed for eligible child and home care providers, like aides, au pairs, and nannies to earn permanent residency in Canada.
Read about the
differences between working in Canada vs the UK
.
3. Family Sponsorship
Family is where the heart is and you don't have to be far away from yours! Those who hold permanent resident visas in Canada can sponsor their family members to join them and live in the country permanently. You can sponsor your spouse/common-law partner, dependent children, parents, and grandparents through the Family Sponsorship Program. Requirements include having proof of funds to support those who you wish to sponsor such as your grandparents.
Typically, a sponsorship application can take 12-months to process. In 2021, Canada will admit between 76, 000 - 105, 000 applicants through the Family Sponsorship Program.
4. Region-Specific Immigration Pilots
Just like in the UK, Canada has many remote locations characterized by vast open spaces, dramatic coastlines, and outstanding natural beauty. If you want to move from the UK for a more peaceful life away from the hustle-and-bustle of urban areas and metro cities, then we have the perfect option for you!
The Atlantic Immigration Pilot (AIP) and the Rural and Northern Immigration Pilot (RNIP) are two immigration programs that allow you to settle in either Canada's maritime region that includes the provinces of Nova Scotia, Newfoundland, and Labrador, New Brunswick, or Prince Edward Island or in one of the participating communities and towns situated in the Northern parts of Ontario, Saskatchewan, British Columbia, Manitoba, and Alberta.
The Pilots are employer-driven and designed to attract skilled and intermediate skilled workers for jobs they are unable to fill locally. This means that one of the most important requirements is to find and secure a job from lists of designated employers provided by the associated provinces or communities.
5. Business Immigration
Canada is one of the top countries for start-up businesses. Entrepreneurs will benefit from the educated population, a well-developed infrastructure and the favorable foreign exchange rates, low tax rates for small businesses, and much more. Business savvy individuals from the UK have an array of exciting business visa options to choose from. They include the following:
If you have a good innovative business idea then you may be able to immigrate to Canada through the Start-Up Visa Program. This will require you to create a business proposal and get investors' support. In-demand businesses in Canada include real estate, financial services, fitness and recreation, transportation and storage, waste management as well as restaurants because Canadians love to eat!
If you want to buy a business in Canada then you can easily immigrate through the Express Entry system by making a job offer to yourself as the company executive.
Alternatively, you can establish a new business or buy an existing business through one of the Provincial Business Immigration Streams. Each province has its own set of requirements and minimum investment amounts.
Are you self-employed? Self-employed persons like freelance journalists, designers, and coaches can immigrate to Canada from the UK through the Self-Employed Worker Program. The best part about this program is that there is no net-worth requirement.
Want to move to Canada from the UK through one of the business immigration streams? Find out more about each option here.
Jobs in Canada for UK Residents. How to Work in Canada?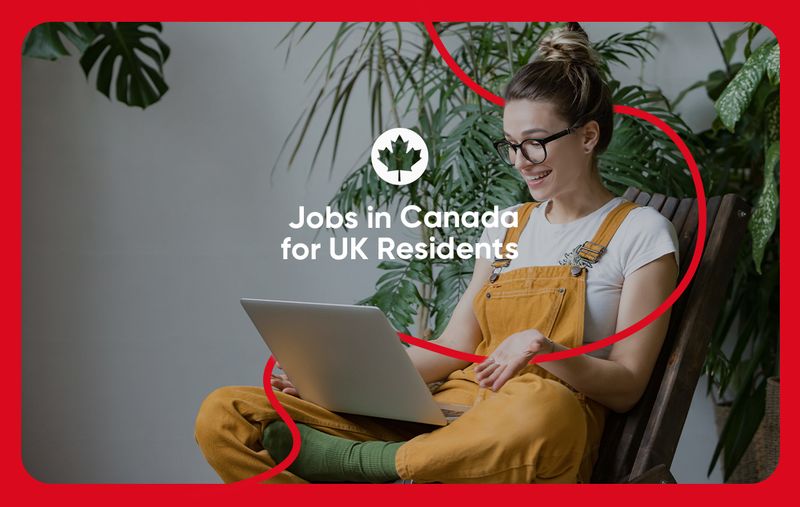 Who wouldn't want a job in an office that overlooks the Toronto CN Tower? Or take a scenic drive along Highway 99, also known as Sea-to-Sky, on your way to work? Canada is a great place to work and gaining Canadian work experience can better your chances of earning permanent residency. Getting a job in Canada is a little more tricky than you might think. It's not because there is a lack of jobs, the obstacle is getting a Canadian work permit that will entitle you to work there.

The good news is that, even if it's not easy, it's certainly possible and there are plenty of options to look into.
Canada's Biggest Industries and In-Demand Skills
You might think that Canada's economy runs on exporting logs and agri-products across the border due to its vast landscape and rich reserves of oil and gas but in reality, most of Canada's economic activities are not based in these sectors. In fact, in April 2020, agriculture, forestry, fishing, and hunting was only Canada's 15th biggest sector in terms of GDP.
The majority of Canadians work in the service and manufacturing sectors. Real estate, manufacturing, finance and insurance, construction, healthcare, and public administration are the biggest industries in the country.
Just like in the UK and the rest of the world, the pandemic had a massive impact on the Canadian economy last year. In May 2020, Canada's unemployment rate skyrocketed to 13.7% but has since recovered to 7.2% in January 2021. To continue on this road of recovery, Canada's immigration minister, Marco Mendicino, introduced a 3-year economic recovery plan by increasing immigration targets to over 1.2 million newcomers by 2023. Mendicino believes that this will help Canada gain the resources, skills, innovation, and capital it needs to not only recover but to grow and expand.
According to Randstad, there are 15 jobs in Canada in 2021 that are in high demand. The jobs range from highly skilled workers like electrical engineers and accountants to intermediate skilled workers like drivers and welders. There isn't a big salary gap between the UK and Canada. The average monthly wage in Canada is around $3,217.43 (£1,864.10) whereas in the UK it is $3,109.14 (£1,801.36.)
The Canadian federal government collects personal income tax on behalf of all provinces and territories except for Quebec which governs itself. The basic rate of federal income tax is 15% on the first $48,535 of taxable income with provincial basic rates ranging from Nunavut's 4% on the first $46,277 to Ontario's 5.05% on the first $44, 740.
Finding the Right Canadian Work Permit
Not all work permits are created equal. They differ based on the type of job you'll be doing, the country you're applying from, and the circumstances of your employment, for example, if you are a company transferee from the UK or a recent international graduate in Canada who would like to stay and work in the country. The two types of Canadian work permits are open permits and closed/employer-specific work permits.
1. Some open work permits allow you to come to Canada without any arranged employment and you are not limited to a specific city or province in which you may work. These work permits are issued through very specific but extremely popular programs such as the IEC Working Holiday Program and Post-Graduate Work Permit Program.
2. Other types of open work permits are issued to workers that serve Canada's broader economic and cultural interests and international agreements are part of this category. As of January 2021, the Canada-UK Trade Continuity Agreements will allow certain UK nationals to work in Canada post-Brexit. While you still need a job offer prior to applying for your visa and will be limited to work for the employer specified in your work permit application, you will be exempt from the LMIA process.
3. Closed permits or otherwise known as employer-specific work permits are issued to workers that can fill job shortages and in-demand jobs in Canada on a temporary basis. For this category, you do need a job offer and a Labour Market Impact Assessment (LMIA) from the employer who wishes to hire you. An LMIA shows that no Canadian was available, willing, or able to fill the job position offered to you.
How long does it take to get a Canadian work permit?
Closed-work permit applications take approximately 13 weeks to process when you apply from the UK and open-work permits can take as little as 2-weeks to process.
How Does Living in Canada Compare to the UK?
Canadian culture has more in common with British culture than American and they tend to share a similar sense of humor; however, there are plenty of differences too. Moving to Canada from the UK means that your winters will be slightly colder but summer days are warmer with clear skies and sunshine. Zoë Dawes, the author behind The Quirky Traveller, describes Canada's lifestyle best: "It's got a winning combination of British and French influences wrapped up in a unique country with its very own diverse history, sports and activities, culture, cuisine, and landscape and most importantly, people."
London VS Toronto
Toronto is known for being a slower-paced version of London. Although London is about 4 times bigger than Toronto, you are less likely to bump into someone on a crowded sidewalk. London is known for its architectural landmarks but Toronto has more natural wonders like Niagara Falls and the Scarborough Bluffs. Winter months in Toronto are colder but summers are warmer with predictable weather. These two multicultural cities boast spectacular arts scenes, restaurants, and bars. Where the British royal family is the talk of the city in London, Torontonians can't seem to get enough of Drake.
Liverpool VS Vancouver
Liverpool and Vancouver are both maritime cities that share a love for two very different types of sports. When Anfield Stadium is packed with cheering soccer-fans, Rogers Arena welcomes enthusiastic ice-hockey fans. Soccer is life in Liverpool but Vancouverites are spoiled for choice when it comes to keeping busy in other ways. The city has a broad range of leisure options with beautiful national parks, mountains, ski resorts, and lakes nearby. While most people in Liverpool (40%) work in public administration, Vancouver offers more job opportunities for young professionals in major economic sectors such as trade, film, and TV, technology, tourism, natural resources, and construction.
Birmingham VS Montreal
From the canal waterways that meander through Birmingham to the picturesque cobbled streets of Montreal, these two cities still have a distinct old-world charm. You will pay less to live and study in Montreal than in Birmingham, which is one of Canada's most affordable cities. And don't be surprised if you're greeted in French by the locals in Montreal as the city is home to the second-largest French-speaking population in the world, after Paris. While Birmingham is a manufacturing powerhouse, Montreal is a hot spot for start-ups and IT software companies. Summers are long and warm in Montreal with plenty of snow throughout the winter season. This stands in contrast to the humid and rainy conditions in Birmingham, which set the mood perfectly in Peaky Blinders, eh?
Cost of Living in Canada VS UK Countries
Currently, Canada ranks as the 24th most expensive country to live with the highest quality of life and local purchasing power than exceeds that of the UK. And just like in UK countries, where you choose to live has a significant impact on how much you will end up spending a month on things like rent, food, utilities and going out with friends.
The cost of living in a metropolitan city like Toronto where there are more amenities is a lot higher than living in a smaller city like Fredericton, for example. The average home in Toronto cost $768, 000 and in Fredericton, a similar home cost $179, 981. Groceries in Canada cost slightly more mainly due to transportation costs across the extensive country. When it comes to utilities, your main worry will probably be heating your apartment or house during the winter. The good news is that if you are renting, the heating and water may be included in your bill.
Learn more: Cost of Living in Canada: Your 2021 Guide
5 Frequently Asked Questions
1. What is the Canada-European Union Comprehensive Economic and Trade Agreement (CETA)?
The Canada-European Union Comprehensive Economic and Trade Agreement (CETA) was a free trade agreement between Canada and the European Union and its members that allowed Brits to come to Canada for work purposes without needing an LMIA. The LMIA process requires a potential employer in Canada to undergo a rigorous recruitment procedure before they may hire a foreign worker. Due to Brexit, the CETA is currently on hold and UK residents may no longer be processed through this agreement. A new agreement called the Canada-UK Trade Continuity Agreement is in the works and will be confirmed in early 2021. But until then, UK citizens will require an LMIA to work in Canada.
When the new deal is officially established, the Canada-UK Trade Continuity Agreement will continue to allow UK citizens to work in Canada without too much red tape.
2. How Long is the Canadian Immigration Process?
How long it takes to process your Canadian immigration application from the UK depends entirely on the immigration program you applied through. The Express Entry system is the fastest way to earn permanent residency in Canada with processing times of just 6-months. Business immigration applications take approximately 28-months to process and paper-based provincial nomination program applications can take up to 21-months to process.
3. What are the Requirements of Moving to Canada From the UK?
The minimum requirements to move to Canada include having a valid passport and proficient English or French language skills. You also need to show proof that you are in good health, have a clean criminal record, and enough settlement funds. Additional requirements depend on the immigration program for which you qualify to apply. You can discover your eligibility with an online assessment from Canadian Visa.
4. How Much Does it Cost to Move to Canada From the UK?
So, how much does it cost to move to Canada from the UK? For starters, a lot less than other top destinations like Australia and the USA, according to Moovguide. There are immigration application costs and transportation costs to ship your belongings abroad, including miscellaneous costs that you may want to look into like moving insurance, temporary accommodation, and traveling with your pets.
Immigration Application Fees
Applying for permanent residency through an economic immigration program such as Express Entry will cost CAD$825 in processing fees. If you include your spouse or common-law partner in your application you need to pay another CAD$825 and CAD$225 per child. If your application is successful you'll need to pay a right of permanent resident fee of CAD$500, this does not include children. The Canadian Government further requires that each permanent resident applicant have a reasonable amount of settlement funds to make the transition to a new life in Canada as easy as possible. But if you already have a job in Canada then you may be exempt from this requirement.
Cost of Moving to Canada in 2021
Immigration Class
Costs in CAD
Principal Applicant for Economic Immigration Class
$825
Principal Applicant for Economic Business Immigration Class
$1, 575
Spouses and Common-Law Partner of Principal Applicant
$825
Dependant Children of Principal Applicant
$225
Right of Permanent Resident Fee
$500
Settlement Funds
Approximately $12, 960 for the Principal Applicant and an additional $3, 492 per family member/dependant person.
5. How Many Immigrants Does Canada Admit Annually?
Starting from 2021, Canada will admit around 401, 000 new immigrants for the next 3 years. This puts the total of newcomers by 2023 at over 1.2 million! Canada is maintaining high levels of immigration to combat the negative economic and financial impacts of its aging population and low birth rate. New immigrants also play a big part in the post-Covid economic recovery plan.
Ready to start your journey to Canada?
If it's change you're after, make sure it's a change for the better. Canada is one of the best destinations for UK citizens who are looking for a home away from home. While many things may be familiar to British ex-pats in Canada, it's the differences that make them stay. From the natural beauty, job, and advancement opportunities to the friendliness of the locals, there really isn't much to love about the Great North. And who knows, soon enough you'll be swapping bangers and mash for a delicious bowl of Poutine!
With over 100 immigration and visa options available, moving to Canada from the UK can become a head-scratcher. But it doesn't have to be with the help of certified immigration and visa professionals.