There are currently hundreds of jobs available for skilled and experienced pilots in search of new job opportunities in the Canadian aviation industry. When you immigrate to Canada as an experienced pilot, you can not only earn up to $112,387 but will also get permanent Canadian residence, which comes with benefits such as free public health care and schooling up until Grade 12 for you and your loved ones.
The best immigration program for you to move to Canada as a pilot, flight engineer, or flying instructor, is the Express Entry system, however, those who express interest in a particular province or territory and applies through a Provincial Nominee Program that has a high demand for their occupation, will increase their chances of receiving an Invitation to Apply (ITA) for permanent Canadian residence by receiving a Provincial Nomination (PN). Provinces that currently urgently need pilots are Alberta and British Columbia.
This means that you may also be eligible to apply through the Rural and Northern Immigration Pilot, aimed at inviting skilled and semi-skilled workers to join Canada's smaller communities.
Although the opportunities are great, the Canadian immigration system can be quite complex and difficult to navigate. With numerous evaluations to pass in order to be considered eligible, a great deal of forms that need to be filled out and submitted according to government regulations, the process can be quite daunting to undertake on your own. One mistake could cost you your visa. Which leaves you with the question: "Is it really worth taking the chance applying on your own?"
Our RCICs are not only validated by the ICCRC but have been through the process themselves, making them highly qualified and well versed in the immigration process. For your evaluation and to receive more information on the immigration process, simply click the link below.
Which Provinces Need Pilots?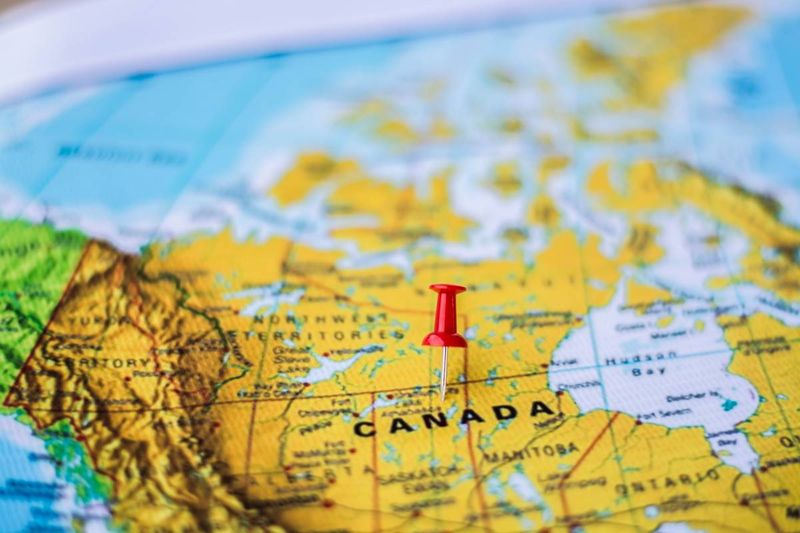 Although there are job openings available to skilled pilots across Canada, the main provinces that need experienced pilots are as follows:
Top Paying Canadian Provinces for Pilots
Province/Territory
Annual Salary Average
Alberta
$74,549
British Columbia
$54,074
Why Alberta?
Alberta is one of Canada's beautiful prairie regions, boasting a wide expanse of rolling fields and majestic mountains. The 3 top cities to live and work in include Canmore, Edmonton, and Calgary. These cities will give you access to all the urban amenities and entertainment that you may need. The weather is fantastic, housing is affordable and the quality of life, exceptional. This includes free healthcare and education, as per the rest of the country. When you move to Alberta you will have the Canadian Rockies on your doorstep as well as the phenomenal Jasper and Banff National Parks to explore. All in all, Alberta offers only the best of whatever it may be that you are searching for in your new home.
Why British Columbia?
British Columbia is one of Canada's most visited provinces and is known for its great weather and its expanse of awe-inspiring landscapes. With cities such as Vancouver (which is consistently ranked as a top place to live and work), Fort St. Johns, and Whistler at your doorstep, British Columbia (B.C.) is perfect for the outdoor adventurer and urban dweller. B.C. is also known for its high quality of living, including Canada's world-renowned free public healthcare and high school education, as well as an array of universities, such as the University of British Columbia and the University of Victoria, which ranks second on Canada's most comprehensive university list. Overall, the cost of living may be slightly higher than other provinces and territories, however, the smaller communities offer a very affordable as well as high quality of life.
How Do I Immigrate to Canada as a Pilot?
No matter where you decided to relocate to in Canada, there are general requirements that need to be met in order for you to be eligible to apply for Canadian permanent residence as a pilot. You will need to meet the following basic criteria:
Completion of secondary school and graduation from a certified flying or aviation school is required;
A university degree or college diploma may be required;
A commercial pilot's licence or an air transport pilot's licence is required;
Additional licences or endorsements to fly different types of aircraft are required;
Flight engineers require a flight engineer licence issued by Transport Canada;
Structured training is provided by employers.
Below are the top 3 ways to immigrate to Canada as a pilot:
1. The Express Entry system
The Express Entry system was originally implemented to make immigration more accessible as well as speed up the application processing time to as little as 6 months.
The great characteristics of this program are that there are not only no education requirements but there is also no requirement to have a job offer, however, both could improve your CRS Score). You will also only need to create one Express Entry profile, containing information such as your age, education, and work experience, which is valid for 1 year. Your profile will be entered into the draw pools, automatically, and ranked against others every 2 weeks, which in turn gives you a better chance of receiving an ITA.
2. The Provincial Nominee Program
The Provincial Nominee Programs are aimed at semi-skilled applicants who may not necessarily qualify for the Express Entry system however have work experience and a job in Canada. You will, however, be restricted to working for your designated employer for the duration of your visa in that particular province only.
The great part about PNPs is that some programs have Express Entry Streams which allows provinces or territories to select your profile from a draw pool. By receiving a provincial nominee, you will automatically earn 600 extra CRS points, which is the maximum amount of additional points that you can earn outside of your core points (based on education.
ie. Core points(max 600) + additional points(max 600) = maximum total of 1200
Because pilots are in high demand in Alberta and British Columbia you may want to read up more on the requirement of each provinces criteria below:
Alberta Provincial Nominee Program (AINP)
British Columbia Provincial Nominee Program (British Columbia PNP)
3. The Rural and Northern Immigration Pilot
If big city life is not for you, then you want to consider immigrating through The Rural and Northern Immigration Pilot. Claresholm, Alberta and West Kootenay, and Vernon, British Columbia fall under the 11 participating communities. Eligibility is based on whether or not you have 1-year relevant work experience, meet the language requirements applicable to your NOC code (which is NOC2271), sufficient settlement funds, and a high school diploma equivalent to Canadian standards.
With all these options at your fingertips, the sky's the limit, and we'd like to help you get there
How We Can Help You Get Canadian Permanent Residence
By using a Regulated Canadian Immigration Consultant (RCIC), the immigration application process will be effortless but you are more likely to be successful in your application. Visas are often rejected due to insufficient documentation, misrepresentation, and forms that are completed incorrectly, to name a few. This is why using an RCIC is so important. When you use our services you can rest assured that your application and documents will be verified and submitted as per the government's regulations. The Canadian government is also more likely to approve your application if they know that you have gone through a certified channel.
Why risk your opportunity to make a new life for you and your loved ones and receive an invitation to apply for permanent Canadian residence? Simply fill out our application form to receive your assessment today and take the next step towards achieving your Canadian dream.