In the latest COVID-19 update, the number of new COVID-19 cases being reported daily has dropped 70 percent since the third wave in mid-April, and Canada is now reporting 2,700 new cases each day.
Canadian Prime Minister, Justin Trudeau, also dropped a major clue about when the Canada-US border will reopen. During a press conference, Trudeau suggested that the border restrictions would not be lifted until at least 75 percent of Canadians are vaccinated against COVID-19.
The same 75 percent target would also be the key to Canadian life finally starting to return to normal. "Once cases are low, and at least 75 percent of people have had one dose and 20 percent have had a second dose, we can start to look forward to outdoor things," said Trudeau. According to Canada's COVID-19 Vaccine Tracker, approximately 57 percent of the population has received at least one dose of an approved vaccine.
When will international travel to Canada open for all countries? Unless exempted, most travellers from around the world can't enter Canada until June 21 when the Canadian government will review cases and vaccinations efforts to consider if the travel ban should be extended once again.
Canada's Vaccination Efforts
Will Canada reach its 75 percent target soon? Federal Minister of Health, Patty Hajdu said that if 75 percent of Canadians are fully vaccinated with two shots by fall which starts mid-September then it's likely that more restrictions will be lifted. This means that travel restrictions for non-essential purposes will remain in place for a few more months.
How are vaccines administered in Canada?
The Canadian Federal Government has delivered 27,762,112 doses of COVID-19 vaccines including Moderna, Pfizer-BioNTech, and AstraZeneca to the provinces for administration. These vaccines require two doses for full efficacy. Currently, 2,161,527 Canadians are fully vaccinated against COVID-19, having received both required doses. The daily rate of vaccinations is around 306, 949.
Can vaccinated travelers enter Canada?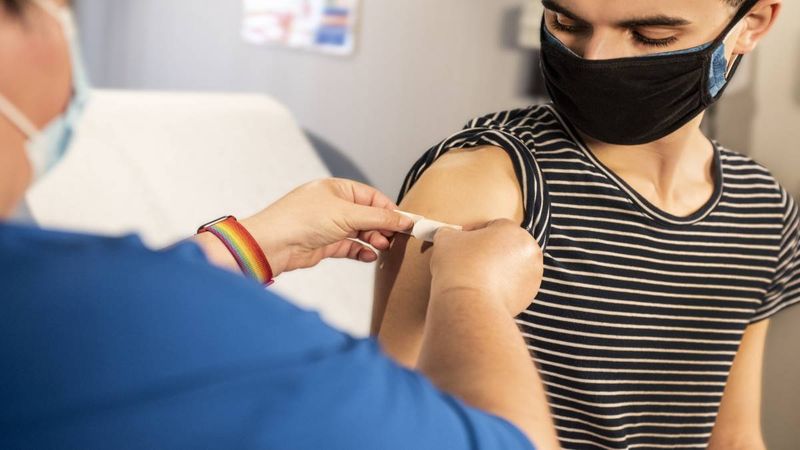 Even if you have a vaccination certificate you still need to qualify to travel to Canada under new travel measures. Only authorized foreign nationals can travel to Canada at this time which includes temporary foreign workers with work permits and international students with valid student permits among others. The Canadian tourist industry remains closed for visitors but family members of Canadians and permanent residents can reunite in Canada.

If you can enter Canada at this point then you must download the ArriveCAN application on your smart devices to provide important travel and quarantine information before you depart. In other COVID-19 news, a new report from Canada's COVID-19 Testing and Screening Expert Advisory Panel, recommends discontinuing mandatory hotel stays and re-looking quarantine exemptions for vaccinated travelers.
Who can enter Canada during COVID-19?
You can enter Canada if you are:
A Canadian citizen or a Canadian permanent resident
An immediate family member of a Canadian citizen and Canadian permanent resident who is traveling to Canada for non-optional reasons.
An extended family member and long-term partner of a Canadian citizen and permanent resident who applied for written authorization from IRCC.
An immediate family member of a temporary resident (foreign worker, international student, etc) in Canada who applied for written authorization from IRCC.
A temporary worker with a valid work permit or who is approved for a work permit but has not yet been issued the work permit.
An IEC participant. If you have not yet activated your work permit then you must hold a valid job offer in order to enter Canada. The job offer can be in any sector. Read more.
An international student with a valid study permit or a letter of introduction. You must be attending a Designated Learning Institution (DLI) that is on the approved list (schools that have a COVID-19 readiness plan). Read more.
A Confirmation of Permanent Residence (COPR) holder with a valid COPR who is residing in any country other than the United States and was approved for a COPR before 12pm EDT on March 18, 2020, and who is travelling to Canada to settle permanently.
A COPR-holder with a valid COPR who is residing in the United States and was approved on any date (even after March 18, 2020) and who is travelling to Canada to settle permanently.
A foreign national traveling to Canada for compassionate reasons such as attending a funeral or providing care to an elderly person residing in Canada.
(Source: IRCC)
Need authorization to enter Canada? We assist international clients with over 100 visa options for Canada. Fill in the form below to start the visa process.