Whether you're a seeker of the hustle and bustle, adventure and outdoors, the scenic drives and views, or a seeker of leisure activities, Canada has the whole package for you.
Like every other city, no two cities are alike when it comes to cost of living, and there is no perfect city since individuals have a myriad of personal preferences. The cost of living in Vancouver and Toronto has its advantages and disadvantages, but still offers citizens its own distinctive features to explore.
However, there are certain factors that can help us deduce which city would offer a better quality of life in Canada, along with an affordable cost of living. Let's take a deeper look at these factors.
According to Numbeo, a reputable cost of living database, you can maintain a decent cost of living in Toronto with roughly the same cost of living in Vancouver. You'll be paying around $7,500.00 in Vancouver, while you would need approximately $6,993.72 in Toronto.
The data below represents the cost of living in Vancouver vs Toronto, and it includes the rent index and net earnings (after tax deductions). To get an accurate overview of the cost of living in these two Canadian cities, we'd have to analyze factors such as overall consumer prices - which encompass rent prices, restaurant prices, grocery prices and local purchasing power.
Like all consumer prices, these are subject to change, depending on the city's economic performance and growth.
External factors that directly affect a city's economy are crime and corruption, lack of employment opportunities and social and political challenges. Remember, these numbers can change within an instant, and in turn, impact citizens significantly.
Consumer Prices Comparison
However, as per Numbeo, these are the current consumer prices in Vancouver vs Toronto:
Consumer Prices In Vancouver vs Toronto
Consumer Prices, excluding rent, in Toronto are 3.33% lower than in Vancouver
Consumer Prices including rent in Toronto are 6.75% lower than in Vancouver
Rent Prices in Toronto are 12.05% lower than in Vancouver
Restaurant Prices in Toronto are 7.69% lower than in Vancouver
Groceries Prices in Toronto are 6.77% lower than in Vancouver
Local Purchasing Power in Toronto is 11.33% higher than in Vancouver
Now, let's take a closer look at the factors being compared, and what it means for people living within that particular city:
What is Local Purchasing Power?
This refers to the money that is available or accessible to people within a city. In this case, the local purchasing power in Toronto is higher than in Vancouver, which means people have less money in Vancouver available to them. So, what exactly does this mean for Vancouver citizens? If the purchasing power is lower, it means that people are buying less for a number of reasons - prices may be too high or the salaries may be less after tax deductions.
If the purchasing power is higher, as shown in Toronto, it shows that Toronto citizens have more money available to them. This suggests that people within Toronto are able to buy more consumer products since it may be cheaper. Additionally, people may be left with a higher salary after tax deductions, which means there's more money to play around with.
Rent Prices
The table above also compares the rent prices within Toronto vs the rent prices in Vancouver. As we can see, the data shows that rent in Toronto is lower than in Vancouver, why is this the case? The global pandemic affected everyone across the world, causing the prices, including rent, to skyrocket. Additionally, there are other factors such as more people moving out from their parents' home and wanting to live on their own.
Additionally, more people are becoming homeowners since housing prices dropped during the pandemic throughout the world. This cancels out other potential homeowners who no longer have the cash upfront, and end up renting for longer than usual. As a result, landlords have raised rent prices, causing an overall higher rent within a city.
According to the Washington Post, some companies, cities/territories and states imposed limits on their rent increases. Some have even frozen prices. However, the relaxation of the pandemic has caused these measures to expire, and in some cases, given landlords more leverage to increase two years' worth of rent.
Groceries Prices
Based on the table, the prices of groceries that are most commonly in-demand are being compared. We can see that they're lower in Toronto than in Vancouver. Possible factors like high oil prices within a city, or even Russia's activity within Ukraine as of late February plays a vital role in the increased food prices.
According to Reuters, Russia and Ukraine are responsible for two-thirds of the world's export of sunflower oil, while Ukraine ranks number four for world's corn exporter. While these factors may not be the only cause for rising food prices, they're still major influential factors that's bound to impact citizens.
Consumer Prices

Consumer prices would refer to the goods and services which encompass all things consumer driven. Factors such as prices of food at restaurants, household groceries, transportation and utilities within a city all include consumer prices. We note from the table above that consumer prices in Toronto are 3.33% lower than in Vancouver.

Inflation and deflation are vital tools for measuring a city's economic growth and this shows that Toronto is at a healthy level. If a city's interest rates are high, it means borrowing money can be more expensive, resulting in less people buying goods which causes inflation. Conversely, if the city's interest rates are low, it means citizens are spending more to maintain the inflation at a stable rate.

Furthermore, it's interesting to note how the above table also represents the swift recovery Toronto was able to make after a global pandemic. This speaks volumes of its resilience and forward-thinking culture. This is proof that Toronto scores high when it comes to the overall quality of life in Canada.

It would be worth mentioning that both Vancouver and Toronto wouldn't necessarily fall under the cheapest places to live and work in Canada. However, if you're comparing Vancouver vs Toronto, Toronto would surpass Vancouver as the cheaper city.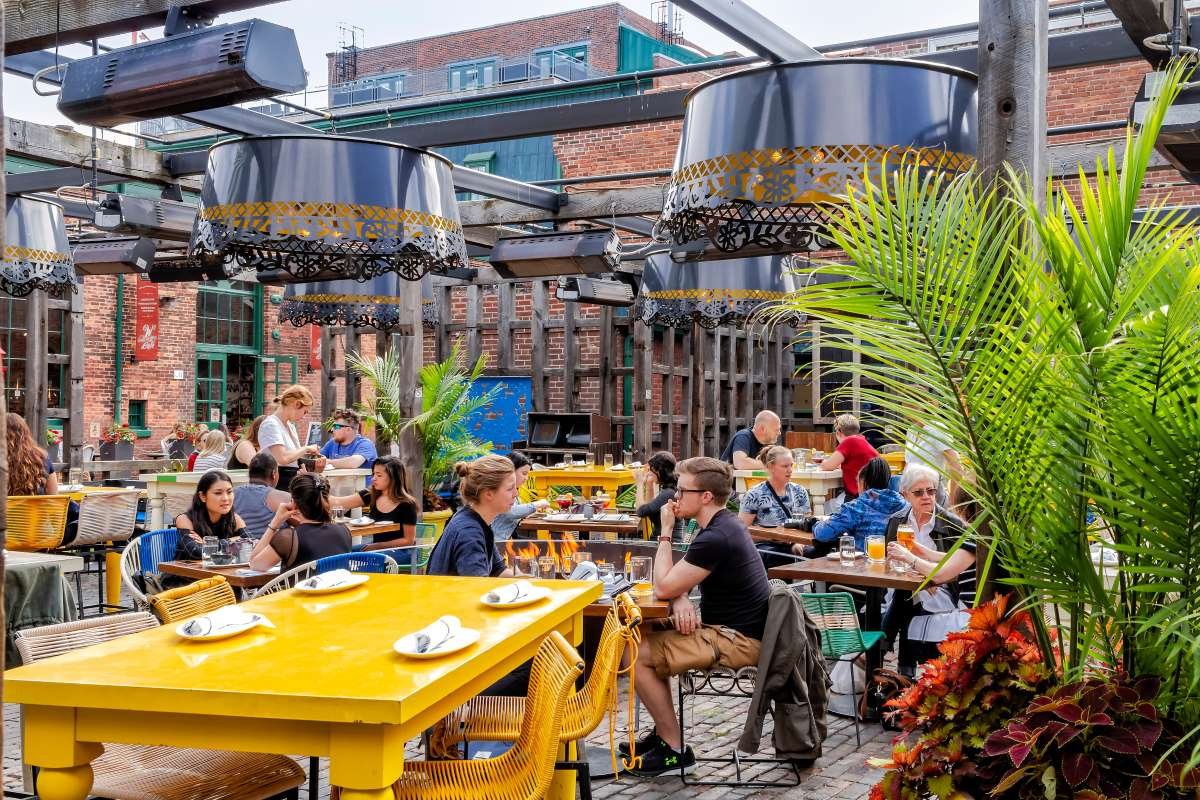 For those who want to make their move to Canada's largest city, Toronto, and we can see why, here are some of the cheapest neighborhoods to live in Toronto:

Rich in scenery and houses are both detached and semi-detached. Offers a convenient traveling route for students attending the University of Toronto.
| Toronto Neighborhoods | Starting Average Rental Costs Per Month | Neighborhood Specs |
| --- | --- | --- |
| Mimico – New Toronto | $820 | Close to leisure amenities with the Humber River trail close by. Grocery stores such as No Frills and Royal York are also nearby. The area is also safe for raising kids with a lot of good schools for them to attend. |
| Rexdale | $887 | This is a peaceful, close-knit community with shopping malls such as Rexdale Shopping Mall and Woodbine Mall being nearby. The area is also close to Rexdale Commercial Centre and the neighborhood entails a variety of unique cuisines such as Indian food and Caribbean options. |
| Keelesdale – Eglinton West | $897 | Different housing styles to choose with low rentals to choose from. Shopping centres are close by and groceries are cheap. This area combines both liveliness with peace and quiet. |
| Guildwood Village, Scarborough | $950 | Offer a spectacular lakefront, making it ideal for nature enthusiasts. Rich in scenery and houses are both detached and semi-detached. Offers a convenient traveling route for students attending the University of Toronto. |
| Weston | $960 | You can enjoy Victorian-style houses and Edwardian style homes at a decent rate. The area is known to be a commercial hub to companies and businesses. It is also an amalgamation of old homes and modern apartments |
| Black Creek | On average: $1,011 | Consist of multi-story apartment complexes with inexpensive rent for one to three bedrooms, including balconies.The area is close to coffee shops for coffee-lovers, as well as restaurants and other services. |
| East York | $1,082 | The area is home to some well-renowned families in Toronto. Home to one of Canada's largest street festivals, the Danforth event. Close to a dog-friendly park, namely Chorley Park. |
| Scarborough City Centre | $1,067 | Showcases high-rise apartments. These apartments are neighbors to malls, industrial and commercial areas. Home to modest cafes and international tantalizing cuisines. |
| Liberty Village | On average: $1,671. Liberty Village's east end: $150 to $200 per month | The area is a 10-minute drive away from Town.The area consists mainly of condos and flats. It is ideal for those seeking out a more relaxed atmosphere, away from the Town. |
The areas mentioned above are low rental neighborhoods located in Toronto, Canada's largest city and capital of Ontario Province. This spectacular city is home to a multinational population and its transparent, welcoming nature makes it ideal for people of various ethnicities and religions.
Vancouver vs Toronto: A Final Word
It goes without saying that Toronto boasts a wealth of affordable neighborhoods that accommodate the needs and likes of most people. From commercial and industrial amenities, to easy travel routes, malls, good schools, restaurants and cafes, you'll be sure to find a neighborhood suitable for you and your family. Understandably so, moving to another country can be a daunting affair, but what if you had the right guidance?
To get started with an adventure of a lifetime, we advise that you get in touch with a Canadian Immigration Consultant (RCIC) to guide you through the process with ease.
FAQs
Is Vancouver better than Toronto?
Like every other city around the world, each city has its own unique features, advantages and disadvantages. One cannot easily say which city is better but there are distinctive differences in a city's economic growth and available opportunities. In this case, Toronto is currently ahead of Vancouver. However, inflation and deflation is constantly changing which can alter a city's economic performance instantly.
Is Toronto safer than Vancouver?
Statistically speaking, Toronto, Canada's largest city, would be the safer city when it comes to safety and security. With a low crime rate and swift responding police force, Toronto places a high value on securing its citizens. This makes the city ideal for immigrants.
What are the disadvantages of living in Vancouver?
In comparison to Toronto, Vancouver has a higher crime rate, the traffic flow is worse. It would suffice to say that the city is more costly. For those that are budget tight and want to save, Vancouver may not be the ideal city for you.