The Canadian government has created various immigration policies and programs to attract skilled and unskilled workers to Canada with the aim of alleviating the labour gap that the country experiences. In addition, the government makes it as simple as possible to immigrate to Canada. Now, experienced professionals, students, company investors, and entrepreneurs can choose from various options to apply for Permanent Residency (PR) through Immigration, Refugees and Citizenship Canada (IRCC).
The fastest way to immigrate to Canada is generally reliant on your plans, qualifications, experience, career and goals when you reach the country. However, there are several options for obtaining PR and immigrating to Canada quickly and easily. Read on to discover 3 ways to fast track Your Canadian PR
Get a Provincial Nomination (PNP)
The Canada PNP is the simplest way to enter the country. Canada's provinces have the authority to invite and nominate talented people for immigration to the country based on in-demand occupations and labour market requirements in that province. There are primarily two methods for obtaining provincial nominations.
Candidates can either use the Canada Express Entry connected models or apply directly to the region for consideration. Each province has its system for determining eligibility. After being selected in the Express Entry immigration paradigm, the candidate is eligible for 600 additional points of province nomination. While the IRCC Processing Times can change from province to province, PNPs are generally processed quickly.
Getting a provincial nomination from one of the 11 participating provinces and territories almost guarantees you a permanent residency. Additionally, because you've been flagged as a person whose skills and experience are in demand by a particular province, there is a higher incentive for Immigration, Refugee and Citizenship Canada (IRCC) to grant you permanent residency so you can continue to live and work in Canada while you remain in that province.
Provincial Nominations are area specific to ensure they have the adequate labour force to run efficiently and smoothly. While the economy of Canada is primarily run by immigrants from all over the world, its provinces like Saskatchewan and Yukon, where the population is lower than the rest of the country, that your skills and expertise might be needed more.
Each province has its own set of streams under a particular provincial nomination program. Some streams are for students, others for skilled or unskilled workers and even for businesspersons. Finding out the needs of each province and how it suits your skills is an excellent first step in applying for a PNP.
There are 11 PNPs:
Alberta Advantage Immigration Program (AAIP)
British Columbia Provincial Nominee Program (BC PNP)
Manitoba Provincial Nominee Program (MPNP)
New Brunswick Provincial Nominee Program (NW PNP)
Newfoundland & Labrador Provincial Nominee Program (NL PNP)
Northwest Territories Nominee Program (NTNP)
Nova Scotia Provincial Nominee Program (NS PNP)
Ontario Provincial Nominee Program (OINP)
Prince Edward Island Provincial Nominee Program (PEI PNP)
Saskatchewan Provincial Nominee Program (SINP)
Yukon Nominee Program (YNP)
While each PNP has a specific requirement you must meet based on your planned activity in Canada; their most important qualifying factor is the 'intention to settle.' For example, when you apply for a provincial Nomination program, you'll have to demonstrate your ties to a particular province, such as family or work. You also have to intend to stay in the province once your permanent residency has been granted, as the region has nominated you to live and work in Canada while you contribute to that region.
Some provinces are more accessible to apply for than others. For example, as seen in the table below, immigrating to Alberta could be a great option to Fast Track Your Canadian PR.
Provincial PNPs
Province
Benefits of This PNP
Alberta
Apply to this PNP even if you have less than 300 Comprehensive Ranking System (CRS) points
The province doesn't have a set list of skills or experience required therefore candidates are assessed for PR on a case-by-case basis.
Saskatchewan
Apply to this PNP and get extra points for having a family member, even a cousin or distant aunt in the province.
Ontario
Ontario's in-demand occupations list has various IT specialists, software developers and cloud managers on it. If you're in the IT world your chances of getting an Ontario PNP are higher.
Quebec
This province is for you especially if you speak French. Quebec is majority French-speaking and so having French as a first or second language can help you get a Quebec PNP
Prince Edward Island
Another province with no set in-demand list. This region welcomes immigrants from various professional backgrounds based on its needs.
Nova Scotia
If you work in the medical of financial fields then this PNP is for you.
British Columbia
BC is one of the most popular destinations for immigrants due to its fast and simple immigration process.
New Brunswick
Qualified individuals that meet specific economic and labor market demands in New Brunswick receive timely responses from the province
. It has one of the fastest processing times.
2. Apply for PR through AIP
The Atlantic Immigration Program (AIP), previously known as the Atlantic Immigration Pilot Program (AIPP), now renamed as a permanent immigration route, is a great way to fast-track Your Canadian PR.
The Atlantic Immigration Program (AIP) was established to assist Canadian companies in locating qualified candidates. It is a career path for skilled workers and international graduates driven by employers. Nova Scotia, New Brunswick, Prince Edward Island, Newfoundland and Labrador are the provinces included under the AIP.
If you are a skilled foreign worker in Canada or overseas, or if you have recently graduated from an Atlantic Canada accredited post-secondary institution (university or college), you can apply for the Atlantic Immigration Program. However, you must have a valid work offer from a designated business in Canada's Atlantic provinces to be eligible for the program.
You must also have adequate means to maintain yourself and your family in Canada and meet specific work experience, school requirements, and language abilities criteria.
The Atlantic Immigration Program is divided into intermediate-skilled workers, high-skilled workers, and international graduates. Each of these streams has its own set of qualifying conditions, which must be met to be considered for this category.
The majority of AIP applications are processed in six months. Because it is an employer-driven program, it aims to assist talented employees in immigrating to Canada as quickly as possible.
The AIP provides a road to permanent residency for foreign nationals having a work offer in one of Canada's four Atlantic provinces. Candidates must first obtain a work permit to work lawfully in Canada before applying for permanent immigration. To apply for a work permit, you'll have to have the following:
A job offer from an employer based in one of the Atlantic provinces
A referral from the province
A pledge to apply for PR within 90 days of the temporary work permit application
You will, thereafter, be granted an employer-specific work permit. Additionally, one of the significant benefits of applying for this program is working in Canada without using a Labour Market Impact Assessment (LMIA), which is sometimes complicated and challenging to get. This makes IRCC Processing Times shorter as the LMIA certificate doesn't need to be processed during the application.
3. Open A Business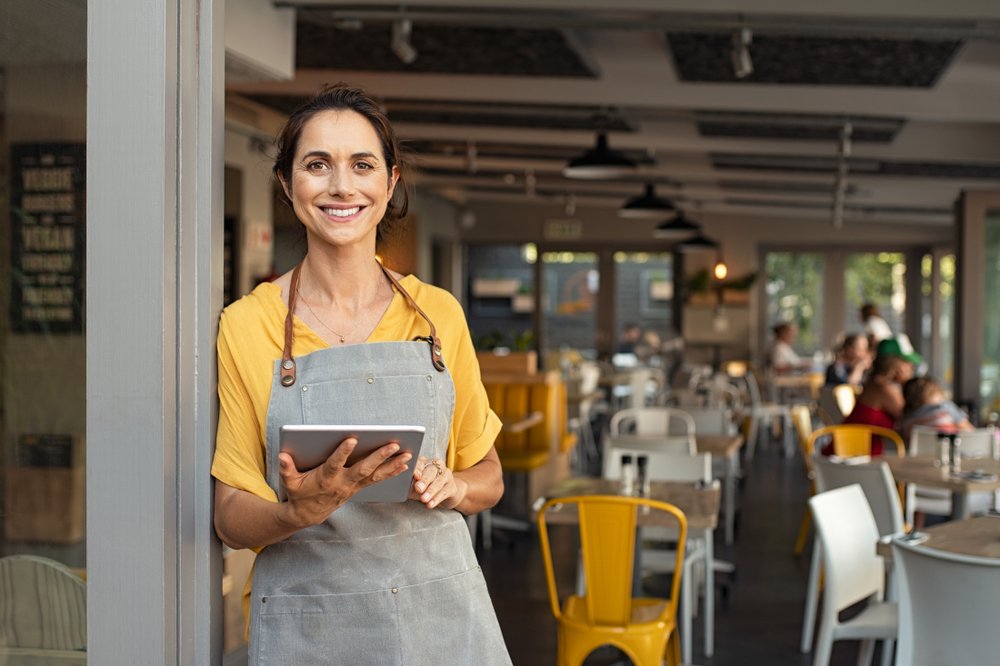 There are various immigration programs for businesses in Canada, from investment to start-up projects.
If you have enough money, you can quickly obtain permanent residency in Canada through this route. This category is appropriate for foreign business owners and managers interested in establishing a business in Canada. You can do so by applying for a Start-up visa or through provincial business immigration programs.
Some Provincial Nominee Programs (PNP)s that offer investor categories for the best approach to gaining permanent residency (PR) in Canada. For example, The Ontario Immigration Nominee Program (OINP) has the Corporate Stream to immigration for you to follow. At the same time, the Manitoba Business Investor Stream is a program for those who want to invest in businesses in Manitoba.
Most people that want to immigrate to Canada through the business route take on the Start-Up Visa route. A Start-Up Visa is designed to assist you in starting a business in Canada, but it has several requirements.
Immigrant entrepreneurs with the abilities and potential to create enterprises in Canada are eligible for Canada's Start-up Visa Program. They'll have to prove you are resourceful and imaginative, they can create jobs for others, and the business can compete globally. With a unique concept, a strong business plan and money backing you, you may be able to live and work in Canada permanently.
One of the main requirements for this visa is an endorsement from a recognized organization. Additionally, you must:
Have a business that qualifies, meaning that it's unique and innovative, among other things
Meet the language requirements by taking either an English or French language test and meeting the Canadian Language Benchmark (CLB) requirements.
Have enough money with you to settle in Canada regardless of the capital in your business.
IRCC Processing Times vary depending on which business visa you're going to apply for. Remember you can always apply for a six-month visitor visa to do an exploratory business venture before you think about immigration.
Check out this video on the 3 easy ways to get Canadian PR
Get Your Canadian PR
Although these immigration routes can fast-track Your Canadian PR, any immigration process comes with rules, regulations, and possible headaches. Like any administrative process, you've got to make sure you have the proper documentation to avoid any delays. To move to Canada as quickly and efficiently as possible, get someone on your side. At canadianvisa.org, we work with specialized Regulated Canadian Immigration Consultants who are experts in Canadian immigration.