When looking to move to Canada, you want to ensure your children will be taken care of in your new home. Fortunately, Canada offers some of the highest quality education in the world. Due to the size of the government and incredibly well-funded and maintained government systems that have put Canada on the map, Canada's public education system is currently ranked in the top 5 worldwide. While the quality of education is incredibly high, one of Canada's greatest educational assets is the inclusive and open-minded approach of the schooling system, particularly for international students. But ultimately, there are a huge number of reasons why the Canada schooling system is the perfect system for your children. Below we outline ten of the reasons.
Quality of Education in Canada
As aforementioned, the Canada schooling system is one of the highest-ranked in the world. As a result, Canada has the most educated population globally. The reason for this is the combination of the massive amount of funding while the Canadian government funnel into the education system. This means schools are well-maintained with sufficient resources. Teachers and staff are bountiful and well-paid with extensive standardization measures put in place to ensure your child gets world-class education, no matter where you live. On top of this, the Canadian government funding has also gone into extensive measures to ensure that a Canadian classroom is the best place to nurture a young mind to grow.
Canadian qualifications are internationally recognized, even at the school level, allowing students to study anywhere in the world if they choose to continue their studies after school. However, Canada also boasts some of the world's best tertiary education systems, both with colleges and universities. You can find a full breakdown of Canadian universities here.
Canadian Schools are Cheap
Due to the extensive government funding, most Canadian public schools are free to Canadian residents and far cheaper than schools of similar quality in other countries. Despite the high standard of education in Canada, quality education is a right of all Canadian residents and, as a result, getting the right education won't have to break the bank.
Canada enables you to give your child the opportunities you've always wanted to give them. However, you need to be a permanent resident to qualify for free public education in Canada.
To find out if you qualify for permanent residency or how to begin the process of becoming a permanent resident in Canada, click the button below to talk to a Regulated Canadian Immigration Consultant (RCIC) who can evaluate and advise you on your path to permanent residency.
Style of Teaching in Canada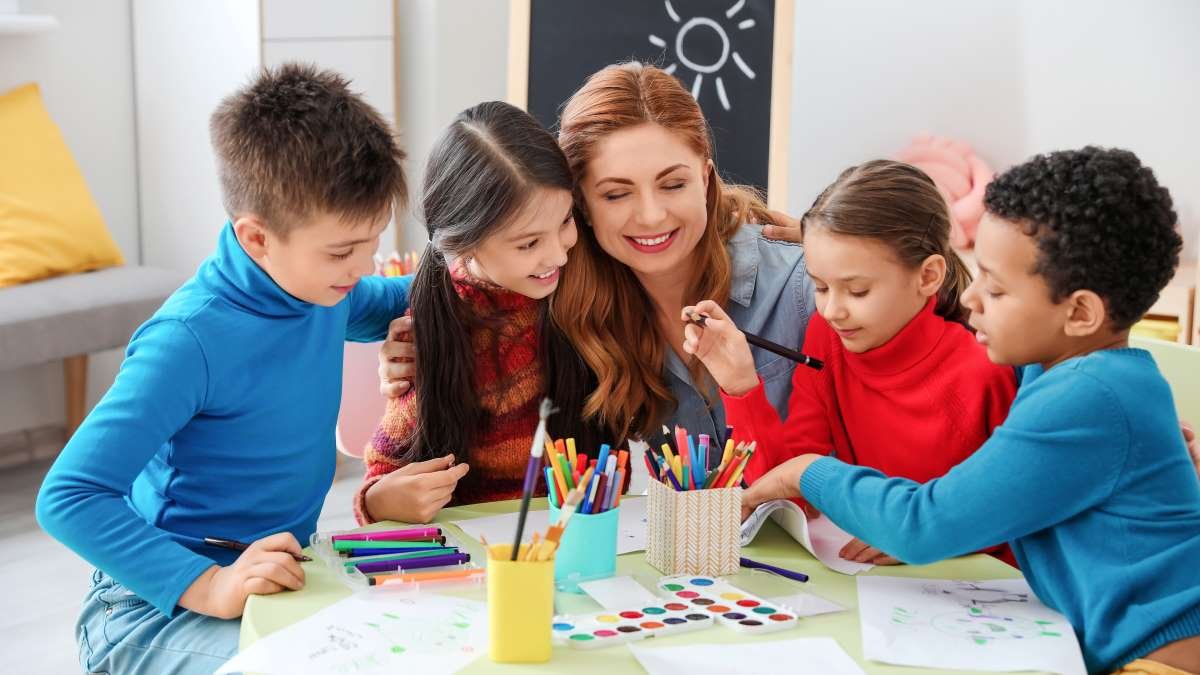 Canada is known for its incredibly supportive and positive classroom environment, in no small part to the world-renowned teaching in Canada. Canadian teachers are well-paid, highly educated professionals who are specially trained to provide the most complete, positive learning experience possible in the classrooms.
Teaching in Canada stresses the importance of classroom interaction, and communication between staff and students - it stresses the importance of not only building academic skills but also certain life skills like social skills, empathy and the importance of a good work ethic to give students the tools they need to get the start in life they need.
Special-Needs Care
If your child has a disability and requires special-needs education, Canada is the place for you. Due to the extremely high-quality public medical services and healthcare in Canada, the country has a fantastic system for helping those with disabilities to get the most out of their education.
The Canada school system makes a point to remediate, modify and extend education programs to cater to the needs of every student and the classic Canadian inclusivity - this will make your child feel validated, understood and accepted in any environment.
Extracurricular activities
Outside of the classroom, Canadian schools offer a wealth of activities to help students expand their skills and experience outside of purely academic pursuits. Most Canadian schools offer fantastic sports programs including, hockey, soccer, baseball and a plethora of other sports, depending on the school. Not only can this benefit the student's physical health, but it can also improve their rapport with their classmates.

Outside of sports, Canadian schools offer plenty of extracurricular activities and clubs such as public speaking, music, art and dramatics. Different schools offer different activities but you will certainly find an array of activities that interest your child catered for in your area.
School-funded Transportation
Going to and from school in Canada is a historically easy and safe process. Most Canadian schools offer some form of school-funded transportation, like a school bus service which ensures students get to school on time, easily and safely without putting too much stress on parents.
Sometimes these services cost a little extra but are usually inexpensive and certainly worth the cost if your child is going to be riding the bus to and from school every day.
Bilingual Teaching
As Canada has two official languages - English and French - most schools will give students the opportunity to learn both languages to be as functional as possible within Canada. Different schools have different primary languages but almost all schools cater to both English and French speakers. This also gives them the tools to effectively communicate in other languages.
Additionally, this can often open up a lot of opportunities for students upon completing their studies.
International Schools in Canada
There are also hundreds of International Schools in Canada. These schools are specifically designed to cater to students from a multitude of backgrounds to help them both complete their education and comfortably assimilate into the society of their new country.
International schools in Canada have a fixed student-teacher ratio that allows for every student to have a significant amount of attention. In turn, this helps with their studies and bridges the cultural gap. Students and parents can also choose which curriculum they want to study, particularly if they don't plan on staying in the country until they complete their studies.
Open-minded and Culturally-Inclusive Schooling
Canada is well-known for its open-minded and inclusive nature, particularly regarding international cultures. The Canada schooling system is no different. Canadian schools are known to be hugely open to the different cultures that exist within their student body, which make significant allowances for those cultures.
Canada has plenty of religious and secular schools that ensure your culture remains protected and respected both in and outside school.
Canada is also well known for its extreme tolerance towards the LGBTQ+ community and schools often have extensive counselling and support programs for children discovering their identity.
FAQs
How long is the average Canadian school day?
The average Canadian school day starts at 8:30 am and ends at 3:30 pm. This can differ depending on your school and the extracurricular activities you undertake.
At what age does the average Canadian graduate?
The graduating age is 16 in all Canadian provinces except Manitoba, New Brunswick and Ontario, where the average graduating age is 18.
Is there a way for adults to gain a Canadian high school diploma?
Yes. Many educational institutions in Canada offer a General Educational Development (GED) program which will present you with a high school diploma. You can also apply to a Canadian college or university with a GED.
No half-measures with your child's education
As you can see, Canada's education system can provide a fantastic opportunity for international students to learn and grow in a safe, stimulating and accepting environment. While these are only a few benefits of the Canadian education system, there are plenty more to be found online. To discover more about these benefits or to help prepare your child for schools in Canada, click the button below to speak to an RCIC to help you find the best possible way to get started in Canada.