Do you want to get in touch with an immigration agency but are worried about being scammed? Fear not, for we have some useful tips on how you can spot a fake immigration company.
What Are The Common Indicators For Identifying A Fake Immigration Agency?
For those applicants who are anxious about the prospect of having to go through the difficult process of immigrating to Canada, the chances of encountering a fake immigration agency that defrauds you of your money is a major concern.
It is very difficult for applicants to navigate the possibility of encountering this criminal activity. By using our previous experiences with encountering fake immigration agencies, we are able to compile a list of commonalities that we think can assist applicants who are unaware of the indicators of fraudulent activity. Here is a list of the top things to look out for.
Strange Email Address
Reputable immigration agencies avoid using strange email addresses. In particular, email addresses that end in @gmail.com instead @(name of organization).org should be flagged as very suspicious. Should you come across such a strange address, we recommend that you either tread carefully and avoid giving away sensitive information or to avoid it entirely
Whatsapp Payment Requests
If the immigration agency that you're in contact with requests to process your application via a chat app, for example Whatsapp, we advise that you cease using their services. A reputable immigration company like Canadianvisa.org only uses these mobile chat apps for the purposes of communication. Requests for payment via chat links should also be taken as a major red flag.
Fake Visa Consultants
Fake immigration agencies don't offer paid services of registered immigration lawyers or Regulated Canadian Immigration Consultants (RCIC). Should an illegitimate immigration agency try to pass off their services as reputable through an RCIC, there is a way to identify this fraudulent activity.
Simply go to the CCIC website, click on Find an Immigration Professional and enter the RCIC's name, registration number or company name. If their names don't come up, then that means you are possibly dealing with a fraudulent immigration company.
Fake Visa Consultants like to use fake RCIC registration numbers which have incorrect registration codes. The image content they use is normally outdated and the RCIC information presented is also incorrect. All Canadian Visa RCIC are registered with the CCIC, and are authorized to represent you.
Below is the info you will find on our site, in addition to the other RCIC names. Feel free to verify their credentials by following the above mentioned steps.
Poor Website Content
While scrolling on the immigration agency's website, you may encounter content that is purely curated, irrelevant or incorrect. One common identifying trait for fake immigration companies is the difference between the URL and the company. If these do not match, then you are possibly dealing with a fraudulent immigration company.
This seemingly legitimate immigration website had a large amount of spelling and grammatical errors, it's social media icons took us to strange accounts registered to Pak Web Idea, its privacy policy is not only incomplete but the terms and conditions page also seems to be missing. Its News page or blog has no relevant nor recent content and it seems as though the blog posts only contain information about the WordPress theme used.
Copycat Website
A lot of fake immigration agencies will plagiarize the entire look and design. Canadiavisa.org was the unfortunate victim of one of these scams used to defraud applicants. As a short tip, If you see the exact same content across multiple sites, this would usually be a red flag.
When Numbers Don't Add Up
Reputable immigration companies have contact numbers that are registered within the location or countries that they operate out of. If the immigration company that you're dealing with does not possess this important feature of legitimacy, then you're probably dealing with a fake illegitimate company.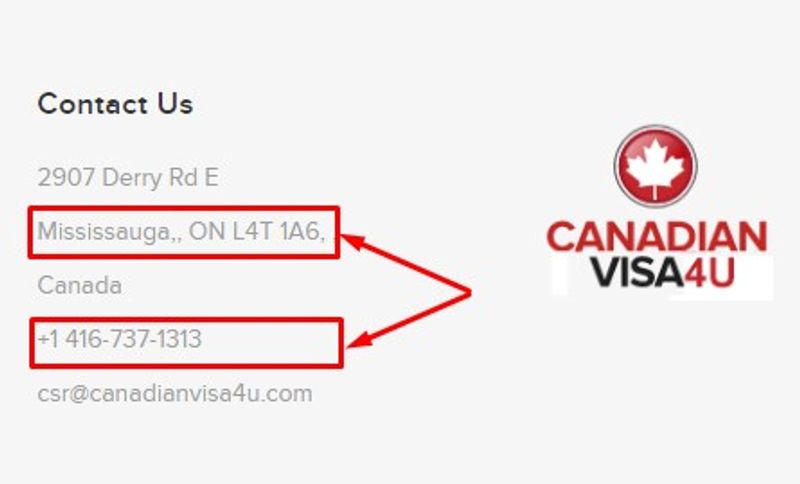 Why Is It important To Use A Reputable immigration Agency?

The Canadian immigration process is one of the most complicated in the world. Finding a reputable Canadian immigration company is a hugely valuable source of administrative support, resource management, information and bureaucratic guidance through the difficult process of immigration. With this in mind, contacting an RCIC affiliated company like Canadianvisa.org will be very helpful in assisting you to make it through the application process.
FAQs
Does Canada have a department that deals with fake immigration?
Canada has a Canadian Anti-Fraud immigration department that cracks down on cases of fraud involving fake immigration agencies.
What can you do to report a fake immigration agency when you encounter it?
If you suspect that you're dealing with a fake immigration company then you should immediately cease using their services and alert the immigration agency whose credentials they may be impersonating, the relevant law enforcement agency or the police.
Are there any other identifiers of fake immigration agencies?
Fake immigration agencies have a tendency to request service fees that are unjustifiably expensive, for services not rendered or services that are non-existent e.g admin fees just document submissions.