Canada and the UK are two of the world's most influential and developed countries, making them popular destinations for immigrants. Both countries have inclusive immigration policies that make it easy to gain permanent residency if you fit the criteria. In addition, Canada offers more job opportunities and better wages to cover costs than the UK, so people opt for Canada's immigration more than the UK.
The cost of living in Canada is nearly 8.7% less than in the UK, so you can live a quality life without going out of your budget. Canada has an excellent standard of living, exceptional scenery, and a friendly, welcoming attitude to immigrants. Its shared language and close ties to the UK make it a perfect new destination without seeming entirely foreign. The crime rate in Canada is 23% lower than in the United Kingdom, making it one of the top ten safest nations in the world.
Want to learn more about Canada?
However, before you decide, it's vital to examine each country's immigration system and see which out of Canada vs UK is the right way for you.
What are Canada's Main Immigration Programs?
Canada has numerous programs allowing foreign nationals to become permanent residents. However, the most popular immigration programs in Canada are as follows:
Express Entry
This is Canada's most popular immigration program, as foreign nationals can apply online, and processing times can be as low as six months. This system is primarily for those classed as skilled workers. It has three streams for the three different types of skilled workers:
The Federal Skilled Worker Program

For those who work in occupations that require a degree

The Federal Skilled Trades Program

For those who work in trades that require certification like a diploma.

The Canadian Experience Class

For skilled workers living and working in Canada for at least a year.
Learn more about Canada's Express Entry system and the main differences between working in Canada vs the UK.
Provincial Nominee Program
Eleven of Canada's 13 provinces and territories offer specific Provincial Nominations for permanent residency via a Provincial Nominee Program (PNP). You can apply directly to the province of your choice or via the Express Entry system to increase your chances of getting your permanent residency.
Learn more about the PNPs here.
Family Sponsorship
If you have a partner or close family member living in Canada, they can sponsor you to move to Canada. Your sponsor must be over 18, a Canadian citizen or permanent resident and possess enough money to support you once you arrive in Canada.
Learn more about Family Sponsorship here.
What are The Main Immigration Programs in the UK?
The UK's system works slightly differently than Canada's. To be allowed to live in the UK permanently, you must already be living and working in the UK or have family in the UK. This is called Indefinite Leave to Remain (ILR).
Unless you have family living in the UK, you must have a UK visa to apply for ILR. The most popular visa for the UK is the Skilled Worker Visa, which is for foreign nationals with the following:
A job with an approved UK employer
A job offer from the list of eligible occupations
A certificate of sponsorship from their employer
An agreement of salary higher than the national minimum wage.
The UK has multiple visa programs outside of this, based on your circumstances, which you can find on the UK government website.
How Long does it Take To Immigrate to Canada vs the UK?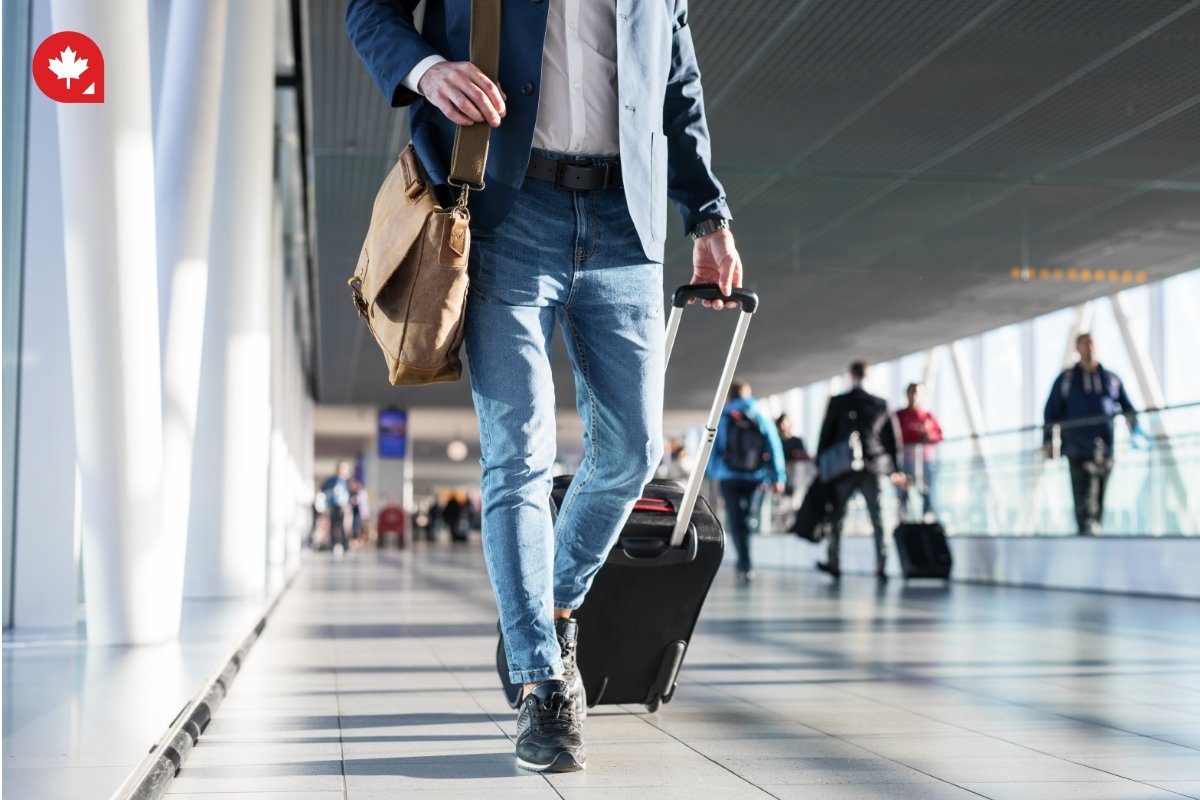 Immigration times vary massively depending on which program you apply to and how you plan on applying. However, getting permanent residence in the UK takes longer than in Canada. In Canada, obtaining permanent residency can take as little as six months, or over five years, depending on your eligibility and chosen immigration program.
However, getting a work or study permit in Canada can take as little as five weeks or even 20 days if you're eligible for specific country-specific programs.
Learn more about Canadian Immigration times here.
The time it takes to immigrate to the UK depends on the type of visa and application. If the application is straightforward, it will be decided within processing times. According to the British government, 90% of non-settlement applications are determined within three weeks, 98% within six weeks, and 100% within 12 weeks of the application date. The Skilled Worker visa takes three weeks. You can pay for a faster decision.
If you want to stay longer in the UK, you can apply to extend your visa as many times as you like if you still meet eligibility requirements. After five years, you can apply for ILR, which gives you the right to live, work and study in the UK for as long as you like. However, it can take up to six years for many applicants to go through the UK immigration system to become British citizens.
Which Country has Higher Eligibility Requirements?
Both countries have a wide range of eligibility requirements, and eligibility requirements differ massively depending on your immigration program. However, Canada is known for lower eligibility requirements and a far more open policy towards immigrants, provided they have links to Canada or can substantially contribute to the Canadian economy.
While the UK may have relatively low minimum requirements, the UK government makes getting a prolonged UK visa almost impossible without a skilled job offer from the UK, a family in the UK, and an acceptance letter from a UK educational institution.
However, to know what your chances are of immigrating to either of these countries, it's best if you speak to a certified immigration professional like a Regulated Canadian Immigration Consultant (RCIC). An RCIC knows the Canadian immigration system backwards and finds the perfect pathway for you.
How Much Does it Cost To Immigrate To Canada vs the UK?
Much like processing times, costs vary massively, depending on your visa or immigration program. Here's a full breakdown of Canada's immigration fees to see how much you must pay for your program.
The cost of immigrating to the UK depends on several factors, including visa type, healthcare surcharge, and other expenses. For example, the Skilled Worker visa application fee is £610 as of February 2023. To help you determine your fees, here's the UK government's visa fee assessment tool.
How Easy is it To Immigrate to Canada vs the UK?
The UK and Canada both have points-based immigration systems, but they have significant differences. For example, the UK's new immigration law prioritizes highly skilled individuals with scientific, academic, and technology-related qualifications. In contrast, Canada grants points for particular skills, professions, educational qualifications, age, work experience, etc.
Canada has long been known for its friendly immigration policies because of the multiple streams it has opened for immigrants. Gaining Canadian PR is easy if you fit the criteria. The education system in the UK is more comprehensive than Canada's, with more universities and colleges. However, getting a UK student visa is far easier than getting a Canadian one. Although getting a UK student visa might be easy, getting a PR in the UK is a long process.
On the other hand, Canada offers two years of work permits to students for completing two years long Master's degree and 1-year work permit to students who complete eight months extended diploma or certificate course from any Canadian institute.
How Easy is it to Bring My Family With Me?
Each country has requirements based on your relationship with the family members you plan to bring. However, it's generally easier to immigrate with your family to Canada as Canada prefers families to immigrate there over single applicants.
To move to the UK with your family, you can apply for a visa to join a family member. The most common visa applications are to join a partner, but you can also apply for one of the other family visas. Moving to England with kids is comfortable and well-connected by air. However, moving to the UK with children can be stressful, so it's essential to understand the UK education system.
If you're from within the EU, you may still be able to move to the UK with a UK partner visa if you have lived together in your home country. However, dependents of Skilled Worker Visa must prove their relationship and that they have lived together in their home country.
Moving to Canada with your family means you can bring family members if they were processed for permanent residence as your dependents. This includes your spouse or common-law partner, dependent child, spouse or common-law partner's dependent child, and a dependent child of a dependent child. Your dependents cannot arrive in Canada before you. They must come with you or after you. However, you may be able to sponsor them after you immigrate to Canada through the Family sponsorship program.
How Many People Immigrate to the UK and Canada Annually?
According to the Office for National Statistics, 1.1 million people migrated to the UK between June 2020 and June 2022, making it an average of 550,00 people annually.
According to Immigration, Refugees and Citizenship Canada, Canada welcomed 431,645 new permanent residents in 2022.
While the Canadian numbers may seem lower, Canada's statistics board only ever considered permanent residents. At the same time, the UK counted all immigrants, whether they're permanent or on a temporary visa like a work permit.
Which Occupations Are in Demand in Canada Vs UK?
According to the UK government, the ten jobs that are currently in the highest demand in the UK are as follows:
Health services and public health managers and directors
Residential, day and domiciliary care managers and proprietors
Chemical scientists
Biological scientists and biochemists
Engineering geologist
hydrogeologist
Geophysicist
Geoscientist
Geologist
Geochemist
Technical services manager
Geologists
Archaeologists
Civil engineers
Mechanical engineers
Electrical engineers
Electronics engineers
Design and development engineers
Production and process engineers
Engineering professionals not elsewhere classified
IT business analysts, architects and systems designers
Programmers and software development professionals
Web design and development professionals
Cyber security specialists
Veterinarians
Actuaries, economists and statisticians
Quality control and planning engineers
Laboratory technicians
Graphic designers
Welding trades
Care workers and home carers
In Canada, the most sought-after professionals are:
Industrial and manufacturing engineers
Web developers and programmers
Carpenters
Registered nurses and registered psychiatric nurses
Secondary school teachers
Social Worker
Supervisors, plastic and rubber products manufacturing
Software engineers and designers
Supervisors, finance and insurance office workers
Human resources managers
Advertising, marketing and public relations managers
Corporate sales managers
Retail sales supervisors
Maîtres d'hôtel and hosts/hostesses
Financial auditors and accountants
Construction managers
Electrical Mechanics
Electricians (except industrial and power systems)
Pharmacists
Transport truck drivers
However, as Canada is such a massive country, the in-demand occupations differ massively depending on which part of Canada you plan on living in. This map will show you which occupations are in demand in the different areas of Canada.
What are the Pros and Cons of Immigrating to Canada vs UK?
While both nations have many fantastic aspects, it's essential to look at each country's benefits and shortcomings to see which one will work best for you.
The UK:
Pros:
High standard of living

The UK has a high standard of living with excellent healthcare, education, and public services.

Career opportunities

The UK offers many job opportunities in various sectors, including finance, technology, and healthcare.

Cultural diversity

The UK is a culturally diverse country that welcomes people from different backgrounds and nationalities.

Quality education

The UK has some of the world's leading universities, offering high-quality education to students.

Travel opportunities

With its proximity to Europe, the UK offers easy access to many countries and cultures, making it an ideal base for travel.
Cons:
Cost of living

The cost of living in the UK is higher than in many other countries, with high housing costs and taxes.

Weather

The UK's weather can be unpredictable and often rainy, which is challenging for some people.

Immigration policies

The UK's immigration policies have become stricter in recent years, making it more difficult for some people to immigrate.

Brexit uncertainty

The UK's decision to leave the EU has created uncertainty around immigration policies and the country's future.

Crowded cities

Many of the UK's cities, with high traffic and pollution levels, can be overcrowded.
Canada
Pros:
High standard of living

Canada offers a high standard of living, with access to quality education, healthcare, and social services.

Economic opportunities

Canada's strong and diverse economy provides various job opportunities in multiple industries.

Cultural diversity

Canada is known for its multiculturalism, providing immigrants a welcoming and inclusive environment.

Political stability

Canada has a stable political environment with a strong democracy, the rule of law, and respect for human rights.

Natural beauty

Canada has stunning natural landscapes, from the Rocky Mountains to the Northern Lights.
Cons:
Cold climate

Canada is known for its harsh winters and cold weather, which can be challenging for some people.

Cost of living

The cost of living in Canada can be high, particularly in major cities like Toronto and Vancouver.

Job competition

While Canada offers many job opportunities, the competition for these jobs can be high, particularly in specific industries.

Cultural adjustment

Immigrants may experience culture shock when adjusting to the Canadian way of life, mainly if they come from a different culture.

Lengthy immigration process

The immigration process in Canada can be lengthy and complex, requiring significant time and effort.
What Support Systems or Companies Are Available to Help me to Immigrate to the UK or Canada?
Whether you're looking to immigrate to Canada or the UK, you must complete every step of your immigration process correctly. This can be incredibly daunting as both countries have strict application processes and eligibility requirements.
Both countries have booming industries of immigration professionals willing to aid you in your immigration journey. The UK government has a branch dedicated to providing international immigrants with immigration advisors to help them move to the UK. Find the advisor for you here.
Canada has a whole host of dedicated immigration consultants that will help you find the best way for you to move to Canada. For example, here at CanadianVisa, we have a team of RCICs certified by the CICC to help you with every step of your application, from creating your online profiles and filling out your forms to evaluating you to determine the perfect immigration strategy for you.