Canadian immigration fraud is on the rise, taking advantage of foreigners hoping to start a new life abroad. Despite our need as a global community to pull together during these uncertain times and the financial strain that COVID-19 has had on all of us, these fraudsters have remained relentless, even opportunistic, in their efforts to scam innocent people. They have found various ways to target unsuspecting people and cheat them out of their hard-earned money, often under the guise of a reputable immigration company.
In fact, so much so that we at CanadianVisa.org have recently experienced firsthand how these criminals have been operating. Even though these scammers have managed to find ways to use our brand and website to their benefit and steal money from our clients, we are in the process of shutting them down and taking action.
Below are a few tips on how to spot if an immigration agency is fake or real and avoid being duped by copycat websites.
The top 6 things to look out for include:


How to Tell if an Immigration Agency Website is a Scam or Fake
Canadian immigration scam artists have become increasingly creative and brazen in their ploys to deceive foreigners. So much so that they have gone as far as to copy our website and social media platforms. We break down the top 7 things that a reputable immigration agency will never do so that you'll know what to beware of from the start.

A reputable immigration agency will never use a strange email address such as canadianvisa@gmail.com. We highly recommend that you check the email address before you open it as it could leave you vulnerable to malware or hackers, which could put your personal and private information at risk. If you receive a legitimate email from us, the address will always be linked to our main domain, canadianvisa.org. Be very careful if it is not because this could mean that you are dealing with a fake immigration agency and not the real one.
A reputable immigration agency will never ask to process your application via a chat app. Our Whatsapp channel is used only to communicate with our clients and offer support with your registration process. Any other information about your Canadian visa application will be done via email or telephonically with one of our RCICs.
CanadianVisa.org will also never send you a payment link nor will we ask you for payment via Whatsapp. Your payment link will always be linked to our official domain, candianvisa.org. Any payment that you make can be done safely through our secure online payment page.
A reputable immigration agency or consultant will never offer paid services without a registered RCIC or Regulated Canadian Immigration Consultants or a certified immigration lawyer. An RCIC or immigration lawyer is legally authorized by the Canadian Government to offer immigration advice as well as submit your Canadian visa application for you. Now, this is where you need to be careful. Saying that you have an RCIC doesn't automatically mean it's true.
Another tactic that these fraud immigration companies will do is to use the reputation of a reputable immigration agency and use it's RCIC'S name and details in the hopes of sounding legitimate.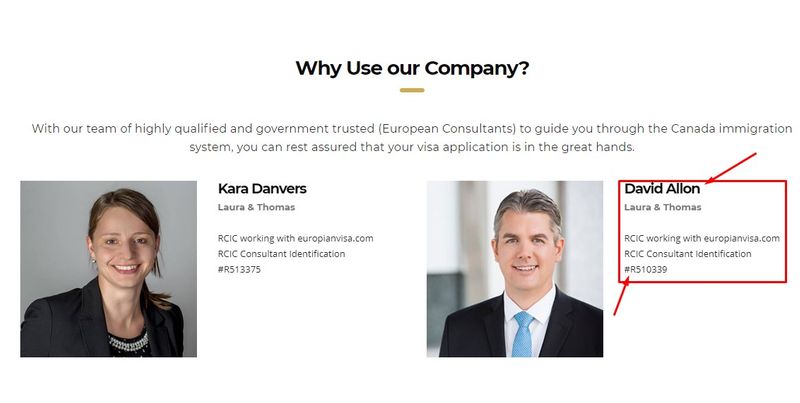 One way to check if a Canadian Visa company is a scam or fake is to enter the RCIC's name, registration number, and/or company name into the ICCRC website on their Find an Immigration Professional page. Needless to say, neither "Kara Danvers" nor this "David Allon" are registered with the ICCRC and neither is European Visa nor Laura and Thomas. The real David Allon, who is affiliated with CanadianVisa.org, is in good standing with the ICCRC, as you can see in the images below.
A reputable immigration agency will never offer poorly curated, false or irrelevant information. For example, this website seems like it's a legitimate immigration company, right? Wrong. When you first visit this website it appears that everything is in order, but when you take a closer look it's clear that it is actually FAKE.
Firstly, the URL web address is completely different from the company name. The website domain is europenvisa.com, however, the logo and company name says Laura and Thomas, with the head offices apparently located in Pakistan? Does this sound strange to you? It certainly is. Furthermore, the domain is not secure. This is usually indicated by a padlock icon in the URL bar. Without it, any personal information entered into the website may be open to any hackers just waiting to steal your confidential details.
This seemingly legitimate immigration website had a large amount of spelling and grammatical errors, it's social media icons took us to strange accounts registered to Pak Web Idea, its privacy policy is not only incomplete but the terms and conditions page also seems to be missing. Its News page or blog has no relevant nor recent content and it seems as though the blog posts only contain information about the WordPress theme used.
Some Fraud Canadian immigration agencies will go as far as to copy the entire look and design of a reputable company. In our case, the fraud immigration agency used our established and professional reputation to gain the trust of unsuspecting victims. These scam artists intend to trick hopeful visa applicants into thinking that they are either dealing with a legitimate company when they are in actual fact dealing with a fraud company. In this case, the scam artist was confident enough to leave his mark by claiming web credits, right next to a very poor logo copy and paste job! It is important to pay as much attention to detail as possible. The differences may be slight but they'll be there.
This fraud immigration agency also removed some important information when copying the CandianVisa.org. website. Our RCICs' details which, as mentioned earlier, can be used to verify the legitimacy of a Canadian visa and immigration agency. It's social media links also do not lead to active accounts.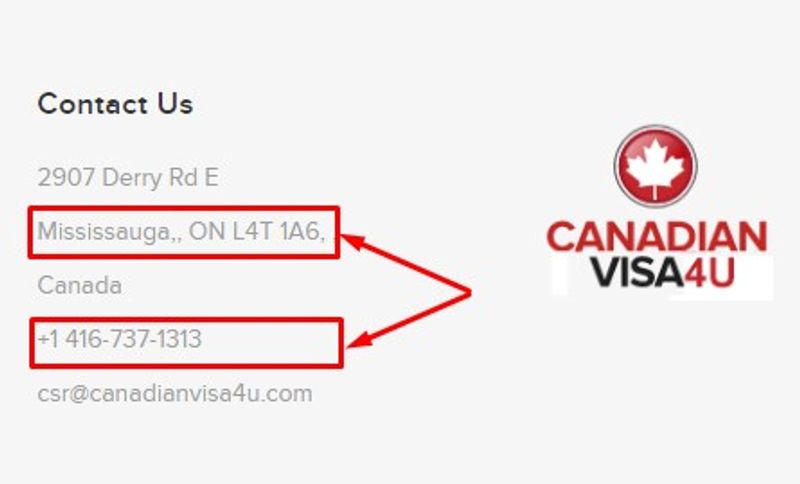 A reputable immigration agency will never have a contact number that is registered in a location or country that is different from the location of its offices. During our inspection of this fraud copycat website, we picked up some other strange discrepancies. Although these scam artists went as far as to change the location of their head office from Vancouver to Ontario and added a domain-specific email address, there is one small detail that stands out. The phone number given is not an Ontario number. Although the 416 area code relates to the greater Toronto area in Ontario; Mississauga, Ontario only uses the following areas codes: 289, 365, and 905. Always be sure to not only check that a company is located where they say they are and are easily contactable.
Why Using a Reputable Immigration Agency is Important
Navigating the Canadian immigration system can be complicated, especially when you have to deal with the added stress of worrying about whether the Canadian immigration agency you are dealing with is real or fake. We not only suggest but actively encourage all our clients to check our legitimacy with the Canadian government but also to ensure that they are 100% comfortable with our services and what we offer before you allow us to take that first step with you on your Canadian journey.

With the copious amount of forms and documents needed to complete your Canadian visa application and strict submission dates to adhere to, we wouldn't blame you if you felt nervous about starting the process. But that's what we're here for.
At Canadian Visa, we take the stress and hassle out of planning to relocate abroad. Our accredited RCICs (Regulated Canadian Immigration Consultants) are ready to evaluate your eligibility, review all documentation, and submit all documentation on your behalf. Using an RCIC not only gives you the best possible chance of receiving an ITA but will make the entire process simple and stress-free.
We handle the paperwork while you choose your dream job in Canada. All you have to do is complete our online form and we'll take care of the rest. It's just that simple.
The Canadian Anti-Fraud immigration department is constantly cracking down on these cases. If you suspect that you have been a victim of Canadian Visa fraud, you can make an official report to the Canadian government online or telephonically.